Eating veggies are easy for me. I love them and prefer them over sweets. I guess I am lucky because I hear a lot of people (my family included!) don't eat enough veggies, nor do they like them that much. I can't understand why because I absolutely LOVE veggies!
Products received. Opinions are my own. This is a partnered post.
Superfood Veggie Cakes Go Great With Dinner!
One way I have found to help get my family the veggie servings they need each day is to feed them Garden Lites Superfood Veggie Cakes. If my kids don't like those (which they actually do!) I will give them Garden Lites Chocolate Muffins or Garden Lites Blueberry Oat Muffins. They are all SO tasty and no one is the wiser that they have VEGGIES in them!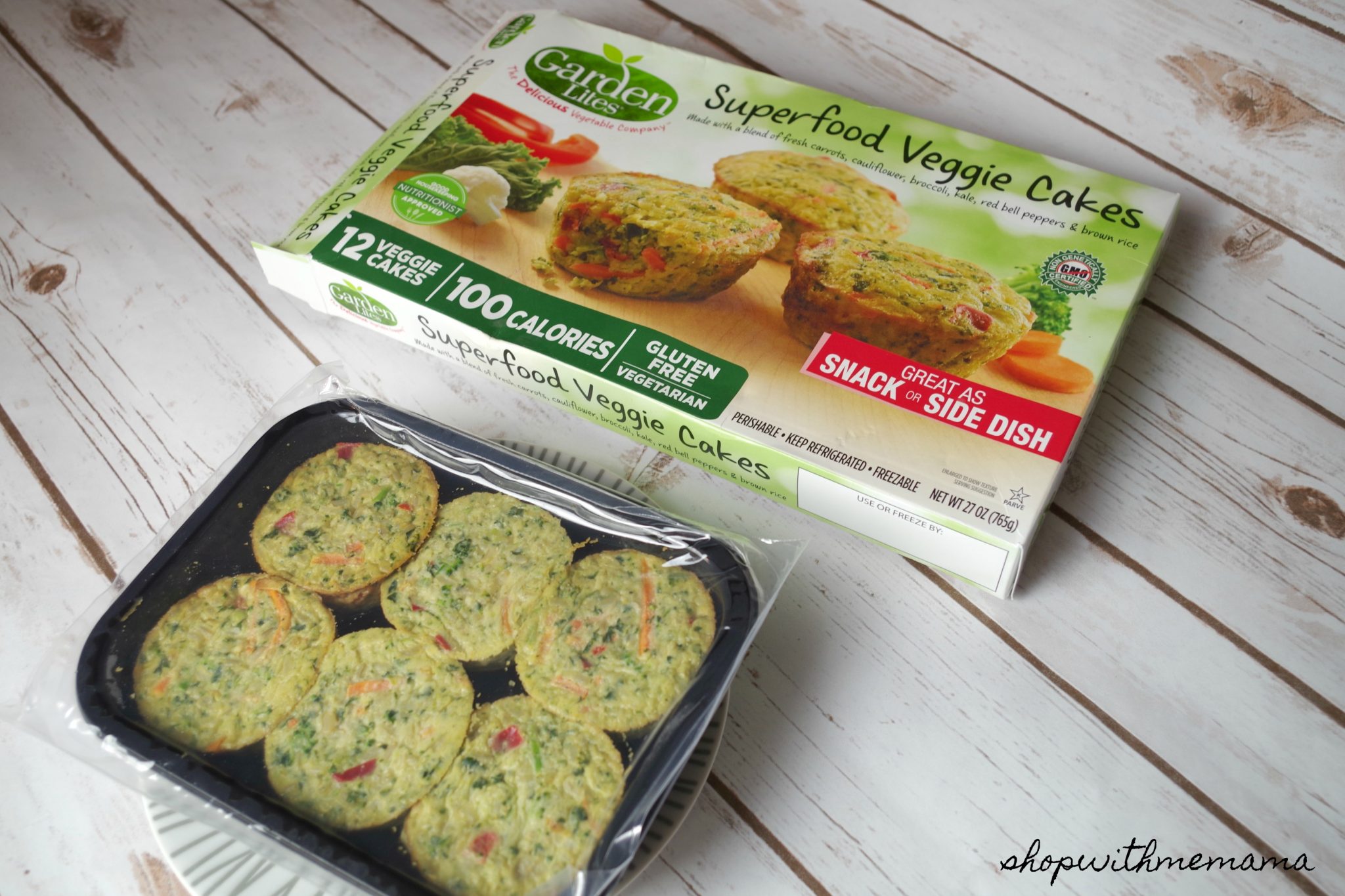 I already talked about how delicious and yummy the Garden Lites Chocolate Muffins or Garden Lites Blueberry Oat Muffins were in my blog post last week. So, today I want to rave about the Garden Lites Superfood Veggie Cakes! Holy YUM. Seriously, YUM.
I saved a few for Thanksgiving tomorrow, to serve warm with our meal. These veggie cakes are the bomb. They are so good. You just warm them up and serve them with your favorite meal. My kids actually EAT them up. I cut one in half for my daughter and youngest son and they eat it up with their dinner. My oldest son eats a whole one with his meal and my hubby and I do the same. Superfood Veggie Cakes Go Great With Dinner!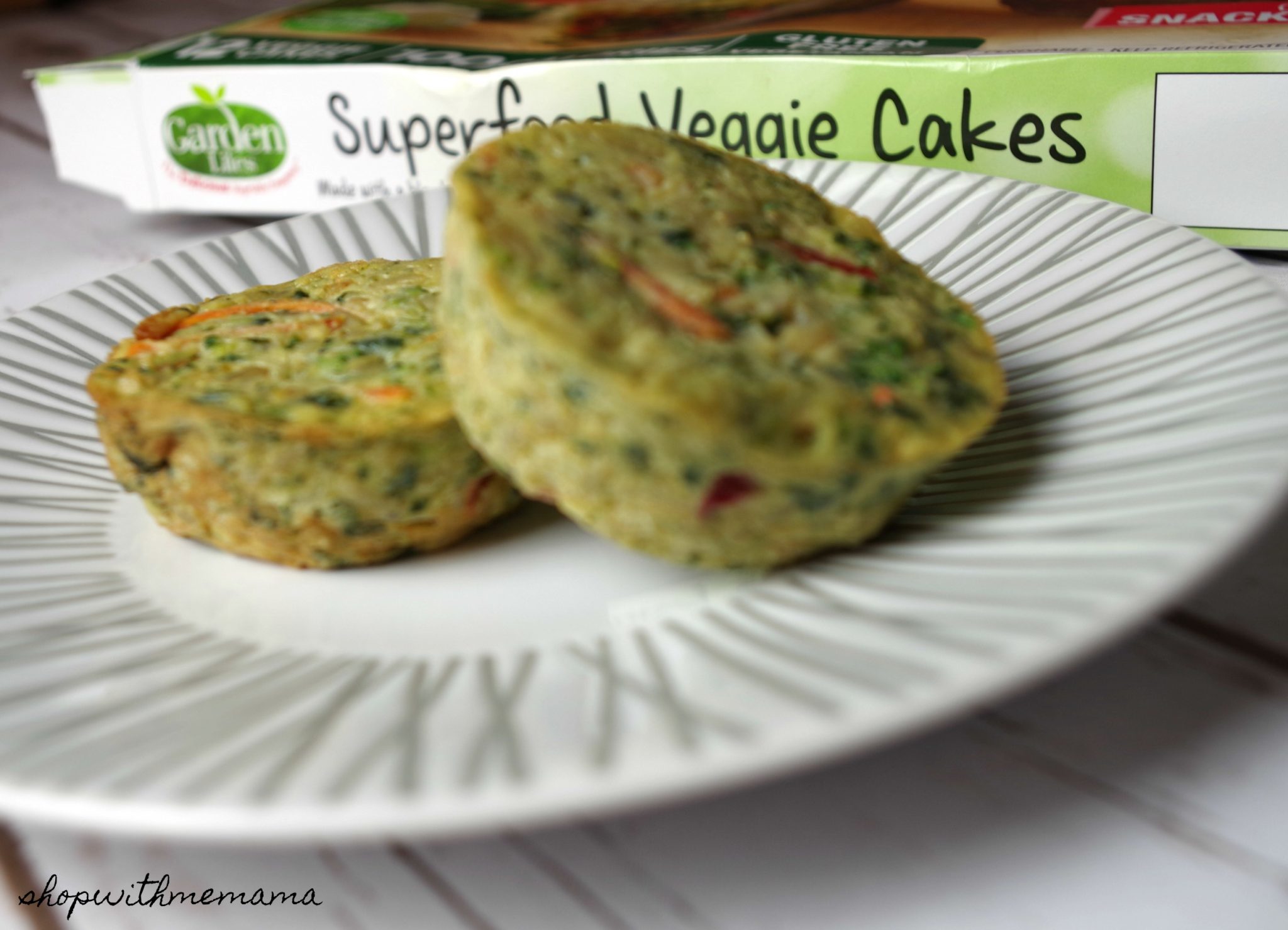 Veggies are the first and primary ingredient in every product from Garden Lites. They are also gluten-free, dairy free, nut free, AND non-GMO.  They have won numerous awards and are Good House Keeping Nutritionist approved! Superfood Veggie Cakes and all muffins without chocolate are also Soy Free. Sounds good, right?!?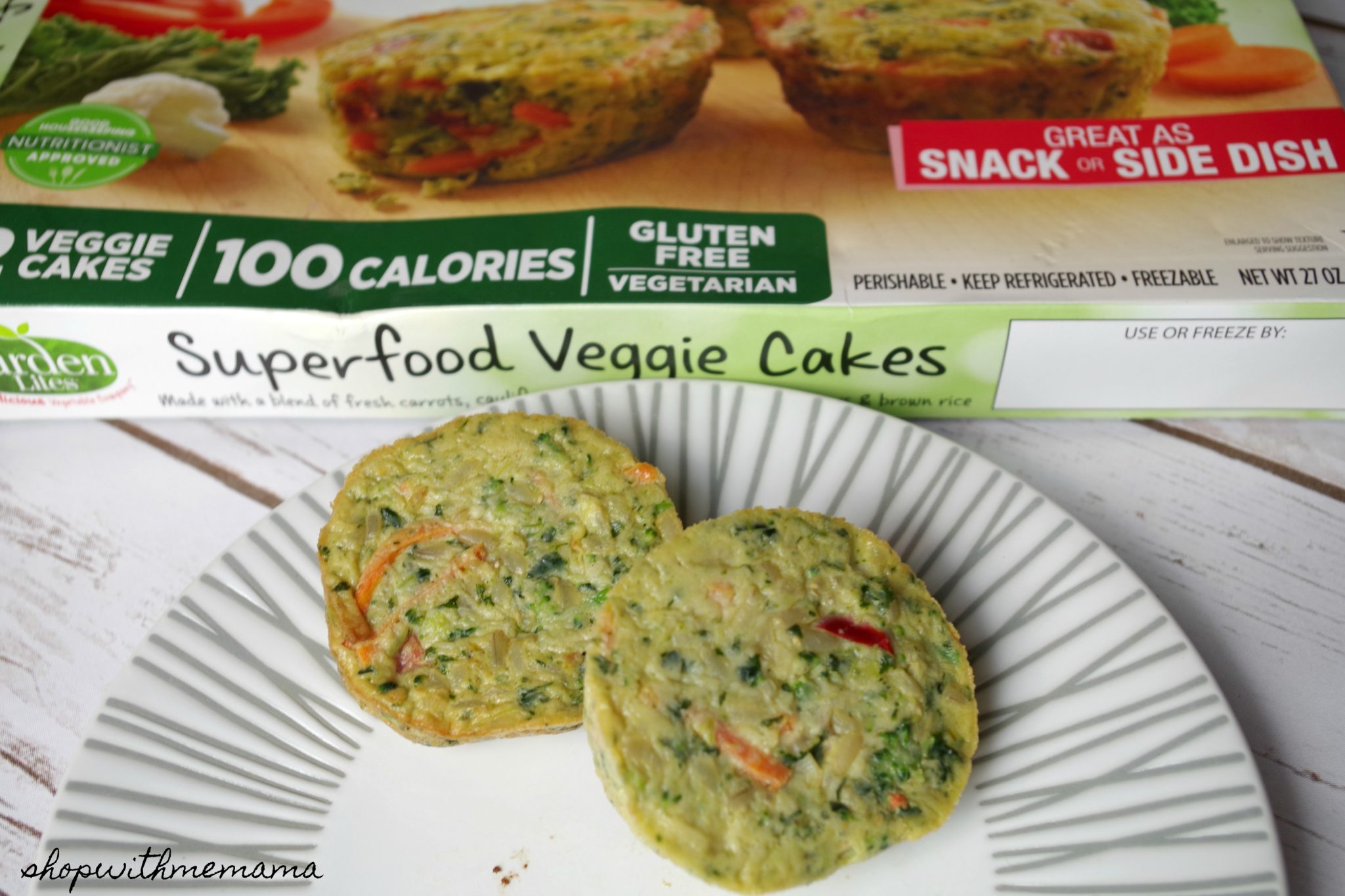 These yummy Superfood Veggie Cakes are packed with nutrient-rich superfood veggies like Kale & Cauliflower, Gluten Free, and only 100 calories! They make the perfect snack or side dish.
Superfood Veggie Cakes Ingredients (see, nothing to hide but the veggies 😉 ):
VEGETABLE BLEND (CARROT, CAULIFLOWER, BROCCOLI, KALE, ONION, RED BELL PEPPER, ZUCCHINI), BROWN RICE (WATER, BROWN RICE), EGG WHITES, WHOLE EGGS, CANOLA OIL, CORN STARCH, SPICE MIX (DEHYDRATED ONION, MALTODEXTRIN, NATURAL FLAVORS, TOMATO POWDER, CITRIC ACID, SPICES), SUGAR, SALT, GARLIC POWDER, POTASSIUM SORBATE (ADDED FOR FRESHNESS), BLACK PEPPER.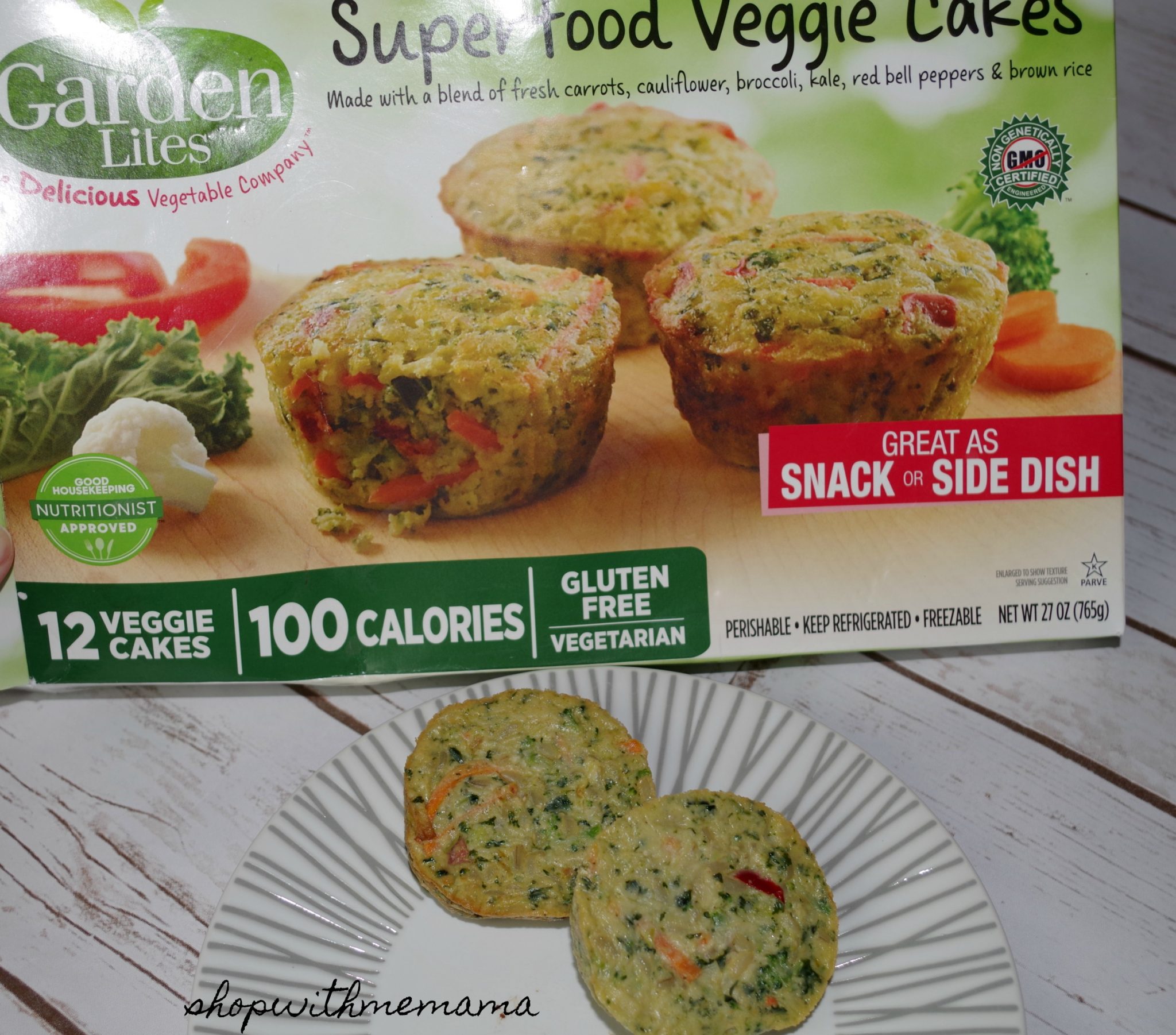 HEATING INSTRUCTIONS
If frozen, please thaw overnight in refrigerator and then follow directions
OVEN/TOASTER OVEN HEATING INSTRUCTIONS (RECOMMENDED) 
Pre-heat oven to 350°F. Remove Veggie Cake(s) from outer packaging and tray. Place Veggie Cake(s) on a baking sheet and heat for 12 minutes. Do not heat tray in oven or toaster oven.
MICROWAVE 
Remove Veggie Cake(s) from outer packaging. Heat on high for 25 seconds. Microwave times are based on a 1000 watt oven and may vary due to wattage.
These superfood veggie cakes are SO full of flavor and taste so delicious. I think even the pickiest non-veggie eater would think these tasted good. After all, my two youngest ate them up! Hey, I may be onto something…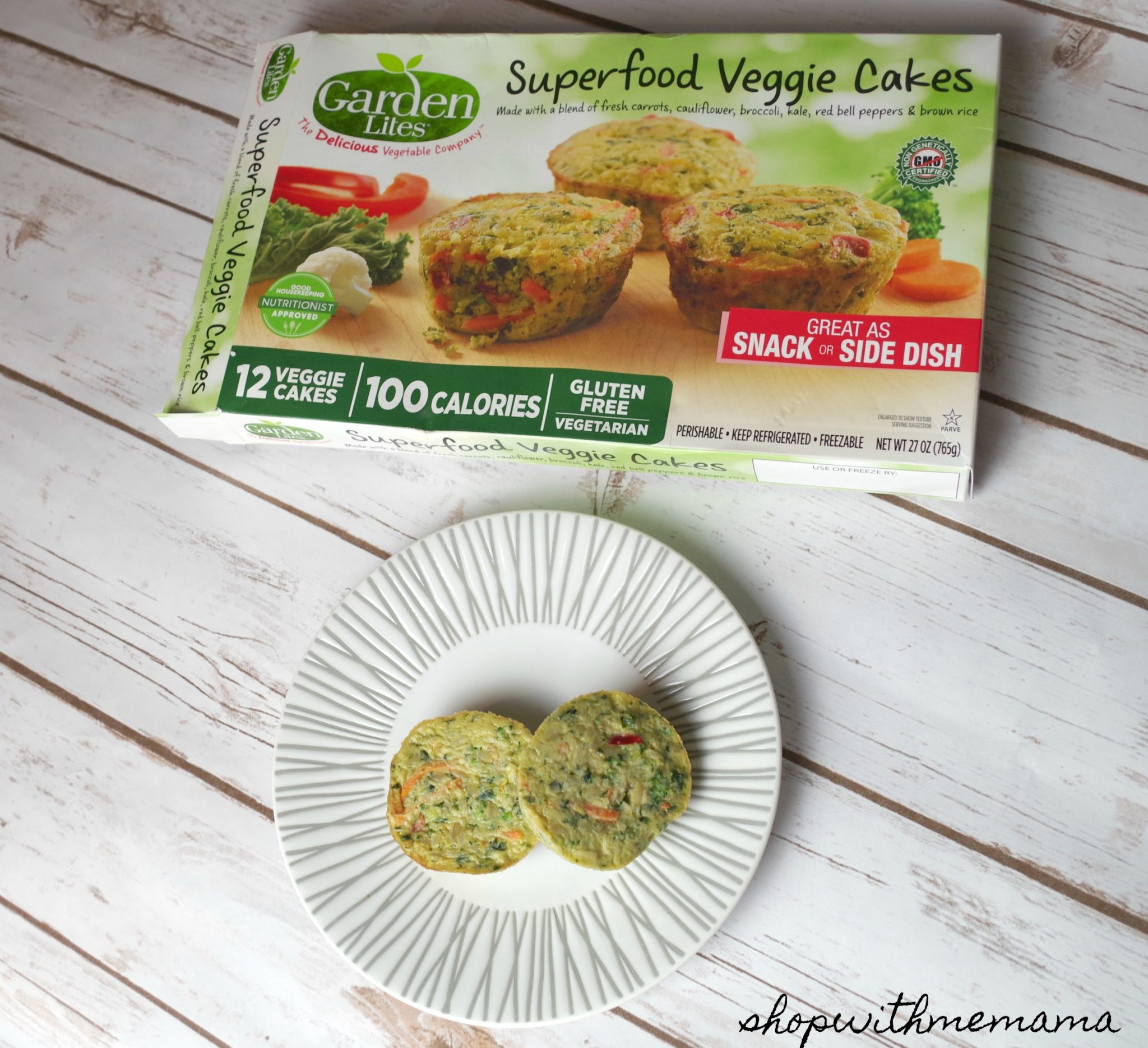 $1.00 Off Coupon!
Get your $1 off coupon for Garden Lites, here! Yay!
Buy
You can purchase these yummy and deliciously fresh Garden Lites Muffins by locating a store near you who carries them.
Win
One lucky person is going to win a 24 pack of Superfood Veggie Cakes! Woot!
Rules
The contest is open to US 18+. Giveaway will end on December 11, 2017, at 11:59 PM MT. Winner will have 48 hours to confirm their win after I email them, or a new winner will be chosen. I am not responsible for lost or stolen mail. By entering the contest you are giving Garden Lites your email to add to their mailing list.