This post is all about the Best Portable Washing Machine Online! Have you ever had your washing machine break down or maybe you lost electricity and you need to wash some clothes for your kids or yourself and now you can't? I have certainly been there before and it just sucks!
Nothing is worse than not being able to wash clothes that you need to wear for the next day! No thank you! That is where a portable, manual washing machine comes into play. No more worries about not having clean clothes because of some electrical problem or your washer breaking down.
*This Post Includes My Affiliate Links.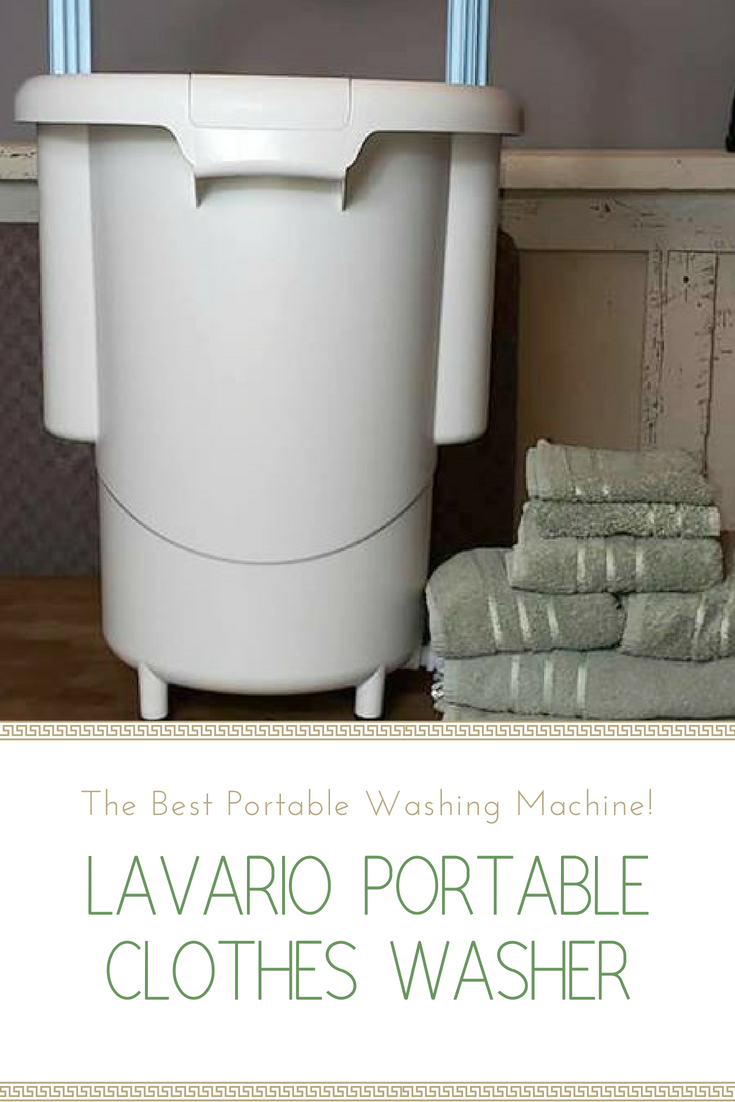 The Best Portable Washing Machine Online!
With the Lavario Portable Clothes Washer (the best portable washing machine online!), you don't have to worry about not having clean clothes when you need them most. This portable washing machine is amazing!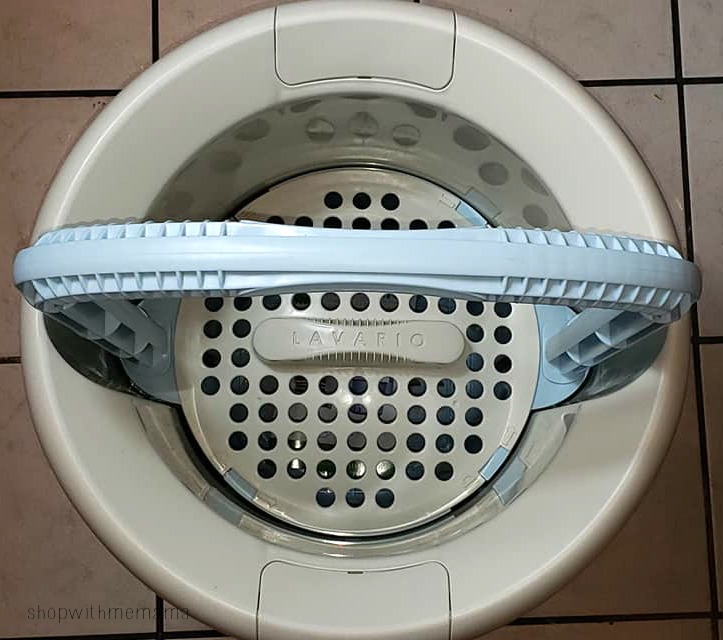 I got to try it first hand and it is a great product to have on hand. You can easily store it in a closet when not in use. This portable washing machine comes with everything you need to get your clothes clean (except the laundry detergent!). This is an eco-friendly product and works like a charm!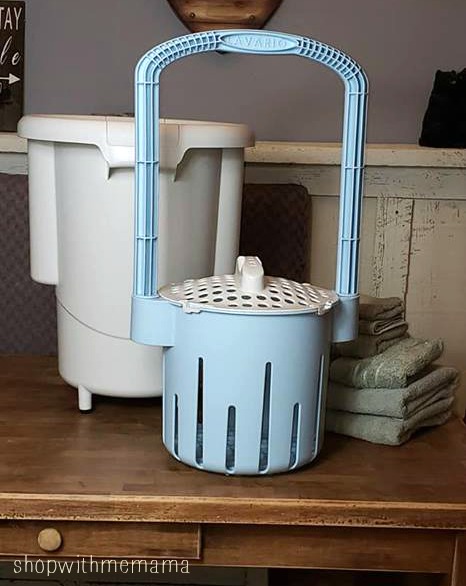 How To Use The Portable Washing Machine
It comes in a huge box and there is only one thing you have to set up. You only have to attach the handle and you are ready to do your first wash in your new portable clothes washer!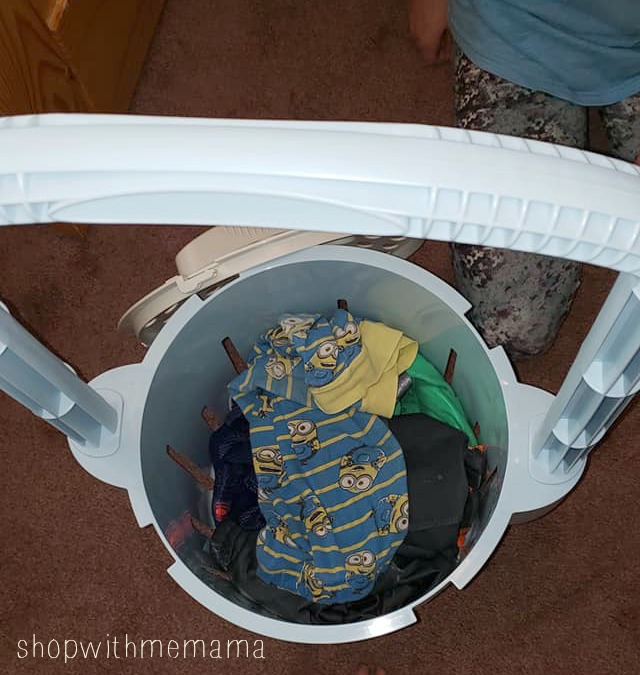 You select which clothes you need to wash and set them aside. Next, you pull the center part with the handle out of the washing bucket and set it aside. Put the washing bucket into a shower stall or bathtub (either works just fine!) and turn on the faucet. Make sure the water you put into the washing bucket is lukewarm, not hot.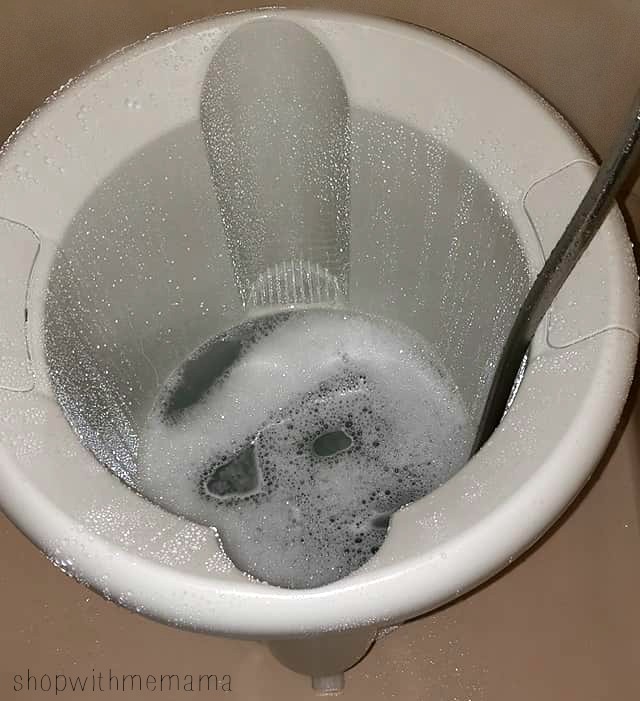 When the washing bucket is 2/3 the way full, you then add your eco-friendly laundry detergent. Next, you put your dirty clothes into the washing basket (the one with holes) and then put the lid back on it. Slowly put the washing basket into the washing bucket and then start with up and down motions to wash your clothes!
You will need to pull the portable washing basket all the way up to the top of the portable washing bucket and then push it all the way back down, 10 times. No need to do this vigorously or quickly.
You can do it gently so as not to strain your muscles. This will ensure your clothes get clean! You can always do it more than 10 times, but it is said to do it 10 times. Probably more, if you have really dirty clothes or a heavier load.
Your clothes will need to sit for about 5 minutes in the soapy water after you agitated them. When the 5 minutes is up, you simply unscrew the cap on the opening at the base of the portable washer and let all the water drain out.
When the water is completely drained out, you then fill it up 2/3 of the way with fresh, clean, soap-free water. Agitate the clothes by pulling the handle up and down (see directions above) and then let them sit for about 5 more minutes.
Again, unscrew the cap on the nozzle at the base of the portable washing machine and let the water drain completely. Then you will remove the basket and take out the clothes and put them at the bottom of the washing bucket. Take the washing basket and push it down onto the wet clothes to get all the water out of them.
When you have gotten all the water out of your freshly washed clothes, it is time to hang them dry! Of course, you can always throw them in the dryer, however, they are always better if you hang dry them outside on a clothesline (better for the environment too and your electric bill 😉 ).
Portable Washing Machine Tips
*If your clothes are heavily soiled, you should soak your clothes for more than five minutes
*The easiest way to fill the portable washing bucket is to use a handheld showerhead (like I did).
*You can always attach a garden hose to the drain fitting on the portable washing bucket if you wish to drain outside or away from where you are washing.
Portable Washing Machine Features
* Typical load uses 10 gallons of water. 5 to wash and 5 to rinse.
*This portable clothes washer is ultra-light, compact & extremely strong, and durable
*This portable clothes washer is 100% guaranteed (so no worries!)
*Dimensions: 31″ H x19″ W (fully assembled)
*Weight of the portable washing machine is 10 lbs.
Do You Need A Lot of Arm Strength To Use This Portable Clothes Washer?
Nope! At first, I was very concerned that it would be hard to hand wash my clothes in this portable washing machine. I was mistaken! My 10-year-old daughter washed her clothes using ONE hand (as you can see in the video!). So, if she can do it single handily, you can certainly do it too! Easy peasy!
About Lavario
With over 30 years of experience in the consumer products industry, Lavario Washer Corp. began in 2014 with the goal of creating an eco-friendly, sensible option for washing clothes by hand, and big electric machines.
They have intelligently designed the Lavario Portable Clothes Washer to do a small load of laundry anywhere, using less detergent, less water, and no electricity. Their company is proud to have partnered with water.org and is dedicated to the conservation efforts of Earth's resources.
Lavario is the best portable clothes washer in the world (The Best Portable Washing Machine Online!). Their patented "power flow technology" is totally unique because it drives water through fabric with amazing cleaning action.
Only minimal arm strength is needed because gravity does the work on the down-stroke and buoyancy makes the up-stroke easy. Lavario is non-electric, eco-friendly, and proudly manufactured in the USA.
Coupon Code!
Get $20.00 off the purchase of the Lavario Portable Clothes Washer! Use code: TYMAMA20. Use THIS LINK to grab that code/discount as it is already applied when you click that link! Share it too!
Buy The Best Washing Machine Online!
You can purchase the Lavario Portable Clothes Washer (the best Washing Machine Online), online at Amazon.com. The list price on Amazon is $139.95. The list price on their website is $124.95.
Shipping is FREE to the lower 48, and $34.00 to Canada. If you live in Alaska, Hawaii, Puerto Rico, or outside the USA, please contact us for purchase options (this is if you order on their website). Amazon has 2-day shipping.