*Products received. Opinions are my own. This post includes an affiliate link.
Ever since I heard about The Real Milk Paint Co. I have literally been obsessed with it. I love using it because it is simple to use and eco-friendly. No harsh fumes from it if I use it indoors. Plus, my kids like to paint with me when I do my projects and since I use milk paint, I don't have to worry about it harming their little bodies. You can check out my first milk paint project here! Turned out gorgeous! The Real Milk Paint Co. Summer Projects that I completed are below and they turned out so beautiful!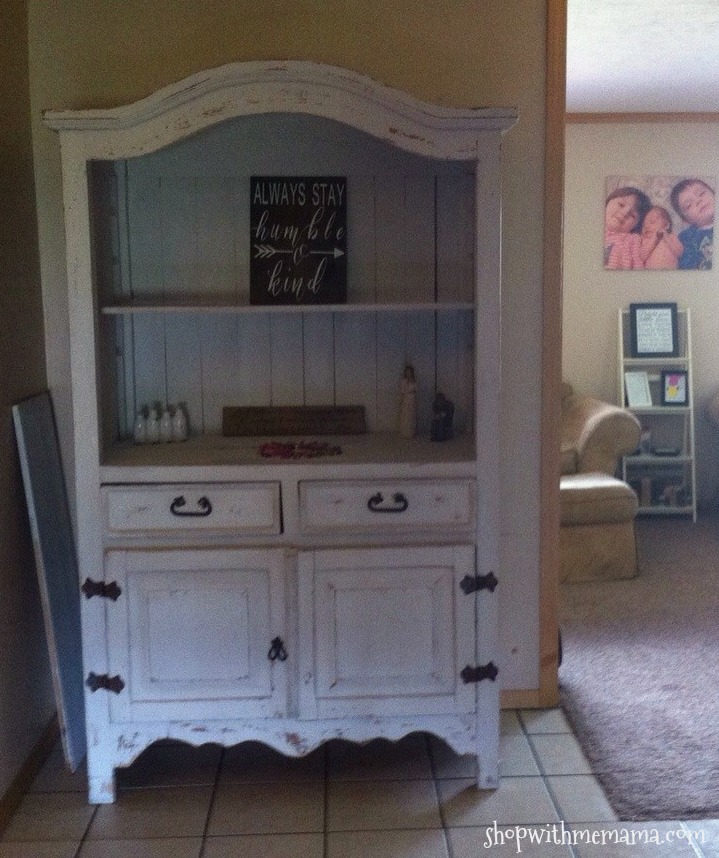 Milk paint is 100% natural and is an environmentally friendly alternative to commercial paints on the market. Milk paint has whole ingredients like milk protein, lime and earth pigments for color. Milk paint lasts for years to come and is such a better option than other paints.
Since this paint is earth-friendly and non-toxic, you can easily and safely dispose of it through composting or in your own backyard. How is that for safe? Now that you know why I am obsessed with milk paint, let's show you some projects I completed with my newest paint! They turned out just beautiful!
This time around I was sent the following products from The Real Milk Paint Co.
SOY-GEL™ PROFESSIONAL PAINT REMOVER Gallon
35 – MILK PAINT FRENCH GRAY Gallon
DARK HALF Tung Oil 32 oz.
Brush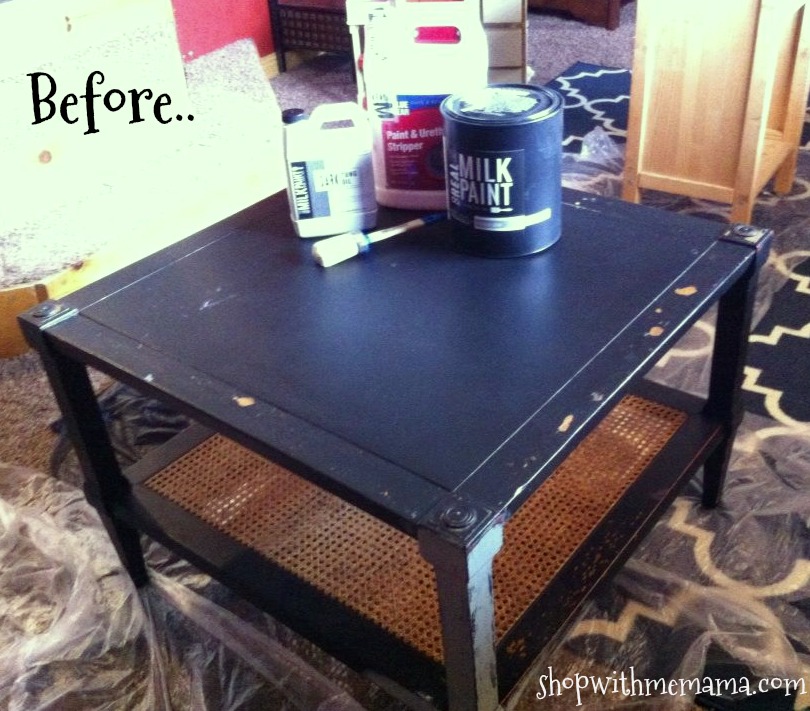 I had three tables that I wanted to paint and since there is paint left over, I will be doing a small dresser and a medium sized dresser next week! So excited! I have never enjoyed painting until now and it is SO easy to do, it really really is.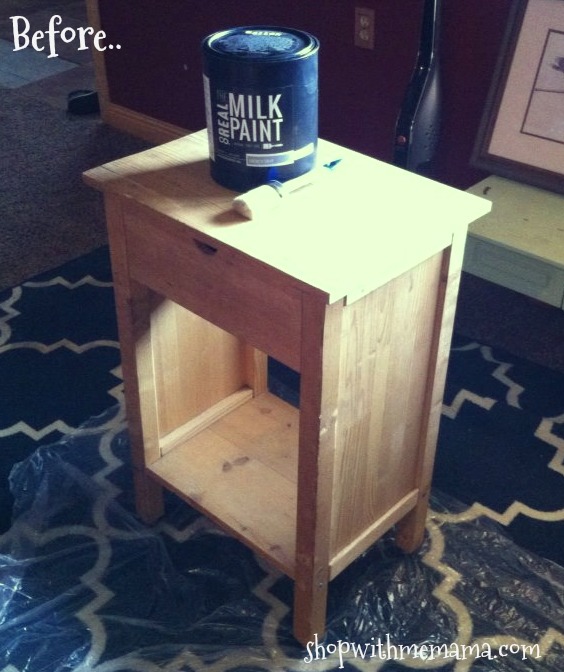 I got my tables ready by cleaning them off and making sure there was no dirt or grease/grime on them. I also lightly sanded the tables so that they became more porous and would take the milk paint really well. Once that was done, I laid down some plastic and put my tables on the plastic tarps.
On the coffee table, you see below, I first painted it with the milk paint color, then when it was dried, I added the dark tung oil over it. I had never used this before so really did not know what to expect. I wiped it off about 45 minutes after I put it on (with an old rag) and I love the darker color it turned! So pretty!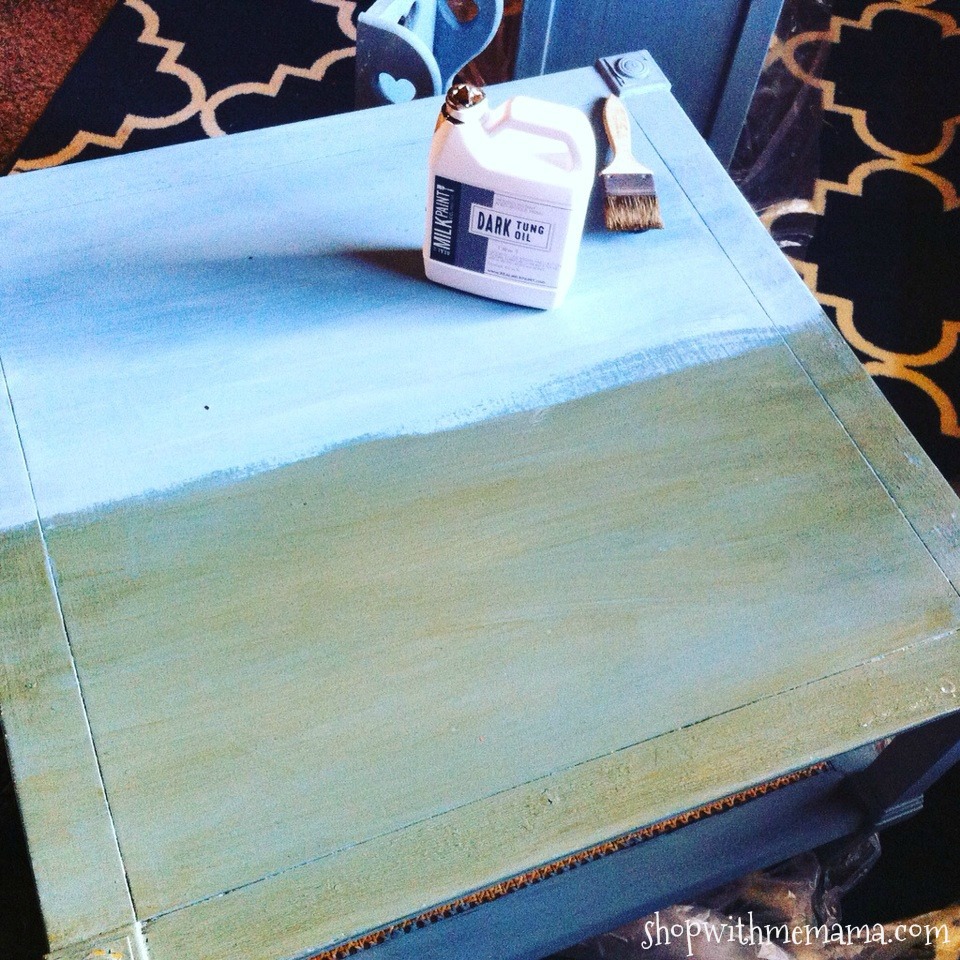 Mixing the Milk Paint is really easy. It comes in a can and inside the can is a marble (to help with mixing) and a bag of the colored powder. You mix one part of the powder mixture to one part of water. It is important to keep mixing your milk paint until you get the consistency that you are looking for. Then you put the lid back on the can and shake, shake, shake it hard! Good workout for your shoulders and arms 🙂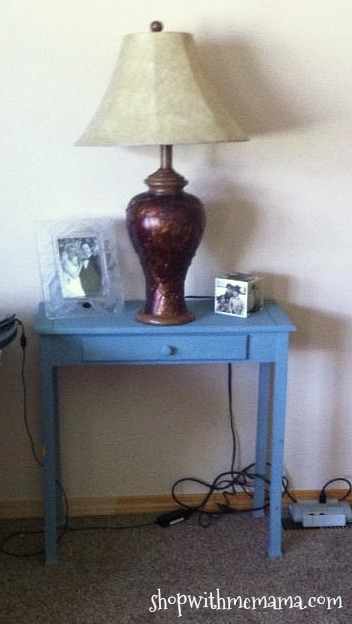 Once you mix the milk paint, let it sit for a few and then you can start painting your project. Be sure to mix the milk paint every 20 or so minutes to keep the consistency where you want it. I added a bonding agent to my first coat of milk paint. When combined with Real Milk Paint® it will give greater adhesion to non-porous surfaces and previously painted surfaces, such as ones painted with their non-toxic paint.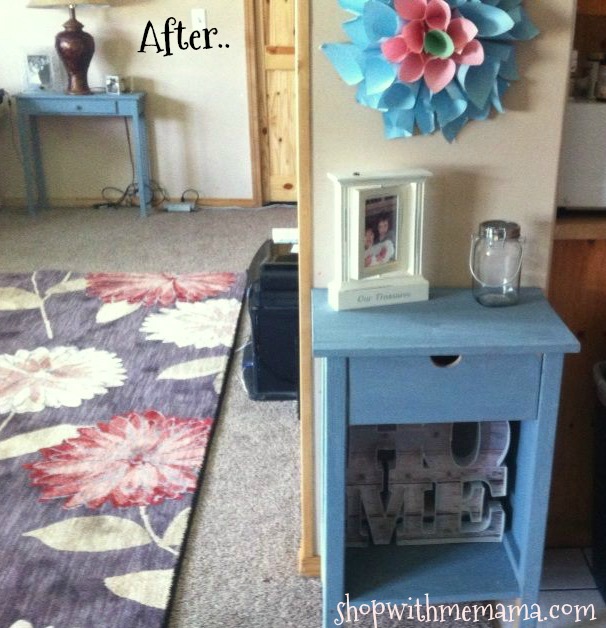 Once that was done, the fun began! It took me literally no time at all to finish these three little tables. One was a coffee table and the other two were end tables. The color that I chose is really pretty and looks so good in my home. It adds a punch of color to my otherwise drab living room.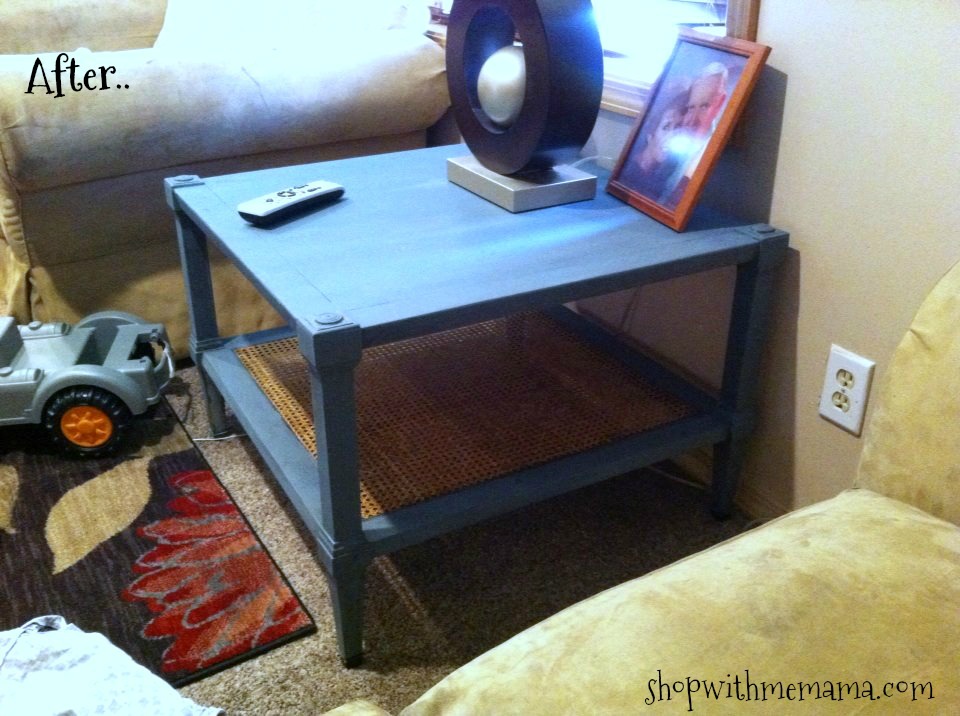 The Real Milk Paint Co. has a slew of tips, advice and more on how to get started painting with milk paint. Definitely check that area out on their site and take a peek at all the projects, colors of milk paint and more! I love their site, so full of great information and is my go-to when I want to know more about milk paint and my projects.
Buy
You can purchase milk paint from The Real Milk Paint Co.
Win
One person is going to win the following:
A Pint Of The Real Milk Paint Co. Paint, Winner's Choice in Color
Low Sheen Finishing Cream
1 3/4 Blue Tip Brush
Rules
Contest is open to US & Canada, 18+. Giveaway will end on June 15, 2017, at 11:59 PM MT. The winner will have 48 hours to confirm their win after I email them, or a new winner will be chosen. I am not responsible for lost or stolen mail.