*Tiny Love Multi-Task Toys For Toddlers! The product was received. Opinions are mine. This post contains my personal affiliate link.
When you have little ones, you must keep them BUSY! If you don't, trouble can be near. This mama does not like trouble OR messes, so I opt to have a few great, multi-tasking toys at hand for my bundle of energy! That is why I am loving the Tiny Love Multi-Task Toys For Toddlers!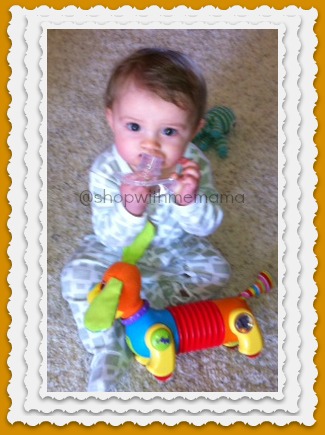 Tiny Love has some really cute multi-tasking toys for your baby! I was sent the adorable Follow Me Fred Doggy and the Flexi Play.The Follow Me Fred Doggy is so cute. You just turn him on and set him down. He will bark at you, pant, music will play and he will glide over your floors! My son loves him. My baby will crawl after the doggy and when he touches the doggy, the dog will bark or pant or make music! Every time baby touches the doggy, the doggy makes sounds and keeps him moving!
So, it keeps it very interesting for my baby boy! If you just want the dog to move, but don't want to hear him barking every 4.5 seconds, you can simply switch him to 'mute' mode. The dog still will move, just won't be able to annoy you 😉 I think it is cute though and my baby loves the barking and panting, so I leave it on for him.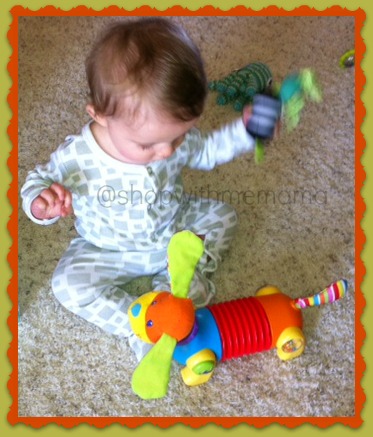 The doggy also has crinkling sounding ears, when they are squished by baby's chubby hands. The main part of the doggy body is flexible and accordion shaped. This is just a really neat toy to not only keep baby's attention but help baby learn to crawl. Baby will want to follow this fun-loving little doggy everywhere! I know my son does!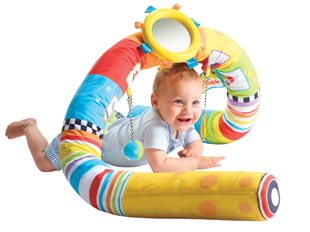 Next is the Flexi Play. I was not overly impressed with this only because it is hard to get it to stay put! With a busy, crawling baby, he just ends up knocking it down and then going on his merry way, forgetting about it. I could see how a smaller baby, maybe 3-8 months would have a blast with it! It is a big, bendy tube like a toy that has little toys hanging from it. You can bend it any which way and it is bright-colored and soft. I think I will end up giving this to my sister-in-law. Her baby is only two months old and he would use it so much more! It is really cute for smaller babies.
Buy
You can purchase these fun, multi-task baby toys online at http://store.tinylove.com or Amazon.com.