My son loves riding outside on his tricycle as does my daughter. My son, who is 5, knows how to ride a bike, but a few weeks ago he took a bad tumble and now he is a bit scared of it. I don't blame him. When I had the opportunity to review the TykeRider Balance Bike and Nutty Helmet, I was thinking about how great this could be for my son (and daughter)! Maybe with this balance bike, he can feel comfortable on a bike again!
TykeRider Balance Bike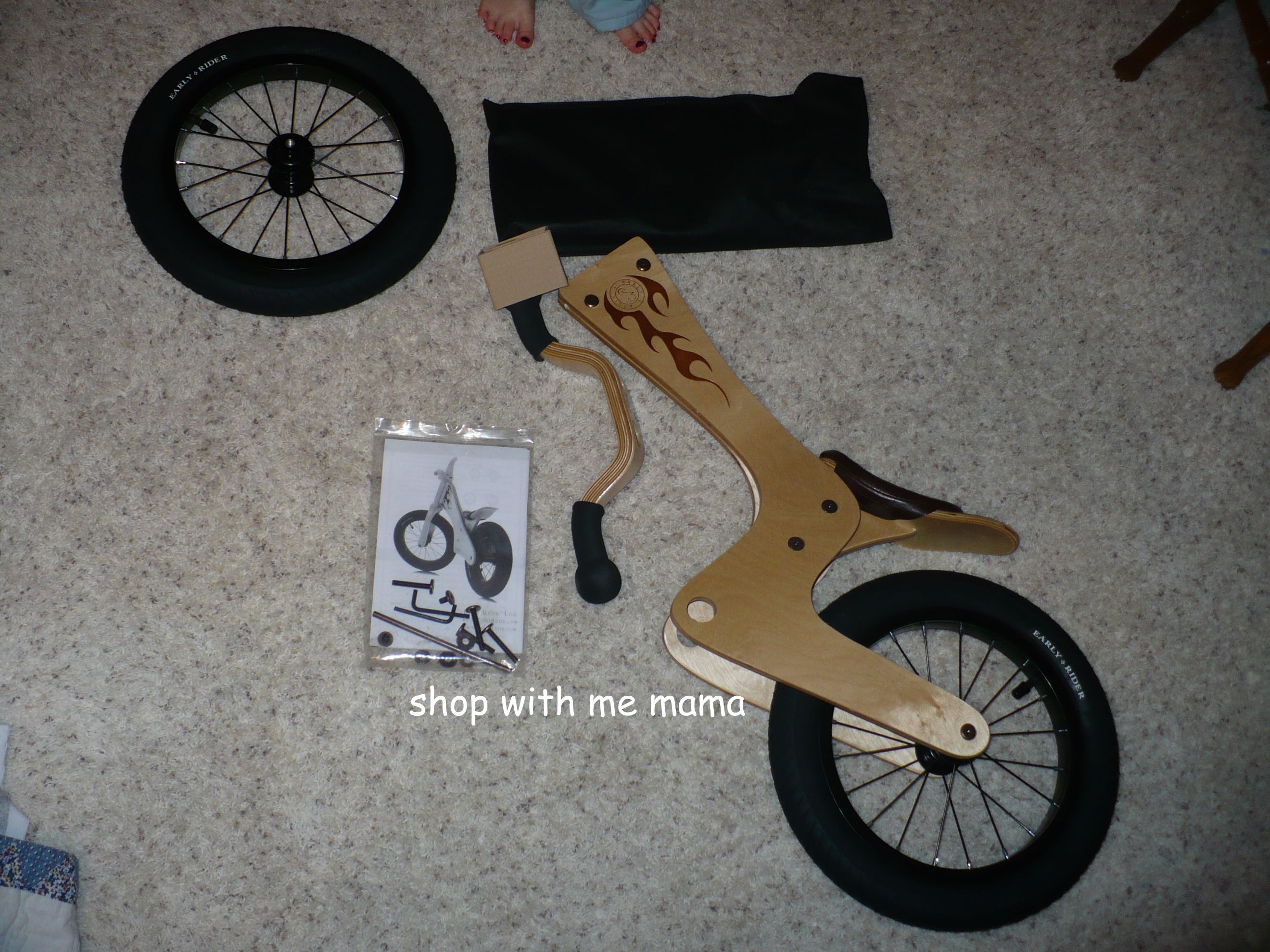 This came and needed some putting together. It came with everything it needed to be put together, meaning the tools too. My hubby had it together in about 15 minutes with my 5 and 3-year-old helping him along the way. Insert WHISTLING *here*. This is one nice ride! My hubby is totally into the Bobber Bikes (motorcycles that is…) and LOVED the way this balance bike looked, we all did! It is sharp-looking, it really is.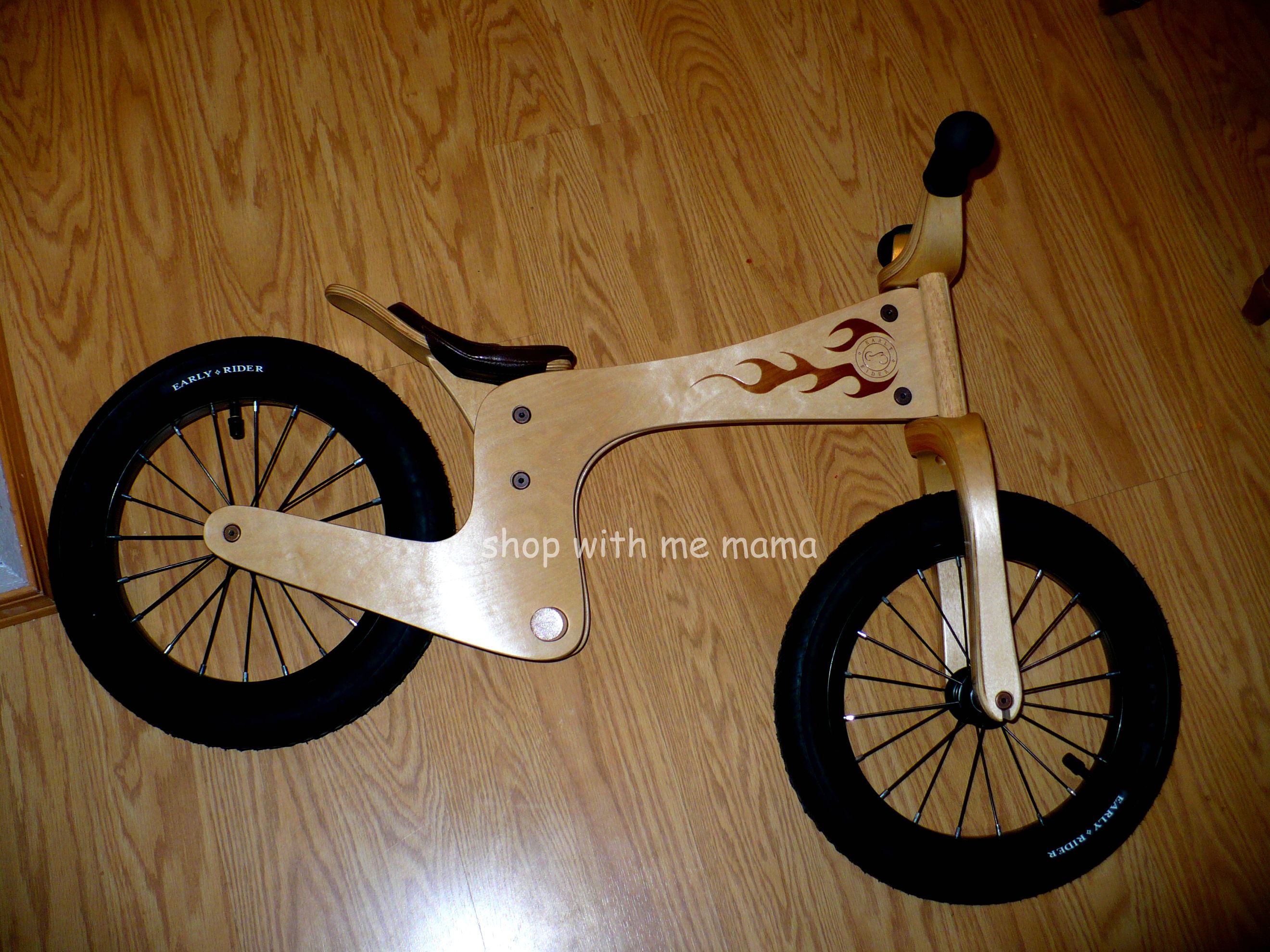 From the wood used to create this bike to the way it was constructed and the details on the wood are just beautiful. The seat of the bike, looks just like real leather! Talk about impressed even before my son got on it! My hubby did have to add some air to the tires before my son did get on it, but that was it! Soon my boy was on his way!
Bye Bye!
The details are amazing…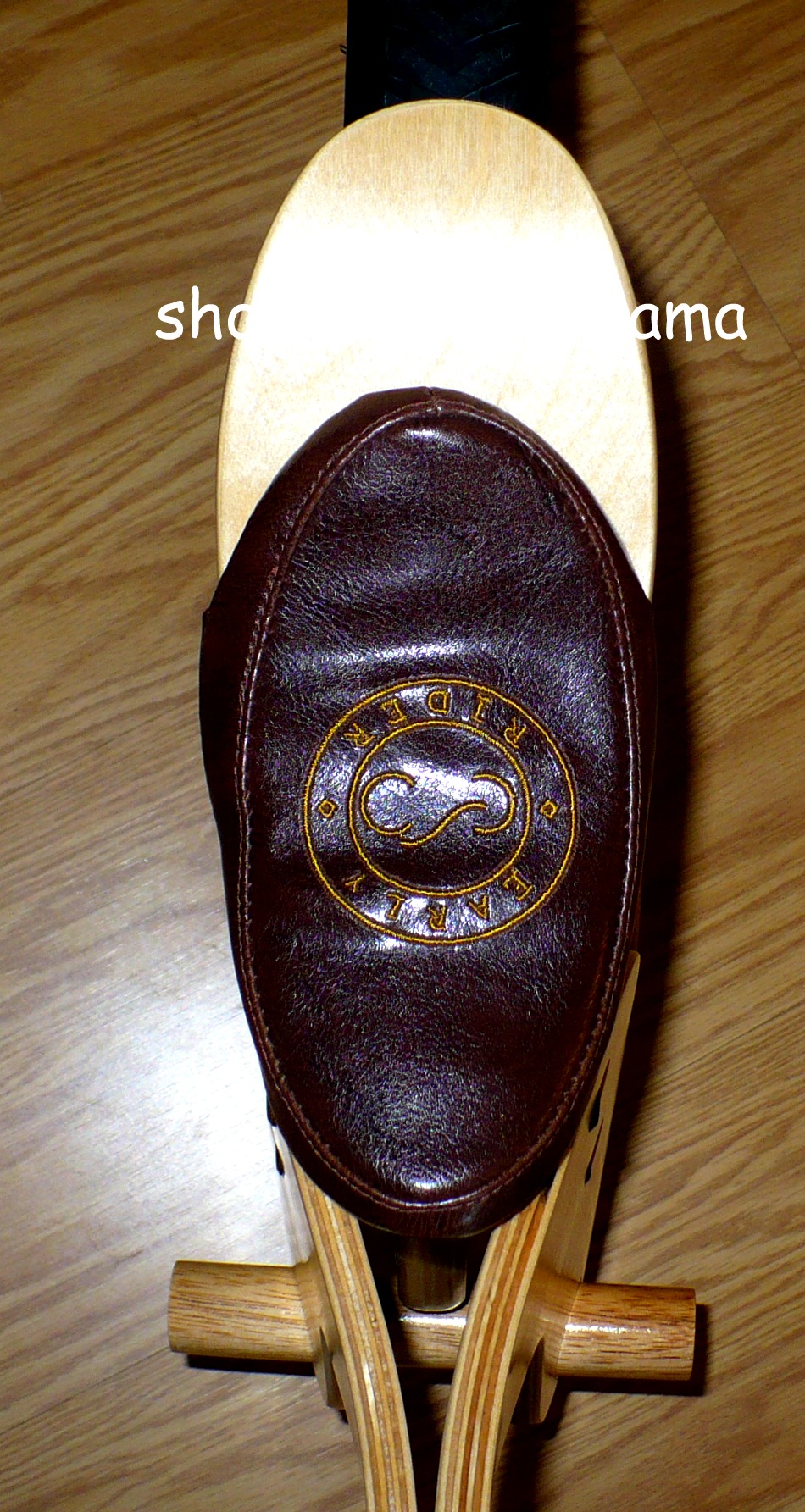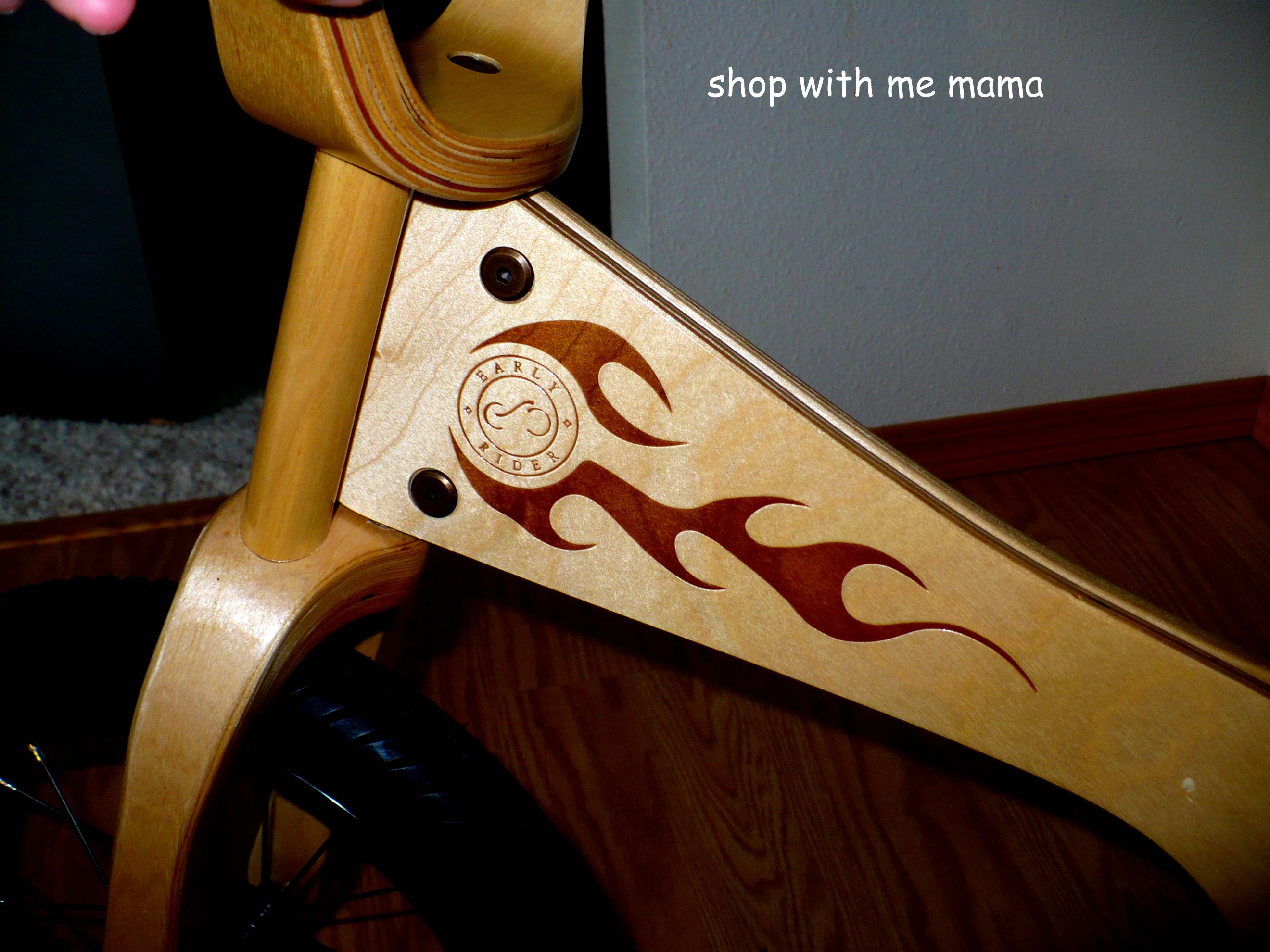 I also like how easy it is to adjust the seat on this balance bike. Between my son and daughter, it makes it nice to not take too long to do that!

Some Features of the TykeRider Early Rider Balance Bike (taken from their site):
• Environmentally friendly, FSC-certified birch
• Water and weatherproof marine-grade ply
• Weighs in at 7 lbs, tested for children up to 100 lbs
• Two levels of steering – Restricted and Unrestricted
• Adjustable seat and reach
• Pneumatic tires with aluminum rims
• Notched fork ends for quick assembly
• Branded flame and logo detail, tire hot patches
• Embroidered faux leather seat pad
A Bit About the Balance Bike (Taken From their Site):
The Early Rider Lite is the smallest of the Early Rider balance bikes, and at only 7 lbs, it's the lightest bike of its kind on the market. Its weight combined with a low adjustable seat setting gives children as young as twenty months an opportunity to learn to ride.
The ultra-light pedal-free design encourages mobility and rapid development of balance, strength and motor skills, even in the youngest of children. And don't forget to check out this video by Martha Stewart!

We also received the Little Nutty Drippy Helmet for my son and daughter. This helmet is unique because it lets you adjust it to your child's head. I found this very helpful when my son was done using it and my daughter wanted to use it. Very nice feature!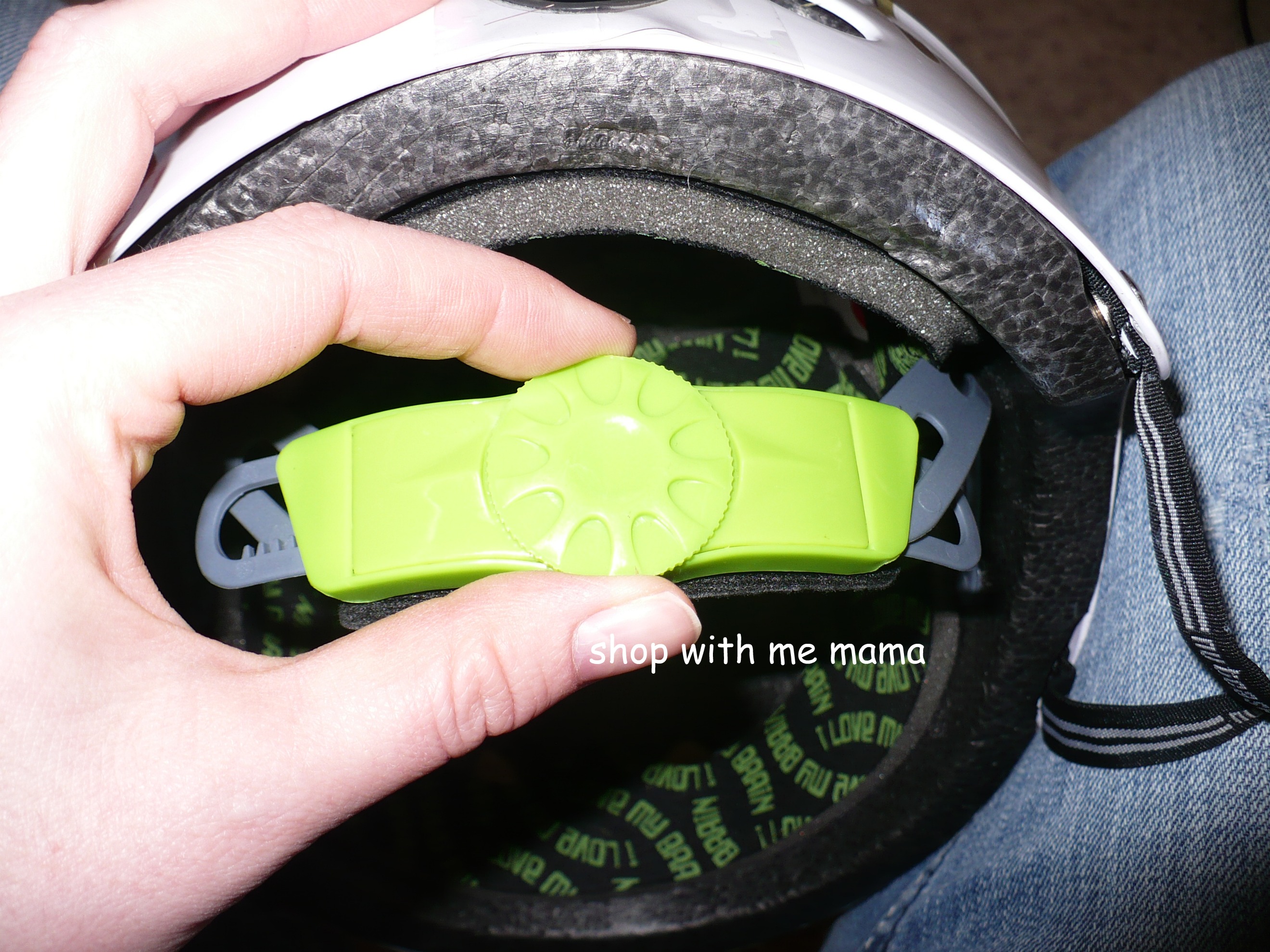 It is easy to adjust the chin part too. My kids said it is comfortable and did not mind wearing it. It comes in different styles, so there is a helmet for every child!

A Bit About the Little Nutty Helmet (taken from their site):
Ages 2 – 5 years old.
At last – a cool skater-style helmet with 'Dial-to-Fit'. Just turn the dial on the back of the helmet to make it fit your child's head exactly, growing as the head grows from 18-20.5″.
• Spin-Dial Fit System
• ABS injection shell
• EPS Shock absorbing liner
• Classic 11 vents design for the perfect ventilation
• Full surround interior
• Quick-release buckles
• CPSC & CE EN 1078 Multi-Sport Standard Safety

So, all in all, we are happy with the TykeRider Early Rider Balance Bike and Little Nutty Helmet! Feel free to connect with TykeRider on Twitter and Facebook too!
Buy One
You can purchase the TykeRyder and Little Nutty Helmets online at http://tykerider.com/ and they accept Paypal!!!! Love it when I see that companies do that, makes things so much easier!!