My kitchen is SO outdated and I really am trying to update it. In a couple of weeks (or so!) I will be painting it a nice light gray color. I have also replaced the microwave and next will be the fridge. Since updating kitchens can be spendy, I have to do it slowly! One easy way I recently updated some of my kitchen was with an adorable All-Green Vintage Bread Box Container and Costoffs beautiful Metal Dining Chairs! I can't believe how just adding those things made my kitchen look SO good! Such a difference already and now I am even more excited to get my kitchen painted and updated for the new year!
Updating your kitchen doesn't have to be super expensive. If you buy things as you can afford them and don't go overboard on spending a fortune (I recommend budgeting!), then you should be okay. I know it is not immediate, but doing things as you can afford them and not stressing about spending money when you don't have it to spend can certainly take the stress out of updating any room in your home. Simple things like adding a cute free kitchen printable and framing it and hanging it on your wall will already create a more inviting and fun atmosphere.
Simple and inexpensive ways to update your kitchen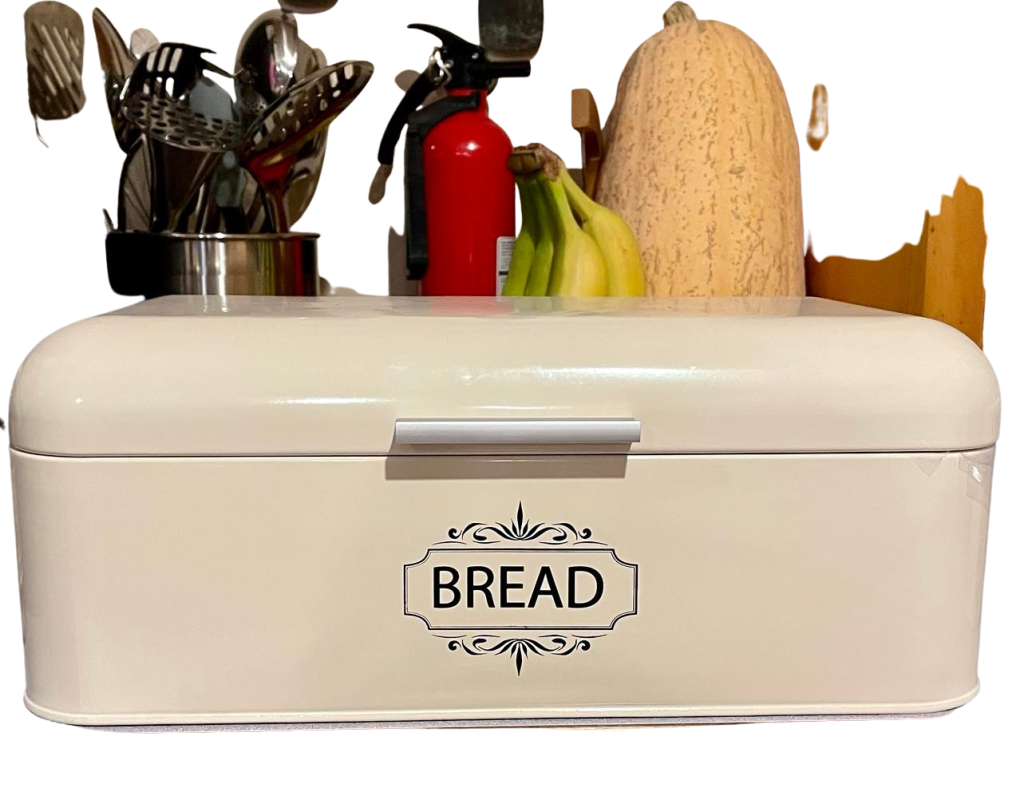 As I said above, updating your kitchen and buying things as you can afford them is definitely the way to go. I am so very happy with my adorable AllGreen Vintage Bread Box Container. I have always wanted a vintage bread container to hold my bread in and now I have one. It is so pretty to look at and it is sturdy, strong, and keeps my bread fresh! That's because a bread box seals in just the right amount of moisture while allowing enough air circulation to prevent condensation that makes bread soggy and encourages mold growth.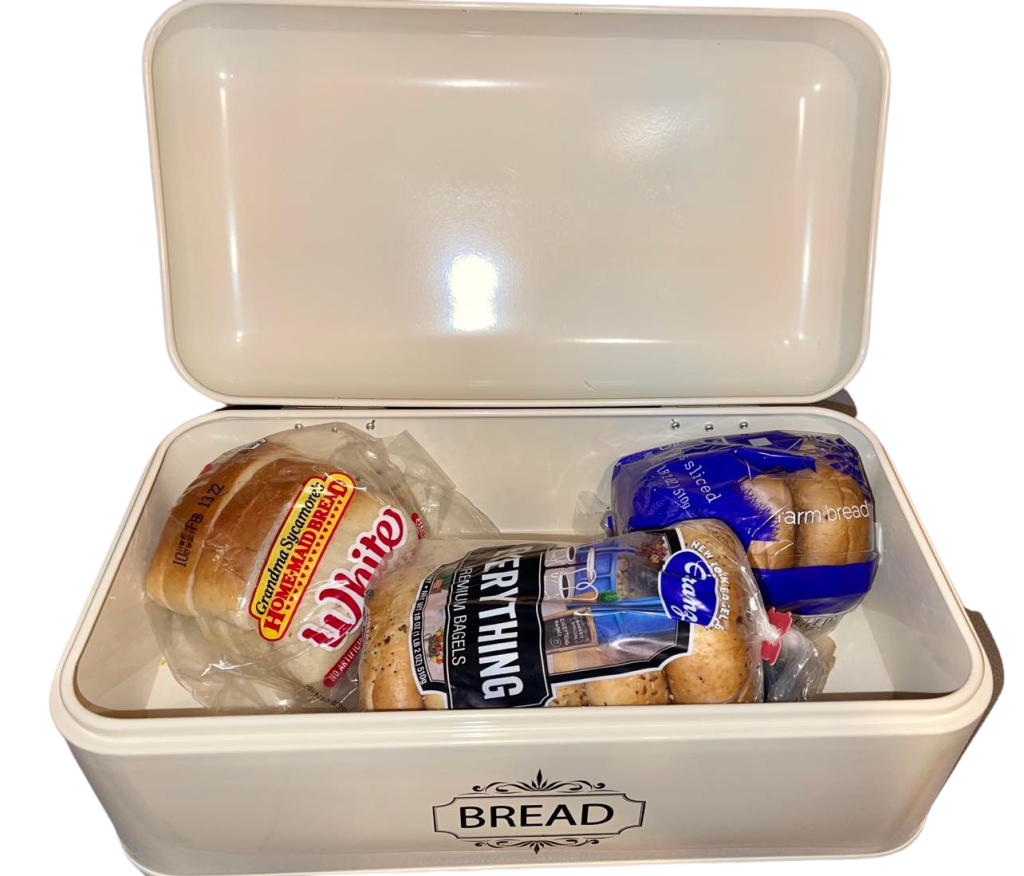 This vintage bread box comes in four different colors; red, cream (the color I got!), turquoise, and yellow! This vintage bread box will bring back style and memories of Grandma's kitchen. A great combination of modern materials with vintage design. Your grandmother used one of these to preserve her fresh-baked loaves and it will do the same for your homemade or store-bought bread too! This vintage bread box also came with a pretty butter dish to keep my butter fresh! I love that!
Costoffs Metal Dining Chairs
The metal dining chairs are so nice looking! They came in a pack of four and have a high back on them with real wood seats. They are made really well and are very sturdy. They don't wobble around or feel fragile. I love them! Each metal dining chair is equipped with a detachable backrest. The chairs look great with or without the backrest. I decided to use the backrest because we tend to sit a lot at our counter and use our metal chairs. The backrest can be disassembled if you want a backless stool. Very easy to put on or take it off.
The footrests are also quite nice. If you have been on your feet all day long, the footrests are so nice to have! The metal legs of the chairs have protective pads on the bottom of them to help avoid any scratches on your floors. The plastic protective pads also help to reduce those annoying sharp noises when you move the chair around and they also help to increase stability when you sit on the chairs.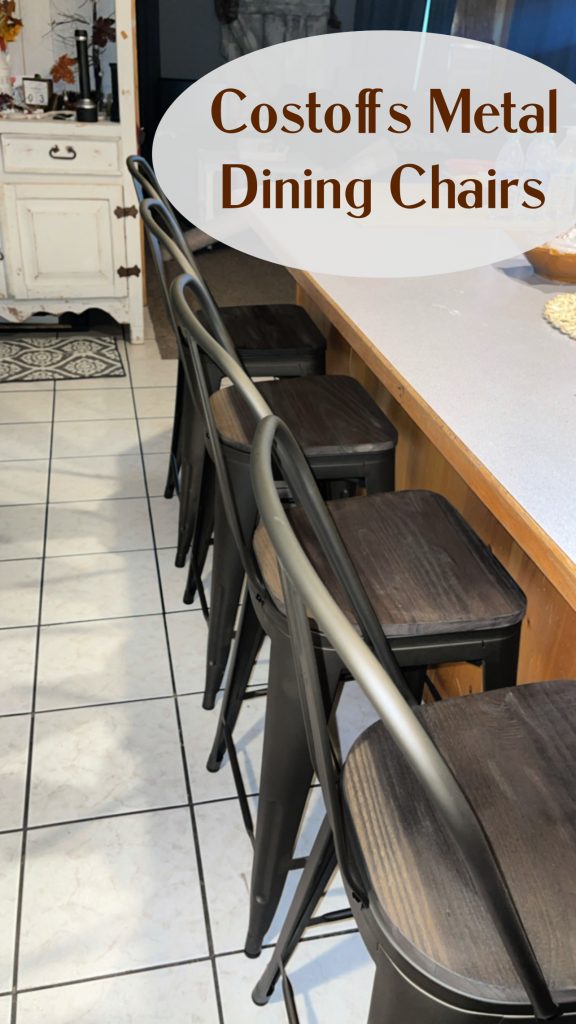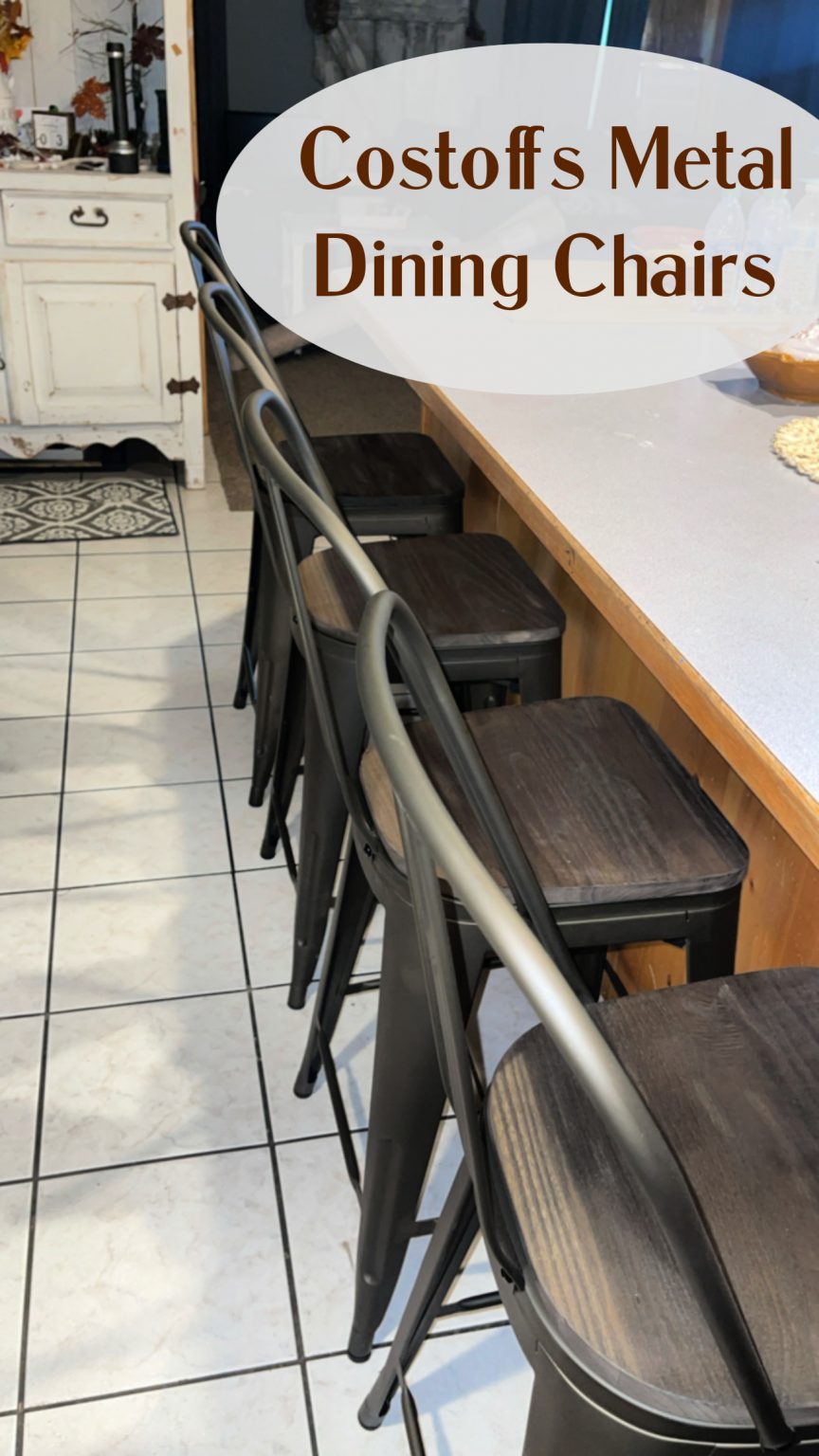 These modern dining chairs feature solid wood seats, which are made from fir wood with natural wood grain. Because of different angles and light, you might see different wood textures, which are not quality issues but because of the real wood, every wood seat will not look exactly the same but the chairs will look the same.
The edges and corners of the wood seat are well polished and smooth to avoid any uncomfortable feelings and to prevent any injuries which are so nice! I loved smelling the fresh 'wood' scent when I pulled these beauties out of the box! These chairs match almost any other furniture and fit right in with any decor you may have.
Costoffs Metal Dining Chairs offers free shipping which is really nice and orders arrive in 10-15 business days, however, mine arrived in 4 days! These Modern Kitchen Metal Dining Chairs, Set of 4, from Costoffs retail for $199.99 and are a perfect addition to any kitchen that is being updated! We love ours and highly recommend them to everyone! There are also some helpful tips for choosing the best dining chair in that blog post. I hope that helps you some!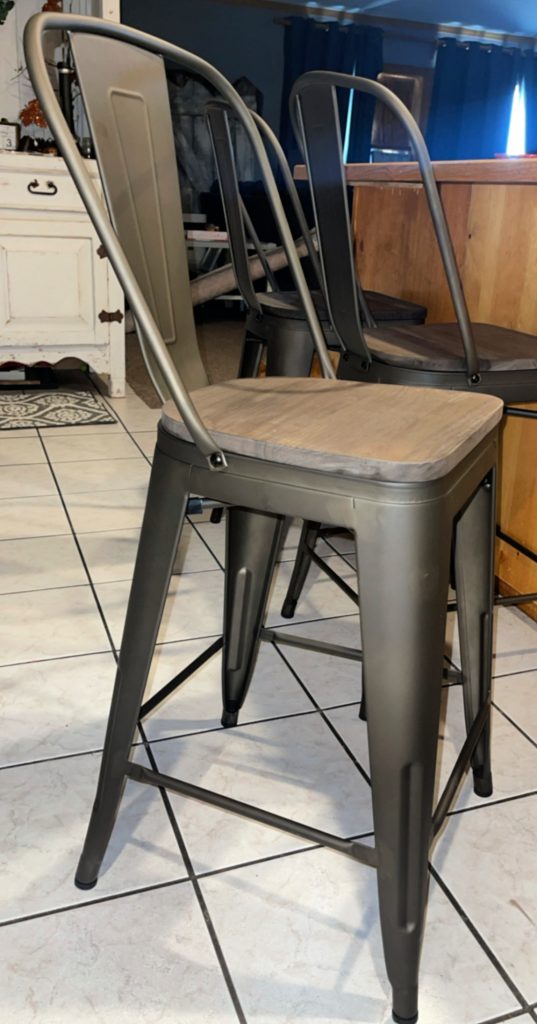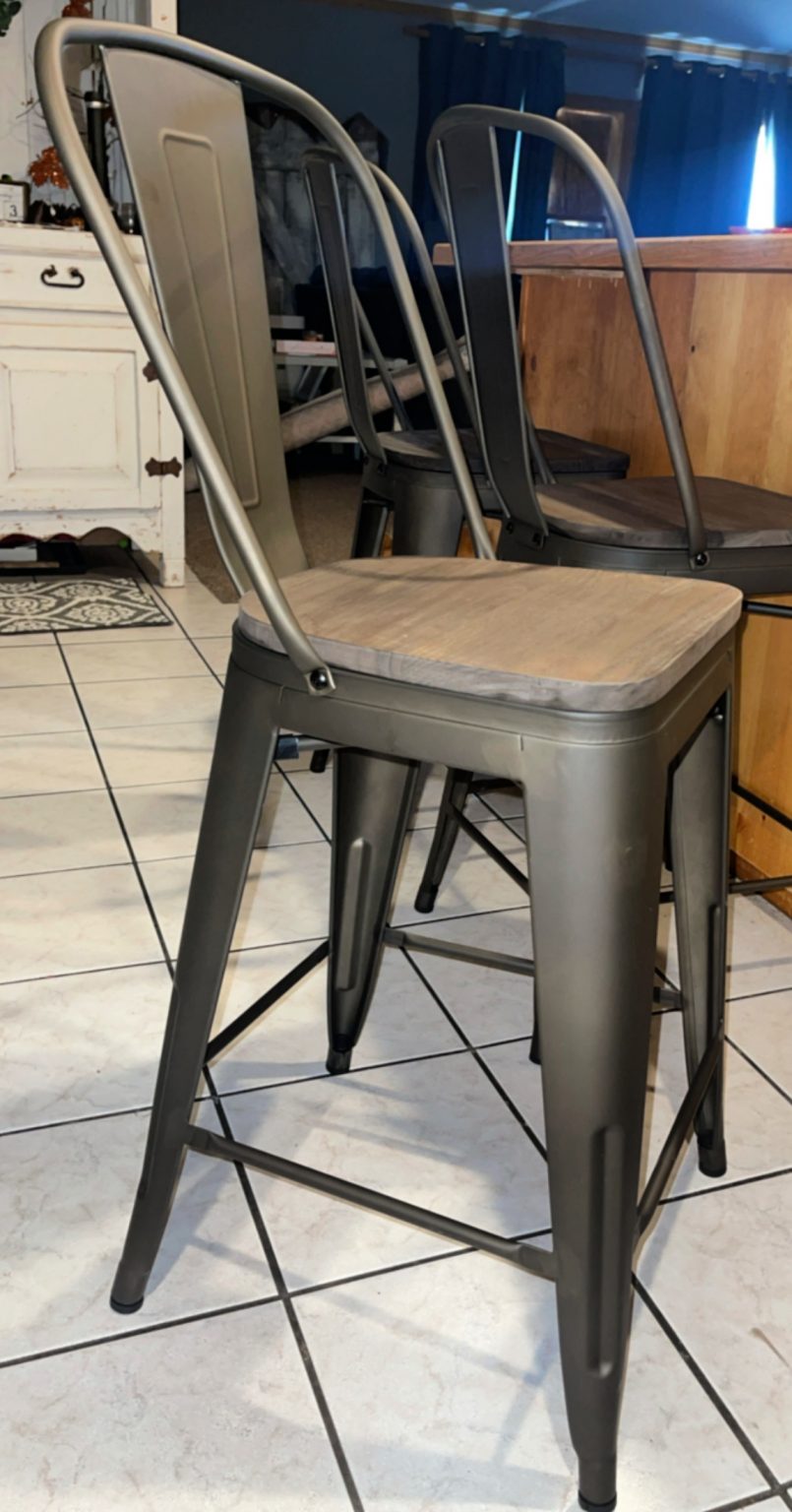 The Vintage Bread Box from All-Green and the Metal Dining Chairs from Costoffs certainly made a HUGE difference in the appearance and feel of my cozy kitchen! I am so pleased with how they look.