If you have a dog, chances are you have needed shoes for them. Walkee Paws are dog leggings with shoes and they are awesome! Our little Pomeranian, pet Daisy, looks so adorable in her Walkee Paws leggings for dogs and now her little feet and legs can stay warm this fall and winter when she goes outside to go potty!
*This post includes my affiliate links
We start getting a lot of snow starting at the end of October and having something to protect Daisy's feet from the elements is necessary. so too, is the quality of food we give her in the winter months – she needs energy and warmth in winter – the best healthy dog food can be compared on Freshpet reviews. I've also been having Daisy wear the Walkee Paws dog leggings with shoes a few times each week to prepare her for the times she has to wear them because they do take a bit for your dog to get used to walking in these. After all, they are not human and they don't normally wear shoes or leggings!
Walkee Paws Dog Leggings With Shoes (Leggings For Dogs!)
Daisy has gotten much better at walking in these now. When I first put them on her, it was not only adorable to watch her trying to walk around in her new fashionable dog leggings and attached shoes, but it was fun for her to try too! She always is trying out and reviewing the newest and best dog products and Walkee Paws certainly is one of them!
Now, when the snow hits, and we put Daisy outside to piddle and poo, we will rest assured our darling pooch will not get cold on her little paws or tiny legs! Now, she will be warm and fashionable 🙂
Check out Daisy wearing her Walkee Paws Skull Dog Leggings:
Of course, the Walkee Paws are not only for the cold weather, they can be worn whenever, wherever! Grab a few pairs and have them on hand for when you take your pup out for a walk in the town or around your neighborhood. They are wonderful for protecting your dog's paws from the elements.
Most dog boots only protect your pooch's paws. But Walkee Paws dog leggings cover their entire legs, keeping them dry in rain and snow, free of dirt and germs, cool against the hot pavement, and protected from chemicals and allergens!
Walkee Paws are SO much better than regular dog shoes only because they stay on and you don't have to take the time to push your pup's paws into little shoes. That is SUCH a pain! Walkee Paws are SO easy to put on your pooch and they stay put! We love them!
Thanks to the clever over-the-back design, Walkee Paws takes the pain out of putting on dog booties. Regular dog boots come in four separate pieces. But their dog leggings connect to one another over the back, making them easy to slip on without messing with your pup's sensitive paws.
Walkee Paws Dog Leggings are designed with the coziest 4-way stretch fabric for maximum canine comfort. With their patented over-the-back design, they don't rely on being tight around the ankle to stay on. They are easy to adjust so that you can get that perfect fit for your doggy! Such a perfect gift for all you pet lovers out there!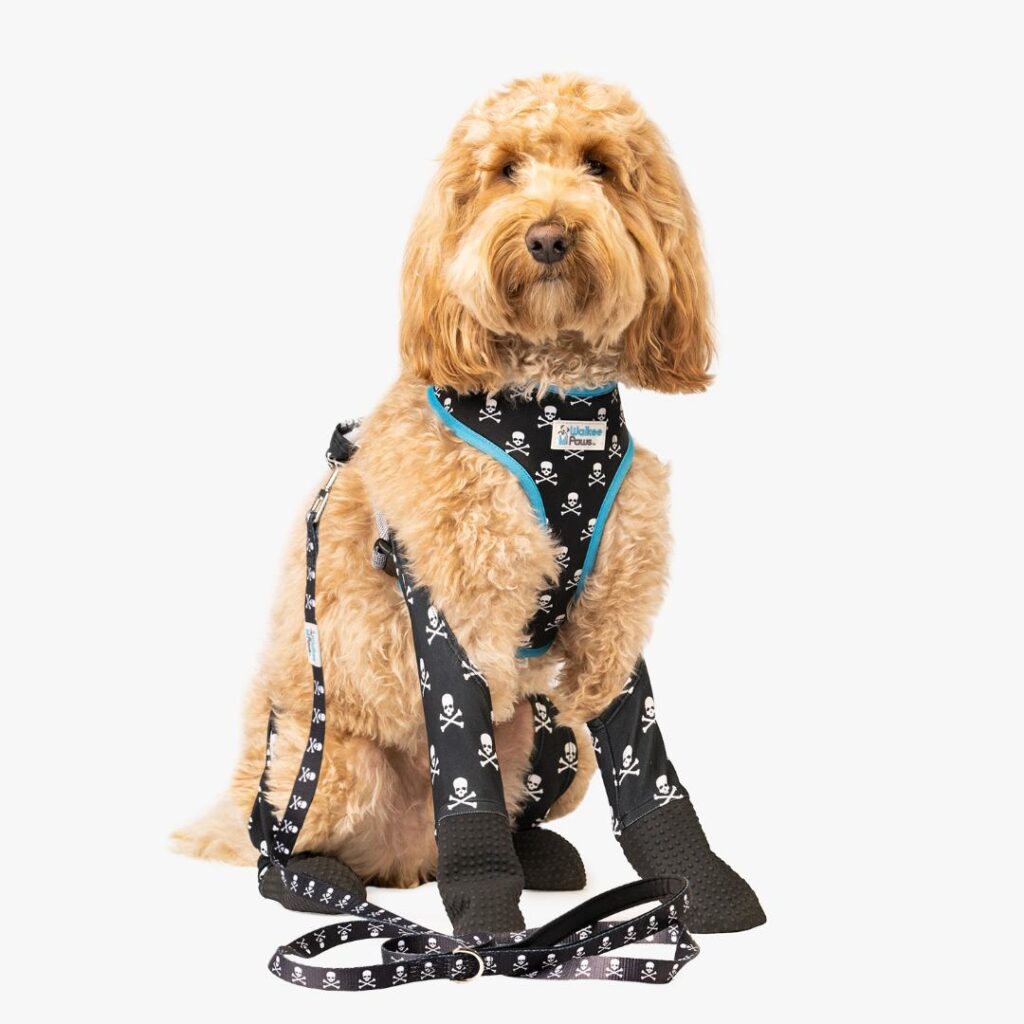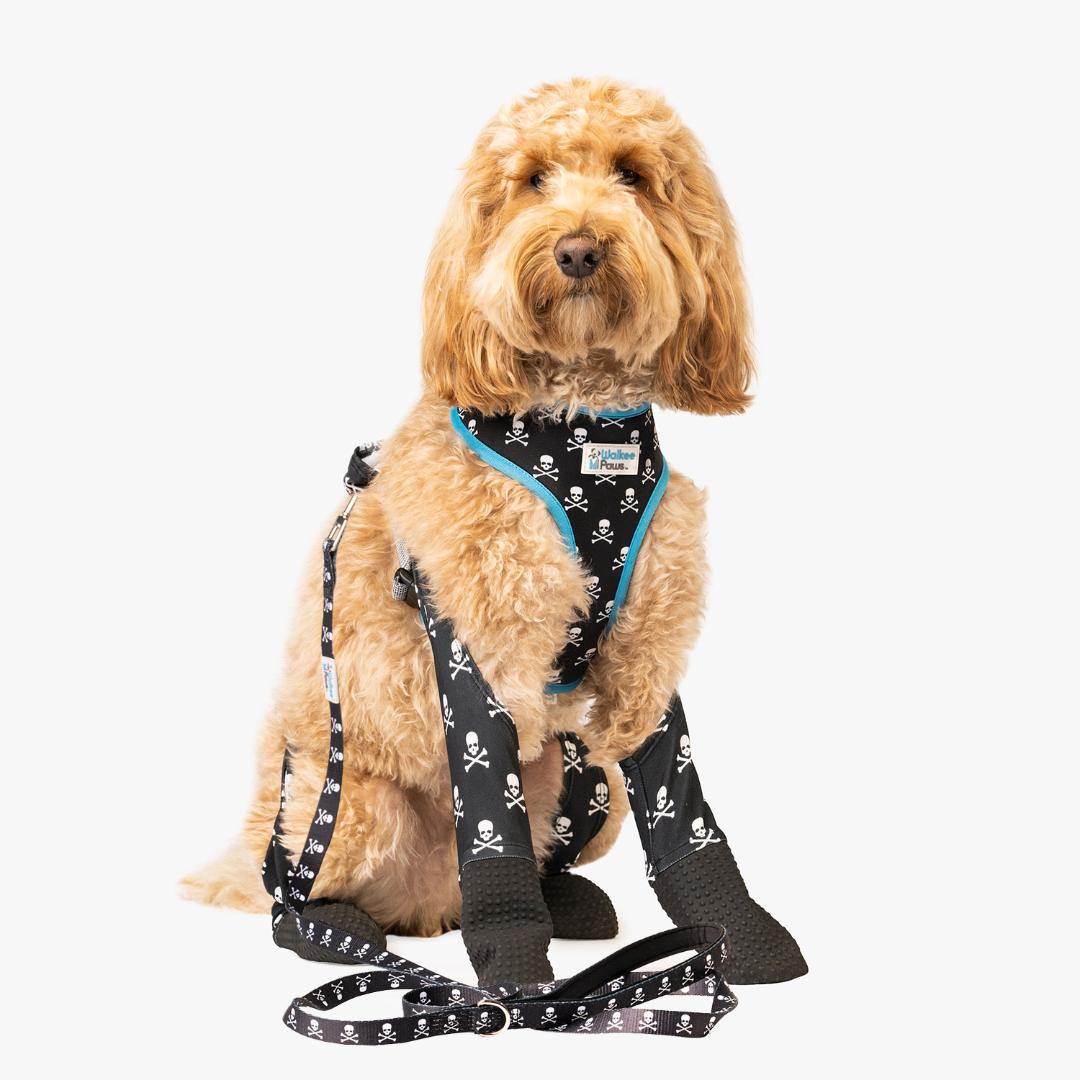 Walkee Paws launched in 2018 as the world's first dog leggings. They are designed to protect your dog's paws and legs from all the rough stuff outside.
Walkee Paws has expanded the products that they sell. Now you can pair their best-selling dog leggings with cute accessories like puffer coats, patterned leashes, and more! Their hope is that these designs keep your pup comfy, cozy, and protected on their everyday adventures—providing you with peace of mind and a super-stylish walk!
Different Styles of Dog Leggings
There are a few different printed dog leggings for you to choose from:
*Classic Leggings
*Confetti Leggings
*Black Leggings
*Cocoa Leggings
*Camo Leggings
*Hearts Leggings
They have so many cute dog leggings to choose from! We had a hard time choosing but finally agreed upon the skull leggings for Daisy because Halloween is just around the corner! She is absolutely adorable in these skull dog leggings! SO CUTE!
Walkee Paws carries other products for your canine too! Things like leashes, coats, hats, and more! Daisy also received a skull leash to go with her skull leggings AND a cute pom pom hat for when the weather really starts getting colder!
This pom pom hat features three pom poms for drop-dead cuteness! It has functional ear slits and adjustable neck straps to ensure the hat stays put. The hat also features a water-resistant lining to keep your pooch's head dry. Don't forget Walkee Paw's matching puffer coat and dog leggings for full toe-to-tail cold-weather protection!
Doesn't Daisy look ADORABLE in her pom pom dog hat????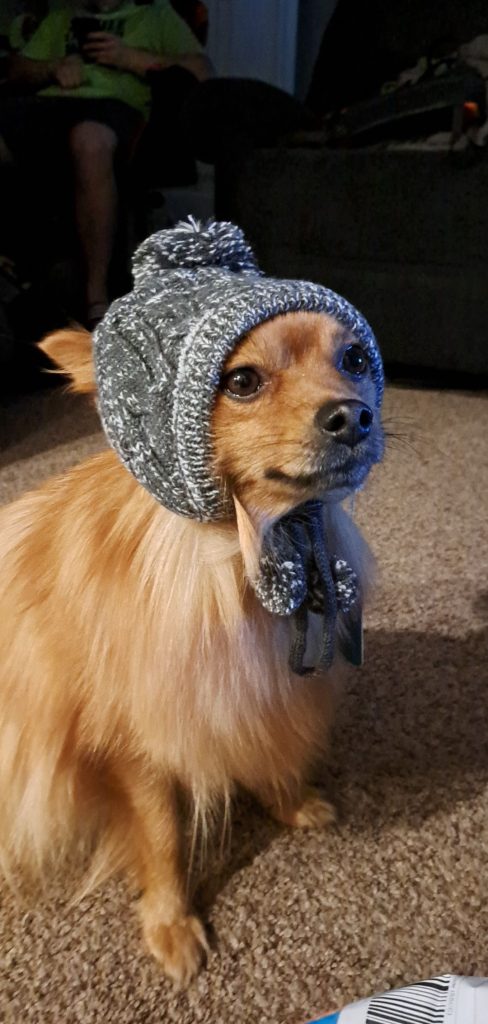 FREE Pom Pom Hat!
Get a FREE Pom Pom Hat with your $84 purchase! And FREE shipping with $75! Yay!
Shop!
You can browse the Walkee Paws Dog Leggings online at walkeepaws.com! These would make a perfect gift for your furbaby or a dog lover this holiday season! Find the best fit for your pooch here!
Win!
One person will win a $50 e Gift Card for the Walkee Paws website! Yay!
Rules
The contest is open to US 18+. The giveaway will end on November 4, 2022, at 11:59 PM MT. The winner will have 48 hours to confirm their win after I email them, or a new winner will be chosen. I am not responsible for lost or stolen mail.