Yale Real Living Locks Give You Peace Of Mind. Now that I have a family of my own, I want to protect them and make sure no intruders can come into my home. With an alarm system and some good locks, a family can be safe.
Yale Real Living Locks Give You Peace Of Mind
Yale Real Living locks are one way to ensure your family stays safe, even when you are not home to protect them. My kids are way too little to be home by themselves, but one day they will be big enough and when that day comes, I want them to be protected in every way possible!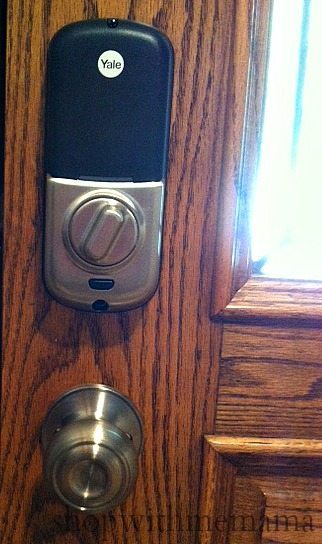 I recently was able to review a lock from Yale. I received the really nice Yale Real Living Satin Nickel Finish Keyless Entry Deadbolt to review and man is it sleek!! We also received the Z Wave Module which is a keyless Radio Module to integrate with the digital home Keyless Entry Deadbolt. You just plug it into the keyless deadbolt when installing it.
The Z Wave is a wireless ecosystem that lets all your home electronics talk to each other via remote control. It uses reliable, low-power radio waves that easily travel through walls, floors, and cabinets. We are still trying to figure out the Z Wave Module.
When it arrived, my hubby was excited to install it on our front door. It was a very easy install, he said and soon we were enjoying our new lock! We did receive a key with it for 'just in case' emergencies, but it is a keyless entry lock and it is sooo nice!! Every time someone comes over, we have to say 'look at our new lock!' People love it and then ask me where they can get one. It really, truly is a nice lock.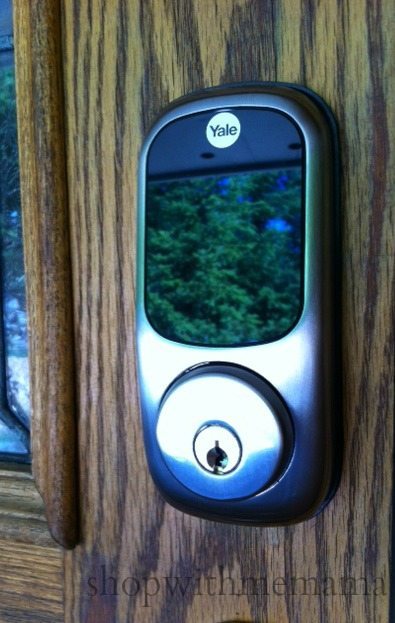 So, once installed my kids were having a hay day playing around with it. They would lock each other out of the house just so that they could use the keypad and get back inside! They held a contest on who could get into the house the fastest, LOL.
Inside the house, you turn the deadbolt to unlock, like any other lock. But, when you get outside and the door closes, the deadbolt will automatically lock! When you want to go back inside, you simply put your hand in front of the keypad until you see the lit-up numbers, then you press in your code and it unlocks! No key is required!
We are so impressed with this look, the sleek look of it, and the easy installation. It is durable feeling/looking, works perfectly, and makes our front door look stunningly rich 🙂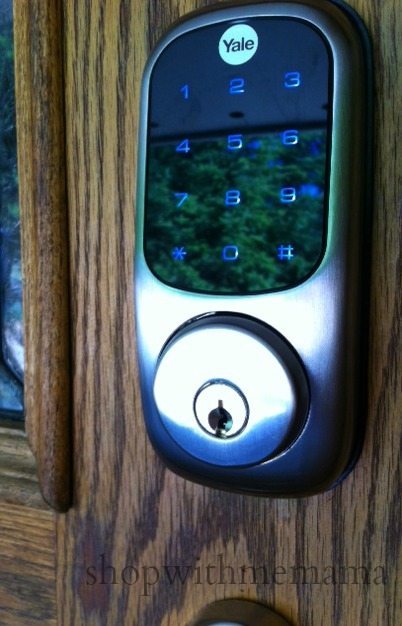 Now, if a stranger tries to get into your house, using this lock, and uses the wrong key code, the lock has an interference alarm for tampering and wrong code attempts. Too cool!!! Ain't no one getting in here 😉 This lock comes in three finishes: polished brass, satin nickel, and oil-rubbed bronze permanent.
What I love about this lock is that my kids know the code, so they can easily come in and out of the house and not have to worry about having a key all the time. And I don't have to get up every time, to unlock the door for them.
Description
Yale Real Living™ Keyless Entry Locks, the next generation of electronic residential locks from Yale, provide versatility and convenient access.
Easy to Use, Install, & Program
Voice-guided programming feature so you never have to search for an instruction manual.
Weather resistant durable touchscreen
Interference alarms for tamper and wrong code attempts.
This does require 4 AA Alkaline Batteries, which are included. It also comes with two keys and has a lifetime limited warranty (an electronic warranty is one year)!
Buy
You can purchase this keyless lock and other locks, by visiting Yale Real Living online at http://www.yale2you.com/.