Fijit Friends were at the top of the holiday wish list last year and for a good reason, they were just plain cool! Now comes the Fijit Friends Newbies and my are they adorable. From their cute chipmunk like voices to their adorable little round bodies, they are just too cute!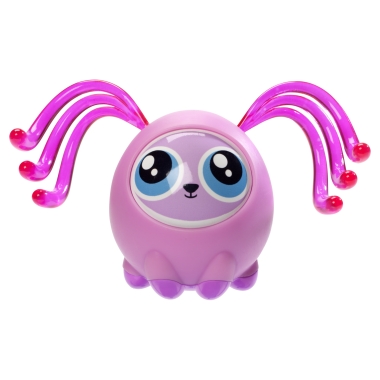 We received two little Fijit Friends Newbies to review and try out. We got Melodee (she is the green one) and Mila (the blue one) to check out! First of all I really like the feel of the Fijits, they are sooooo soft (well, the rubber on them is…)! The Fijit Newbies are little and round and have big eyes. They also have these big "ears" or antennas (haven't figured it out yet

), and they sing really good!
The Fijit Friends Newbies can sing and perform their own unique songs and as you pet them and interact with them, their singing improves. Want the ultimate singing performance? All you have to do is place two Fijit Friends Newbies together. With a simple touch, they will sing a duet with each singing different parts of the same song! I had to figure it out, it was not easy for me, but once I read the directions on how to get them to sing together, they did and it is totally hilarious! You just have to make sure you have them in "chirp mode". You enter that mode by pressing and holding the nurture button located on their foreheads (the directions will guide you through it).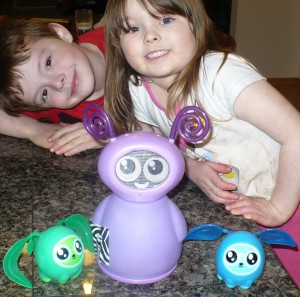 The Newbies can also make the Fijit Friends (the bigger ones), dance by utilizing the sonic chirp technology (again, refer to the instructions as I was stuck on this too until I read how to do it!) which is a special audio coding embedded into a Newbie that when detected by Fijit Friends, will trigger their programmed dancing moves! And it is sooo cute! My kids were giggling and having so much fun with these little guys and their bigger Fijit Friend, Willa!!
So all in all, these are really fun toys. My kids play with them all the time, laugh at them and I am constantly hearing them singing, LOL. I recommend them, your kids will love 'em! Oh, and batteries are included, which is NICE.
 Buy
You can purchase the new Fijit Friends Newbies online at http://shop.mattel.com and they retail for $14.99 each.
Disclosure:
"I wrote this review while participating in a blog tour campaign by Mom Central Consulting on behalf of Mattel and received two Fijit Friends Newbies to facilitate my review."