Me and my family are big on brushing our teeth, flossing and taking care of our teeth. We visit the dentist once a year and so far, the kids have no cavities and some great looking teeth!
I had the opportunity to take part in the Listerine and Reach Healthy Habits For a Lifetime Oral Care Challenge and was excited to do this with my kids!
Our routine is quite simple, we brush our teeth each morning and then rinse with mouthwash. Then at night, before bedtime, we brush our teeth again, rinse with mouthwash and floss. Easy peasy and the kids love the fun characters on the Listerine mouthwash bottles! The fun character toothbrushes are cute too and making brushing their teeth a bit more interesting.
Now I want to share with you a few "Did you know" type facts: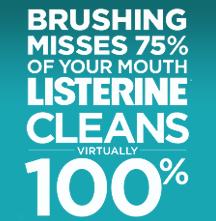 Did you know that brushing alone misses 75% of your mouth (WOW, huh??)?  Or that 50% of children will have a cavity or filling between the ages of 5 and 9?  Makes you think twice about what you're doing to keep your mouth healthy, doesn't it? February was National Children's Dental Health Month, so there's no better time to start re-thinking how you and your family take care of your mouths.
To help encourage Americans to adopt healthy behaviors that lead to a healthier lifestyle, Listerine and Reach came up with this great challenge! We vowed to do this, even though we pretty much already brush our teeth twice a day, rinse twice a day and floss. For three weeks we will do this, even better than we were doing it before! Everything/one can use some sort of improvement, right?
So, in three weeks, I will see you back here, got it?
"What is your oral care consist of???"
Disclosure:
I was sent product to use for this challenge. All opinions are mine, thanks!