CONTEST OVER! CONGRATS TO
Benjamin Dopp #494!!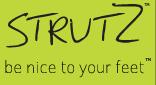 I am sure Summer took its toll on your tootsies, I think my suffered a bit. Cracked heals from sandals and sweat daily can be hard on your feet. But, you can help get them back into shape with Strutz!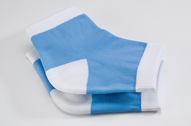 I received the Strutz Soothing Foot Cream and Strutz Sole Angel Socks to review. When I got these, I had just come back from Disneyland, and let me tell you, my feet were TIRED, cracked and sore!!!! So, these could not have come at a better time for me to review.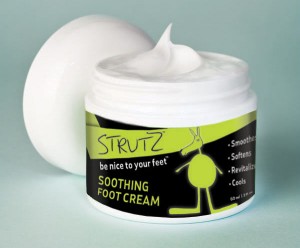 First, you apply generously to your heels/feet the Strutz Soothing Foot Cream. The foot cream has a menthol scent to it. It is a thick cream and makes your feet feel pretty soft, just from applying this. The soothing foot cream is formulated with a special blend of naturally derived ingredients, to help smooth and soften dry, cracked feet. It has a cooling effect within the cream, which helps revive and liven up your feet and the cream helps with foot odor!  The Strutz Sole Angel Socks are really different. You just pull them onto your feet and onto your heel area. The inside of the "sock" where the heel is, is a soft, gel like cushion for your heels. When you walk, it is neat feeling as the gel like cushion really comforts your heel area. They are comfortable. However, they are kind of tight on my ankles, and do leave elastic marks when I take them off. Other than that, these are pretty neat socks!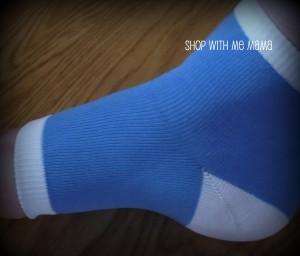 When I took the socks off the next morning, my feet were much much softer on the heels. They have not been this soft for quite some time, so it does work, at least it did for me. I just wish the cream would come in different scents!
Buy
You can purchase the Strutz products shown above by visiting them online at http://www.lovemystrutz.com/home.php
Win
One person is going to win a pair of the Strutz Sole Angel Socks and Soothing Cream
How?
Easy, just use Rafflecopter Below
Things to Remember when using the Rafflecopter:
You MUST have javascript enabled to view and enter this giveaway. When you do your entries, simply click on the "I did this" button and submit your info. At times, I will ask for your tweet, email addy (to confirm email rss subs), ask for links if you blog, etc… When you click on the 'I did this" button, you will be brought to a form you can enter all of that. No need leave comments on the actual blog post, just on rafflecopter. Don't worry, this is safe and secure!! Thanks!
Disclosure:
I was sent product to review. These are my own honest opinions, thanks!