*Product received. This is a feature only. Opinions are my own.
My kids love playing with robot toys, don't yours? Especially my littlest one. He loves playing with robots and figuring them out. It is so cute.
CogniToys came out with a cute Dino! He is a smart educational toy dinosaur and he is so neat! Not only is this Dino neat, but he is smart and funny too. There are so many things he can do, it is really quite amazing!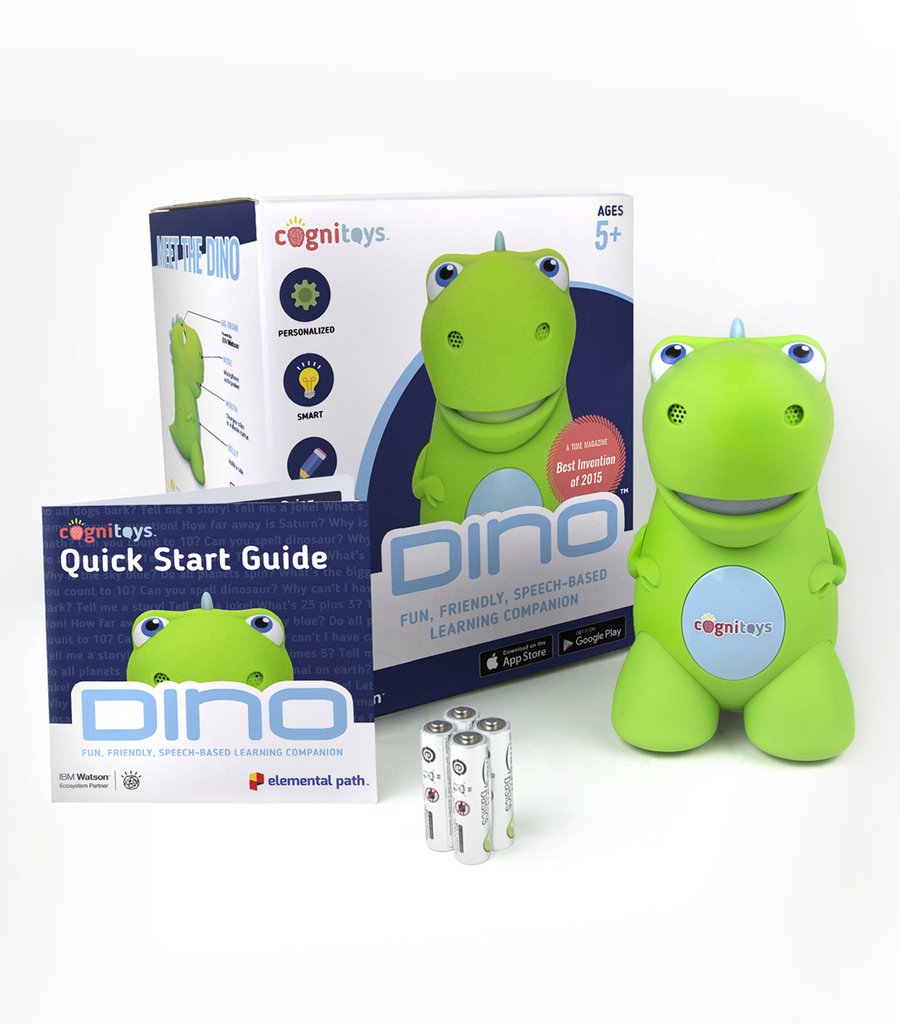 If you have a little one in your home around the ages of 5-9, then you must consider buying this for them for Christmas or their birthday. It is a great educational toy for them.
5 Reasons You Need The CogniToys Dino!
Dino listens to you! He listens to your child's question and he adapts to their age, allowing your new dino to grow over time, just like your child!
He can tell bedtime stories! Once connected to Wi-fi through the CogniToys App, this toy will no longer require a phone for playtime, which I LOVE.
Your kids are always learning! Age-appropriate vocabulary words and math questions are some of the toy's many interactive games and stories.
He can console your child! Yep, when your child is scared, the Dino consoles your child and can encourage your child to speak to an adult or friend they trust. If your child tells the dino he is sad, the toy may suggest listening to a funny joke!
He will remember your child! The Dino can remember what your child shares or talks about such as their favorite animal, etc. This helps your child feel more connected to Dino!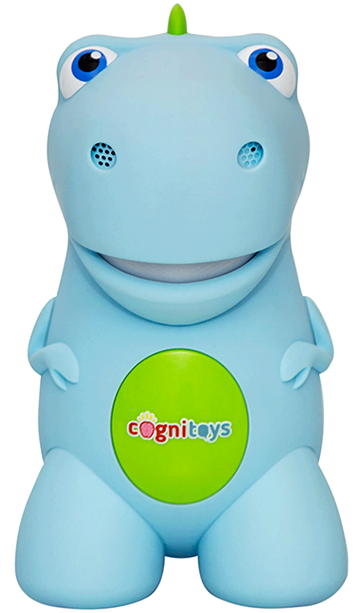 Safety First!
Being safe is just smart. We all know that. So, the smart toy's microphone is muted by default. To talk to the Dino, you just hold down it's belly button until you are finished speaking. Let it go when you are ready for the Dino to respond to you.
There is also the Parent Panel which is a secure dashboard that provides insight on how your child is playing with their new Dino! Through the dashboard, you can monitor which topics your child likes. You can also use the dashboard to change account settings and provide feedback for improvement.
The Dino is super easy to hold and it about 7″ tall. This toy does require 4 AA Batteries. He is so cute and friendly looking. He comes in pink, blue and green. All those colors are really pretty! Great for boys and girls!
The Dino has a little speaker in each of his nostrils, in his mouth, there is a LED light indicator. There is a big round button on his belly that you hold down when you speak to him. Down towards his legs, there is a volume button. This little Dino has it all! He is also really cute!
Key Features:
Games and Stories Galore – CogniToys are designed to engage kids in educational play. Using the power of IBM Watson, kids can ask their Dino thousands of questions, practice vocabulary, listen to stories and so much more.
Easy Set Up – Parents must use the CogniToys App to connect the Dino to Wi-Fi. Once connected, the Dino no longer requires the use of a smartphone for playtime.
Emotional Intelligence – Dinos don't just respond, they respond intelligently. If a child says they are scared, the Dino encourages them to speak to an adult they trust. Or, if a child tells the Dino they're sad, the toy may suggest meditation or listening to a funny joke.
Personalized – CogniToys try to personalize interactions and can remember what child shares – such as their name, favorite food or animal, etc. – to customize learning and future conversations.
Constantly Evolving – CogniToys are cloud-connected, Wi-Fi enabled smart toys, allowing for the play experience to constantly improve and automatically update as new content becomes available.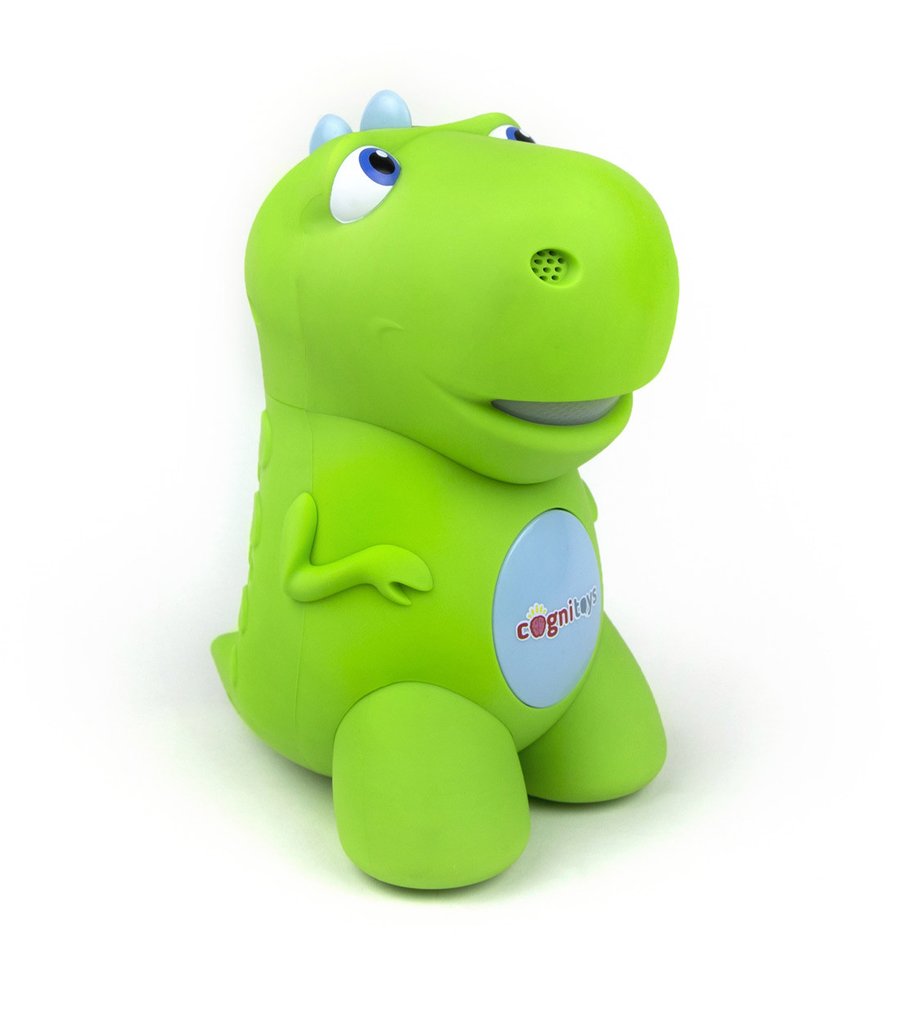 Product Specs:
iOS & Android compatible
Durable ABS body (can be cleaned with mild soap and warm water)
Batteries: 4AA included, 6-week battery life with moderate use
Multi-color indicator lights
Dimensions: 5.5″ L, 4.25″ W, 7″ H
Grab Your Coupon!
Get 10% off your CogniToys Dino when you use this coupon code: shopwithmemama10
Buy
You can purchase the CogniToys Dino online at https://cognitoys.com. The Dino retails for $99.99.
What Do You Think Of The CogniToys Dino?