*Product received. This post includes my affiliate link.
With cold and flu season here, it is hard not to catch something going around. About two weeks ago, my two oldest kids had influenza. Poor loves were so sick! Thank heavens they got over it quickly and are fine now.
We as parents hate seeing our littles sick. It breaks my heart and I wish I could do more for them. Then, if I ever get sick (God forbid), my kids hate seeing their mama sick! Being sick just sucks.
Quantum Health is the maker of TheraZinc, which is a delicious lozenge loaded with natural ingredients that provide the nutritional support your body craves this time of year. It can be difficult to stay healthy and keep your immune system strong.
I had the chance to check out and try TheraZinc and was pleasantly surprised by taste, so yummy! With the addition of Elderberry, these lozenges combine two popular, immune-boosting nutrients.*
Clinically Proven Zinc Gluconate
Immune Boosting Formula*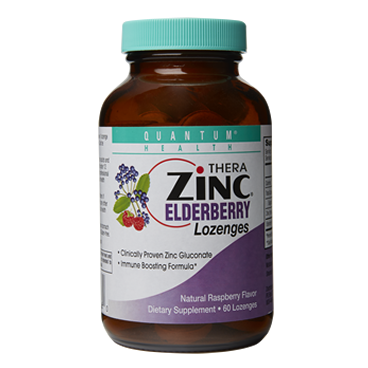 5 Simple, Natural Ways To Stay Healthy On The Go
Go to bed early. Studies have shown that sleep deprivation can lead to suppressed immune system function.
2. Wash your hands frequently. If you're tired of hearing this old adage, check out the science behind hand-washing, as reported by the CDC.
3. Put down the candy. Avoiding sugar is a great way to keep your immune system in fighting shape. Consuming sugar can suppress your immune system for hours after ingestion.
4. Take a walk. Not only is this good for your waistline, but exercise provides a myriad of immune benefits, from flushing out bacteria to slowing the release of stress hormones.
5. Keep a roll of TheraZinc lozenges handy. These delicious supplements combine elderberry and zinc to keep you feeling your best. They are easy to keep in a purse or backpack, and dissolve quickly in your mouth.
Hopefully,  by taking the TheraZinc lozenges, I will make it through this cold and flu season without getting sick! Knock on wood!!
Buy
You can purchase the TheraZinc Lozenges at any of your local grocery stores or you can find a store near you.
Win
One person is going to win a 14-pack of TheraZinc lozenges and a $25 gift card to Amazon! Yay!
Rules
The contest is open to US 18+. Giveaway will end on March 11, 2017, at 11:59 PM MT. The winner will have 48 hours to confirm their win after I email them, or a new winner will be chosen. I am not responsible for lost or stolen mail.