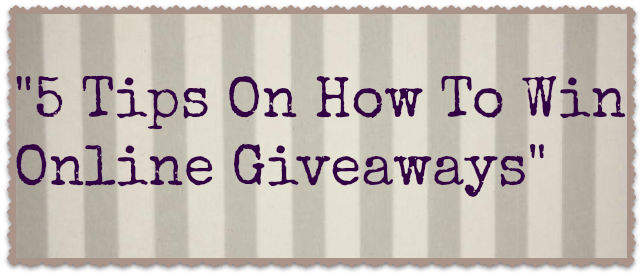 5 Tips On How To Win Online Giveaways
I have had many people tell me they have yet to win anything on my blog, yet they enter pretty much every giveaway I have to offer. They want to know if there is a 'secret' or certain way they should be entering and I always tell them the same thing: ALWAYS use the extra entries!!! Do them, they are there for a reason!!!
The people who come back, day after day, to enter my giveaways and those who make sure they do the daily entry (tweeting/sharing), usually win giveaways. Yes, it is dedication, but if you really want to win that particular prize, put in the work! It will pay off eventually 🙂
That brings me to my 5 Tips On How To Win Online Giveaways…
I am certainly no pro at winning tons of giveaways, but I have won quite a few in my time! Each time I have won? It was because I went back and did my daily entry! Below are a few more ways to ensure your spot in those giveaways!
1.) Do the daily entries!!
2.) If there is extra entries, make sure you do them all
3.) Pick your top 10 most favorite giveaways and enter them daily (I find it so much easier to focus on 5-10 giveaways at a time so I don't get confused or forget to enter them. When they are over, choose another 10 to do!)
4.) Write down what giveaways you have entered and when you need to go back and do that daily entry
5.) Don't be put off by the entry form or lack there of. If you want to win that prize, ENTER IT!
If you follow my tips and are dedicated, you will start winning some giveaways (if you have not already!). Think Christmas gifts!!!
Things I Have Won…
$25 Victoria Secrets Gift Card
$500 Lamps USA Credit
$500 Visa Gift Card
2 Beautiful Bracelets
$50 Amazon.com Gift Card
$50 AMEX Gift Card
McCormick & Shmick's $25 Gift Card
$100 Worth Of Beauty Products
Those are just to name a few! I was really on a roll there for a while. Then, I got very busy with my own blog and well, I stopped entering giveaways as much. But now that the holidays are coming, I have been entering more! I have been using my 5 tips above and I know I will be receiving a winners email one of these days!
Do you have any tips on how to win contests/giveaways? What has worked for you? Do tell!!