If you feel like you got back in time when walking into your kitchen, know you're not the only one. An outdated kitchen exists in most older houses. Do you have a smart TV in your living room? Is there a high-definition speaker in your bedroom?
If the answer is yes, it's time to give your kitchen a modern look. We all know that a kitchen is the heart of a home.
So, it's only natural to create an enjoyable space to live in. Aesthetics and functionality are two key aspects to consider when designing your kitchen.
Luckily, there's a way to achieve both. Below are 6 Practical Ways To Give Your Kitchen A Modern Look.
A modern style is all about optimizing every aspect of your kitchen. It makes your space more spacious, uncluttered, and practical.
If you want to know how to give your space a contemporary vibe, look no further. This article will teach you some practical ways to create your dream kitchen.
6 Practical Ways To Give Your Kitchen A Modern Look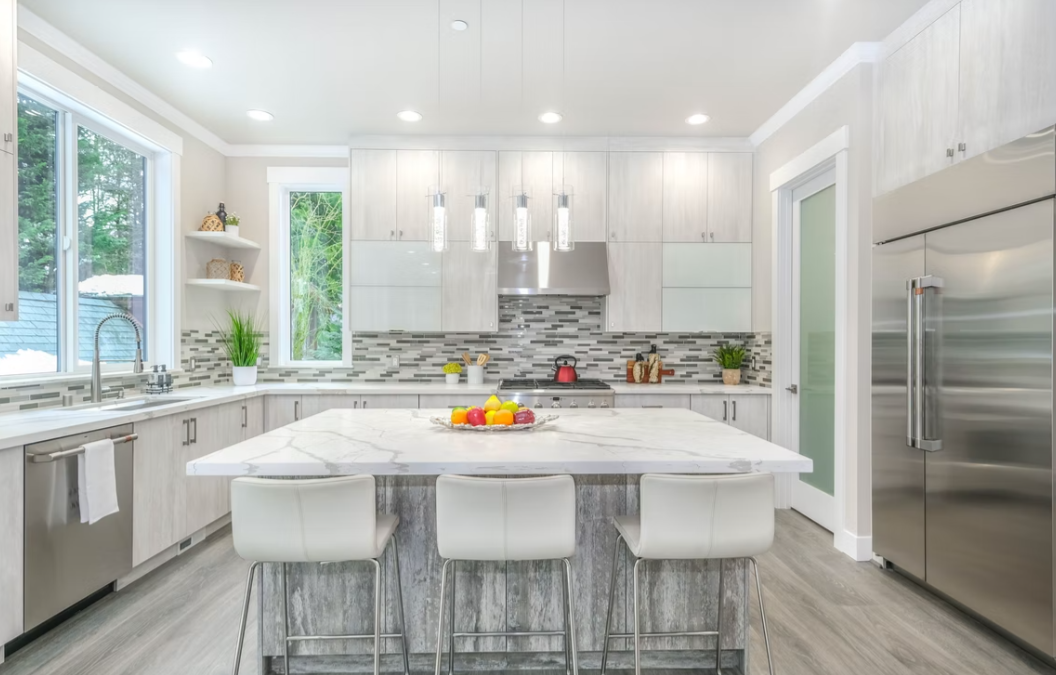 What are the features of a modern kitchen?
What makes modern kitchens so appealing is their functional simplicity – they include neutral colors, straight lines, and clean surfaces. Open spaces are also a representation of contemporary designs. Natural lighting is imperative to achieve a modern look, as it creates a spacious feel.
Modern kitchens mainly consist of either vertical or horizontal straight lines. Solid, natural colors, linear patterns, and sleek cabinet designs are all essential elements that can help you create this effect.
There's a popular description of modern kitchens that perfectly portrays them -'a reason to be', meaning that every element in a contemporary kitchen serves a purpose.
This type of design is an inspiration by Scandinavian styles that have this one principle – style follows function. A contemporary design is all about keeping it simple yet making the most of your space. In short, for modern kitchens, less is more.
Tips for Designing a contemporary kitchen
Put your personality in your kitchen
If you want to create a modern kitchen, let it be an extension of you. Yes, your space should be welcoming for others, but it should first be enjoyable. A room has to be aligned with your personality to make you feel good.
You can add decorative elements that resonate with you. For instance, you can bring your favorite flowers into the kitchen to add some color and freshness.
Or, if you are an art lover, you can hang a treasured painting on the walls. Modern kitchens have soft aesthetics as opposed to other designs. But that doesn't mean you cannot showcase your personality by including elements you love.
Use open shelves
Modern kitchens include an open concept. From the moment you plan the remodeling to the last-minute details, you should embrace the 'openness' of the space. Using open shelves is one approach to it.
You can start by removing upper cabinet doors and simply keeping the shelves as such. Open shelves have two primary purposes. Besides being a good storage solution, they can also be a decorative element and add character to your kitchen.
Make your kitchen minimalistic
One distinctive feature of modern kitchens is the minimalistic design they embrace. Minimalism doesn't mean the design itself has to be minimal – the point is to make it look like it is.
After all, ensuring your space is functional is also vital, so by no means, you should compromise on storage or anything else. It is possible to create a sleek design while also making your kitchen practical.
For example, a white kitchen can create a minimalist vibe. It brightens up your space and makes it look more spacious.
Plus, white is evergreen, so you don't have to worry about your kitchen becoming outdated! Use white countertops and cabinetry to create a modern and timeless kitchen.
Consider using a simple design that can be both stylish and functional to make your kitchen feel uncluttered. To keep your kitchen design minimal, try to choose simple colors and finishes.
A white or light grey palette can help to create a feeling of calm, while brushed metal accents can add a touch of sophistication.
Use neutral-style accessories, like beige or gray decorative vases, double wall glass mugs, and a teapot on your cupboards and shelves, creating a sleek and modern look.
Make sure your cabinets are sleek
Subtlety makes modern kitchens stand out from the rest of the designs. The minimalist approach is particularly important when it comes to your kitchen cabinetry.
They are the most expensive elements of the space and the central part of it. So, it's essential to ensure they fit into the design theme. Forget about ornate designs – sophisticated, sleek cabinetry is the way to go. This type of cabinet will give your kitchen an elegant look.
Handleless kitchens are trendy because they can give the desired minimalistic look. This style doesn't only ensure aesthetics but also creates an uncluttered, timeless kitchen.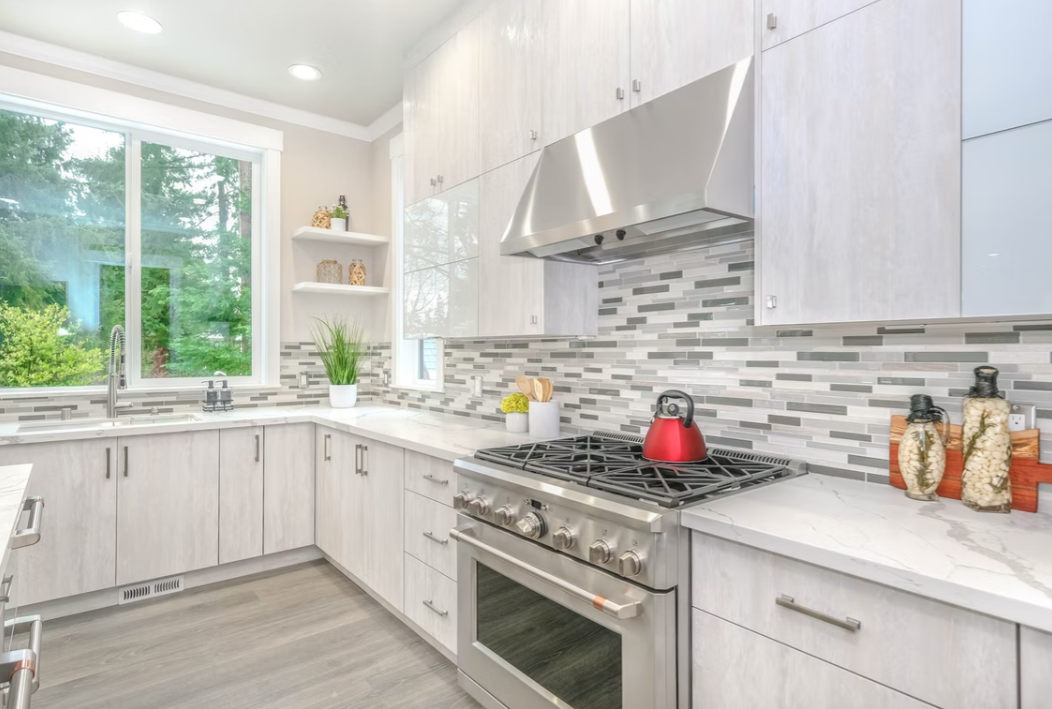 Use natural light
Natural light is vital in creating a minimalist design, as it opens up the space in your kitchen. That way, it will look more spacious than it truly is. Modern homes usually have small kitchens – particularly in urban areas.
Make the necessary arrangements to ensure there's enough natural light in your kitchen. Add a white color scheme to it, and you'll get a minimal yet spacious kitchen.
Add a dramatic touch
What do we mean by that? You shouldn't shy away from adding some colors to your kitchen. Yes, modern designs are about simplicity, but that doesn't mean you cannot add some drama to the space. For instance, you can use colorful chairs or colored décor pieces.
Bright cutlery works too. Drama isn't necessarily about using bright, bold colors. Detailed kitchen countertops can also become a focal point in your space.
Add a social space
Older homes were designed to include dedicated spaces. They consisted of a kitchen, a living room, a bathroom, some bedrooms, etc. However, contemporary residences don't allow this type of design due to the limited space.
This explains why open-concept kitchens have increasingly become so popular. They fit perfectly in the contemporary lifestyle. Plus, they are ideal if you want to add entertaining space to your kitchen.
Think about the breakfast counter – it's an obstacle between the kitchen and the living room. But rather than being a barrier, it can become something more transitional. All you have to do is set up bar stools attached to it.
Pub chairs are also a good idea. These adjustments can go a long way – they encourage interaction, so you get to transform your kitchen and the entire house into a social space.