This post is all about 11 Ideas To Create A Relaxing Living Room and how to create a relaxed room in your home! Our homes are our sanctuaries to relax and unwind from the chaos and stress of the outside world. The more effort we put into making our homes look amazing, the more relaxed we'll feel during our leisure time.
This is why it's so important to carry out regular maintenance and call in the professionals like those at Edens Structural Solutions if something big needs to be fixed. Leaving it for too long could cause a lot more problems and mean your comfortable, cozy home becomes an unpleasant place to live.
Before you start on any interior design project, it's a good move to plan your ideas, color schemes, and key features. To create an elegant and relaxing space, try out these eleven ideas to create a relaxing room.
Whether you live in a busy city, rural area, or Nova City Islamabad, this post is for you because EVERYONE needs a place to relax in and love in their home!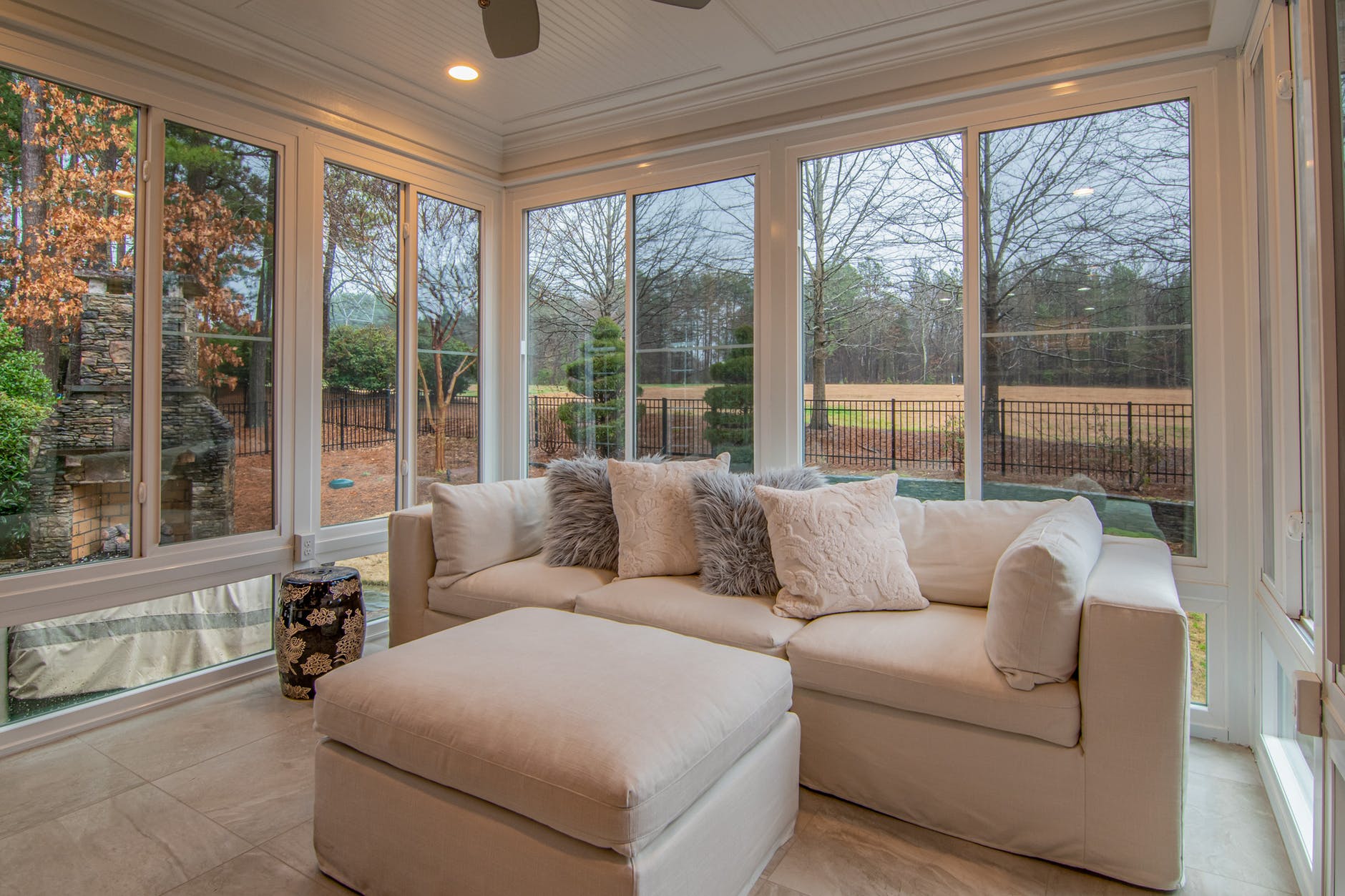 11 Ideas To Create A Relaxing Living Room
1. Natural objects
If you're looking to create a soothing living room atmosphere, consider incorporating organic design elements crafted from natural materials.
By including these pieces, you can cultivate a sense of tranquility and enhance your connection with the natural world. For example, consider adding a beautiful wooden coffee table, a woven jute rug, or a collection of potted plants.
Another option is to include organic modern lighting, such as a pendant lamp made from woven bamboo or a floor lamp crafted from natural wood.
These touches of nature will not only elevate the aesthetic of your living space but also provide a peaceful and serene environment to relax in.
For decorative purposes, try a bowl of potpourri. These are also perfect to give your room a lovely fragrance. To make your own potpourri, you simply need flowers, essential oils, and orris root.
Remove the heads of each flower and bake them all in the oven for about two hours. You can keep your dried flower mixture in a decorative bowl, once it's cooled.
2. Peaceful colors
Choosing colors that are too bold or bright for your living room makes it more challenging to create a calming space. Decorating with peaceful colors is a great way to ensure a soothing atmosphere. Try neutral shades of white, cream, beige, or stone.
You might prefer light or pastel tones of blue or green. Shades of green are often said to have a calming effect on our eyes and emotions.
This season, olive green and fir green are particularly on-trend in interior design. Try using eco-paint to reduce the number of toxins inside your home.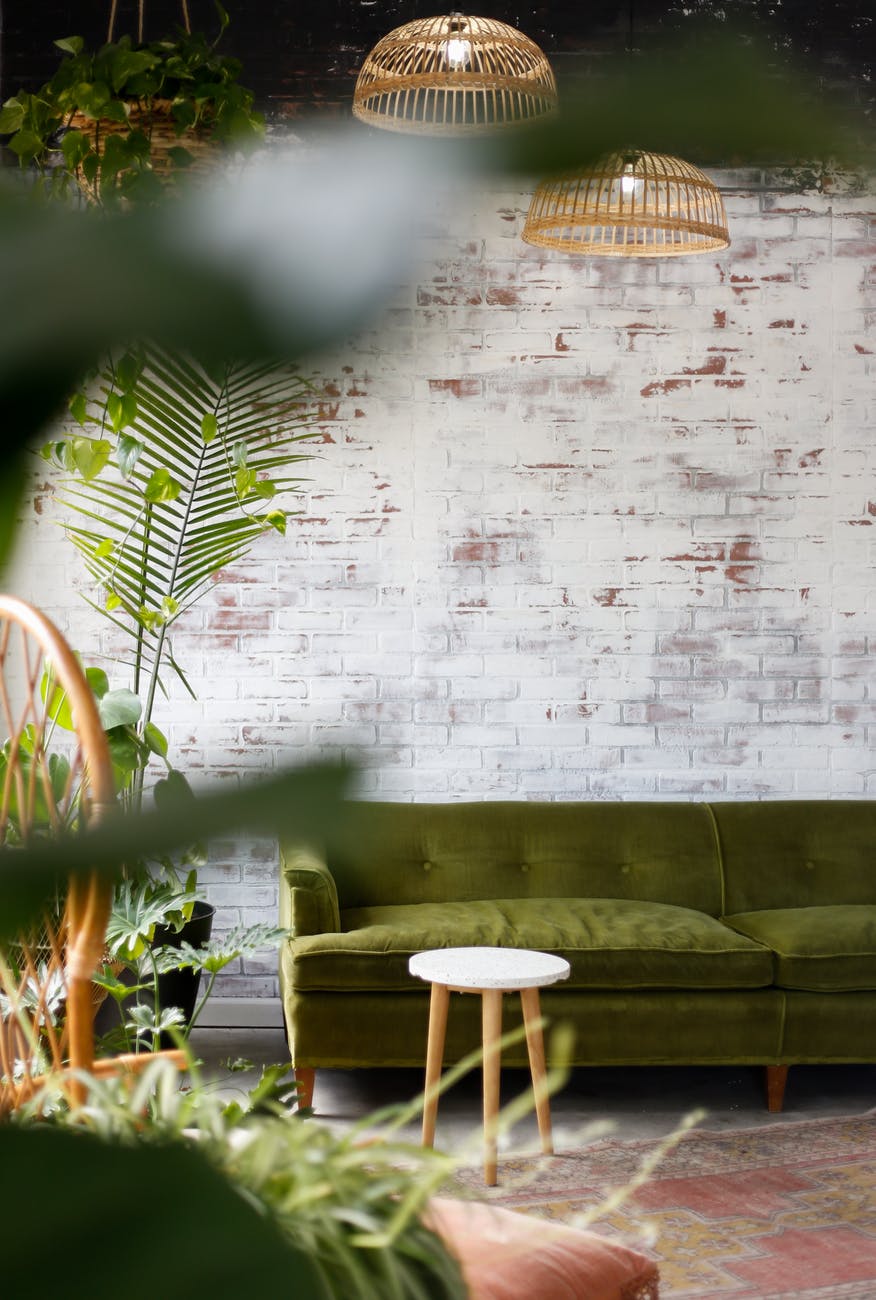 3. Cozy touches: Creating a relaxed room
You'll need as many cozy touches as possible, to create the ultimate tranquil space. Try using large floor pillows, soft throws for the sofa, and comfy footstools. Think about what it is that makes you feel comfortable in a space and use these elements to inspire your decor.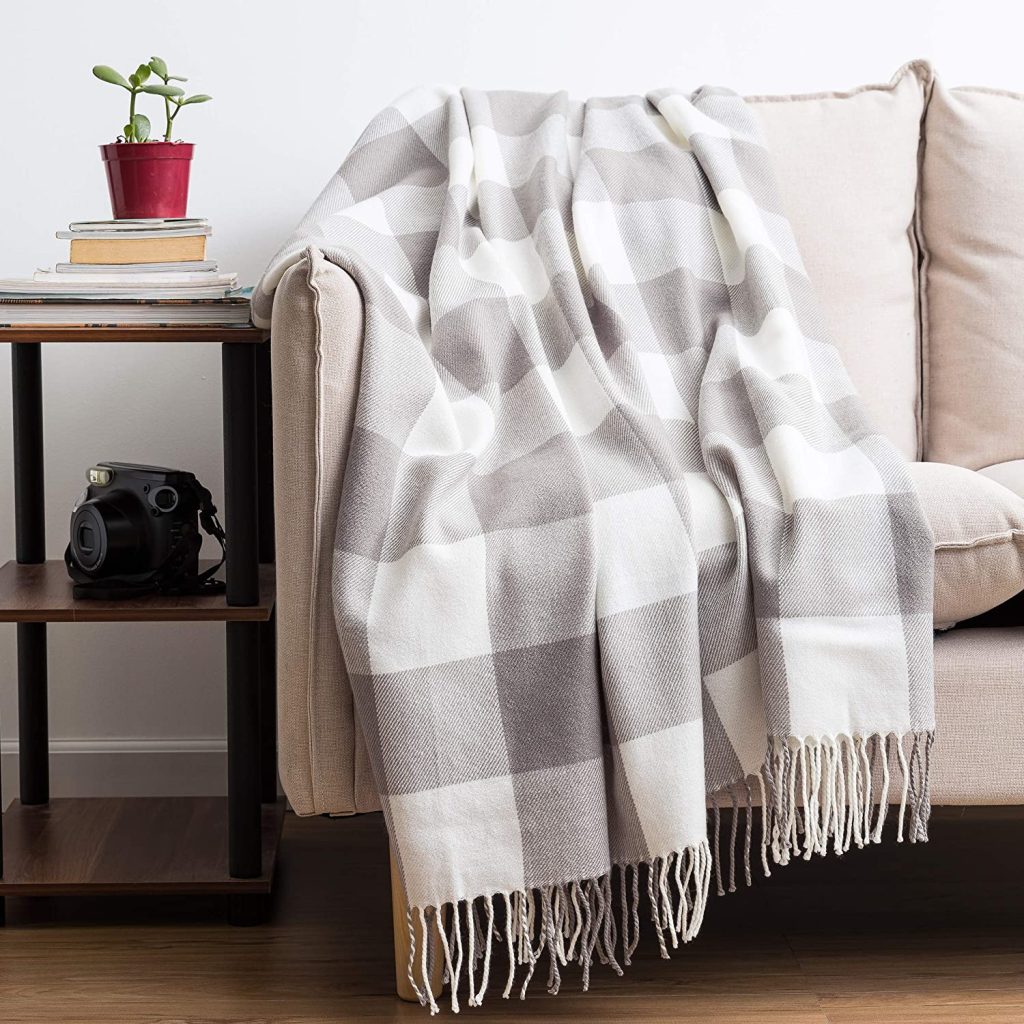 I love the Herringbone Blanket or the Buffalo Plaid Throw Blanket to add a cozy touch to my living room couch! Having a nice soft throw blanket in your living room ready for you to curl up with really screams comfort to me!
These blankets are SO soft and make you feel comfortable at home! They also add a great touch to any living room or room in your home!
About the Buffalo Plaid Throw:
LIGHTWEIGHT & SOFT: Made of soft 100% skin-friendly acrylic with a cashmere-like feel

FARMHOUSE DECOR – Classic buffalo checkered plaid fits farm, rustic, vintage styles

GIFT READY – Attractive packaging makes this a simple yet classy gift for friends and family

WARM & BREATHABLE – Not too large or heavy, wearable as a shawl or a wrap to stay warm and cozy

EASY CARE – High-quality, woven fabric, machine wash cold, no bleach, tumble dry low, cool iron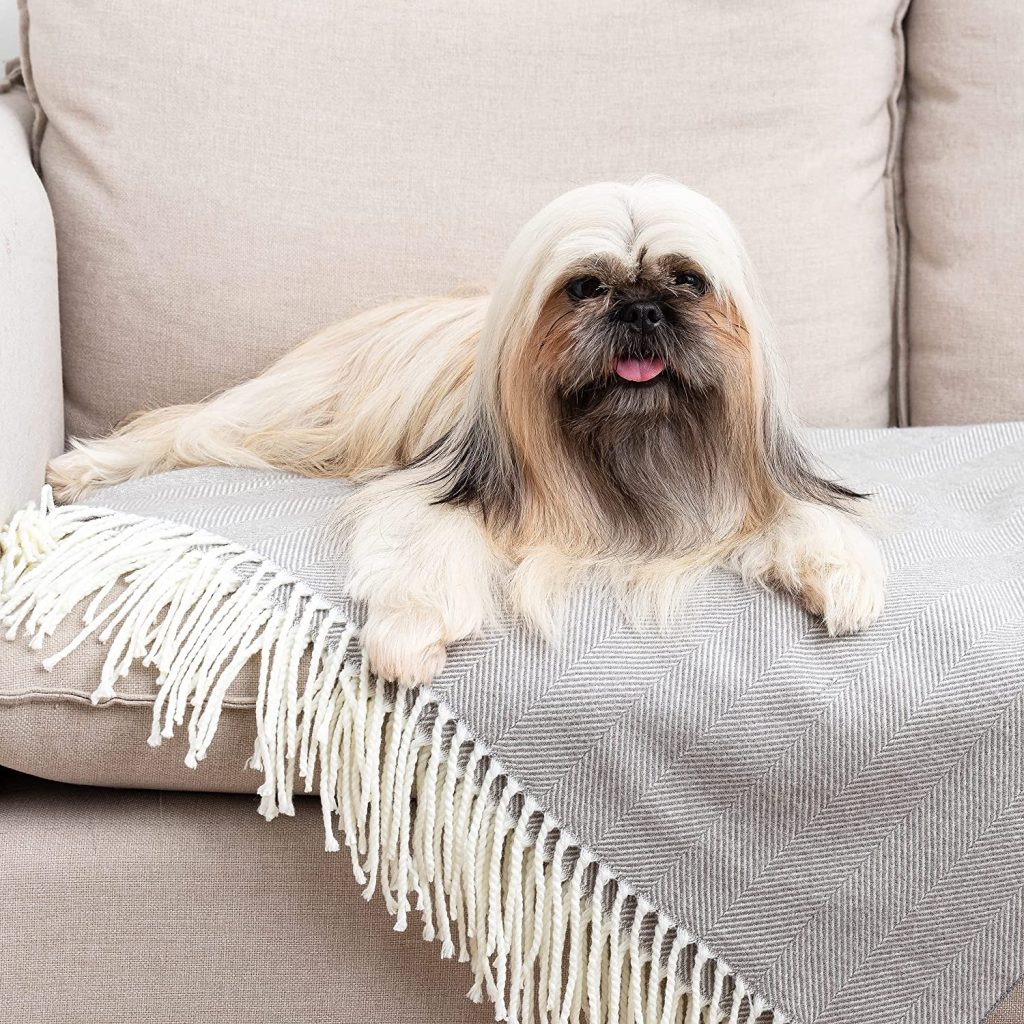 About the Herringbone Blankets:
LIGHTWEIGHT & SOFT: Made of soft 100% skin-friendly acrylic with a cashmere-like feel

MODERN BOHO DECOR – Classic chevron herringbone throw fits boho chic, farmhouse styles

GIFT READY – Attractive packaging makes this a simple yet classy gift for friends and family

WARM & BREATHABLE – Not too large or heavy, wearable as a shawl or a wrap to stay warm and cozy

EASY CARE – High-quality, woven fabric, machine wash cold, no bleach, tumble dry low, cool iron
It could be a plush new armchair, especially for reading, or a lamp with various dimmer settings and colored hues. Creating peaceful lighting is essential for those chill times in your living room.
You may even consider an electric fireplace, which can improve the ambiance of your room. Remember to choose LED bulbs, as these use 30% less energy than conventional bulbs.
4. Perfect temperature
To feel at ease, it's important to create the perfect temperature. You can use a smart thermostat to create the ideal temperature in your living room, plus ensure that you do not waste energy.
Make the most of natural light in the daytime, to heat your room through the windows and save on your energy bills. To cool and ventilate the room, try a windmill ceiling fan. These look beautiful plus will help you to circulate the air in your room and stay cool.
5. Calming sounds
Relaxation is about easing all of the senses, so keep this in mind when you are spending time in your living room space. It's nice to turn off the TV every once in a while and surround yourself with some relaxing sounds.
Whether you're catching up with family on the sofa or reading a good book alone, consider creating a relaxing living room playlist. Look for instrumental down-tempo tunes by searching for 'yoga music' or even 'spa music'! Music is an excellent way to ease our emotions and help us to feel more positive.
6. Luxury Sofas
Now, your sofas are pretty much the most important feature of your living room. A sofa lacking in comfort will be sure to ruin your chill. When it comes to choosing the right sofa, going luxury isn't a bad idea.
Though the initial investment can be pricey, a good sofa will last years. It's also usually pretty straightforward to pay by monthly installments. Consider going for a deep corner sofa so that you have plenty of space to stretch out and get comfortable. Be sure to try before you buy and take accurate measurements beforehand.
7. Thick rugs
You'll want every aspect of your living room to be kitted out for comfort, from the fragrances in the air to the fabrics under your feet. Thick rugs are an excellent way to keep our living rooms feeling nice and cozy.
Wool rugs are a top choice for any home, being sustainable, easy to clean, and soft to the touch. These are a little more expensive than synthetic material rugs, yet they are also more durable. To clean a wool rug naturally, simply use a mix of dishwashing detergent and white vinegar. Once you've scrubbed using the mixture, vacuum your rug to dry it.
8. Beautiful artwork
A piece of beautiful artwork adds a touch of elegance and style to any living room. When our spaces are aesthetically lovely, it's much easier to feel at ease. To choose some artwork, apps such as Saatchi Art can come in handy.
The app allows talented artists to share their work with interested buyers. One of the best things about Saatchi Art is the 'view in your room' feature.
The setting uses VR to show you how any piece of artwork will look in your home. Remember, a larger piece of art in a small room may overwhelm the space. Artwork depicting the natural world is a great way to make your room feel tranquil and soothing.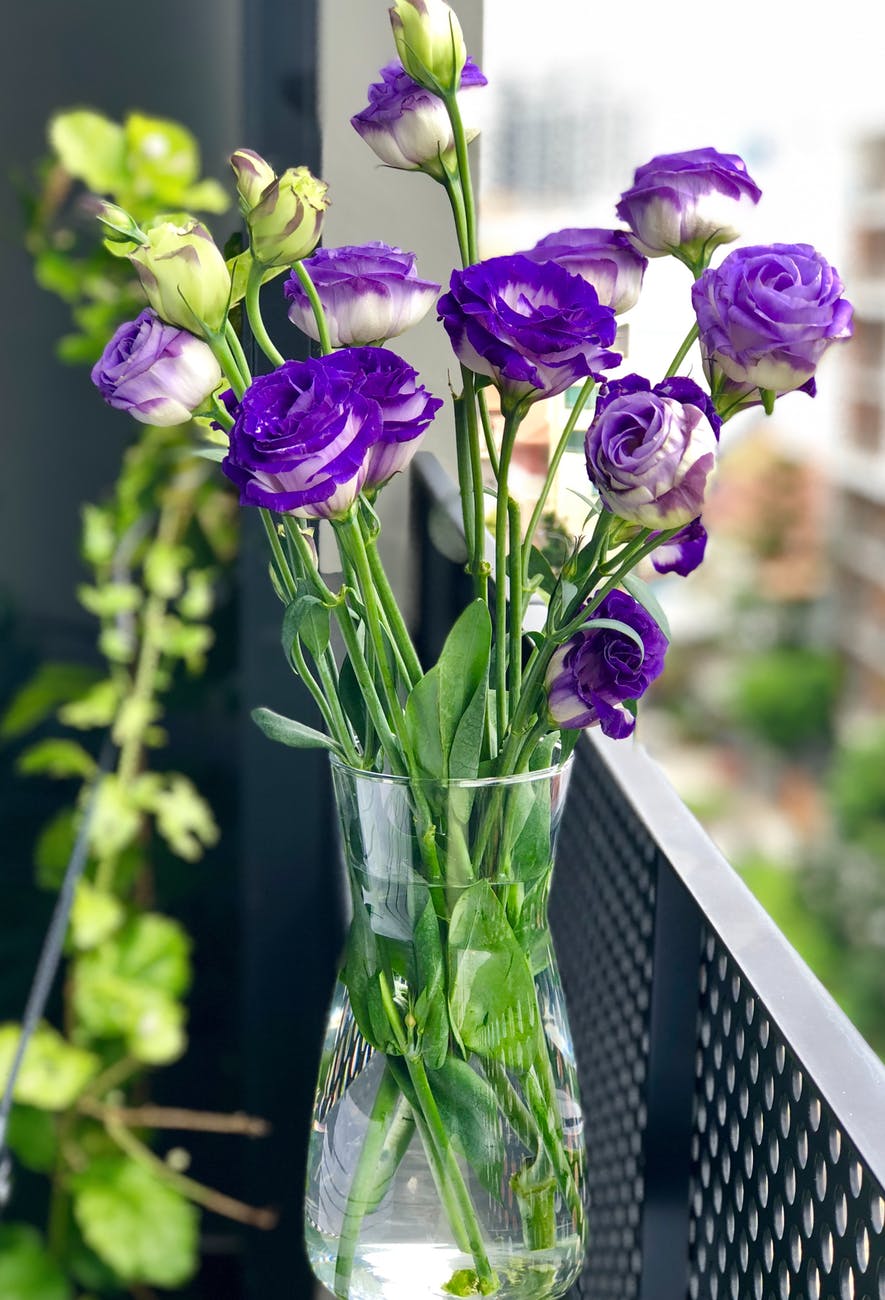 9. Bright flowers
For a zest of color amongst those peaceful tones, try adding some bright flowers to your living room. African violets look beautiful, and they are very easy to grow indoors.
Simply keep them in a place where they can get filtered sunlight. Poinsettias are a lovely flower for those who'd like to add a splash of red to their space.
Peace lilies are another gorgeous choice for that delicate spa-like feel. Lilies are also a great idea for the bedroom, as these emit oxygen at night.
10. Incense & candles
You simply can't have a relaxing living room without some incense or candles. Both are ideal to create an ambient atmosphere and fill the room with calming scents.
The candles that you choose will depend on which fragrances you like best. Try candles in 'vanilla cupcake' or 'strawberries and cream' for super sweet aromas.
Those who prefer something more subtle could try 'wild jasmine' or 'fresh cotton'. Scents like peppermint rose, or lavender have particularly calming properties. There are plenty of eco-candles on the market right now; these are considered both a healthier and greener alternative.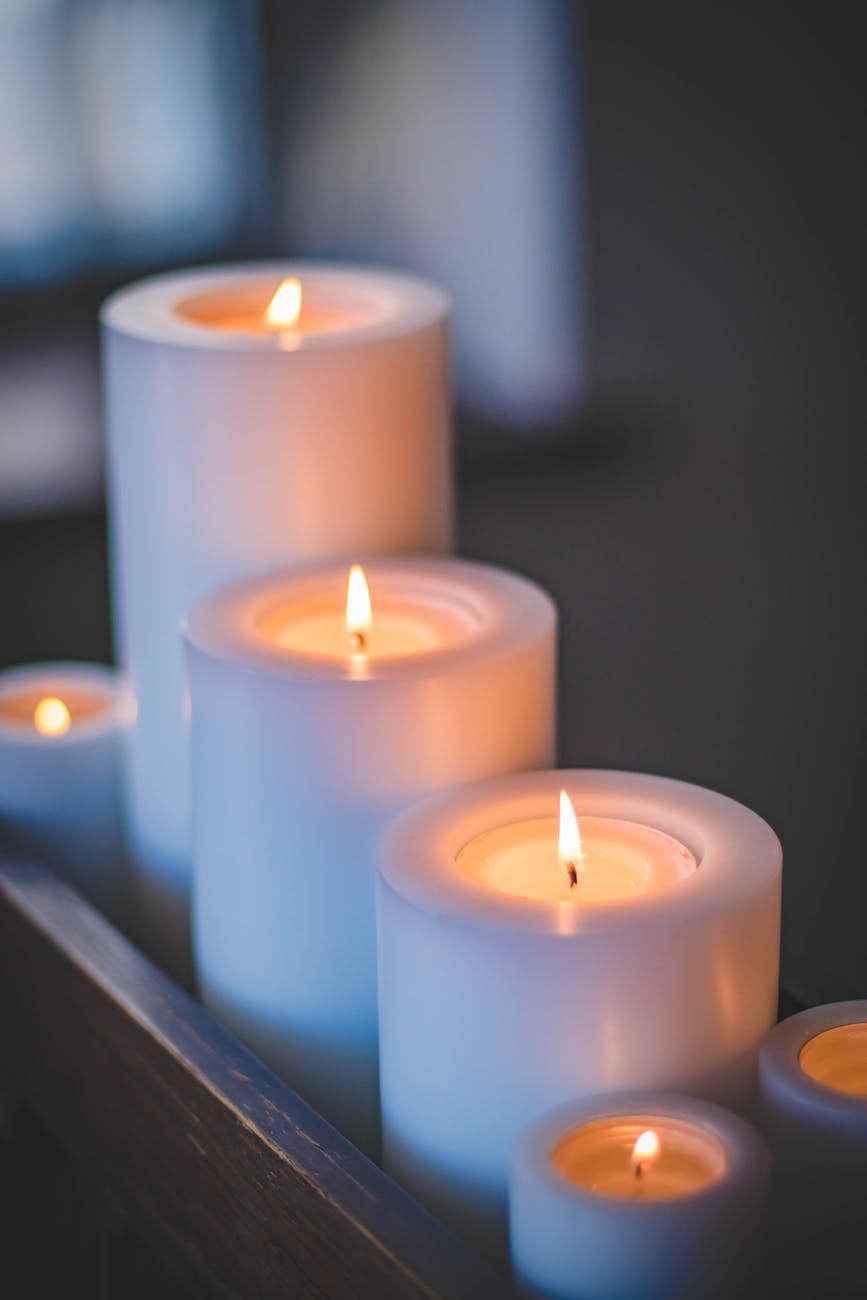 12. Consider mindfulness
Mindfulness is about focusing on the present moment and looking to achieve appreciation and peace as much as possible. Many people use meditation and yoga to practice mindfulness; both techniques have been proven to reduce stress levels and help one unwind after a hard day.
Our living rooms are the places where we come to relax, so with this in mind, try creating a space where you can practice meditation or yoga, should you choose. A comfy rug, a mat, or some large floor cushions are all you need to create a cozy space.
Before you start shopping for your living room, set yourself a budget of approximately how much you are comfortable spending. It can be useful to have a rough figure in mind, particularly for more expensive items such as artwork or a new sofa.
To save money on your decor, try local artist markets, thrift stores, or sites such as the Etsy marketplace. After a lovely living room makeover, you'll find it much easier to relax at home.