Welcome to our roundup of the best dorm fans to cool down college rooms in 2023! As we all know, a college dorm room can be many things – a study space, a place to relax, and sometimes, your own personal sauna (haha!). But it doesn't have to be that way.
With the right fan, you can transform your small spaces into a cool and comfortable haven, even during the hottest parts of the year.
In this blog post, we have the top best dorm fans to help cool down your dorm room for 2023. Whether you're looking for a compact desk fan that won't take up too much space, a quiet fan that won't disturb your studying or a high-powered option that can keep the whole room cool, we've got you covered.
*This post includes my affiliate links
Don't forget to check out my Amazon Storefront to see what deals, and awesome products I found for back-to-school and college life!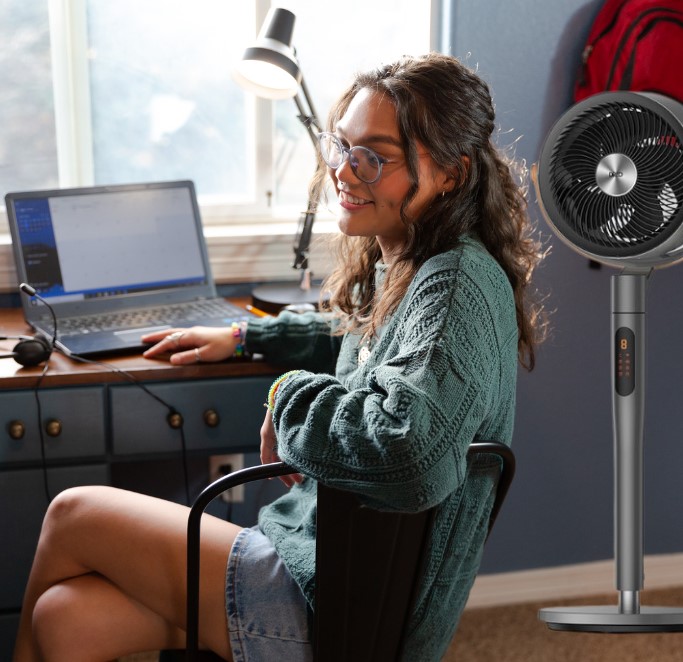 Top Best Dorm Fans To Cool Down College Rooms 2023
The Dreo air circulator series introduces a new way to experience comfort, bringing smart features that let you take full control of the air, and performance to make the whole room (or dorm room!) your sweet spot.
Unlike ordinary fans, Dreo air circulation fans form a spiral-shaped column of wind, which is more effective at moving stagnating air and reaching farther in larger rooms.
Thanks to its superior performance, it effectively brings fresh air into the room to boost air circulation, creating a more comfortable environment wherever you need it.
Let's find that perfect dorm room fan, shall we???
The first one on the list is the Dreo Pedestal Fan with Remote! I received this to review and I absolutely love it! It stands a little over 43″ tall and is one of the quietest fans I have ever owned.
This fan is not just about blowing air away but truly transforming your indoor spaces with comprehensive cooling coverage. It is one of the best fans I have ever owned.
This innovative fan is designed to channel a focused stream of air, traveling as far as 100 ft. With Dreo's cutting-edge Turbosilent X technology, the fan ensures every corner of your dorm room, office, or any other indoor space is covered with cool, refreshing air. It's like a gentle breeze on a hot summer day, right there in your room! This truly is the best dorm fan out there.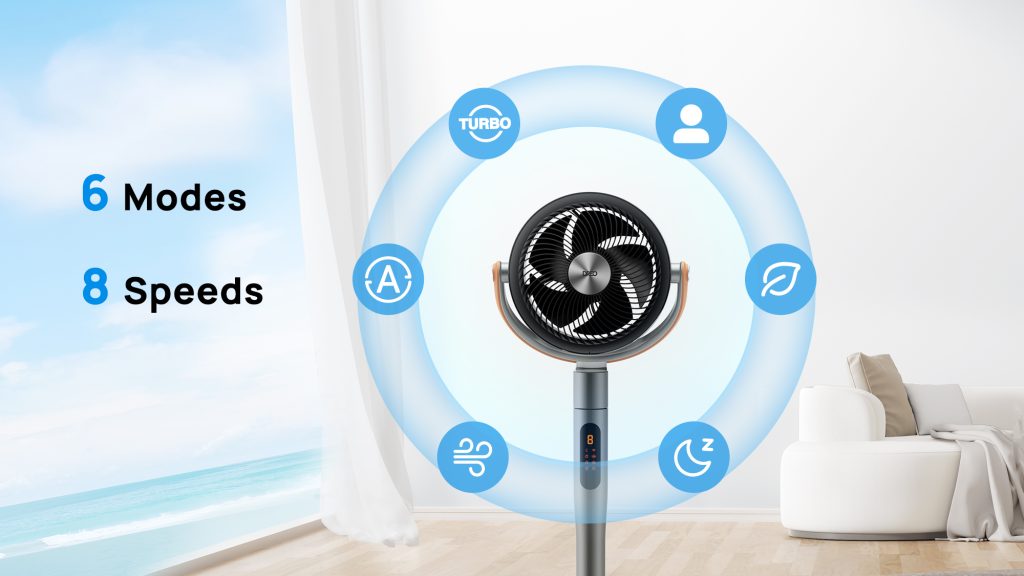 The fan is forceful enough, but also quiet and soothing too. It really keeps me cool on these hot summer days when I am working in my bedroom office.
Any college student would benefit from this pedestal fan because it is lightweight, doesn't take up much room (great for a small room), and comes with a convenient included remote control.
Great for personal use or a personal fan that will cool down an entire room quite quickly making this fan a perfect option for college students.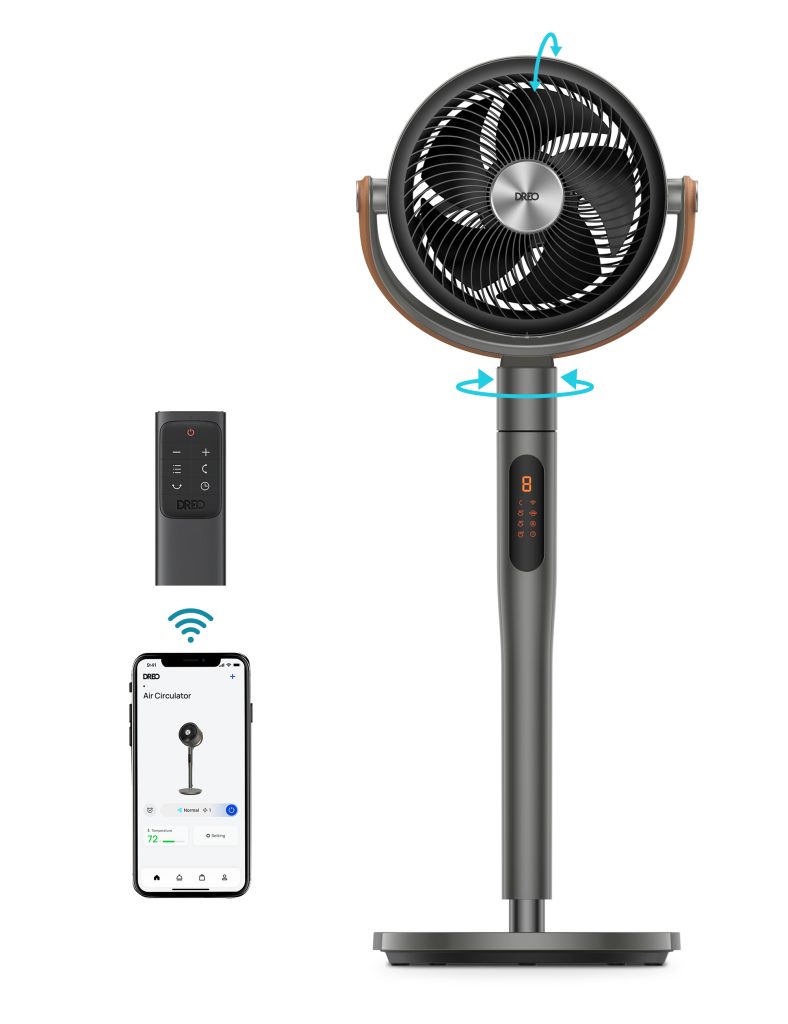 When it's time for bed, the Dreo PolyFan 513S ensures your peaceful sleep isn't interrupted. This quiet oscillating fan is meticulously designed to reduce Aerodynamic Noise, operating at an extraordinarily low noise level of just 25dB. Equipped with a Brushless DC Motor and a custom blade design, you could say this fan whispers rather than roars.
But the DREO PolyFan 513S isn't like any regular floor fan you've come across. It breaks boundaries with more control options than most fans on the market.
Choose from up to 6 wind modes and 8 fan speeds, so whether you're looking for a gentle breeze, a cooling effect, or a powerful windy breeze, this standing fan has got your back and is a great option!
Video Of The Dreo Pedestal Fan In Use
It boasts 120° horizontal and 105° vertical oscillation, efficiently distributing air throughout your college dorms room space. And you can easily customize the airflow direction right from your smartphone. Plus, if you've set it to oscillate, the fan automatically resets to its initial state after being turned off.
With Dreo's Smart Fan feature, you can effortlessly switch modes, adjust oscillation angles, and speeds using just your voice, smartphone, or the handy remote control.
The built-in display lets you check the status of your device at a glance. And for those who prefer a more hands-on approach, the PolyFan 513S has manual settings as well which makes this a good option for college students.
This fan is also designed with your convenience in mind. You can adjust its height from 37.96 to 43.5 inches to suit your needs.
And there's no need to worry about forgetting to turn it off or the LED light distracting you. With a built-in timer and display auto-off timer settings, you can relax without care and breathe in that fresh air!
The Dreo PolyFan 513S is truly a game-changer, going beyond the ordinary to bring you extraordinary cooling comfort. It's the pedestal fan that's redefining air cooling, one cool breeze at a time.
What about cleaning, you ask? The removable parts make it a breeze to maintain! There is so much to love about this DREO Pedestal fan!! It is perfect for any college students stuffy dorm room.
Features Worth Mentioning (Again)
*Natural breeze that is incredibly powerful: Dreo's unique 5-blade design produces winds that go farther yet feel gentle on your skin, even when sitting nearby. Such a powerful fan!
*Accelerated Air Funnel brings far-reaching comfort to everyone in your dorm room!
*Easily Change Speeds With A Slide: 63-100 feet use speed 6-8. 38-62 feet use speed 4-5. 37 or fewer feet use speed 1-3! So, it has a lot of different speed settings to choose from which is really nice. Everyone has different needs so choices are always nice!
*Total comfort and no boundaries: This dorm room fan has omnidirectional oscillation. 105-degree vertical oscillation, 120-degree horizontal oscillation, and multidirectional airflow. (This is one of the best features in my opinion)
Tips: When the oscillation function is activated during use, the pedestal fan will automatically reset to its initial state after being turned off.
*6 different modes to customize your air with Auto mode and turbo modes
*Quiet and cozy: has a 25dB ultra quiet brushless DC motor for quiet operation
*Boost Energy savings and drop your energy bill! Lessens your power consumption.
*Pair it with a DREO space heater in the wintertime for heat-blowing warmth in your dorm room. Pair it with a DREO air conditioner for crisp air conditioning during the summertime!
*Voice your needs and let it do the rest: Pair your DREO standing fan with Alexa or Google and let them do the work for you!
*This DREO fan has a Default 12-Month Warranty (Plus 18-Month Warranty Extension)!
*The fan is sleek looking and would look great in any room of your home or college dorm room. It would match any decor beautifully with its sleek design.
The buttons/controls are on the very top of the fan. They do not light up (except for the tiny orange light after you press on the button, so it is a bit hard to see in the dark (I just use my iPhone as light to see if I need to). Otherwise, this is a great standing fan for any college dorm room or larger rooms in your home!
This standing fan needed a little bit of setup which isn't hard at all. All we had to do was put the pedestal part of the fan into the base and twist it into place. The fan is sturdy and doesn't wobble around like other fans I have used before.
More Best Dorm Fans
Some other fans we are loving for College Dorm Rooms Are:
I love the DREO brand and literally have numerous products from them in my home. From air fryers (DREO ChefMaker), and heaters to fans, compact fans (many types of fans!), air purifier, and more, DREO literally has something for every home or college dorm room.
The Dreo Tall Tower Fan 42-inch Cruiser PRO T1 is a very quiet oscillating bladeless fan. It has a remote control, 6 speeds, 4 modes, an LED display, and a 12-hour timer.
Dreo Tower Fan Smart Voice Control Portable, Bladeless Fan is perfect for a large room or a smaller room. It has 6 speeds, 4 modes, LED display lights, a 12-hour timer, and is super powerful!
The DREO Nomad One Tower Fan is a 24 ft velocity quiet cooling fan with 90-degree oscillating fans. It has 4 speeds, 4 modes, an 8-hour timer, and is bladeless with additional features. This is a perfect fan for any college dorm room.
Desk Fans
These desk fans are perfect for any dorm desk to help keep you cool and collected while you slave away at your homework in smaller rooms! These could also be bedside table fan because of their compact size. Here are some of our favorites:
Dreo Table Fans for home or dorm rooms. 9 Inch Quiet Oscillating compact fan with remote. Has an adjustable tilt, 4 speeds, and an 8-hour timer. I love the small size of this portable fan.
Dreo Table Air Circulator fan with 120-degree adjustable tilt head, 28db low noise, and 3-speed desk fan. This would also make a really good window fan and is an ideal fan for any room or small dorm room.
Dreo Smart Desk Fan with powerful 70 feet air circulation. 120 + 90-degree oscillating fan with voice control. Has 4 speeds, 5 modes, and a 12-hour timer.
I always find comfort in the soft, white noise that a fan makes. These fans are all very quiet, but you still have that soft hum that helps you fall asleep at night to.
About Dreo
Dreo is a modern home appliance brand seeking to create a balance between technology and lifestyle. With a unique philosophy that places Air at its core.
Dreo has been reshaping different segments in the home appliance category with products like Tower fans, Air Purifiers, Space Heaters, and Air conditioners. Our ultimate ambition is to make every home life experience a delightful breeze.
Buy & Save 20%
You can purchase the Dreo Pedestal Fan with Remote, PolyFan 513S on Amazon.com. You can also find this pedestal fan and the other fans mentioned above, on the Dreo website too! Shop now to Save 20% on DREO PolyFan 513S Air Circulator Fan!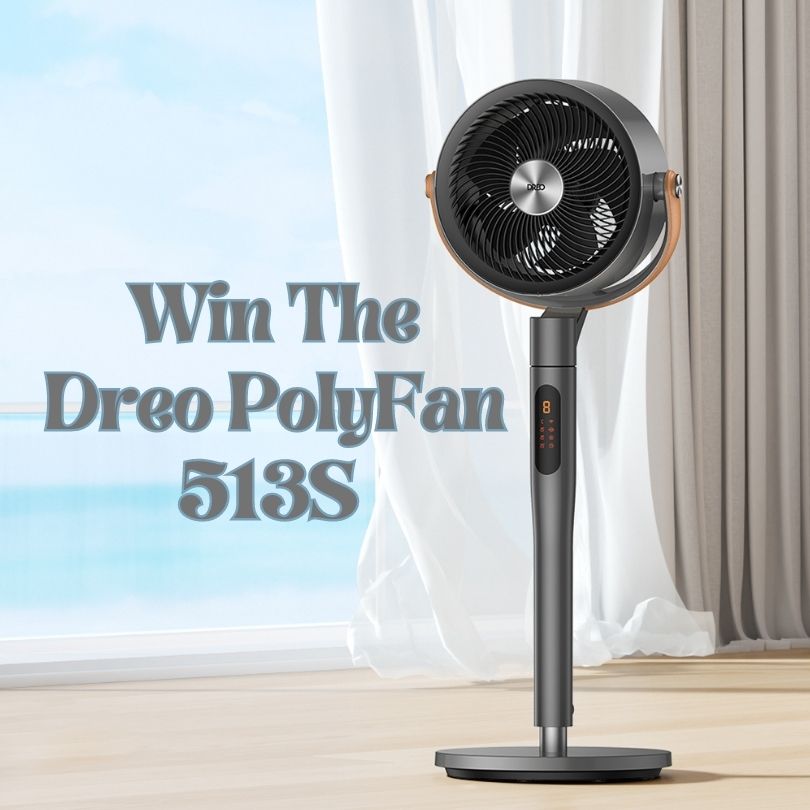 Win!
One lucky individual is going to win the Dreo Pedestal Fan with Remote (PolyFan 513S), ARV $139.99! Yay!!
Rules
The contest is open to US 18+. The giveaway will end on August 23, 2023, at 11:59 PM MT. The winner will have 48 hours to confirm their win after I email them, or a new winner will be chosen. I am not responsible for lost or stolen mail.