If you have a college-bound kid (I will next year!), chances are they are asking this question: How Am I Going To Decorate My Tiny Dorm Room? What furniture will fit in my dorm room? And SO many more questions!
Decorating a tiny dorm room can be a challenge, especially when you're on a budget. But with a little creativity and some helpful tips and tricks, you can turn your small space into a cozy and functional home away from home.
*This post includes my affiliate links
How Am I Going To Decorate My Tiny Dorm Room?
This blog post has been written with college students in mind! These are the top tips and tricks that are not only affordable but will help your college student decorate his/her dorm room in no time and stay within a college kid's budget!
Affordable Dorm Room Furniture
One of the best ways to maximize space in a small dorm room is to invest in furniture that is designed for tiny spaces.
We all know how tiny college dorm rooms are, so finding furniture to fit in small spaces that are actually useful is really important.
The blackwood 5-shelf bookcase from Furinno is a great option for college students who need extra storage space.
This bookcase is affordable, easy to assemble, and fits perfectly in small dorm rooms (or any small space). You can use it to store textbooks, school supplies, and even decorative items like plants and picture frames.

I have this in my living room right next to my oldest son's computer desk. I store and show off my cute Halloween decor on the sturdy shelves of this bookcase. It works perfectly for showcasing my cute decor! I really love it!
It doesn't take up a lot of space either. It is tall and thin yet sturdy and strong (product dimensions are: 9.3″D x 12″ W x 52.05″H).
This is the number 1 best seller for bookcases on Amazon. It comes in several different finishes/colors.
We got the Blackwood one and love it. It is also very affordable for college students. You can check the prices out here.
Video Of The Blackwood 5-Shelf Bookcase From Furinno
---
Use Wall Space
One of the best ways to decorate and save space in a small dorm room is to use your walls for storage and decor. You can hang shelves, hooks, and even a pegboard to keep your belongings organized and off the floor.
I really like this Metal Wire Grid Panel and Display Organizer for walls. You can easily hang pictures, postcards, notes, important papers, etc. on it. This would go great over a small desk!
I also really like this Rustic Key and Mail Holder for the Wall. It has 5 hooks, 2 mail slots, 2 storage shelves, a chalkboard, and a corkboard! Talk about an all-in-one! Perfect for a tiny dorm room!
Using wall space for storage can also help you stay organized and keep clutter at bay. When your belongings are stored on the wall, they are easy to find and access to the things you need most!
This can save you time and reduce stress when you are in a hurry and need to get to your next college class on time.
Keeping your space tidy and organized can help you feel more relaxed and productive. Every inch counts When working with a small space such as a tiny dorm room!
---
Buy Multi-Functional Furniture
Invest in multi-functional furniture! When you're working with a small space, it's important to make every piece of furniture count.
Look for items that can serve multiple purposes, like this Furinno Computer Desk/Table with 2 Drawers and shelves on the side! This is a great example of multifunctional furniture that can be used as more than one thing!
Another great example of multi-functional furniture is the Furinno Hermite Wall Mounting Folding Table! It is brilliant!
What a great way to have a little table you can eat on or have stuff on but still save some space because it folds up onto the wall when it is not in use! Talk about a space saver!
You can check out all the multifunctional pieces of furniture in their Amazon store.
---
Small Plants As Decorations
For some simple and not overbearing or big decorations, you can add some greenery to your college room.
Plants are a great way to add some life and color to a small dorm room. Plants can also help create a sense of calm and tranquility, which can be especially helpful in a small space where you may be spending a lot of time studying or working.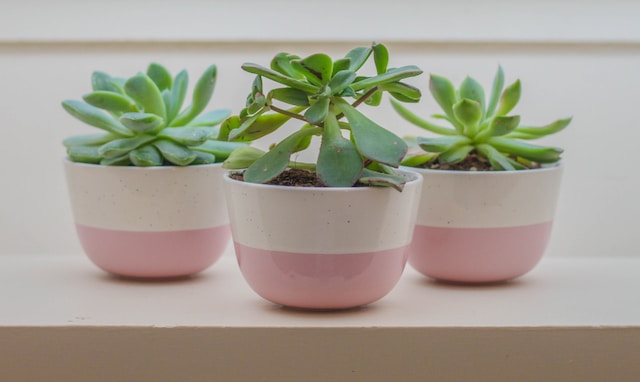 You can choose low-maintenance plants like succulents or herbs that can be grown in small pots on a windowsill.
Small plants are also relatively inexpensive compared to other decor items, which makes them a great option for college students on a budget.
You can find small plants at your local nursery or online, and many come in cute and stylish pots that can add to the overall aesthetic of your dorm room.
---
Use Curtains
Use curtains to create privacy in your small dorm room. If you're sharing a dorm room with a roommate, you can use curtains to create some privacy and separate your sleeping areas.
Curtains also help define different areas in a small dorm room. Since dorms have limited space, curtains are a good way to define separate areas and make the most of your small space.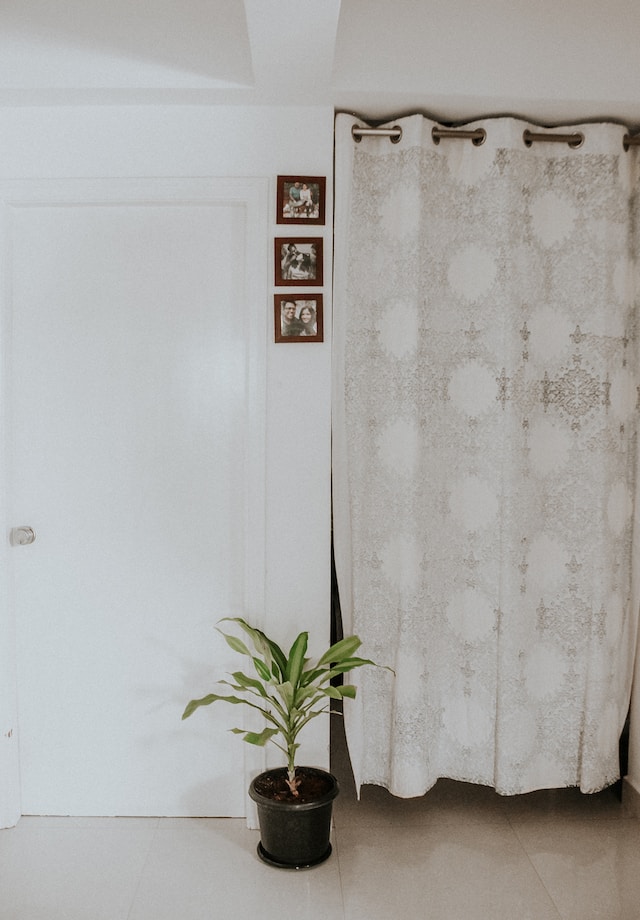 Also, if you are not sleeping much at night and need to sleep during the day at times, blackout curtains are a must-have in any dorm room or bedroom.
That way, if you study late at night and need to take a quick day nap, you can and you won't be interrupted by bright daylight.
---
Lighting And Candles
Get creative with lighting! Lighting can have a big impact on the look and feel of a small dorm room. You can use string lights, fairy lights, LED lights with different colors, floor lamps, and even candles to create a cozy and inviting atmosphere!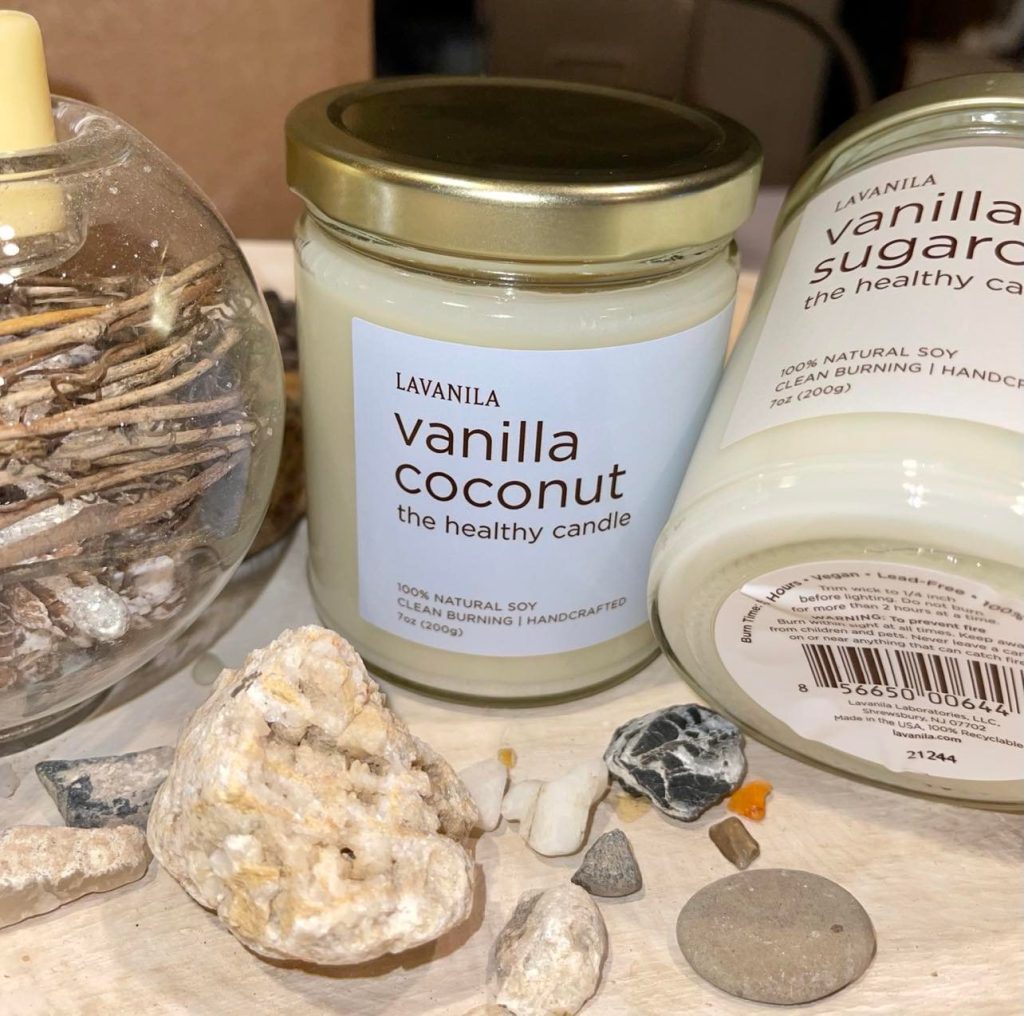 I use candles and string lights in my bedroom and living room. I love how cozy it makes my home and it really relaxes me!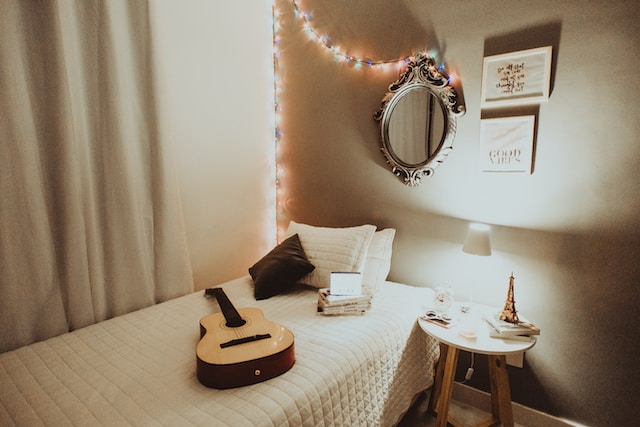 ---
Personal Touches
Add some personal touches! One of the best ways to make your dorm room feel like home is to add some personal touches.
You can hang up photos of your friends and family, display your favorite books or artwork, or even create a gallery wall with posters and prints.
---
Keep It Organized And Clean
Keep it clean and organized! In a small space like a tiny dorm room, clutter can quickly take over. Make sure to keep your dorm room clean and organized by regularly decluttering and putting things back in their place.
You can also use storage solutions like baskets and bins to keep everything tidy. One way I love staying organized in my tiny bathroom is by hanging an organizer over my door.
I store everything in the little pockets and only keep what I use all the time on the countertops in my bathroom.
Having the door hanger organizer has saved me SO much space and keeps everything tidy looking and organized. Now I don't have to go crazy over it being cluttered or messy looking.
---
Comfort Is King
Don't forget about comfort when decorating your tiny dorm room. Invest in a comfortable mattress topper, pillows, heating blanket, and bedding to make your sleeping area cozy and inviting.
You can also add a rug and curtains to make your space feel more homey. Don't forget the LED lights I mentioned above and some scented candles sprinkled around your dorm room to really give off a cozy and inviting vibe!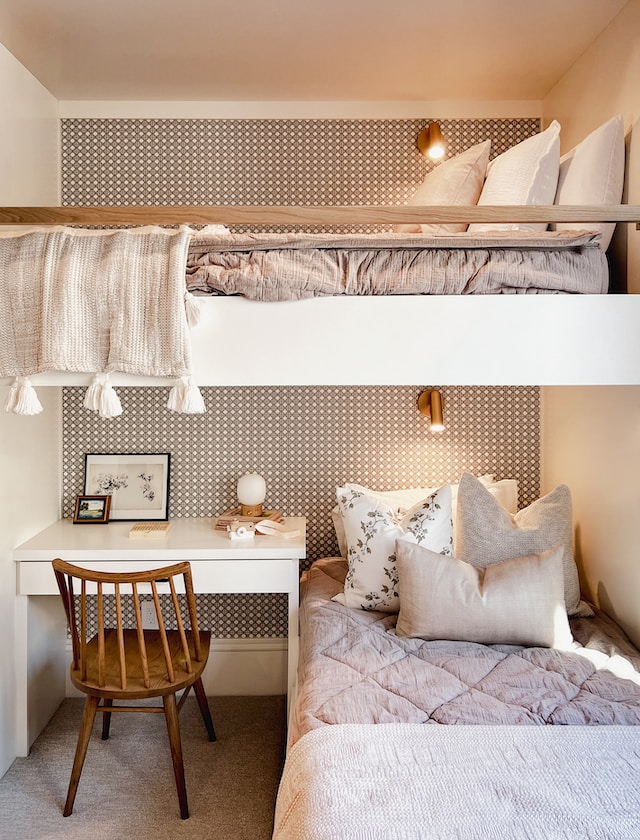 You may never want to leave your dorm room after you follow my suggestions above! I know I wouldn't want to!
Smaller spaces don't have to be cramped feeling or uncomfortable! And finding ways to decorate your tiny dorm room doesn't have to bring you to tears!
By following my tips above about how to decorate a tiny dorm room, you will be feeling at home in no time at all!
---