I can literally smell the fall scents! It is an earthy scent with a touch of rain! You know that smell! The weather is cooling down, the leaves are changing color, and pumpkin spice is in the air—it's official, fall is here! There's no better way to enjoy the cooler months than by getting cozy with a good book, a cup of coffee, and one of these deliciously scented glass candle jars. From crisp apple to warm cinnamon, these candles will make your whole house smell like fall.
I received an array of wonderfully fall-scented candles that I wanted to share with you all! Nothing says comfort more than a lit candle and a cozy warm blanket, am I right??
*This post includes my affiliate links
The Best Candles With Fall Scents
The first candle I want to rave about is from A Glowing Trend Handcrafted Candles. Not only do these candles smell absolutely AMAZING, but they are gorgeous too! The detail put into these candles is so cool! And, they recently came out with their autumn-scented candles! Now you can celebrate the season of the harvest with their Autumn Collection! From holiday dinner treats to the wonderful scents of the outdoors, this collection will fill your home with warm and comforting aromas! And boy do they smell good!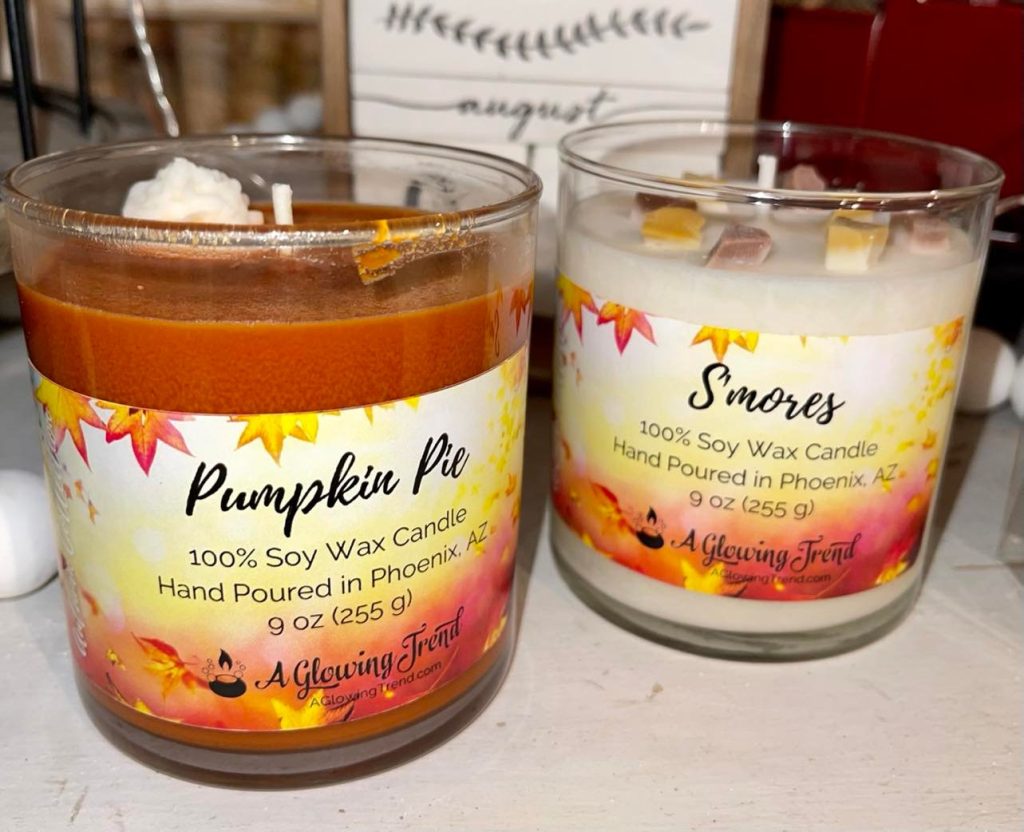 I received their Pumpkin Pie and S'mores 100% soy wax candles. Their candles are hand-poured and made in Phoenix, Arizona! The Pumpkin Pie handmade soy candle will make you want to grab a fork and dig into it! This candle scent is the perfect combination of pumpkin, vanilla, and cinnamon with a cute little whipped cream dollop on top. Isn't that adorable????
The S'mores handmade candle also smells so yummy! This candle will transport you back to a time when you were singing songs and laughing around a campfire. This fragrance is just like the ooey gooey sandwich that combines classic graham crackers, melted milk chocolate, and toasted marshmallows. Their white candle is even topped with wax graham crackers and chocolate bits! So fun!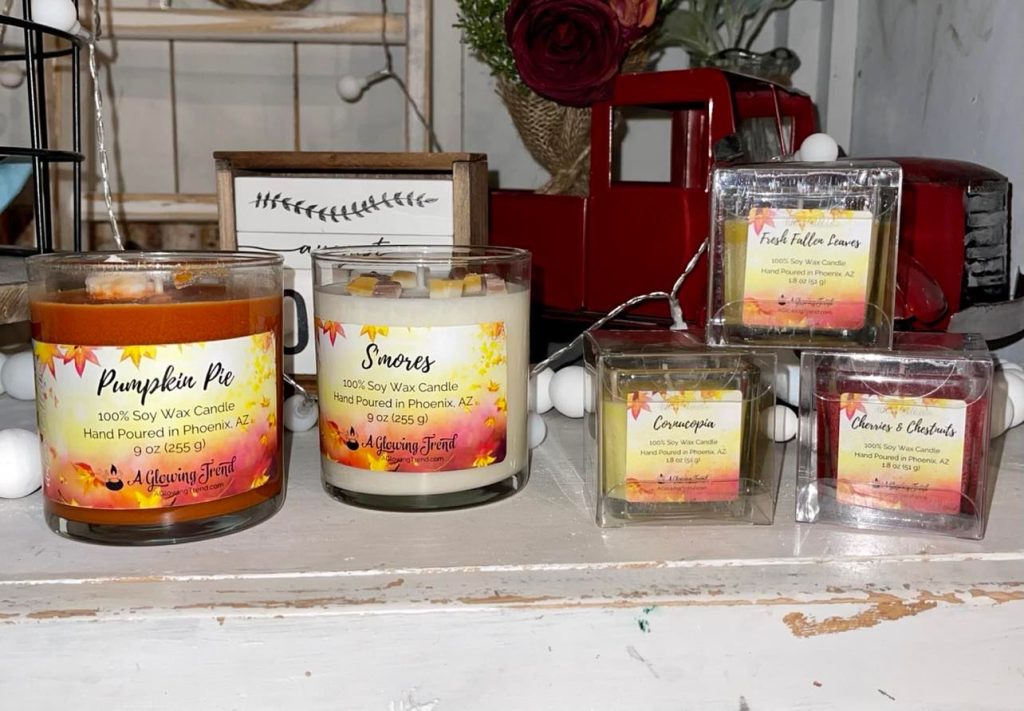 I also received three of their smaller candles: Cornucopia, Fresh Fallen Leaves, and the candle Cherries and Chestnuts! The Cornucopia fragrance is overflowing with crisp apples, pears, plums, grapes, nuts, and caramel. The Fresh Fallen Leaves fragrance is a crisp scent of maple, elm, and oak leaves with a touch of fresh greens without the raking! And, Cherries and Chestnut's home fragrance is Sweet cherries and roasted chestnuts combined to create a rich holiday fragrance that's good enough to eat! Check out all of their autumn-scented candles here! They have a great selection of fall scents to choose from.
---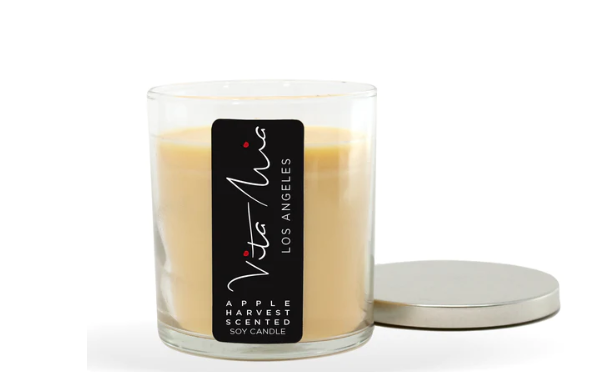 Next up is Vita Mia's Apple Harvest Candle! YUM! Smells just like fresh, crisp apples! This sweet apple-scented soy wax candle is like an apple pie packed with warm and nurturing aromas of cinnamon and brown sugar. Simply put; this cozy rustic candle is perfect for the entire year! This candle makes my home smell so delicious! This is definitely one of those fall scents that I go crazy for! The burn time on this candle is 47 hours and retails for $30.
---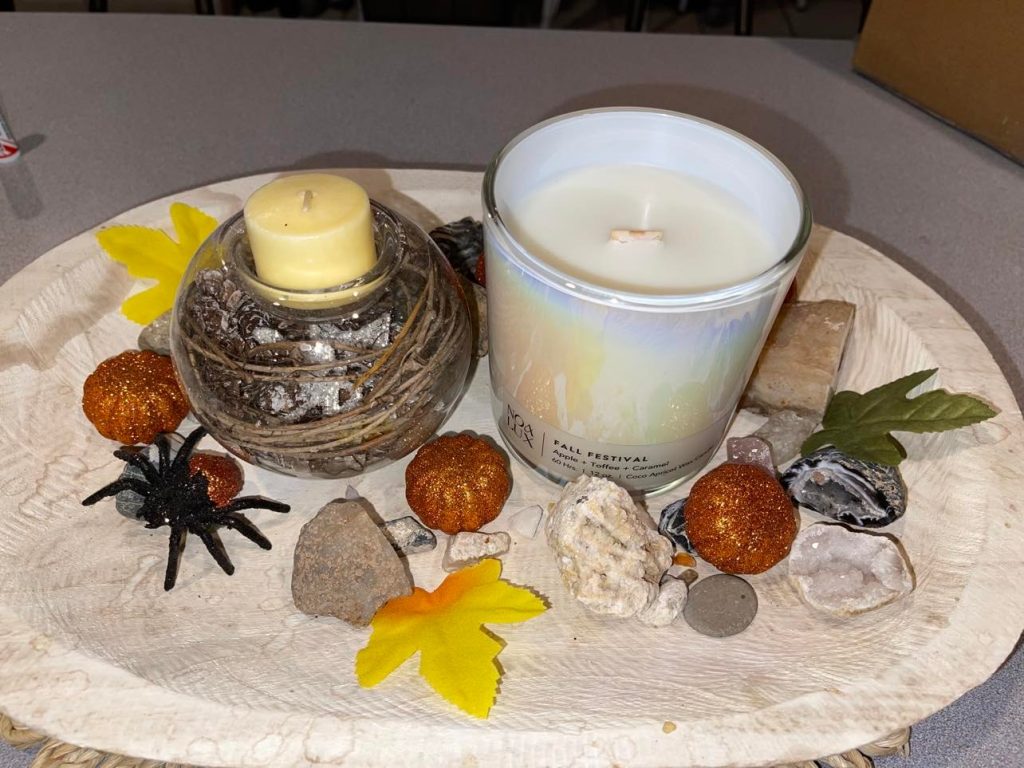 Noa Lux sells some amazingly scented candles and they are absolutely gorgeous in their glass jars! The scent I received was the Fall Festival candle. The glass jar that it comes in is so beautiful. I will absolutely be using the glass jar as a jewelry or coin dish after the candle is long gone. The one thing I LOVED about this candle was the wood wick in it. Whenever this candle was lit, it would make a crackling fire sound that sounded just like a fireplace. I LOVED that so much!
With notes of apple, caramel, vanilla, and toffee, this will be sure to transport you back to those childlike moments! It smells SO good! This candle has a burn time of 70 hours (the 12 oz. one) and is made from Coco Apricot wax. It has a Clean burning wooden wick that is made from FSC Certified Wood. Phthalate and paraben-free fragrance oil are in it. This candle burns clean and is so nice to listen to the crackling noises it makes! Will definitely be buying more of these. This candle retails for $48.
---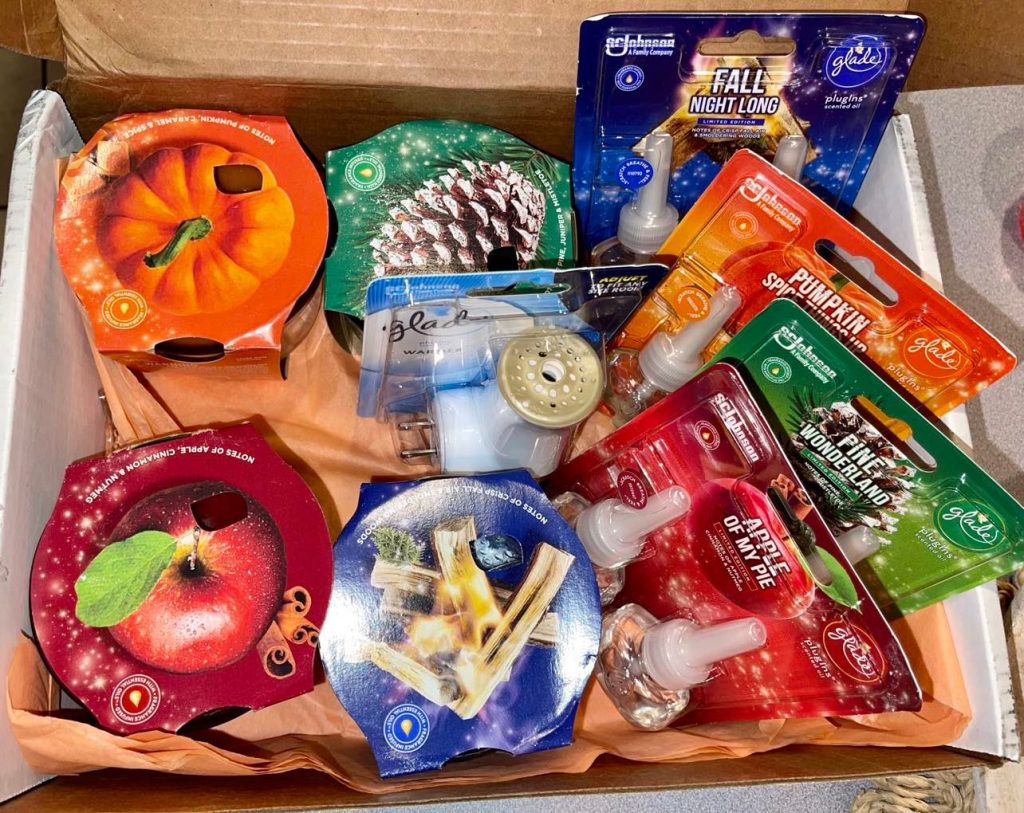 Glade candles and fragrances are a staple in my home. And, I love it so much when they come out with new scents to choose from! I was sent an assortment of Glade's fall fragrances including Glade's three NEW holiday scents! Glade® has unveiled a collection of festive, limited-edition scents that will help transform the mood this fall and holiday season. These all smelled so festive! My home still smells so nice because I am using those air fresheners and every time I walk into a room with those Glade plugins plus, that room smells SO good!
The Scents I Received:
*Apple of My Pie
*Fall Night Long
*Pine Wonderland
*Pumpkin Spice Things Up
SO many wonderful fall scents!!!
The thing I really like about Glade is that their products are affordable and they keep my home smelling wonderful! Glade® products can be purchased in-store and online through major retailers including Walmart, Amazon, and more. They believe in transparency, so consumers can breathe easy knowing the products are made without phthalates, parabens, or formaldehyde.
---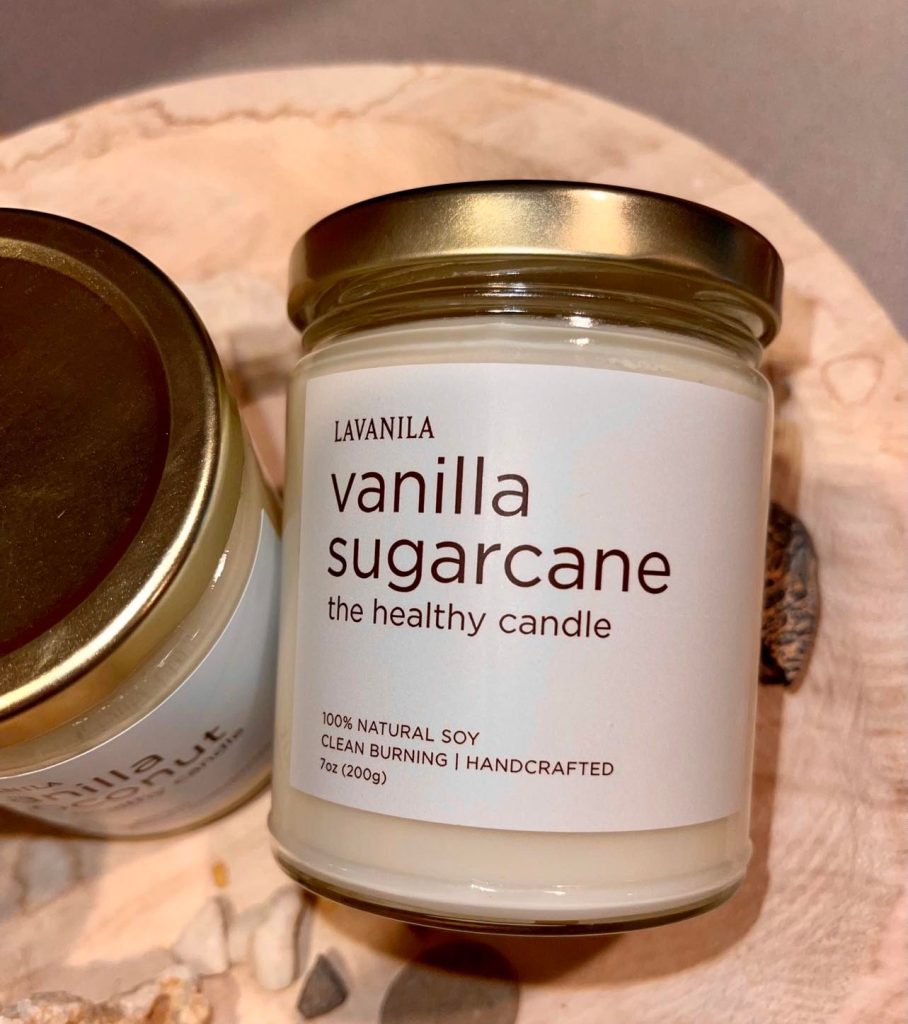 Lavanila's The Healthy Candle Collection: Vanilla Sugarcane and Vanilla Coconut candle are amazing! I received these two candles and they smell so divine! With Lavanila's The Healthy Candle Collection, you can bring fall scent into your home without worrying about what extra additives come with it. They are formulated without paraffin, BPA, and phthalates, so the candle burns cleanly and evenly with no ashy, black residue on the glass or in the air.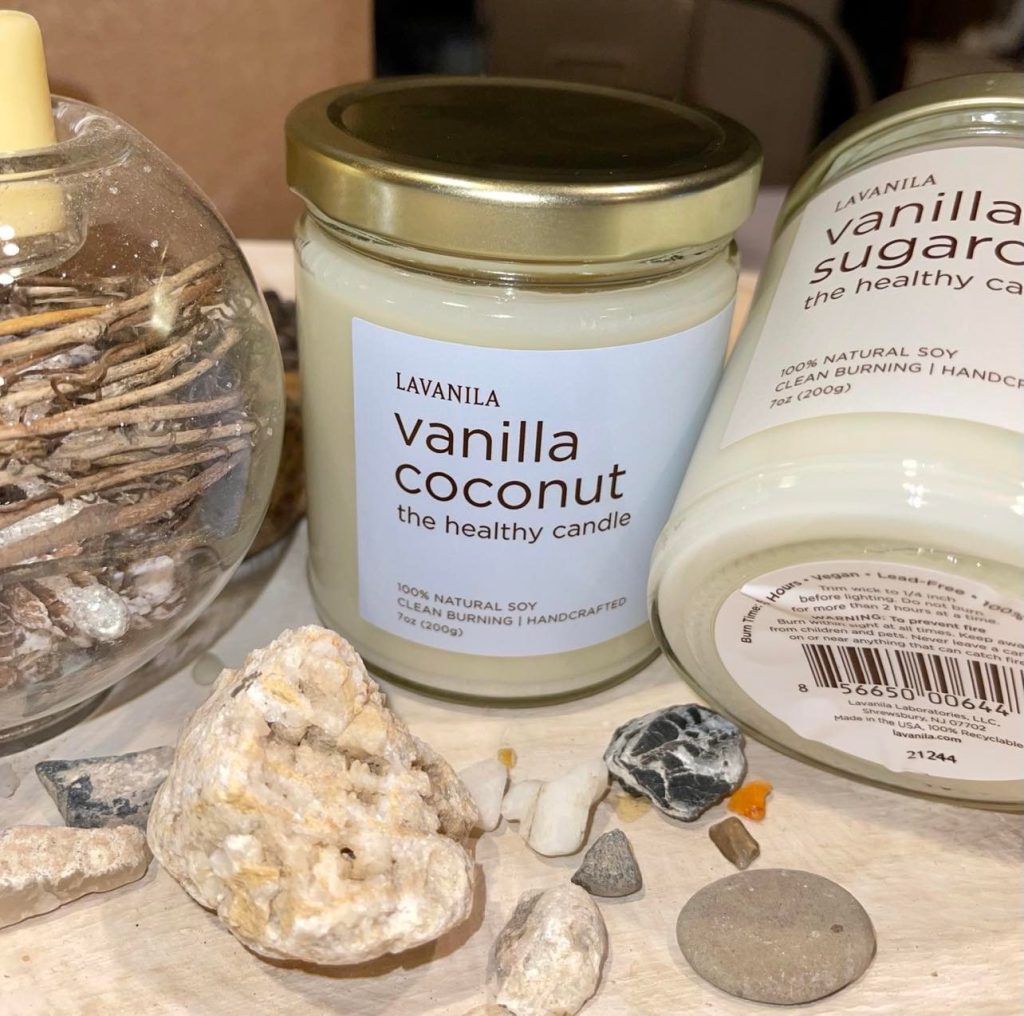 With celeb-favorite scents like Pure Vanilla and other warm-weather favorites like Vanilla Sugarcane and Vanilla Coconut candle, your living space is bound to become cozier. Each candle has 55 hours of burn time. These candles retail for $18 each and can be purchased on Amazon.com.
---
Another awesome candle on my list is from New Moon Beginnings. This candle is absolutely GORGEOUS! I almost did not want to burn it! This candle was specially crafted with a combination of Crystals, Organic Herbs & Flowers that symbolize the Autumn Season and are meant to attract Balance and Prosperity into your life. YES, it has CRYSTALS in it! I loved this candle so so much! And, it smells SO good burning in my kitchen!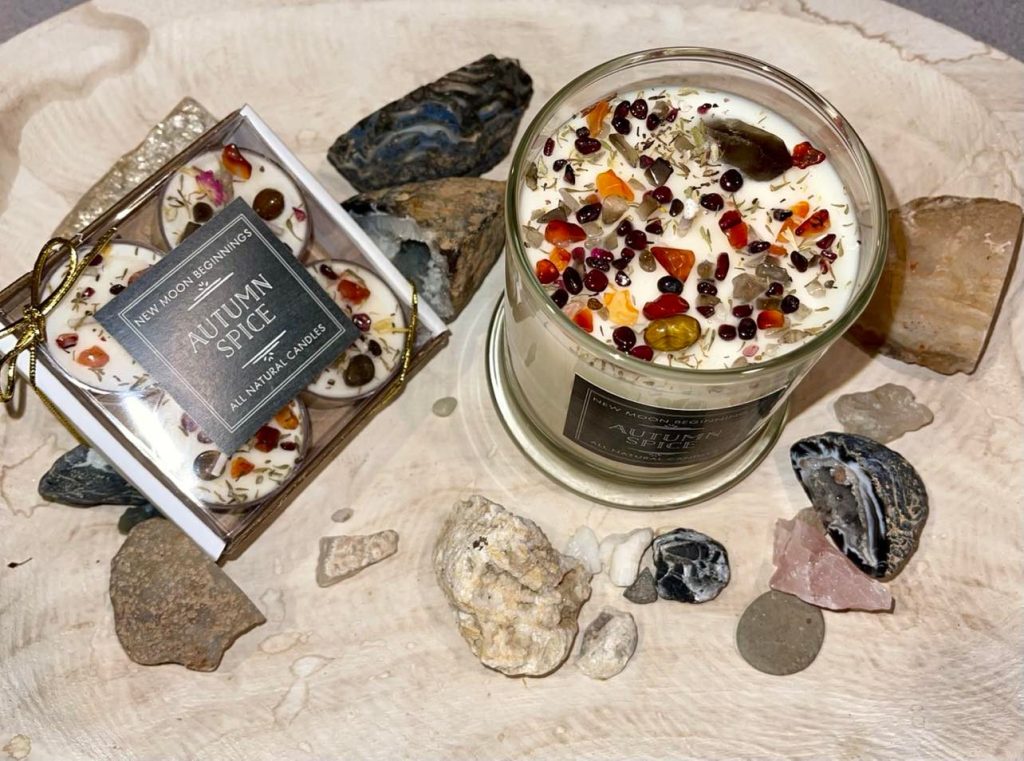 Aren't those candles beautiful??? I told you!! I received the Autumn Spice Candle! It is the PERFECT Fall candle! It is spicy and warm with a hint of coffee shop bakery. Autumn is a wonderful time to bring balance into your life, meditate, and focus on bringing stability, prosperity, and abundance into your home. Use this candle to fill your home with loving energy, and relieve stress and negative emotions. The Autumn Spice Candle has a Spicy, Comforting, Warm, and Sweet scent with Garnet, Carnelian, Tigers Eye, and Smoky Quartz healing crystals on the top!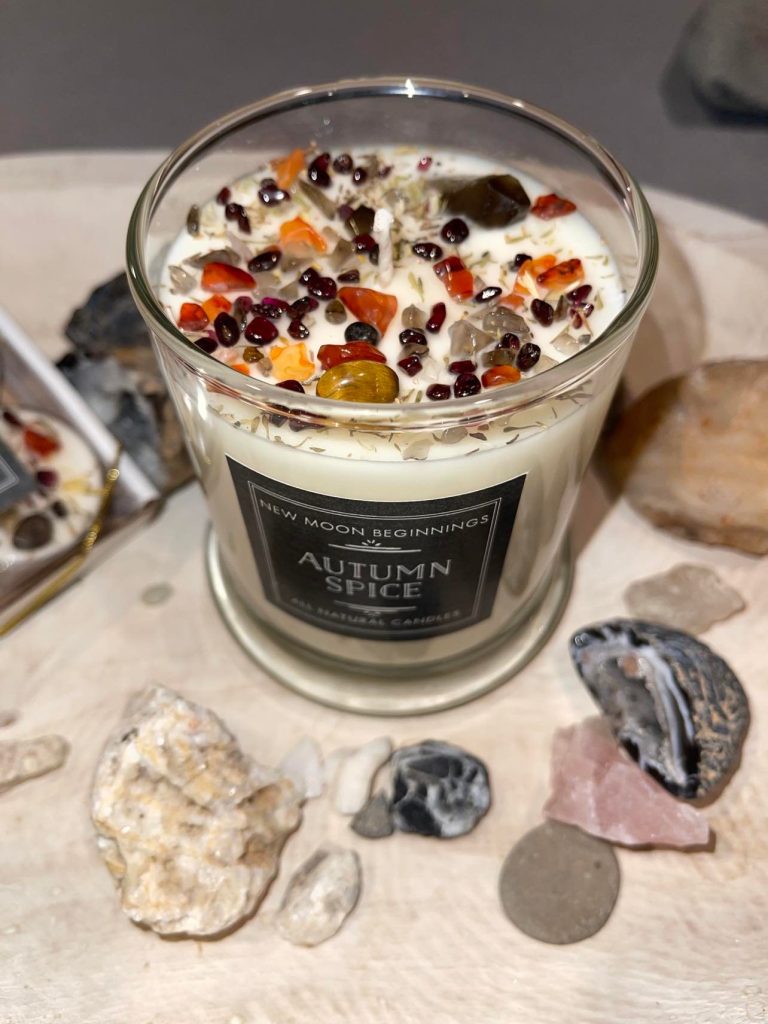 And yes, you better believe, after the candle burned out, I picked through the wax and got out every last crystal in there! I now have the crystals in my dough bowl on my kitchen countertop! I LOVE crystals! Who would have thought to put them in candles? Such a fun and unique idea! I encourage you all to check out their website and buy some of their candles for loved ones this upcoming holiday season! The candles start at $9.49 for the tea lights and go up to $30. They are totally worth the money spent! I promise!
I have so many favorite fall scents of candles that I adore. What scents do you like the best?
Some of my favorite candle fall scents of Glass Candle Jars candles are:
Apple Orchard
Apple Cinnamon
Spiced Apple
Apple Cider
Or anything with a fall scent or holiday scent to them! I also enjoy making candles with my kids! Check out my post about making soy candles with essential oils! So fun and easy! And they make wonderful gifts for loved ones!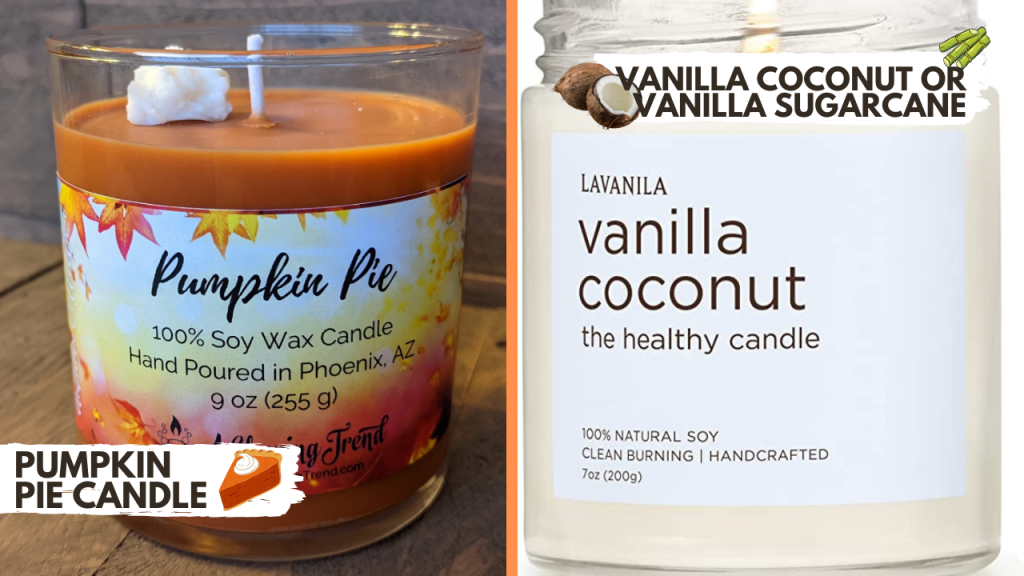 Giveaway Time!
Yay! Another fun giveaway and this time? CANDLES!!! Yay! One person is going to win the following two candles (Glass Candle Jars Candles):
*A Glowing Trend Handcrafted Candle in the scent of Pumpkin Pie
*Lavanila's The Healthy Candles (winner can choose either the Vanilla Coconut OR the Vanilla Sugarcane!)
Rules
The contest is open to US 18+. The giveaway will end on November 1, 2022, at 11:59 PM MT. The winner will have 48 hours to confirm their win after I email them, or a new winner will be chosen. I am not responsible for lost or stolen mail.