We all know that fall will be here before we know it, and that will mean cooler days and colder nights! One thing I have plenty of in my home is cozy woven throw blankets so that we can just grab and snuggle up in! I have a few woven blankets folded on my couches in my living room. I also have a woven throw blanket in our car for emergencies because you never know when you might need a soft woven throw to wrap around you!
*This post includes my affiliate links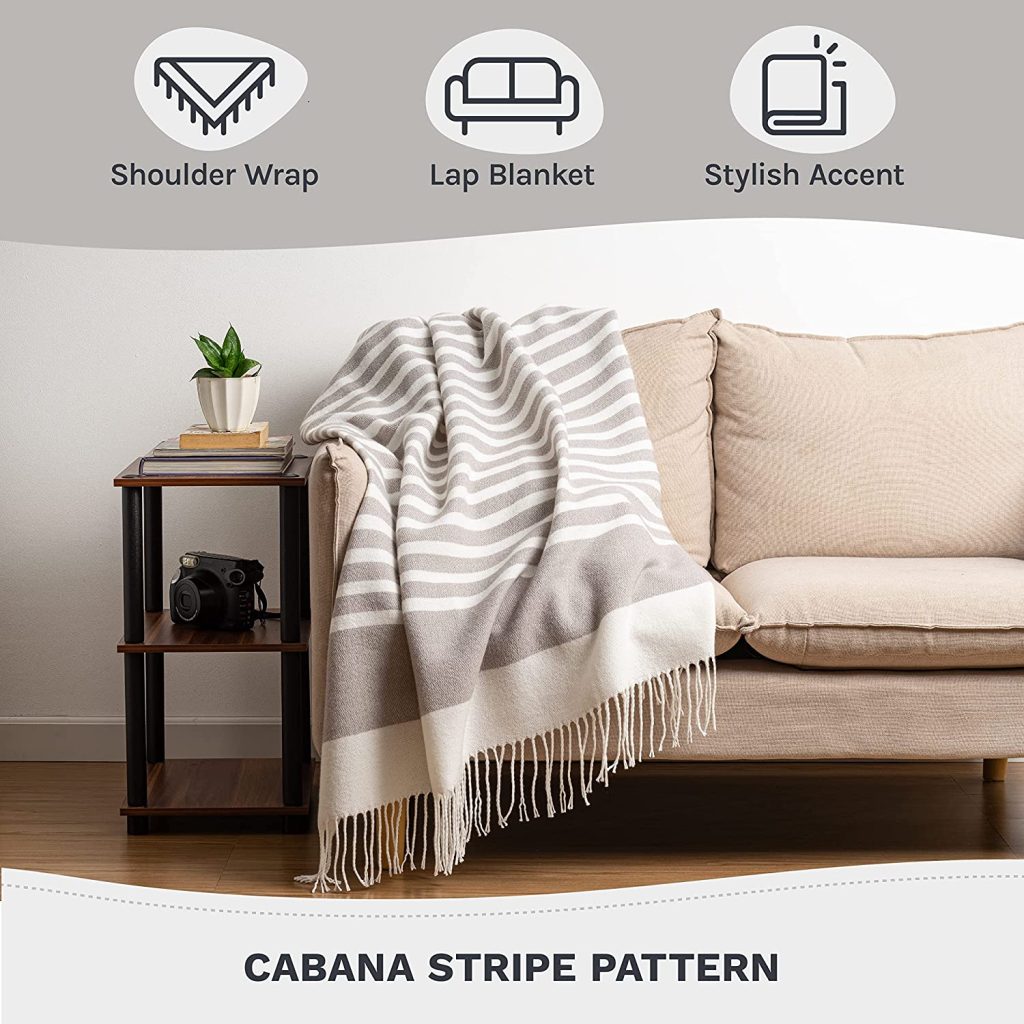 Cozy Woven Throw Blankets For The Fall!
It is all about comfort in our home and woven blankets are a must for fall! The gorgeous and comfortable striped throw blankets from the Good Manors Living Store on Amazon, are what you need to have in your home! These throws are so soft and so cozy! I am always curled up on my couch under one of these throws when I am not running around being busy! It is such a nice way to end my busy days!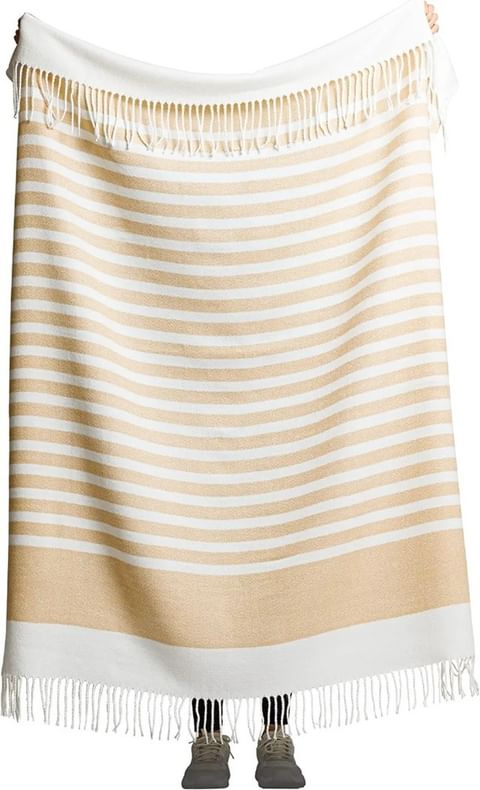 These striped throws have a farmhouse style to them! Or if you are going for the coastal look in your home these have a nice coastal beach pattern feel to them too! They are a soft, light woven blanket throw with stripes.
They are elegant looking so you can easily display them on your furniture, across your bed, or you can hang them nicely on a ladder in your living room. You can even display them outside on your patio furniture!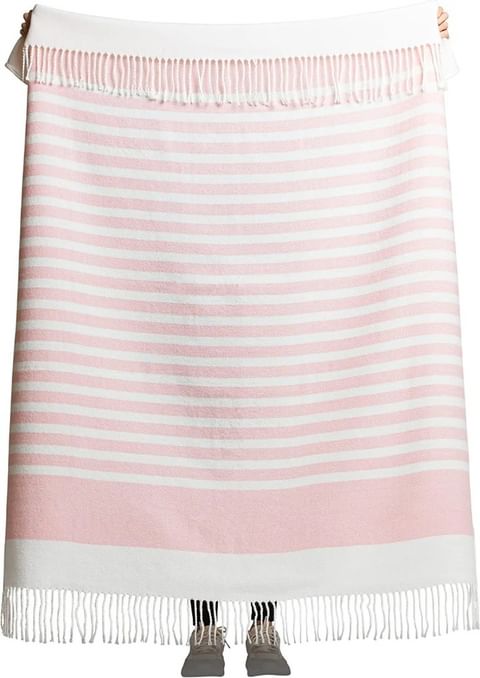 There are so many ways to display these gorgeous throws! They come in 6 different colors; light blue, cream, light green, light pink, warm gray (my favorite!), and tan. These are also the perfect size! They are 60″L x 50″W!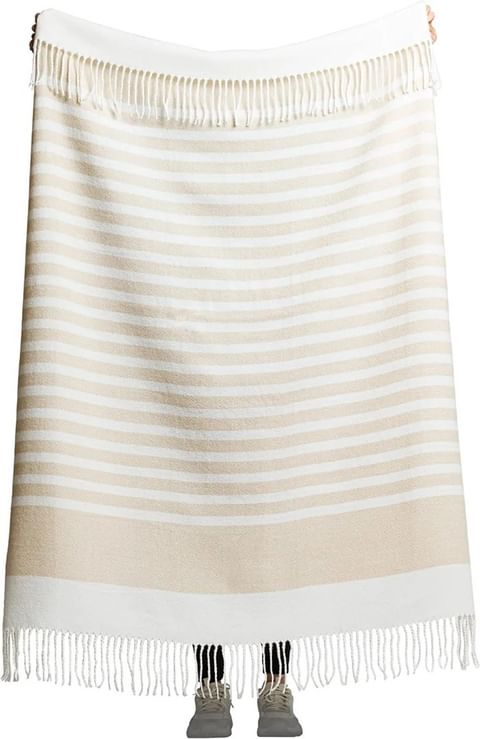 Features worth mentioning:
*Lightweight and Soft: Made of soft 100% skin-friendly acrylic with a cashmere-like feel
*Coastal Or Farmhouse – Nautical-themed cabana stripe print pattern fits boho, seaside, beach house styles, OR Farmhouse styles (just depends on how you look at them but they are perfect for both!)
*Ready for Gift Giving – Attractive packaging makes a classy gift for spring and summer or pool and beach seasons
*Warm & Breathable – Not too large or heavy, wearable as a shawl or a wrap to stay warm and cozy
*Easy to Care For – High-quality, woven fabric, machine wash cold, no bleach, tumble dry low, cool iron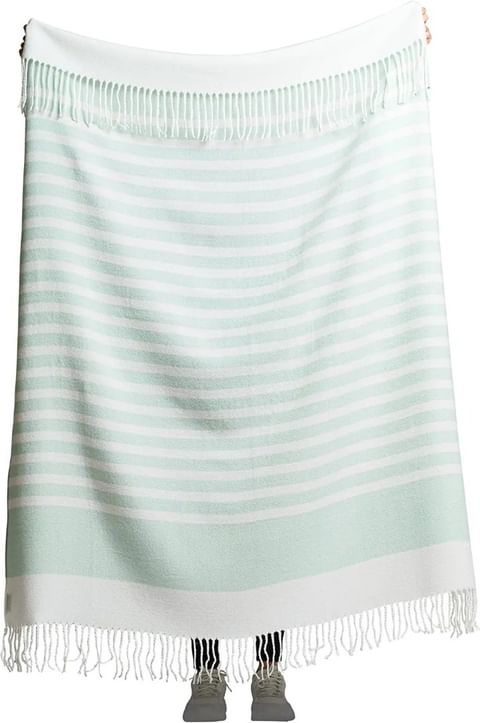 These cozy throw blankets are perfect for keeping you warm and cozy on any occasion! These contemporary lightweight designs come in an all-season style that works anywhere – picnics, concerts, campfires or just relaxing on the patio. These beautiful nautical and farmhouse-themed throws are 50 x 60-inch with a stripe patterned fabric and decorative fringe edges! These throws are small enough to fit into your bag if needed but also big enough to cuddle under!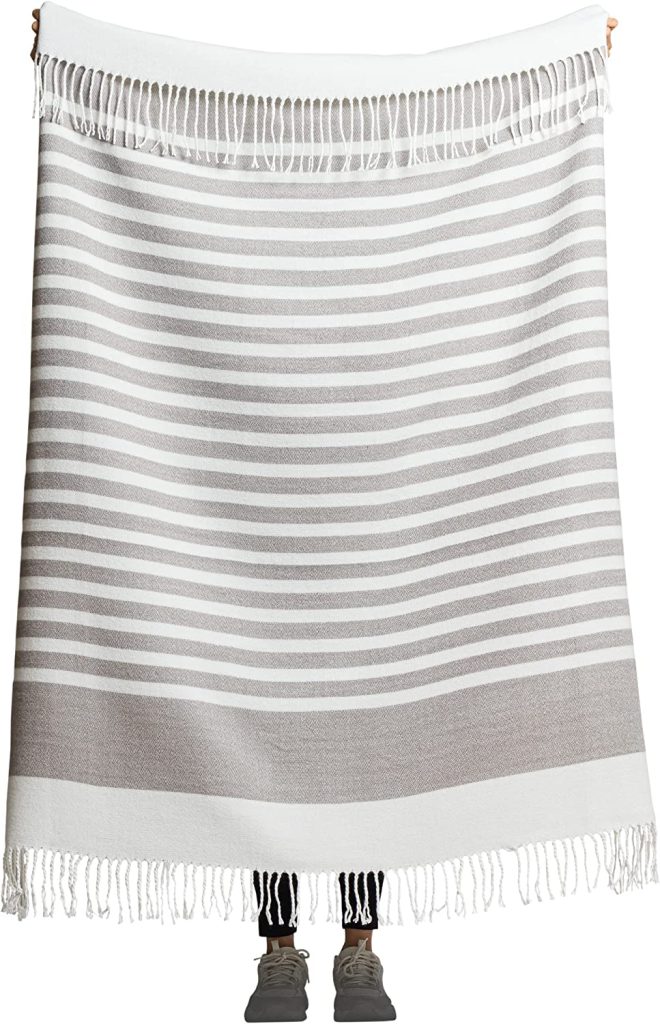 These stripe throws measure come in a variety of vibrant and neutral colors including white with warm gray, cream, sky blue, sea foam, light pink, and more (see above!). While great throws for sofas and chairs, this striped blanket can also even be worn as an everyday shawl or shoulder wrap on a cool beach day! My goodness, these Cozy Woven Throw Blankets are versatile!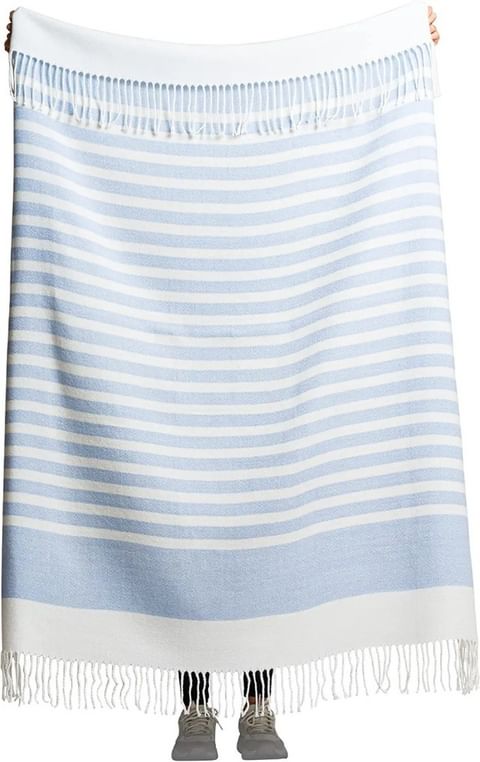 Woven of skin-friendly, soft acrylic (softer than cotton!), and conveniently machine-washable (for long life only wash when needed). Colorfast dies are resistant to fading. You will love this casual striped blanket and be amazed by its quality and value! We love ours so much!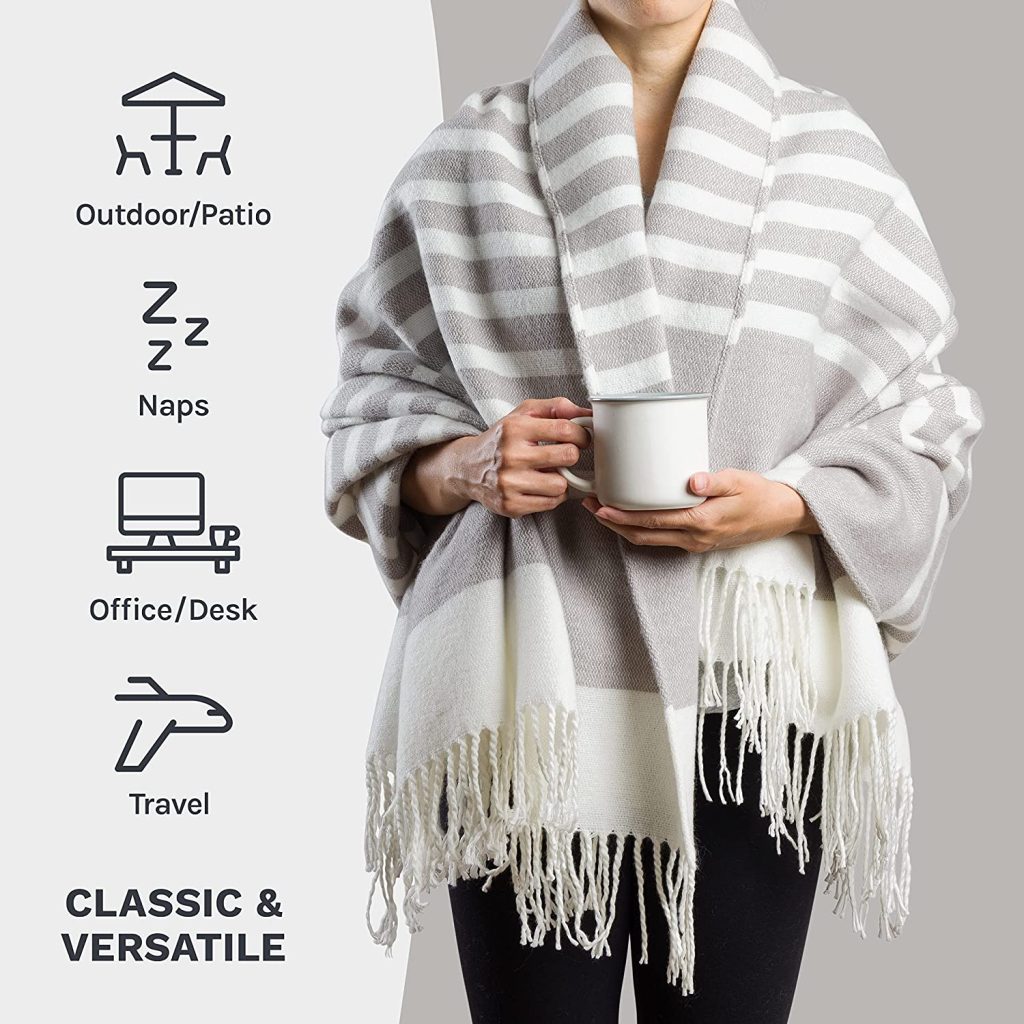 Striped blankets and woven throws, especially in the old Turkish-inspired, cabana stripe throw blanket pattern, are extremely versatile accent pieces for a wide variety of home decor. I have never felt a blanket woven so softly! We love the colors of the whole collection of these cozy woven throw blankets!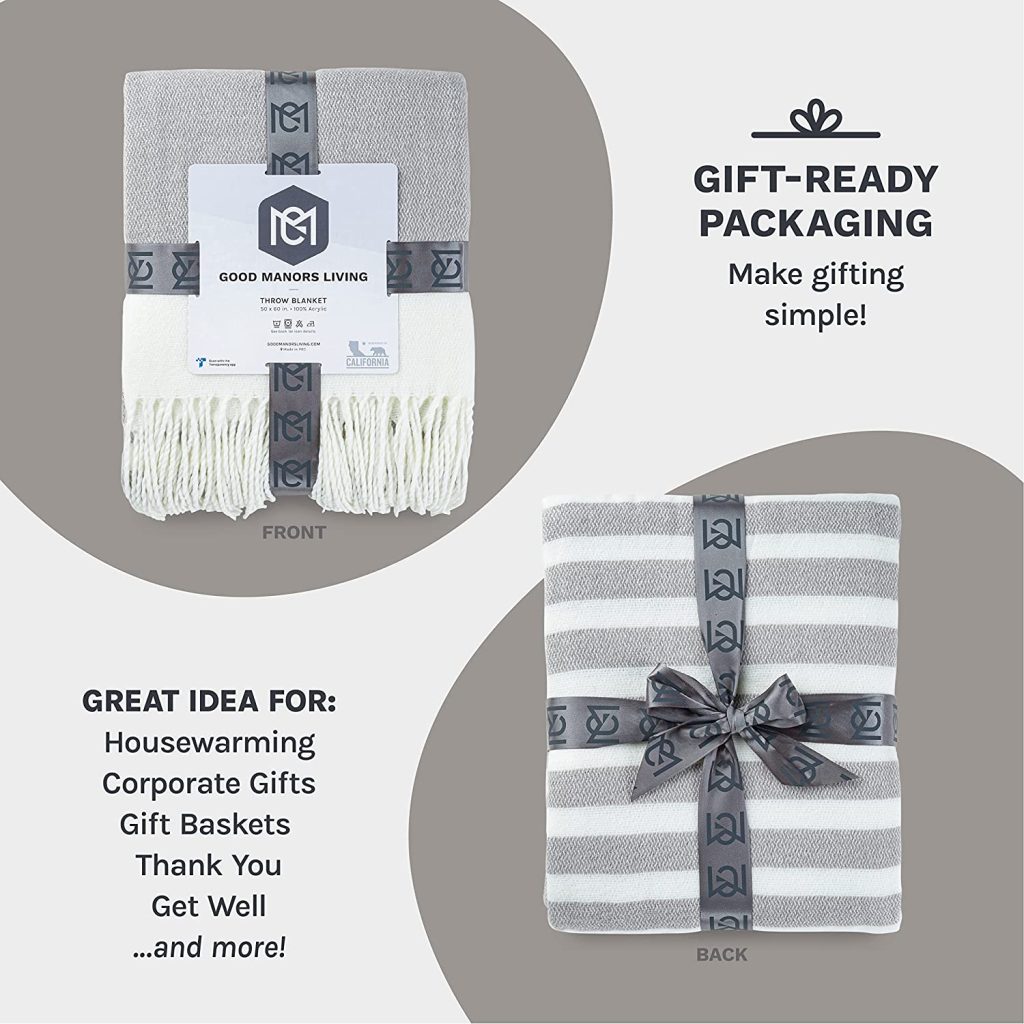 Shop And Save $5! (Sale)
You can find these Cozy Woven Throw Blankets on Amazon.com in the Good Manors Living online store! They are reasonably priced at only $27.99 each. And, right now you can save $5 off of these cotton throws by clicking the box at checkout on Amazon! You can read all of the positive reviews on these throws on Amazon.
Win!
There will be SIX winners because this throw comes in 6 different colors! Each winner will receive a Good Manors Living Striped Woven Throw (the brand will choose the color they send you!)! YAY! You will love these woven throws!
Rules
The contest is open to US 18+. The giveaway will end on September 26, 2022, at 11:59 PM MT. The winner will have 48 hours to confirm their win after I email them, or a new winner will be chosen. I am not responsible for lost or stolen mail.