Homes can accumulate negative energy over a period of time, especially if space has not been cleansed in a long time. Clearing the space of negative energy is especially important when moving into a previously lived-in home. You never know what has gone on in the home you just purchased (kind of scary to think about, right?).
Some believe that fights, conflicts, deaths, unpleasant happenings tend to leave their negative energy imprint behind. Energy-sensitive people (that would be me!) may be able to sense if a particular place feels good or not. Each home I have bought and moved into HAD to feel a certain way for me or we would not move there! Some ways to Clear Negative Energy From Your Home are listed below.
*This post includes my affiliate links
How To Clear Negative Energy From Your Home
Smudging, a Native American Ritual Gets Rid of Negativity
Herbs such as sage, sweetgrass, cedar are used in smudging. Herbs are allowed to dry naturally and then bundled together in a smudge stick. The smudge stick is lit and quickly extinguished and the smoke is gently guided with the hands to clear negative energy in a room.
Smudging has been used for centuries in the Native American tradition. As the fire burns away negativity, lighting candle and incense also help clear bad odors and unpleasant energy with a pleasant smell.
I use smudge spray so that I don't have to light anything in my home. It is much easier and it does the same thing! It cleanses your home of all the bad and negative energy which I really need right now!
Sage Spray for Smudging
This body and air mist offer a unique twist on smudging. People have practiced smudging, or burning of sacred herbs, for centuries to banish negative energy. This smudge spray will cleanse and purify just like the ancient tradition but without the smoke.
Clear The Air smudge spray contains powerful elements to restore the energy of your sacred space. Sage essential oil, wood essence of Palo Santo, and a pinch of sea salt kill airborne germs and sweep away negativity. Read the intention on the bottle before each use: 'All negativity is expelled from my energy field. Peace and light fill my sacred space'.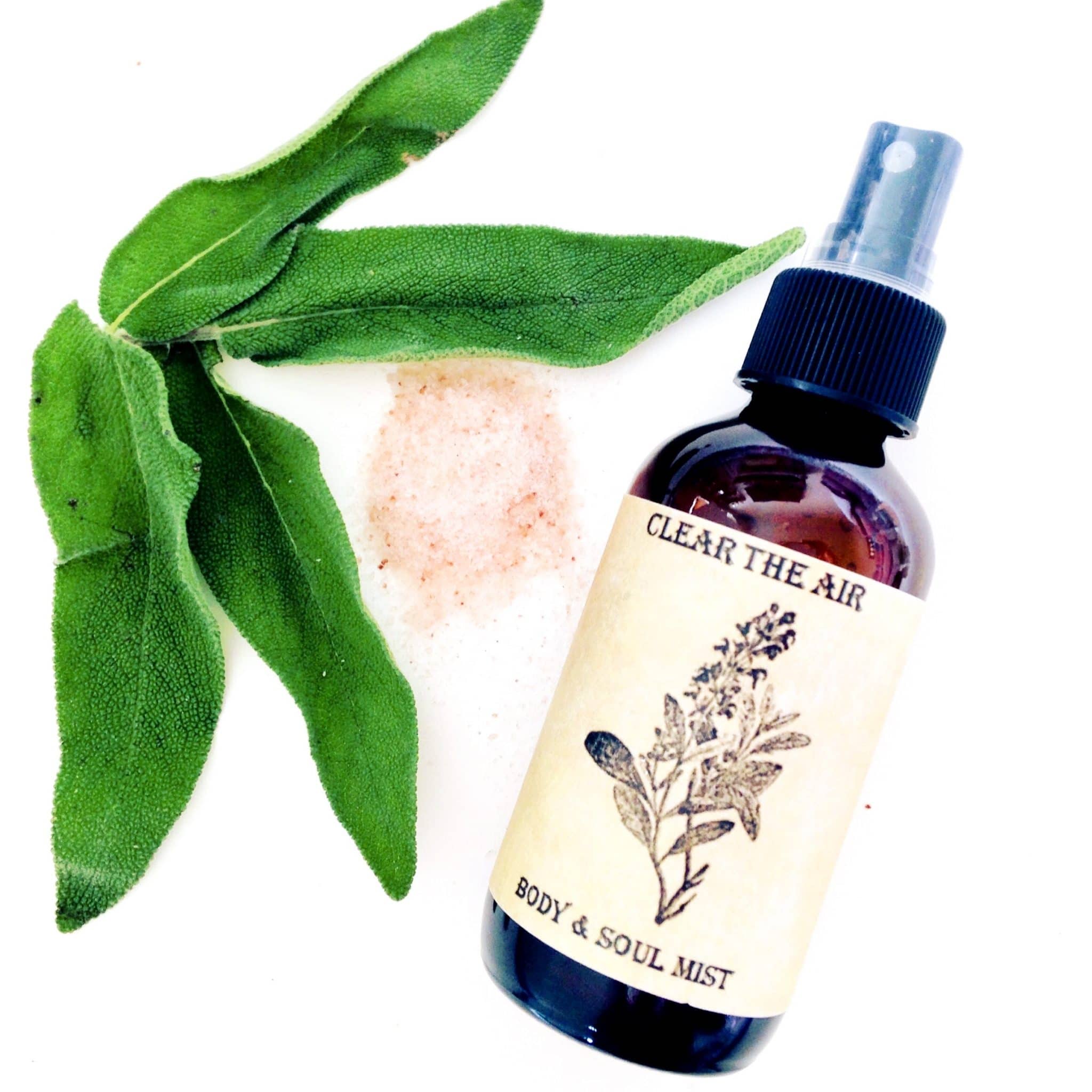 Elements of the 'Clear The Air' Smudge Spray:
•Sage, Wintergreen, Myrrh
•Amber Crystal Essence (crystal-infused water)
•Palo Santo Wood Essence
•Pinch of Sea Salt
•Reiki Energy
•Organic
•Vegan
I also wanted to quickly mention that sometimes getting a card reading can help you figure things out in life. Maybe give you some sort of starting point and direction. I understand that card readings and psychic readings are not for everyone, but I recently had one from The Haven Shoppe and it really resonated with me. So, that is always an option too! Nothing wrong with finding a bit of direction from a card reading! It May sound silly, but I really enjoyed my reading!
Remove Clutter for a Better Look, Remove Mental Blocks
There are many ways to clear negative energy. A basic step to bringing in positive life-giving energy is to clear one's surroundings of any clutter. Clutter in the house acts as a mental block. Donating or selling unused items in the past year might be a good way of starting to clear clutter.
Salt Water Absorbs Negative Energy in the House
Salt is a natural cleanser. It helps rid of energy imprints by absorbing the negative energy. The saltwater can be kept in a bowl in an inconspicuous corner of the house and changed every day for maximum benefit. Sea salt is recommended for the cleansing process.
Ringing a Bell Removes Stagnant Energy, Promotes Positive Flow
Ringing a bell in closed spaces helps clear negative energy. The ringing of the bell naturally disperses negative energy. This property of bells may be a reason, bells are prevalent in many places of religious worship. Wind chimes also offer similar benefits to using a bell.
Letting in Light and Air – Removes Odors, Kills Germs and Cleanses
Opening the doors and windows of all rooms periodically helps bring in fresh air and light which are also natural cleansers. At the time of cleansing, it is beneficial to mention the intention of being surrounded by positive, loving energy.
The process of energy cleansing need not be complicated or time-consuming. The elements of nature themselves act as cleansing agents. External cleansing helps lead a life of internal clarity as well.
Crystals
I love crystals and am really getting into them lately. I am learning so much about them and it is so neat! I love wearing my bracelets, necklace, and other jewelry to help ward off all the negativity going on in this world! Each crystal has its own unique meaning or benefit, so it's important to know what you're looking for before using a certain crystal. For example, wearing a rose quartz necklace can bring love, empathy, and positive energy to your life
I think it is helping me too. I find myself more at ease with things and my mind is much clearer than it has been. I just feel good when I have my healing crystal earrings or other crystal jewelry on me.! They help ground me.
I also like to use my salt lamp whenever I can. It helps to ease my anxiety and helps to make a more relaxing environment in my bedroom, which I love. I have a salt lamp that is white, but it lights up different colors for an even better mood-changing vibe. I need more salt lamps for every room in my home!
Doing the things I listed above can certainly help to Clear Negative Energy From Your Home and from your soul. I know this year has been super tough for many of us, so now would be the best time to clear out all of that negative energy in your life and home.
PIN IT