Do you love coffee, iced or hot? I know I do! I love making iced coffee during the summer months and hot coffee during the colder months. And, if you are headed off to college this fall, and you love hot and iced coffee (or whatever type of coffee), I have something for YOU! The best coffee maker for college is the Famiworths Single Serve Hot and Iced Coffee Maker!
Why? Because it is a compact size and small enough not to take up too much space in a college dorm room with its compact design, and it makes great coffee very very quickly! And? It is just a great coffee maker to have to make that very first-morning cup of joe!
*This post includes my affiliate links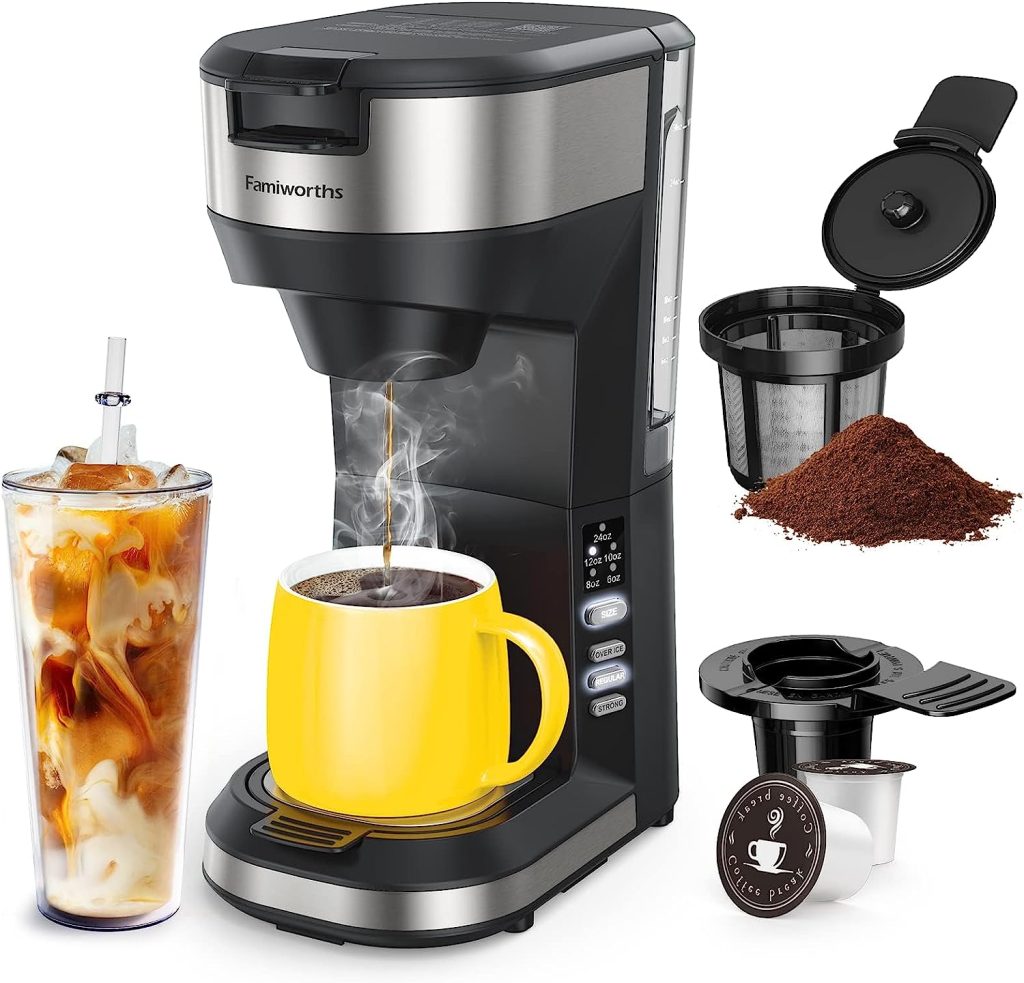 Best Coffee Maker For College
The Famiworths Single Serve Hot and Iced Coffee Maker is the perfect solution for those who love coffee and want a quick and easy way to make it at home or in their college dorm room.
This drip coffee maker is the bomb because it can brew hot or cold coffee at the press of a button, and it's perfect for those who love regular ground coffee grounds, regular coffee, or yummy K Cups (or whatever types of coffee you enjoy!).
Key Factors And Features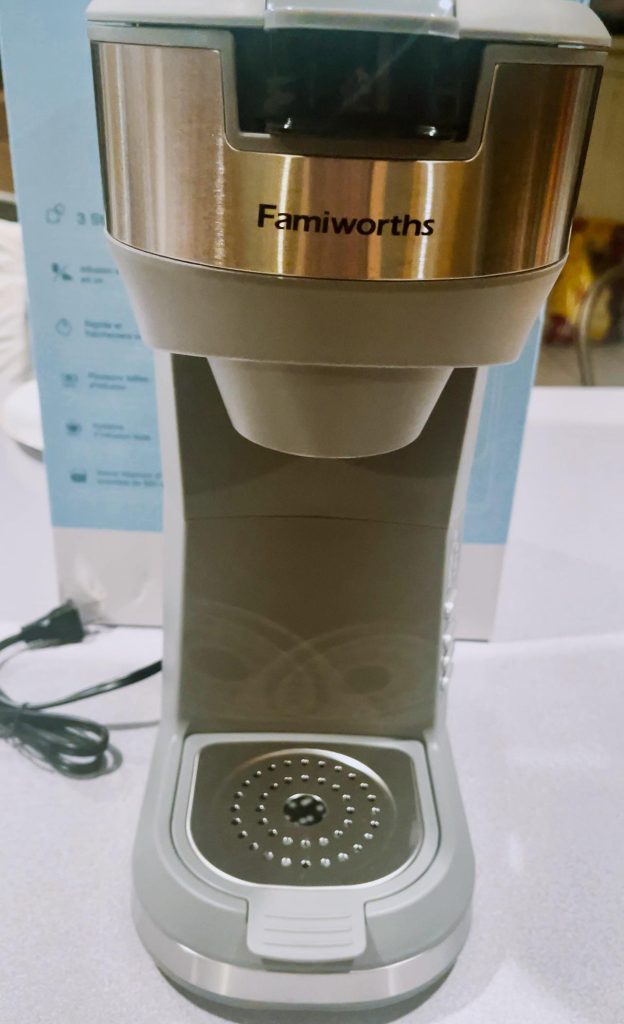 Not Watery When Over Ice: One of the features that I love about this single-serve coffee maker is that it can make fresh, non-watery iced coffee by pressing the 'over ice' button.
This means that when the ice melts, it will be the perfect concentration of iced coffee because the brew strength is initially strong because it is accounting for the ice melting. This is a game-changer for those who love iced coffee and want the perfect taste every time.
Good For K Cups And Ground Coffee: Another great feature of this coffee maker is that it's good for K Cups and ground coffee. This means that you can use your favorite K-Cup pods (pod coffee maker) or regular ground coffee to make your perfect cup of coffee.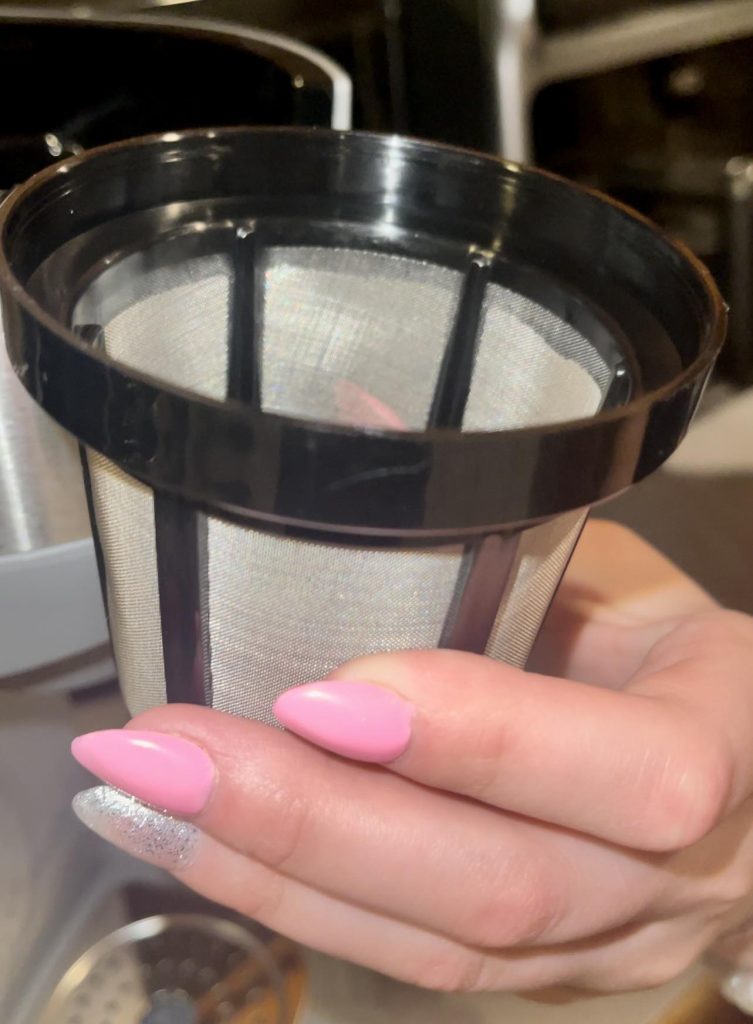 No need to use those messy paper filters. This coffee machine comes with a reusable coffee filter (or loose tea leaves filter)! Just rinse it and reuse it!
This coffee maker is a great option for those who love variety and want to switch up their coffee flavors (and temperatures) from time to time.
Multiple-Sized Cups: The multi-cup size feature is also a great addition to this coffee maker. You can choose to brew 6,8,10,12, or 24 oz. travel mug or cup. You can use between 5 to 6.5 inches tall mugs/cups.
Just take out or turn upside down the drip tray to use your size a cup! This means that you can make the perfect amount of coffee for yourself or for a group of friends and family.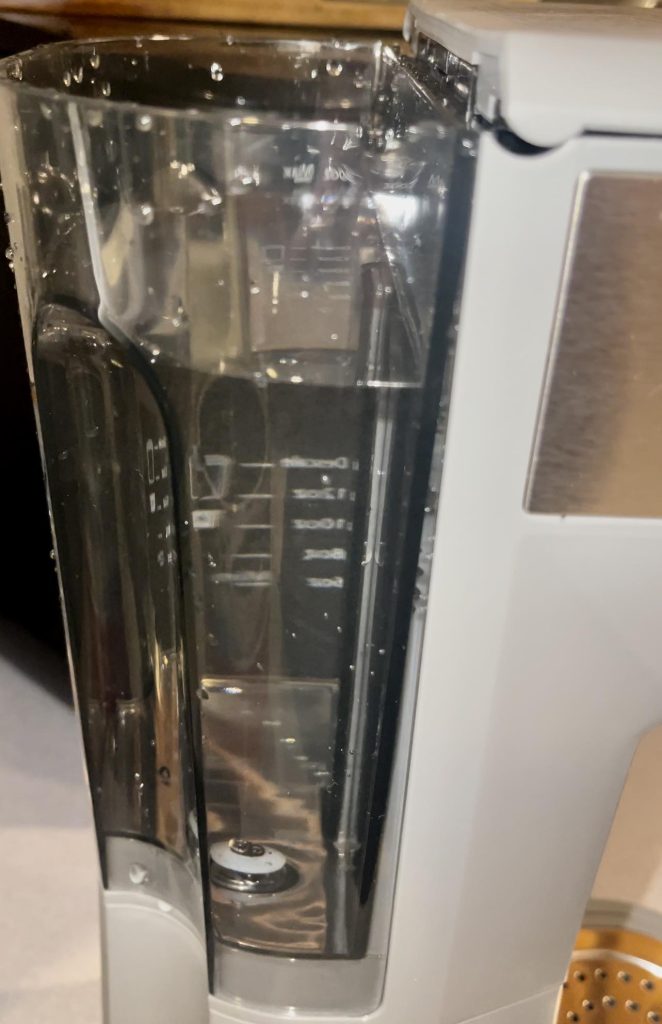 Large Water Tank: The large removable water tank (which holds 30 ounces of water!) is also a great feature of this coffee maker. It allows you to make 5 cups of coffee before refilling it.
I love how you don't have to constantly be refilling the water tank, and you can make multiple cups of coffee without any hassle when you are dealing with a busy schedule. No one needs to be hassling with making coffee!
Quick Brew: One of the best features (and the best part) of this perfect coffee maker is its quick brewing process and ease of use. As soon as you press the brewing button, having your hot cup of coffee (or cold cup of coffee!) made and ready is literally 90 seconds!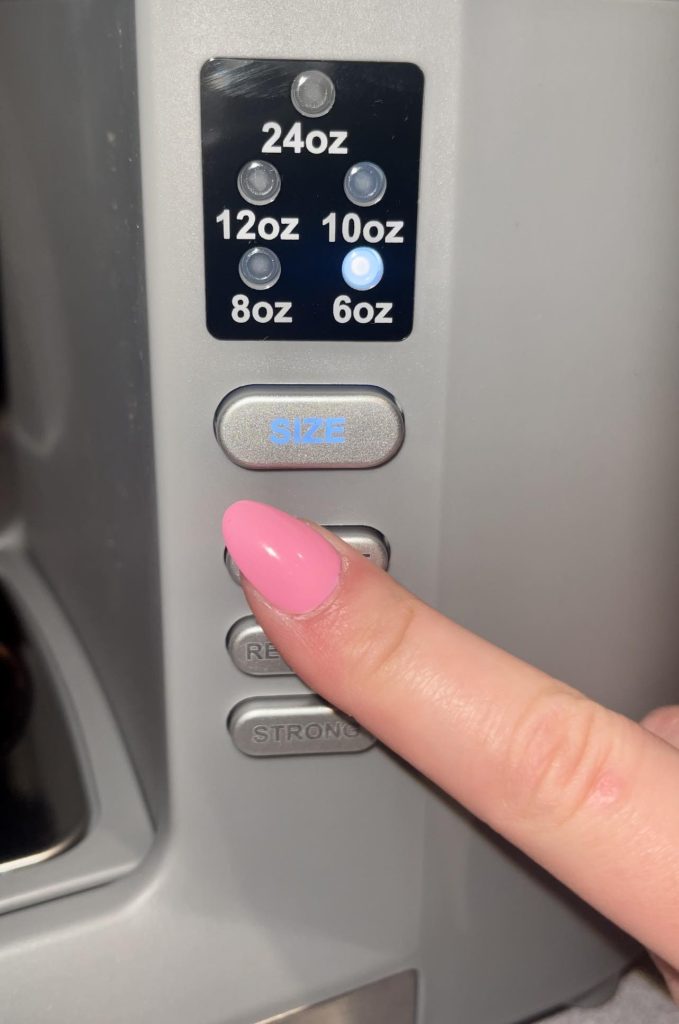 This is perfect for those who need their coffee STAT and don't want to wait around for it to brew (hello college life and BUSY college students!). We all could use a quick cup of coffee on those hard, stressful mornings, right???
Easy To Clean: The coffee maker is also simple to clean, and it has a built-in descale reminder to notify you when you need to clean your coffee maker. This means that you don't have to worry about cleaning it too often or forgetting to clean it altogether.
Memory: Another great feature of this coffee maker is that it remembers the last size of the coffee cup you used in the machine and will just continue where it left off unless, of course, you tell it otherwise.
I like this because you don't have to keep adjusting the settings every time you use it, and it's perfect for those who have a favorite size of coffee cup that they use every day.
Safety: Safety is also a top priority with this coffee maker. If the lid is not on correctly or there is not enough water in the tank, it will not work until you correct it. This ensures that you don't accidentally burn yourself or damage the coffee maker.
Different Colors: The Famiworths Single Serve Hot and Iced Coffee Maker come in several different colors, including Black, Blue, Cyan, Dark Blue, and Gray. I got the gray one, and I absolutely love it. It would look great next to this dorm room fan! 😉
It looks great in my kitchen, and it's the perfect size for my countertop (or in college dorms). This is definitely a top pick item and we love ours!
Review Video
Overall, I highly recommend the Famiworths Single-serve machine Hot and Iced Coffee Maker to anyone who loves delicious coffee and wants a quick and easy way to make it hot or iced, at home.
With its multiple features, quick brewing time, and affordable price, it's the perfect addition to any kitchen and the best coffee machine for this price.
It really is a good coffee maker for all you coffee drinkers. It is wonderful for home use or for your college-bound child! No need to rush to your local coffee shop anymore when you have this new coffee maker at home or in your dorm room!
Great Deal!
This Famiworths hot and cold coffee maker is a great deal, and it's perfect for those who are looking for a high-quality coffee maker at an affordable price.
So, if you are looking to buy single-serve coffee machines now is the time to do it with this great price at only $56.99 and if you use the coupon code below, it will only be $51.29!
Buy
If you're interested in purchasing this coffee maker, it's currently on sale on Amazon.com and is on sale! Grab the coupon code below!
Coupon Code!
You can use the coupon code 10G1C6HD at checkout! I know a lot of people are strapped for cash, so every little bit of savings helps!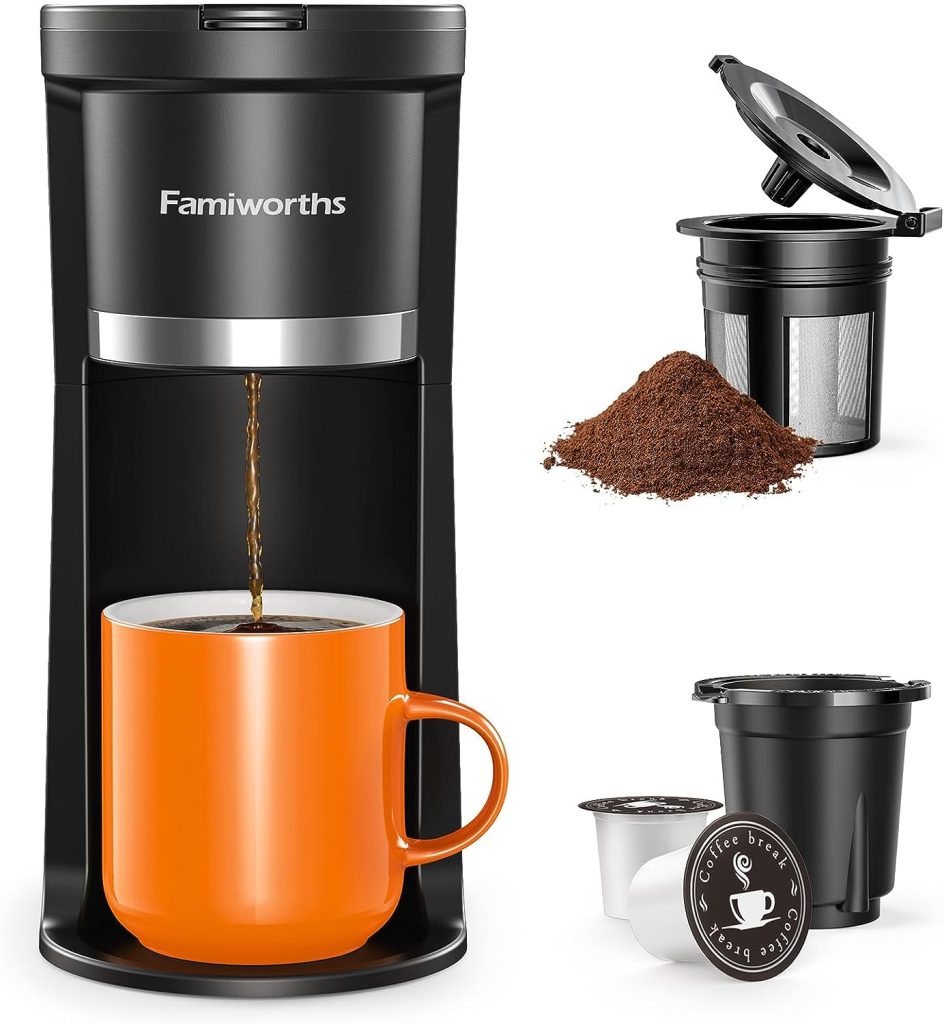 Win
One lucky person will win a Famiworths Mini Coffee Maker!! (see pic above!)Retails for $36.99 (also on sale!!). Yay!
Rules
The contest is open to the US, 18+. The giveaway will end on September 5, 2023, at 11:59 PM. I am not responsible for lost or stolen mail.