*This post, How To Make Money Sending Emails, includes my affiliate link to Cliqly
In this post, we will talk about How To Make Money Sending Emails! Are you looking for a new way to generate income online? Look no further than Cliqly, the all-in-one email marketing platform that pays you to send emails every day.
Once you sign up (it is free to do!) you will get an email with all your login info, passwords, and links to get started with Cliqly.
Click on the link in your email, sign into your new portal (using the login info they provided for you), and watch the video at the top of the page then read the instructions and info that follow that video, below it.
I know it seems like a ton of info at once and seems so confusing but after you read and watch the videos provided, I PROMISE it will literally take you 5 minutes a day to send out your emails! Promise! (see more on this below!)
How To Make Money Sending Emails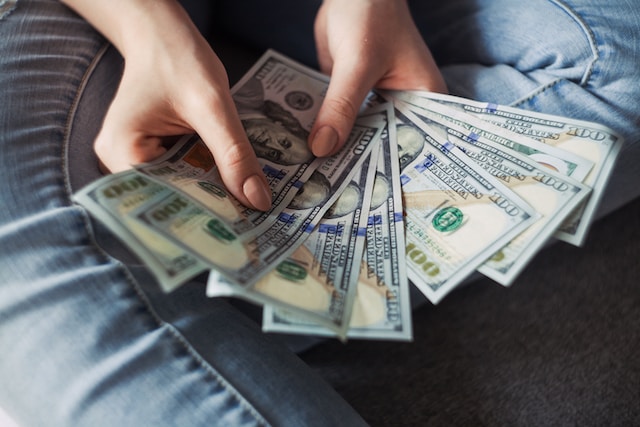 Cliqly Gives You 5k Subscribers When You Join!!!
Cliqly focuses on helping you build an efficient email list. The bigger your list, the more email is sent, the more people open the email, the more people click on the email…and the more money you earn. It's as simple as that.
5k Email Subscribers For Free
Cliqly gives you 5,000 free subscribers right off the bat. So, you will immediately have 5k subscribers to send emails to. Yay!
Ready Made Emails
The platform provides pre-written and pre-approved emails designed to get real traffic to any offer you choose. And with built-in "Ready Made" email lists that connect to hundreds of thousands of potential customers instantly, you can start emailing your subscribers right away.
I try to choose the emails titled: 'Earn Money', or something with 'money' in it because people tend to click and open those emails more than the others, so I have noticed.
How Much Money Could I Earn?
But what about the money? How much can you really earn with Cliqly? The answer depends on the size of your email list and the number of emails you send.
With multiple members earning over $1000 a week, it's clear that Cliqly has the potential to be a lucrative source of income for those who put in the effort. And, the effort isn't too shabby at only 5 minutes a day so far, seems doable!
I JUST started yesterday and already have earned a commission of $16.90. Not too bad, right? Since I just started, all I can tell you so far is that this seems to be an easy way to earn money, so far…
Update!
Below is my updated screenshot of my earnings so far! Last I checked I only had $42.10 but since some of you signed up my earnings shot up! I am SO close to getting my first payday! Yay!!!
Screenshot Of My Earnings So Far (UPDATED for 9-5-2023)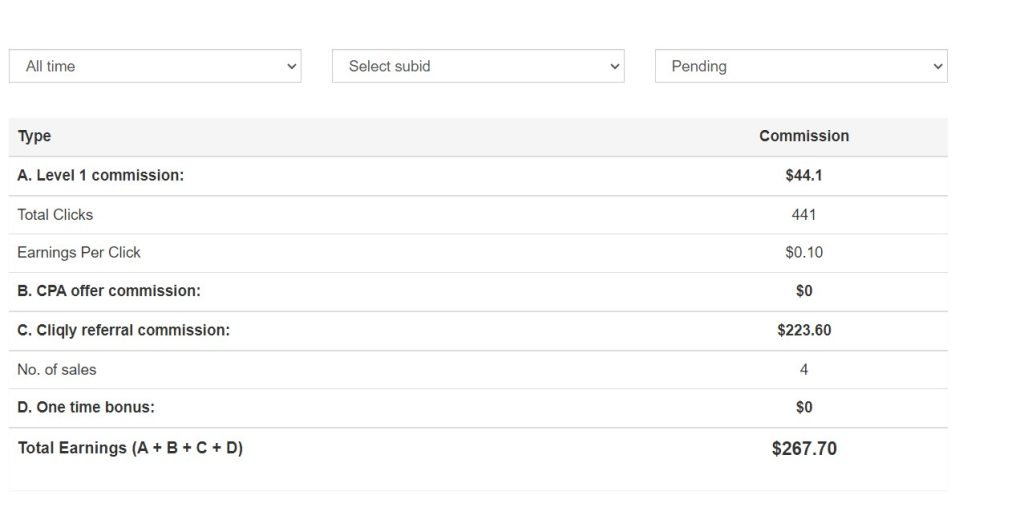 I have no clue how it will be a week from today or a month out. But hopefully, I will make enough money to cash out. (I heard you have to have $300 to cash out, so I am so close. See FAQs section below).
I put off doing this (logging into Cliqly and sending emails) for about 2 months because I was reading through all of the info on their site after you signed up and I felt SO overwhelmed.
I thought, no way. I don't have any time for this! I do not have the brain capacity to even start to understand and read ALL of this stuff…who would???
But, last night (yep, last night!) I had a little time on my hands and decided to delve into this whole Cliqly thing. I am glad that I did because it was so much easier to do than I initially thought it would be!
How Can I Start Earning Money With Cliqly?
To earn money with Cliqly, you do the following:
You will send 15 emails to 5,000 subscribers for a total of 75,000 emails to your list that Cliqly gave you when you first signed up.
As your list grows (and it will! Mine already grew by almost 100 just from sending out my 15 emails yesterday and I JUST started) you will be able to earn even more money each day. Just send the 15 emails in CliqlyPro every single day until you run out of credits. That is it.
Screenshot: My Email List Grew From 5k To 6632K In Less Than 24 Hours

What Happens When I Send Out Emails?
With Cliqly, every time you send out an email, multiple things happen:
a. A percentage of the people that receive your emails will OPEN the email… Anyone that OPENS an email that you send, is added to your personal Email List. That means, a NEW subscriber for you!! Yay!
b. A percentage of those that OPEN the email will also CLICK on the link inside the email you sent them. Any time someone CLICKS on a link inside an email that you send…you earn a 10 Cent Commission! Whether a sale is ever made or not, you still get paid your 10-Cent commission!
So EASY!
Grow Your Email List!
You use Cliqly List Building to build your email list in the most efficient way ever. The bigger your list, the more email is sent, the more people Open the email, the more people Click on the email…the more money you earn. Simple as that.
To get started now just click on the List Building Link (it will be on the left side of the page) and send your 40,000 List Building Emails Every Day! It literally takes all but 5 minutes once you get the hang of it.
What If I Want To Send MORE Email Every Day?
You can do that too. If you run out of emails to send every day, you can purchase more if you want to. Not mandatory though. You can purchase Cliqly credits for $97.
What You Get for $97:
*Instantly Add 500,000 Cliqly Pro Credits so you can keep emailing your list
*Instantly add 200,000 list-building credits to keep building your email list
If you want to add MORE than the above, you can opt to add an additional 100k list-building credits for an additional $77.
But, you don't have to add this on if you don't want to. Heck, you don't have to buy ANY credits if you just want to keep using the free credits/emails you already have. The choice is yours, (duh)!
So, just watch the videos provided, read the instructions and info provided, and then start sending your emails. It is really very easy to do after you get it all down. There is a learning curve for everything, so there is that!
If you're looking for a new way to making money online, Cliqly is definitely worth considering. With its potential to earn serious money, Cliqly is quickly becoming a go-to source for those looking to make money online.
No free trials, just all free for you to use, and no experience needed. No need to start a new business or spend days on end working hard! Those are my favorite reasons why I am liking Cliqly, so far.
---
Frequently Asked Questions (FAQs)
How Do I Log In or Can I Change My Password?
If a member has login issues they can use the password reset function on the member's login page and follow the instructions to reset their password.
How Do I Get Paid?
Conversion House Media pays members weekly for their click earnings commissions. The pay period is every Monday thru Sunday, paid the following Friday.
What Is The Payment Threshold?
Conversion House Media has a "Payment Threshold" which is the amount of commissions members have to generate to qualify for a payment distribution. Their payment threshold is $300.
If members do not reach the payment threshold amount in any given Pay Period (week), their commission balance rolls over to the next Pay Period (week). Once a member's commission balance reaches $300 in any given Pay Period their payment will be distributed.
Where Do I Add My Payment Information?
Once a member reaches the payment threshold they will be contacted for their payment information. This includes a bank account routing and account number that your funds can be deposited into.
Members will also need to provide a copy of a valid government-issued ID and an up-to-date IRS W-9 form for tax-related purposes.
---
Let me know if you sign up for Cliqly! I think it would be fun to see how much we all can make from using this platform and sending emails. Let me know in the comments below!
This is still so new for me, so I will keep you all updated on how it goes for me!
Check out Cliqly And Sign Up For Cliqly For Free Here!
---
UPDATE And My Earnings So Far…
I wanted to update you all on my earnings and how it is going for me so far. I forgot to send emails daily for the past 3 days (oops!) been SO busy! Dangit!
But that is okay, it didn't make me lose anything so that is nice! When my kids go back to school I will have time to concentrate on this a bit more.
So, today I sent out my emails all within about 5 minutes or so. Done for the day! And? I earned more! Yay! I am now up to $20.20 (so far because I have emails going out in queue). But, my earnings went up! So that makes me happy.
My Subscriber List Grew Too…
Also, my subscriber list has grown, yay! It was (see the picture above) at 6632 and now it is at 6752! So that also makes me super happy! More subscribers to email and earn money from 🙂
I am going to experiment with this and I will keep you all updated. I know many make pretty good money, if you do it correctly, so I will share with you all any tips and secrets I learn along the way so we can all try and succeed at this. Sound good?
This seems to be working for a lot of people, so why not try it too? We can help each other!
I see quite a few of you clicked my link and signed up. How is it going so far for you? How much have you earned so far? Any tips you want to share with us all? Let me know in the comments below! I am excited to hear about it all!
---
PIN IT