Winter is coming and soon it will be extra chilly outside! In fact, it already is in Idaho! We have already had snow and more is on the way next week! Yay! I love it when it snows but it can get pretty cold!
I love that I can use my Dreo Heater in any room in my home to keep warm and cozy! This is also the best space heater for large rooms with high ceilings! It really keeps the area warm and so comfortable.
If you are like me, when the weather gets colder, I like to be warm and cozy in my home. I bring out ALL the warm blankets, candles, etc., and grab a good book or watch Christmas movies on the Hallmark channel. Do you do that too? It's okay if you do, you can tell me!
I have actually been watching Christmas movies since August (haha!!). I am ready for the holidays! We even decorated a tiny bit for Christmas, just yesterday!
I mean, we might as well right? It makes us happy and that is why I decorate for Christmas so early! I want to enjoy it as much as I can before it is over and we all know it goes by way too quickly!
*This post includes my affiliate links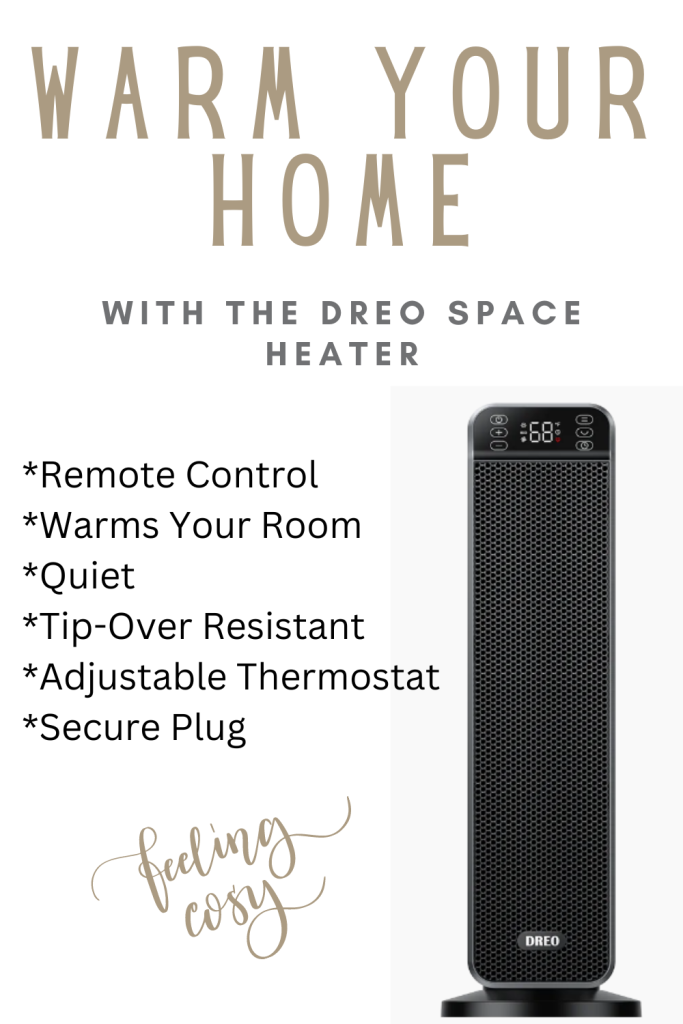 Warm Your Home With The Dreo Heater (Space Heater Review)
With all the cold weather on the way, I was so happy to receive the Dreo Heater to review in my home. I have to say this portable space heater goes with me to every room in my home. Where I am, my Dreo heater is too 🙂
The Dreo heater is a 24″ space heater that is SO quiet you can barely hear it (with a noise level as low as 40dB!). It is literally one of the quietest space heaters I have ever owned.
It comes with a remote and has three heat settings you can choose from. It is a safe space heater because it is tip-over protection (hello cats and dogs in the home!) and it can't overheat.
I've been using my Dreo space heater for a few weeks now and I absolutely love it! It's small and portable so I can take it with me from room to room, plus it's really quiet. With the colder weather on the way, I'm glad I have this little space heater to help keep me warm!
This space heater also oscillates so I can have it warm the air all around me or I can have it stay put and have all the warm air on ME! The oscillation helps heat cover every inch of the room you are in.
It is the perfect choice to quickly heat up small and large rooms. When I bring the Dreo heater downstairs in our home, the ceilings are higher and the room is more spacious yet this portable space heater keeps the WHOLE room a warm and cozy feeling.
It really is the best space heater for a large room with high ceilings and it is so much better than those oil-filled radiator-type heaters.
And, I even like this space heater better than my old infrared space heaters. This space heater is not like other electric heaters I have owned. This is much better on the heating bill too!
The powerful ceramic heating allows this space heater to send out hot air in just seconds and gives you super-fast heating when you need it most.
The 2500 rpm fan helps to spread the warm air and heat quickly. It is safe and reliable and made of flame-retardant materials.
This space heater also comes with security features (like I mentioned above!), including overheat protection and tip-over protection. I love these safety features.
It also has an auto-off after 24 hours without operation. The plug is enhanced to prevent short circuits during use. It is also equipped with a display auto-off and a mute power button on the control panel, which allows you to work and sleep without being disturbed.
This is an Energy Efficient Space Heater! This space heater is also energy efficient which I am loving. It has an ECO mode that adapts the heat in the room automatically to help maintain your comfort level and lets you individualize your warmth from 41-95 degrees in 1-degree increments! The heat output of this space heater is amazing! Keeps me so cozy and warm.
This large room heater is simple to use and operate. Only one touch to change the temp and mode on the easy-to-use and read digital panel.
You can also use the handy remote it comes with so you don't have to keep getting up to change the heat, etc. (the remote works from 26 feet away!).
This space heater also has a 'hidden' handle so that you can easily transport or move it around your home. It is space-saving and easy to store when it is not in use because it is tall and skinny.

What's in the box?
1 x Dreo 24-Inch PTC Space Heater
1 x Remote Control
1 x User Guide
Air Power. Unleashed.
They created Dreo for those seeking maximum performance with an astonishing, sleek design. Every Dreo space heater adopts newer technologies that bring different styles but remain unbeatable in creating warmer, safer, and cozier homes, offices, basements, attics, garages, shops, etc.!
What The Company Says
The Dreo 24-inch Oscillating Tower Space Heater is the perfect gift idea for small to large spaces (100-270 sq. ft) and the best space heater for large rooms with high ceilings!
To help battle freezing cold seasons, the Dreo team is committed to bringing people instant, noiseless warmth while ensuring ultimate safety. They built this portable heater to provide everyone warmth like sunshine on those chilly fall and winter days.
This 24" indoor space heater delivers powerful heat at 10 ft/s, along with its wide-angle 70° oscillation, to give your room fast, even, and widespread warmth. Enjoy ultra-quiet heating from Dreo ObliqueAirflow technology and hassle-free use ensured by its multiple safety protection.
Features
*2S instant heating
*10 ft/s far-reaching heat
*70° oscillation for even warmth
*Quiet ObliqueAirflow technology (40dB)
*Energy-saving ECO mode
*1-12h timer (in 1h increments)
*41-95°F thermostat (in 1°F increments)
*Auto-off after 24h without operation
Convenient Remote Control
Fully control various settings at your fingertips from up to 26 feet away. Included wireless remote control allows you to warm the room up without getting out of your bed.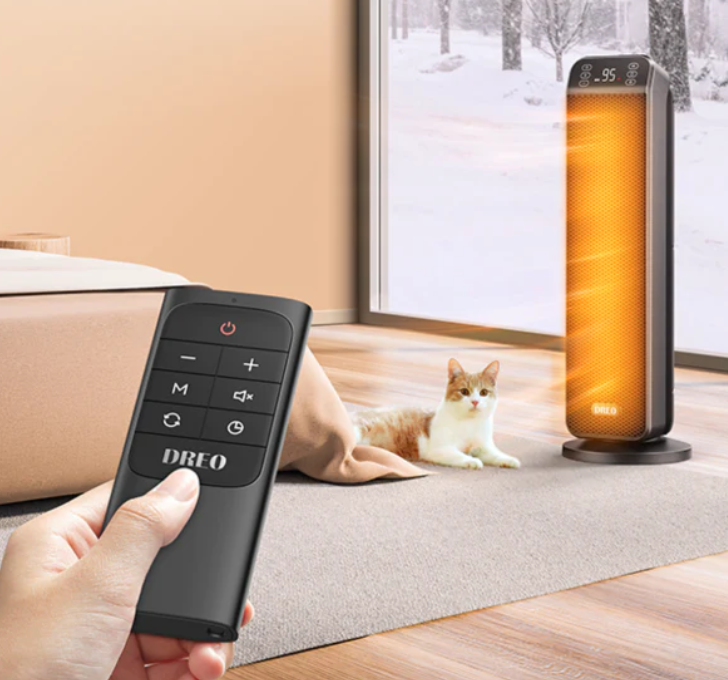 Adjustable Thermostat
The digital thermostat in ECO mode allows you to adjust from 41 to 95℉ in 1℉ increments and have precise control of the room temperature. Long press the + and – buttons for faster temperature adjustment.
Easy to Move Around
The hidden carry handle at the back helps you carry around wherever you want to warm up from your bedroom, living room, and basement to your office.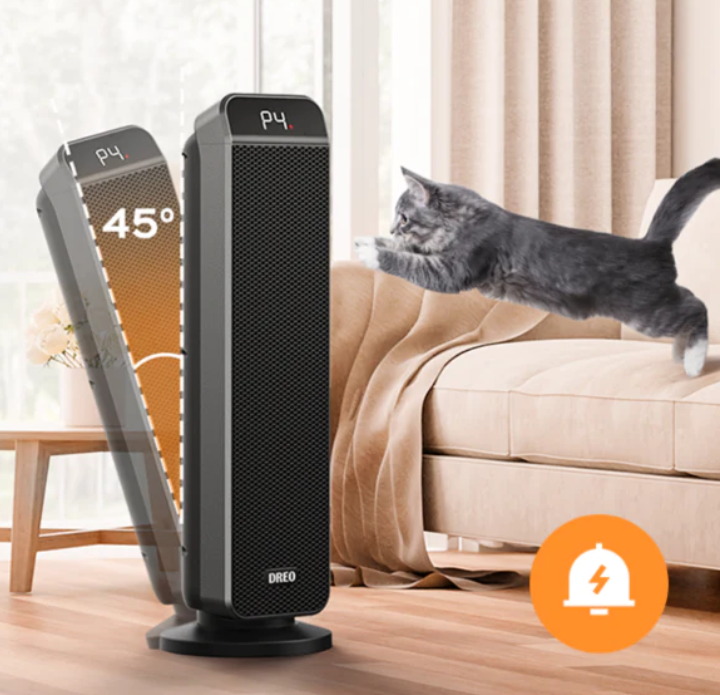 Tip-Over Protection
When tilting 45 degrees off the ground or being knocked over by pets, the space heater shuts down automatically, with its alarm going off to alert you to an unexpected event.
Secure Plug
The reinforced structure prevents the plug from deformation, bending, overheating, and short circuits. Built-in V0-rated flame-retardant materials, this ceramic space heater electric heater provides ultimate safety for your heating.
**(Note: Please plug directly into a wall outlet.)
This is definitely a space heater that you need in your home when the cold weather hits and it will soon (of course depending on where you live!).
When it gets REALLY cold, I will put the Dreo heater by a large window and it keeps the warm air going in my home the window no longer bothers me because I have a warm space heater by it! So dang cozy!
Overall, I am extremely happy with the Dreo Heater and would recommend it to anyone who is looking for a space heater that is safe, quiet, and efficient. If you are in the market for a new space heater, I suggest you check out the Dreo Heater.
Warranty & Product Support
If you'd like a copy of the manufacturer's warranty for a product found on Amazon.com, you can contact the manufacturer directly or visit their website for more information.
Manufacturer's warranties may not apply in all cases, depending on factors like the use of the product, where the product was purchased, or who you purchased the product from. Please review the warranty carefully, and contact the manufacturer if you have any questions.
Buy
You can purchase the Dreo Solaris Max Space Heater on their website or on Amazon.com. It retails for $84.99 but if you buy it on Amazon they have a coupon that will make it $76.49! Go grab a space heater for Christmas! I know anyone would love to receive this on Christmas morning!