In this post, we will talk about How To Create A Cozy Bedroom. A good night's sleep carries a wide range of benefits. In addition to making you more alert and energetic, proper sleep is associated with sound mental health and increased confidence.
In the quest to make your nightly respite as comfortable as possible, you'd do well to create a bedroom that's conducive to relaxation.
Fortunately, this needn't prove difficult, time-consuming, or particularly expensive. A little bit of follow-through and dedication is all you need to turn your current sleeping space into a den of peace and tranquility.
How To Create A Cozy Bedroom
So, if a cozy bedroom is what you're after, then you need to check out and follow my helpful tips on How To Create A Cozy Bedroom, below!
Install a Dependable Ceiling Fan
No bedroom should be without a reliable ceiling fan. Ceiling fans are particularly vital during the summer months when excessively warm temperatures can have a direct impact on sleep quality.
Bedroom ceiling fans can also double as a convenient light fixture if you make a point of purchasing ceiling fans with lights.
Also, keep in mind that by setting the blades to turn counterclockwise, you can enable ceiling fans to produce a downward-flowing cool breeze.
Hang Blackout Curtains
Sleeping through the early morning hours can be an uphill battle if your bedroom is located in a spot that receives a fair amount of sunlight. While natural lighting can be convenient at other times of day, its presence is generally unwelcome when we're trying to get some shut-eye.
Those of us who keep nontraditional sleep schedules often do all of our sleeping during the daytime hours. So, if excessive sunlight has proven to be an issue in your sleeping space, there's no time like the present to nip it in the bud.
When looking for effective ways to minimize the amount of sunlight that finds its way into your bedroom, you can't go wrong with blackout curtains. As the name suggests, these curtains are designed to keep interior sunlight to the barest of minimums.
As an added bonus, the thick thermal materials these curtains are composed of ensure that they're well-equipped to seal in air, which can prove particularly helpful for people who hail from areas known for extreme weather.
For example, during the swelteringly hot summer months, blackout curtains (also known as thermal curtains) can help your sleeping space retain cool air from your home's AC while keeping the warm air from outdoors at bay.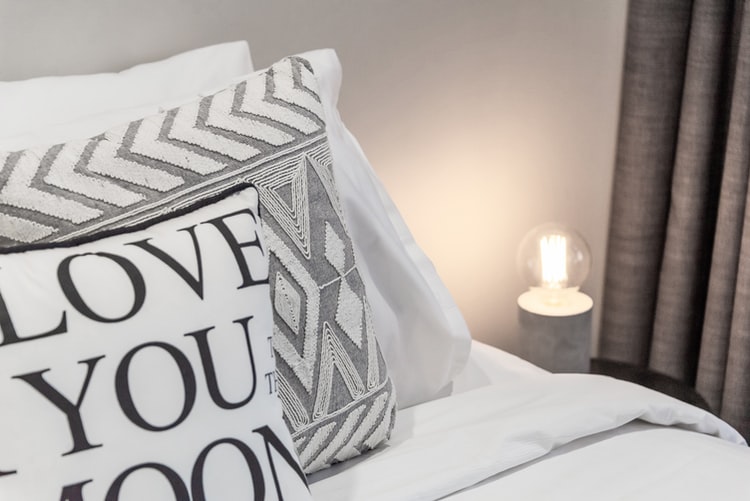 Also, during the icy cold winter months, these curtains can seal in warm air while blocking cold air from outside. In addition, people who live in areas with a lot of cars and/or foot traffic are sure to appreciate the sound-blocking properties offered by many types of blackout curtains.
Blackout screens are another option for anyone looking to block out sunlight. Despite coming with slightly smaller price tags than the previously discussed curtains, blackout screens generally aren't made to last forever and will need to be replaced at least once every few years.
Additionally, while they're very easy to install, many blackout screens cannot be reapplied to windows once they've been detached.
Add A Warm And Cozy Blanket
Nothing says a cozy room like a warm and cozy blanket on your bed! I LOVE blankets and always have some folded nicely in my bedroom, living room, etc. Having a nice cozy blanket is a must-have for any room in our home!
Darzzi makes it possible to live cozy at any age with their modern, minimalistic brand designs gorgeous, super soft, sustainable knit and throw blankets, and boy are they soft and cozy!!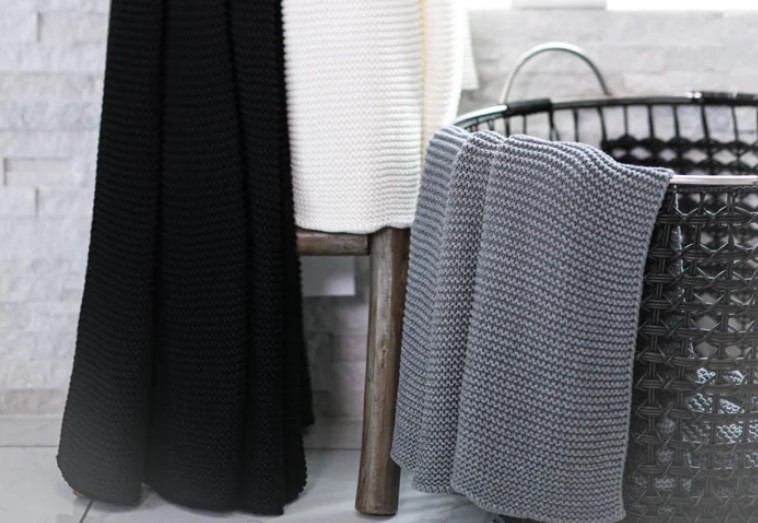 We received a beautiful and soft knitted throw blanket and we use it all the time! Throw blankets are so nice to have to not only add that extra layer of comfort to your bed but also create a relaxing and inviting room for anyone who enters it! With winter coming up soon (sigh), I recommend checking out their warm and cozy knitted throws!
Clear Out Clutter
In order to turn your sleeping space into a true den of relaxation, you'll need to take steps to aggressively minimize clutter. After all, clearing one's mind in a space that's beset by clutter on all sides can be quite the challenge.
Decluttering your bedroom entails purchasing shelving for the various books, personal items, and knickknacks you keep around the room, hampers for your dirty laundry, and spacious nightstands for any items you may need during the overnight hours.
Additionally, if you have a habit of eating in your bedroom, make a point of bringing any dirty dishes down to the kitchen as soon as you're done with them. In addition to helping minimize clutter, this is also just plain sanitary.
When it comes to leading a healthy lifestyle, few things will serve you as well as a proper night's sleep. Consistently getting enough sleep helps ensure that you have the stamina, energy, and patience to meet the challenges of the waking world head-on.
Also, keeping an inconsistent sleep schedule can result in a lack of alertness, diminished productivity, and a negative frame of mind. So, if proper rest is what you're after, consider making the previously discussed adjustments to your bedroom. And, of course, don't forget a GOOD mattress!!!
How do you make your bedroom more peaceful and comfortable? Tell me in the comments below!