A bedroom is a place we can all rely on for rest and calamity. However, if you do not decorate your bedroom right, then you might not attain the calmness and peace that you wish to. For some, the bedroom is a place to feel inspired. For others, it could be a place to have fun. Whatever you want from a bedroom, it can be easy to transform its look, feel, and functionality to make it feel more 'you'. Hence, here are 20 ways to transform your bedroom.
20 Ways To Transform Your Bedroom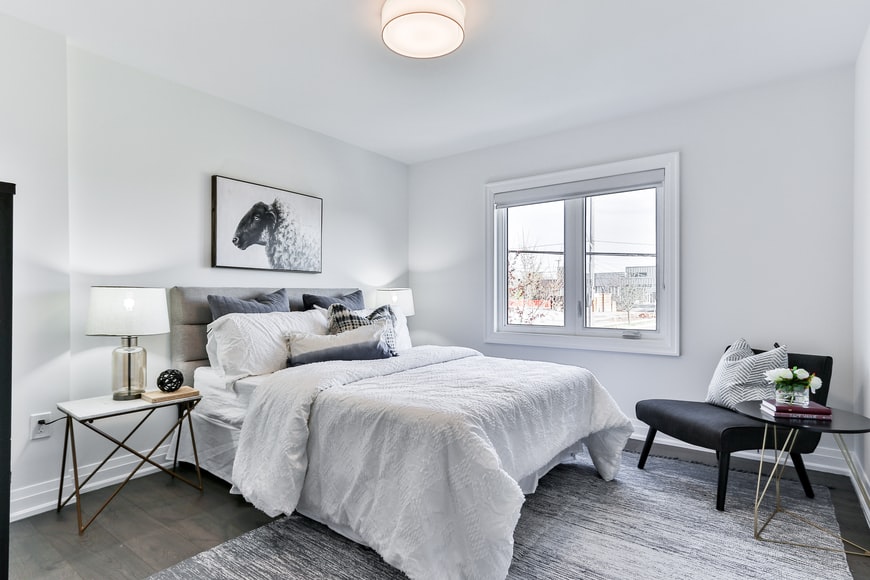 1. Add a feature wall
A feature wall is a great way to jazz up the look of your bedroom. You could add a splash of color or artwork.
Using the right framing for your wall art can help it to either stand out or blend into your interior. Whichever look you desire, using framing will ensure to help you achieve your desired feature wall.
2. Mix and match colors
Should you be someone who loves experimenting with colors, then mixing and matching colors can help you feel inspired while you are spending time in your bedroom.
If you have a favorite color, then make sure to use that as your base as it will help you feel good at all times. Then, using opposing or aligning colors to create a bold look or something more understated.
3. Or, go with a neutral theme: 20 Ways To Transform Your Bedroom
For those that enjoy neutral interiors, then you can forget the last point and go with a neutral theme instead. You could use soft colors to enhance the 'calm' feel that most people desire from their bedroom space. Light whites, beiges, greys, and soft browns are great colors to choose from for your overall aesthetic to your small features (cushions, bedding, ornaments, etc).
4. Jazz up your headboard
To make your bed look more fun and unique, you could jazz up your bed's headboard. You could add your own decorative stitching or completely change its color to make it more bold or blended.
5. Add a soft rug
There is nothing cozier than stepping out of bed onto a soft rug. Whether you have a wooden floor or a carpet, a soft rug is so comfortable for your feet, especially on a cold morning. A soft rug can be your room's centerpiece as well as a feature to enhance your room's coziness.
6. Use soft textures
Speaking of softness, it can help to use other soft textures throughout the room to enhance the cozy and comfortable feel. You could add soft fluffy cushions, a delicate throw, or even silk bedding to make your room feel more comfortable and warm.
7. Use decor to make you feel a certain emotion
The decor that you use in an interior space can make you feel a certain way. For instance, using beachy decor in your home, especially your bedroom, can help to create a relaxing and calming feel. If you think of how you feel at the beach, then this is the same feeling that you can get from adding beachy decor pieces to your bedroom.
8. Get the right bedding
The right bedding can make or break your room. Opting for bedding that makes you feel a good temperature and comfortable throughout the night will make sure to help you wind down and get a good night's sleep every night.
Some people enjoy lighter bedding if they get hot, while others prefer something heavier to keep warm. Either way, ensuring that your bedding is right for you will ensure that you sleep better. Sleeping better will help you enjoy your space more and ensure that it is as comfortable as possible.
9. Use the right window coverings
You might be someone who enjoys waking up to natural light. Or, you might be someone that enjoys sleeping in darkness. Either way, it is really beneficial to use the right window coverings.
Opting for minimal and light curtains will help the light pass through for those who enjoy waking up at sunrise. Or, using black-out blinds will ensure that those that enjoy sleeping in darkness can have their most enjoyable sleep.
10. Have a phone-free bedside table
To ensure that you wind down properly every night, it can help to avoid using devices an hour or two before bed. Hence, it can be a good idea to have a phone-free bedside table so that when you get into bed, you won't feel the need to scroll through social media or watch videos. Instead, you could read or listen to music.
11. Get a night light
To enhance your calmness and relaxation, a night light is a great addition to a bedroom. They can help light a room so peacefully that you feel like you are in a spa. Night lights are great to plugin or place next to your bed. So long as they light up the room a good amount, it will ensure that you can see while enhancing the calmness in your bedroom.
12. Use a radio alarm clock
To ensure that you can avoid using your devices before bedtime, it will help to add a radio alarm clock next to you. This will ensure that you don't miss the morning bus or be late for work. An alarm clock is essential for those who dislike waking up to the natural light at sunrise.
A radio alarm clock is also a useful feature if you want to listen to the news in the morning while getting ready. With it being multi-functional, it is a great item to have to jazz up your bedroom and make it feel more convenient.
13. Install a speaker
Should you want to listen to certain sounds or music in your bedroom, then adding a speaker can ensure that you can listen to what you want without using your device.
Listening to music before bedtime can help you relax. Or, if you want to feel inspired when getting ready, you can use the appropriate music. A speaker is a great techy addition to transforming the feel of your home.
14. Silk pillowcases
Silk pillowcases are a must if you want to elevate the comfort of your bedroom. They are great for your skin and hair, as well as aiding more comfortable sleep. Likewise, you could add silk pieces elsewhere to enhance the comforting feel. You could add silk blankets, sheets, a dressing gown, or decor.
15. Add a door hook: 20 Ways To Transform Your Bedroom
Should you be someone that enjoys grabbing your dressing down or storing your jacket in your bedroom, it can be useful to add a door hook. This makes your dressing gown and jackets easy to access, which is essential to stay warm and comfortable in your bedroom.
16. Use storage space well
To ensure that you are not surrounded by clutter while spending time in your bedroom, it will help to use the right storage. Maximizing your space by decluttering and storing your things away will help make your bedroom feel freer. Floor-to-ceiling storage or shelves is great for storing things out of the way.
17. Free up floor space
Likewise, it is useful to maximize space by freeing up floor space. Hanging mirrors or art on the wall instead of placing them on the floor will make sure you have more usable space. Likewise, always ensure to tidy up each day to make your bedroom feel clean and fresh when you go back into it after a long day.
18. Add a foot bench
A great way to utilize a small space at the end of your bed is to add a foot bench. This is a great place for you to sit, read, and relax. If you add an ottoman foot bench, then it will help the piece become more convenient. You will be able to store stuff inside while using it as a place to sit.
19. Add a reading seat
Should you be someone that loves to read and wants somewhere other than their bed to sit, then it can be useful to add a reading seat in your bedroom if you have the space for it. If you have space in the corner after freeing up space by hanging the mirror on the wall, then you can have an ideal place to sit and read every day.
20. Add hidden lighting
To help your bedroom feel like a 5-star hotel, it can help to use the right lighting. Any that makes you feel relaxed and calm is key. Hidden cove lighting – around your mirror, under your bed, or elsewhere – can light up your room in a calm and modern way. It can ensure that you get the right amount of light at nighttime but not enough to make you feel wide awake.
What did you think of my post about 20 Ways To Transform Your Bedroom? These simple and easy tricks can help you instantly transform the look, feel, and comfortability of your bedroom. Whether you want to make your room feel larger or more relaxing, utilizing these tips will ensure that you can achieve the desired appearance and functionality of your bedroom. Simply changing the soft furnishings or removing items from the floor can completely transform the space.