In the new year, it's time to start thinking about what your home needs to be beautiful. You might not know that one of the best ways to improve your home is with window treatments! Window coverings can both add beauty and function. They can block out light, reduce noise from outside, and keep you warm in the winter and cool during the summertime. So if you're wondering how to beautify your windows this year, here are some ideas for you!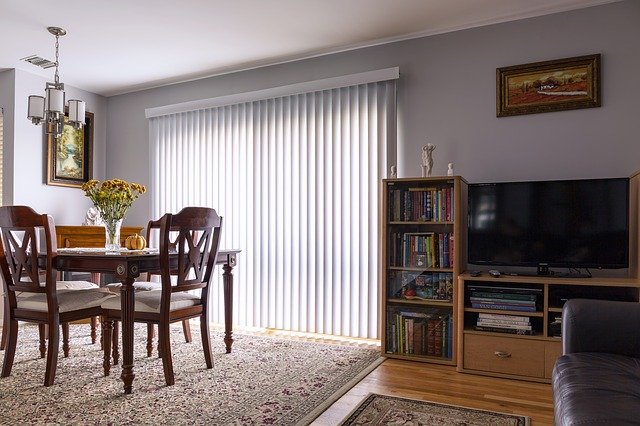 Window Treatments To Try Out This Year
Monochromatic Curtains
They are the easiest window treatments to pull off, as you can choose from many colors and patterns. Monochromatic curtains come in every color under the sun, so it's essential that they go well with your other interior design elements, or else they will look very tacky.
Honeycomb shades work best for this style because their shape mimics the roundness of a circle – perfect for rounded bay windows! However, if you want something more unique, opt for circular curtain rods instead to keep things interesting.
Hands down, monochromatic curtains are one of the best ways to add that much-desired pop of color into your space this year! These window treatments offer all-encompassing coverage, making them an ideal choice for small rooms with limited natural lighting. In addition, as you can see from these four stylish spaces from Houzz, full-length monochromatic curtains work magic on dark bedrooms!
Plantation Shutters
Plantation shutters refer to a window covering two or more pieces of heavy and thick wood shutters. When these shutters are not in use, you can fold them to the inside part of your home. This type is mainly used as a decorative element for homes because it gives its owner an artistic look on their living space's exterior without compromising functionality.
They are a must-try for anyone looking to make a statement with their window treatments. They are elegant and straightforward, or you can go all out on them by adding different fabric panels to the shutters. Plantation shutters also come in many color options, so you don't have to worry about not finding one that will match your décor choices either!
Plantation shutters are a great option because they offer so much functionality. You can open and close them easily, add valances for added texture, and choose from many colors to match the room's other design elements and others.
Their main advantage is that you can use them for any room in the house!
In conclusion, plantation shutters are a great choice if you want to add an elegant and functional window treatment. You can do so much with them and use them as decorative elements in your home by adding different panels of fabric across it making it look more stylish than ever before!
Lengthy Drapes
Lengthy drapes are great for big rooms with high ceilings. They will give the illusion of making your space seem more expansive than it is.
Lengthy drapes are also great to give an opulent look, perfect for more formal spaces such as living rooms and dining areas. You can get them made in different fabrics or colors that fit your budget and decor scheme accordingly. Just be sure not to go overboard with the length because you don't want these drapes getting caught on something accidentally!
Hanging long curtains requires a little more work, but there's nothing like them once you finish! The process can take longer, though, so make sure you allot some time towards this project before starting it off if possible.
The lengthier the curtains will determine how much light gets in through your home's windows because if they're too short, not enough light might be able to come into the house, which gives off an undesirable moodiness inside. Still, if they are longer, there will be plenty of natural lighting coming into your living space. This treatment is unique and will make your home decor stand out more than it already does once you add things such as round cushions to them, so if you're looking for a way to spice up the place, then try adding rounded window treatments.
Hanging drapes of any kind on the bay windows is an excellent idea because you can get creative with their shapes and add pillows or anything for additional touches that give depth to your room's decor. Furthermore, it makes them even better at standing out due to creating different effects by using those types of window treatments and overall impacting how they look in general.
There are numerous ways to use this type of design, whether it's just covering half the wall like traditional curtains would do or using it for decorating purposes like creating a canopy. It will make them stand out more than they already do due to using such things as round cushions or other decorative items.
Rounded Window Bays
Rounded window bays refer to the window treatment that has curves at the ends. You can use this type of design for bay windows and picture windows, but not necessarily limited to those types of windows only. The rounded bays give an interesting effect to your home decor as it creates a more modern look with their curves rather than using straight lines or traditional shapes like squares or rectangles.
The best place to use this particular type of window treatment is in corner rooms because they seem more significant. However, there will be no corners present anymore. Instead, the rounded shape gives off an illusionary appearance around their size, making objects seem more significant when they're closer together instead of being spaced wide apart.
The advantage of using the rounded window bays is that they help with the flow of light in a room, which creates more space, and you can use them to make smaller rooms look more prominent.
The rounded window bays are versatile and come from various materials such as wood or even vinyl for those who want low maintenance and require little care over time. The colors, though, should match whatever primary color schemes you already have going on inside your house so it won't clash with any particular paint colors chosen previously by its owners.
When putting up the rounded bay windows, there will always need to be at least two pieces put together due to their curved nature, but this shouldn't pose too much trouble when trying out different ideas about how you'd like them set up in your home.
With the rounded window bay, you can have it as a separate piece by itself without any other ornamentation involved or make use of one central focal point like an elegant chandelier. Still, you'll be able to complete the look using these curved pieces on either side, making them stand out more than what would otherwise happen if you put them up next to each other only.
The round shape makes everything seem closer together when all parts are present in their fullness instead of simply putting two squares stuck beside each other, which looks too rigid. Well-rounded shapes work with specific designs that need some flexible elements put into them so they won't feel stiff overall but something very natural looking instead, almost as if you found them growing out from the ground itself.
Cafe Curtains for Bathrooms
There are many different types of window treatments that you can use in bathrooms. One trendy option is cafe curtains for bathrooms, giving the bathroom an old-fashioned style while maintaining a modern touch with its color and texture. These kinds of curtains work well in small or confined spaces because they help to make them feel larger than their actual size.
The great thing about these types of curtains is that you don't have to use just one curtain but multiple ones across your windows. It creates even more separation between towels or bathrobes versus using another room divider like mirrors or cabinets. And if you happen to want privacy without blocking out all-natural light, then try hanging sheer café curtains over solid-colored ones so that it gives you the privacy you need without sacrificing that natural light.
Maximalism Design
Maximalist design is all about maximalism in every aspect of your home. It comes with a beautiful mix of patterns, textures, and colors to create something greater than its parts. So if you are tired of having only one way throughout your entire apartment, this may be the perfect option for you! The best part? Maximalist designs can easily match any style at all, so it makes them very flexible too.
Conclusion
In conclusion, window treatments need to be functional, stylish, and easy to clean. Now, you can choose a window treatment that best suits your home!