*Guest Post.
The next time you turn up your thermostat, please keep in mind that home heating fires are the most common in winter months. In fact, half of all home heating fires happen between December and February! So scary!
Some people need a helping hand. That is where the U.S. Fire Administration suggests reaching out to your older friends and neighbors to make sure their homes are heated safety. Especially the elderly.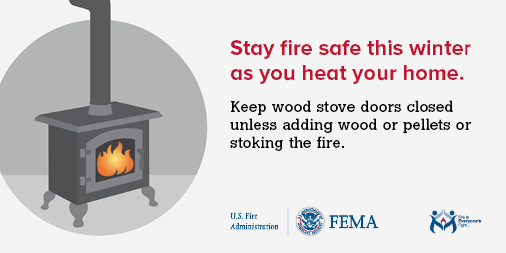 There's no way to stop winter cold from coming, but there are several ways to make your home both safe and cozy this winter. Check out the tips below.
Tips to Heat Your Home Safely This Winter
Have a professional inspect your furnace, chimney and chimney vents at least once a year.
Keep anything that can burn at least three feet from space heaters, wood stoves, fireplaces and your home heating vents.
Keep a metal or heat-tempered glass screen in front of your fireplace.
Allow ashes from your fireplace or wood stove to cool before throwing them out. Place the ashes in a tightly covered metal container outside at least 10 feet (3 meters) away from your home. Never empty ashes directly into a trash can.
Turn off space heaters and put out fires in your fireplace when you go to sleep or leave your home.
Buy portable space heaters with an automatic shut-off switch. If the heater tips over, it will turn off. Plug portable heaters directly into wall outlets, do not use an extension cord or power strip.
Put carbon monoxide detectors on every level of your home. Test them each month.