This post is all about some GORGEOUS and Affordable Simulated Diamond Rings!! It's all about the bling, baby! Whether you're a busy mom who wants to add a little sparkle to her everyday look or a jet-setter who wants something flashy to wear out on the town, Starlette Galleria has the perfect ring for you. Their rings are made of quality metals that won't tarnish and are designed to last. Plus, their cubic zirconia stones are machine cut and expertly prong set for maximum brilliance. And best of all, their rings are affordably priced so you can change up your look as often as you like!
*This post includes my affiliate links
No matter what the occasion is, Starlette Galleria has a ring to match. Starlette Galleria rings come in a wide variety of styles, so you're sure to find one (or more!) that fits your personal aesthetic. Whether you need an elegant piece to complete your professional look or something sparkling and fun for a night out, these rings add personality and pizzazz to whatever outfit and occasion! Starlette Galleria rings are all about the wow factor!
Affordable Simulated Diamond Rings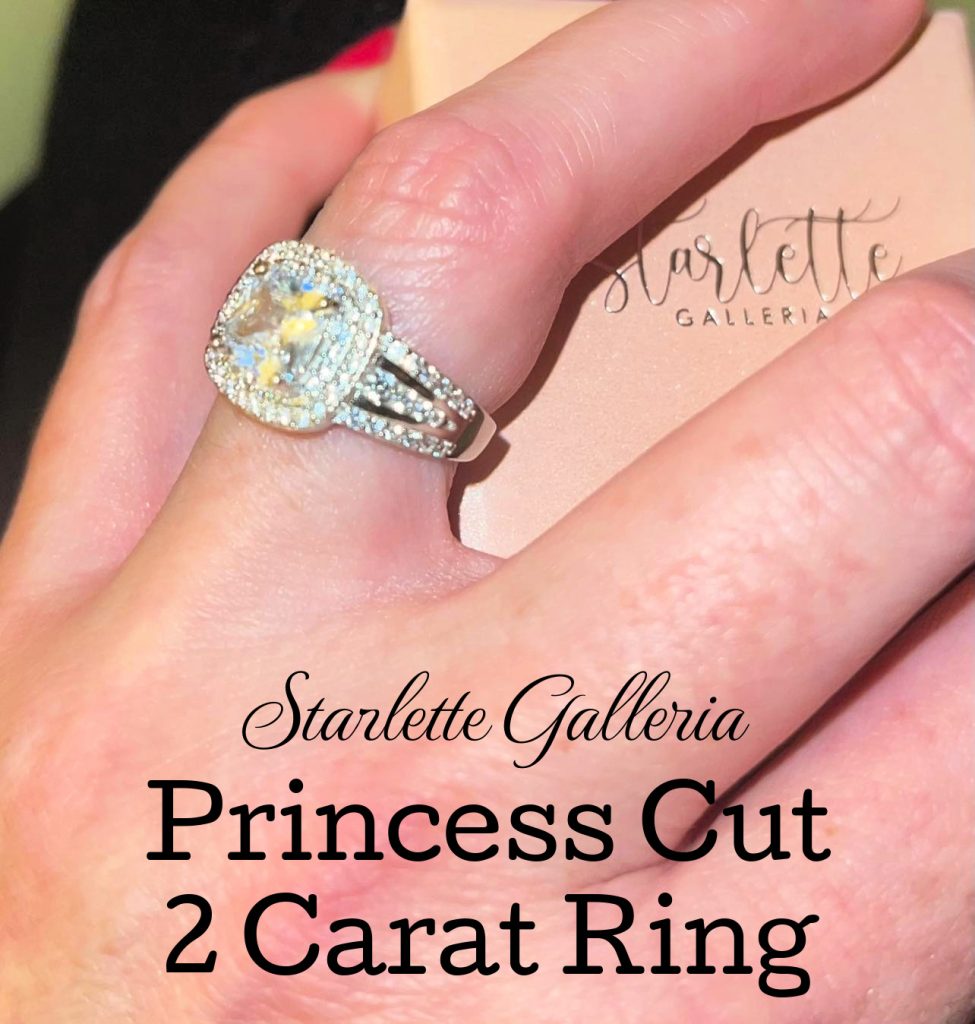 These Affordable Simulated Diamond Rings are gorgeous! I received their Abigail ring and love it so much. This is a 2 ct. princess cut ring and is just so sparkly and pretty. I used their ring size guide to get the perfect fit and when it arrived it did indeed fit my finger perfectly. This princess-cut ring comes in silver or gold. I got the silver because I LOVE silver and white gold!
About The Abigail Starlette Galleria Princess Cut Ring
This is a stunning 2-carat princess cut center stone, surrounded by an intricate double halo of pavé stones, ring. For added comfort and sensibility, this low-profile ring lays flush with your finger so it will not catch any loose fabric and you will barely notice it is on your finger.
With the same fire and brilliance as a real diamond, this simulated diamond ring is strikingly beautiful. The setting is made of certified 925 sterling silver and plated in rhodium, so it will never turn your finger green or leave any type of markings behind.
They're also expertly prong set, never glued, so you can be sure your ring will stand up to everyday wear and tear. Plus, with a wide variety of styles to choose from, it's easy to find a ring that fits your unique taste.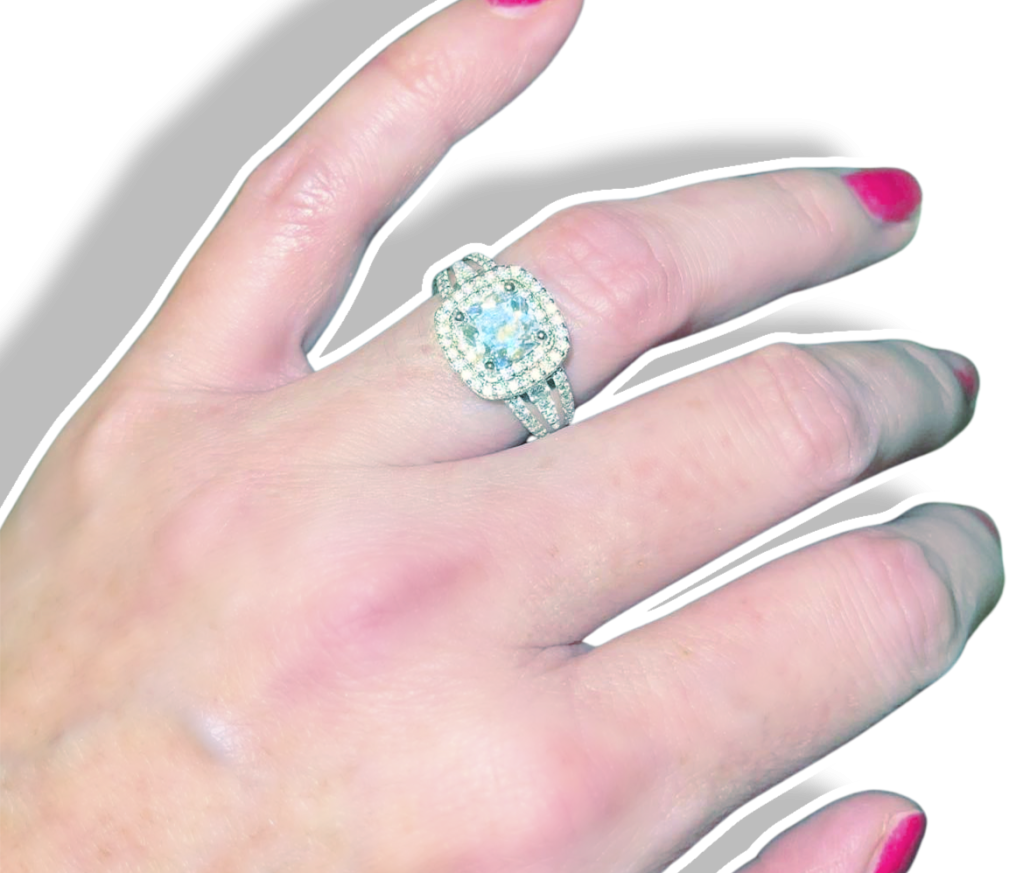 The stones are made of 100% simulated diamond material (AAA CZ). The princess cut double halo ring is perfect for travel, pregnancy, weddings, engagements anniversaries, or to treat yourself with something special without breaking the bank. Beautiful rings don't have to cost a fortune! If you can't tell the difference between this ring and a real diamond ring, you will not be alone.
This ring is so beautiful and I will wear it whenever I go out. I do have a wedding ring but my hubby and I do not wear them regularly. My hubby doesn't wear his because of his work and I don't wear mine because I work from home. They are kept away in a safe spot though! With this Starlette Galleria Princess Cut Ring, I can wear it whenever and wherever and not have to worry about it getting lost or stolen. Brilliant!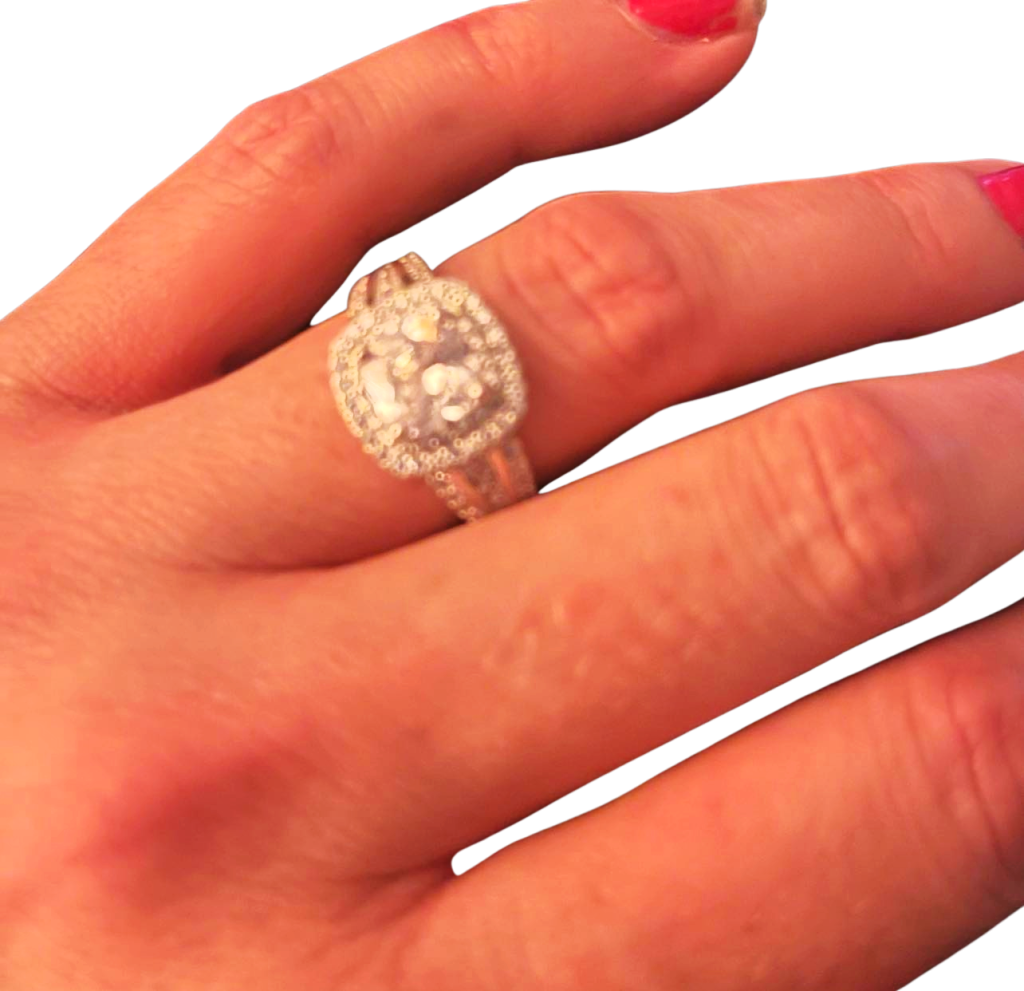 Ideas on How to Wear Them
The Starlette Galleria rings are versatile and can be worn any way you like! Here are a few ideas to get you started:
-Wear one on each finger for an over-the-top look that's sure to turn heads.
-Stack them up on one finger for a more understated look.
-Wear them on different fingers for a fun and funky look.
Preserve the Life of Your Real Diamond Ring with Affordable Simulated Diamond Rings!
If you have a real diamond ring that you love but don't want to wear every day for fear of damaging it, consider investing in a Starlette Galleria ring. You can wear it on days when you know you'll be doing activities that could potentially damage your real rings, like gardening or cooking. Plus, because they're so affordable, you can buy multiple Starlette Galleria rings to mix and match with different outfits—no guilt required!
Affordable Quality
In addition to being affordable, Starlette Galleria rings are also made to last. The high-quality metals used in each ring are durably crafted and won't tarnish, making them a great investment piece that you can enjoy for years to come. So why spend a fortune on a diamond ring that will lose its value over time when you can get the same look and feel for less with a Starlette Galleria ring?
How It All Began
The idea for Starlette Galleria came to founder and CEO Jillian Johnson while she was working in the fashion industry. She noticed that many of her clients who wanted to change up their look would buy multiple real diamond rings, which can be very expensive. She also noticed that some of her clients would only wear their real diamond rings on special occasions to preserve them. Jillian knew there had to be a better way and set out to create a line of rings that offered the same look and feel as a real diamond ring but at a fraction of the price.
If you're looking for an affordable way to get the luxurious look you want, look no further than Starlette Galleria. With a wide variety of beautiful and well-crafted rings made from high-quality materials, Starlette Galleria offers style and elegance at a fraction of the price of a real diamond ring. Treat yourself to the luxury you deserve—without busting your budget—with a stunning Starlette Galleria ring!
Ready to add some dazzle to your life? Browse the selection of stunning Starlette Galleria rings today! With their wide range of styles and unbeatable prices, you'll find the perfect ring (or two…or three!) for every occasion!
Why We Love These Affordable Simulated Diamond Rings!
What's not to love about Starlette Galleria? These Affordable Simulated Diamond Rings are beautiful, youthful, and most importantly, affordable. We love that you can buy multiple rings to change up your look without breaking the bank. And if you're worried about looking cheap or tacky, don't be! The high-quality materials and expert craftsmanship make these rings look and feel just like the real thing. So go ahead and indulge in a little retail therapy without guilt—your wallet will thank you.
Treat Yourself (or Someone Else!) This Holiday Season!
Time to shop for those gorgeous rings! You can visit Starlette Galleria's website and check out all the sparkly rings they have to offer! SO many of them to choose from!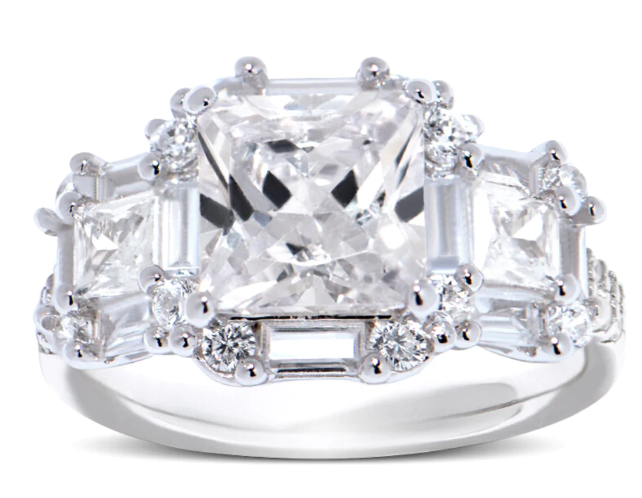 Win!
One lucky person is going to win the beautiful Starlette Galleria Brooklyn – 1.28 ct Princess ring! The winner can choose which size and whether they want gold or silver! It is so pretty! Win it for yourself or a loved one!
Rules
The contest is open to US 18+. The giveaway will end on December 6, 2022, at 11:59 PM MT. The winner will have 48 hours to confirm their win after I email them, or a new winner will be chosen. I am not responsible for lost or stolen mail.