*Thanks to Great Clips for sponsoring today's discussion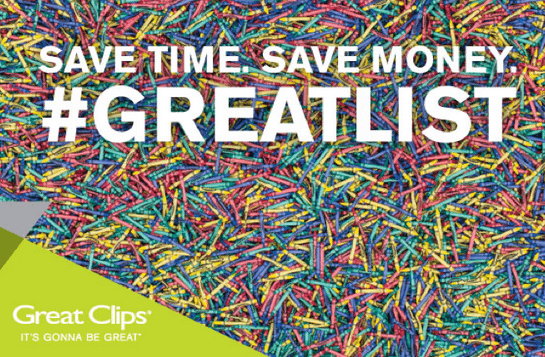 Back to school shopping can be so overwhelming! Especially when you have more than one child to shop for! Each child has their own classroom school supply list and that can be difficult, especially if you wait until the last-minute to buy those items!
I am a last-minute, school supply shopper and I get very overwhelmed! So this year, I will shop alone, (no kids!!) and just get it done. My kids head back to school on September 3rd, so I still have time, right? Ugh.
Then, after school supply shopping I still have to arrange hair cuts for both kids! So much to do, thank God the clothes shopping is DONE! To help me with those hair cuts, I will be downloading the online Check-In App! By downloading this free app, Great Clips will make a donation to AdoptAClassroom.org! I thought that was pretty neat.

Plus, the Check-In App Is super easy to use! Just open the app and the salons nearest your current location will appear. Touch the salon location that fits you best, tell them your name, number and how many are in your group. Then, head right over to your Great Clips salon to receive the quality haircut or service you want! Hair cuts just became EASY!! Yay!
Sure you may not use the Great Clips "Check-In App" all the time, but for back to school haircuts and the fact that downloading it will garner a donation to AdoptAClassroom.org, that is enough reason right there for me to go ahead and try it out, it is FREE!
Many Great Clips salons are offering back-to-school pricing for haircuts! Please visit your local salon for pricing details.
After you download the free Check-In App, you can then head on over to the Great Clips site and upload your school supply list! Daily winners will get their back to school supply list, shipped right to their front door for FREE (up to $100!)! It is so easy to do and if you can't upload your school supply list, no problem, you can just select the option to type it in!
You must hurry though, this giveaway started on July 15 and is ending on September 5th!!! You have mere days to enter! So GO! ALL contest entrants receive a $2-off Great Clips coupon with their confirmation email the first time they submit a school supply list! Seriously, nothing to lose, so go enter! 🙂

I am encouraging you ALL to watch this video and see what Great Clips has done so far, for two teachers! Plus, learn more about what Great Clips is doing for teachers and students!!!
Are you all done shopping for back to school supplies?