*Backyard Safari Outfitters: Fun Outside! Products received. 
Summer break is here for most of us, just not for us yet!! That will be in June! I have been thinking of fun ways to keep the kids busy, without breaking the bank, if you know what I mean!
Backyard Safari Outfitters has some really cute products for your kids, to keep them busy and help them learn. What better way to spend summer, right?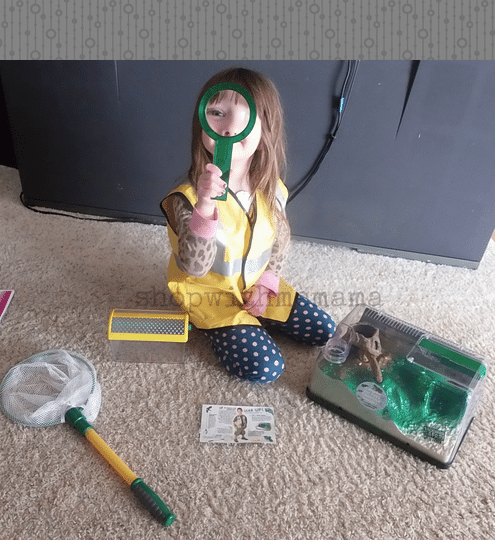 I loved the idea of products that will keep my kids busy! We received some Backyard Safari Outfitters products to review and check out.
We received:
Mini Scoop Net
Critter Shack
Land & Water Habitat
Magnifying Glass
All of these things made for a super fun afternoon outside, for the kids! All of these products are well made and my kids truly have a blast with them. I have reviewed a few things from Backyard Safari Outfitters before, and my kids still have them and use them today.
The mini scoop net is perfect for catching those moths, butterfly's or any flying or land creature! The strong, nylon mesh is sturdy and strong. This net also will float! It retails for only $5.99!
The Critter Shack is a small little habitat for those creatures that you catch. It is great for observing them! It is watertight and topped with a mesh, breathable lid and carry handle. It retails for $7.99.
The Land & Water Habitat is probably my kids most favorite item. You can create your own natural habitat for any creature. The clear dome allows for a full view. It also has a built-in pool and the sculptured terrain gives the feel of home for your creatures! It also has an added port in the side, which allows you to safely transport your creatures/bugs you capture from your bug vacuum (another great product from Backyard Safari Outfitters!). Oh, it also has a light in it!!!
The Magnifying Glass is totally neat! My kids spend a lot of time peering through this at not only bugs but everything!! They love seeing tiny things up close and personal! The built-in scales help your kids to measure their specimens too! Too much fun!
Buy
You can purchase these fun products by visiting Backyard Safari Outfitters online at Amazon.com!