How would you like to get a total body muscle-sculpting workout without weights or a personal trainer? I totally would! The Balance Ball Chair System is supposed to help you get a great, healthy workout, all with one awesome product!
I received this chair to review. It was very easy to put together, and took me about 10 minutes tops to have it all together, including the ball inflated! So super easy!
The first time I sat on this balance ball chair system, I thought, wow, this is so comfortable. It really is. Like a big cushion for your tailbone and butt. It certainly makes me sit taller and helps my spine align. I sit up taller and it comes naturally when sitting on this.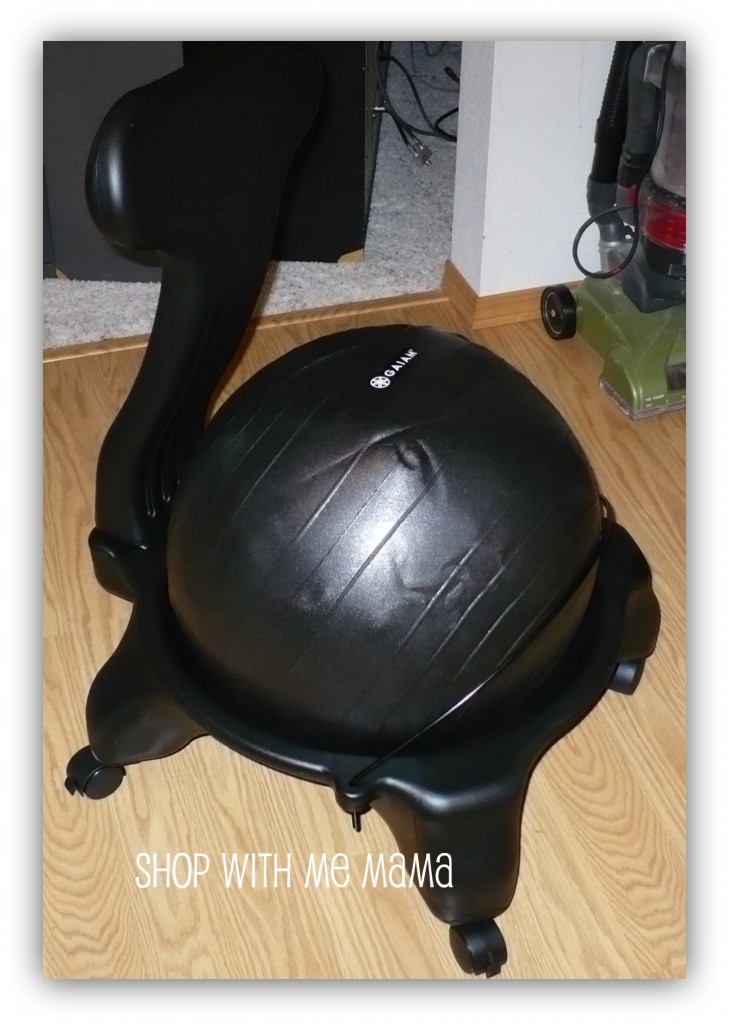 The Balance Ball Chair System comes with the chair, A 55cm (22″) Balance Ball, removable for exercise on its own, Resistance cord, toning band and 105-minute Balance Ball workout DVD, air pump and Desktop exercise guide to get you moving!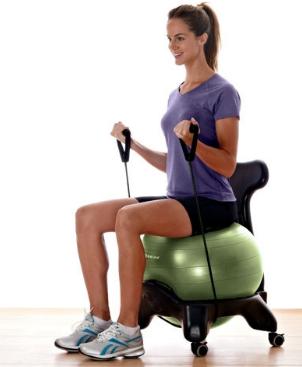 I really like that I can take the balance ball out of the chair and use it for other things too. I also like that the wheels on the chair lock, so that I don't slip and slide all over the place when I am using it on hard floor. I will sit on this at times, when I am blogging, and it helps a lot with my back and upper neck pains.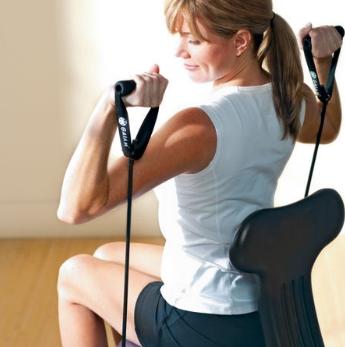 The resistance cord and band is really great for my shoulders, arms and upper body.The 105-minute Balance Ball Workout is awesome and I really feel strong and more healthier each and every time I use this. It is great if you want to do a real quick workout during the day, to feel energized and to kickstart your midafternoon sluggishness.
Benefits of the Gaiam Balance Ball Chair System (taken from their site):

Helps to improve spinal alignment and reduce nerve compression
Get a total body, muscle-sculpting workout without weights or a personal trainer
Comes with a removable, eco-friendly, 6P-free Balance Ball (55cm)
Strengthen your core as you sit in ergonomic comfort
Uses professional-grade anti-burst ball thats free of latex and the six most harmful phthalates
Redesigned base that cradles your ball for added stability and durability
Includes easy-glide, lockable casters, air pump and exercise guide
Includes a medium resistance cord with handles
Includes a Balance Ball workout DVD
Included medium-resistance body band tones your arms, legs and midsection
Easy, 1-tool assembly
So, as you can see, there is plenty of great benefits you can achieve, if you use this Balance Ball Chair System, me and my hubby (and kids, sigh) are enjoying this very much.
Buy!
You can purchase the Balance Ball Chair System online at http://www.gaiam.com/home.do
Disclosure:
I was sent product to review, these are my own honest opinions, thanks!