Eating healthy food has become a top priority for me and my family this past year. We are trying to better ourselves from the inside out! One snack that we are loving right now is from BeeFree.
It is the Bee Free Warrior Mix and it is so delicious! We received the BeeFree assorted warrior mix and not only are they a healthy snack, but they are truly so good too!
The Bee Free Warrior Mix is their most famous flagship product! It is a paleo-friendly, grain-free snack mix that is made with almonds, seeds, and honey. They do not use artificial ingredients, and no preservatives either. Only raw, clean ingredients that you can easily identify.
*This post includes my affiliate links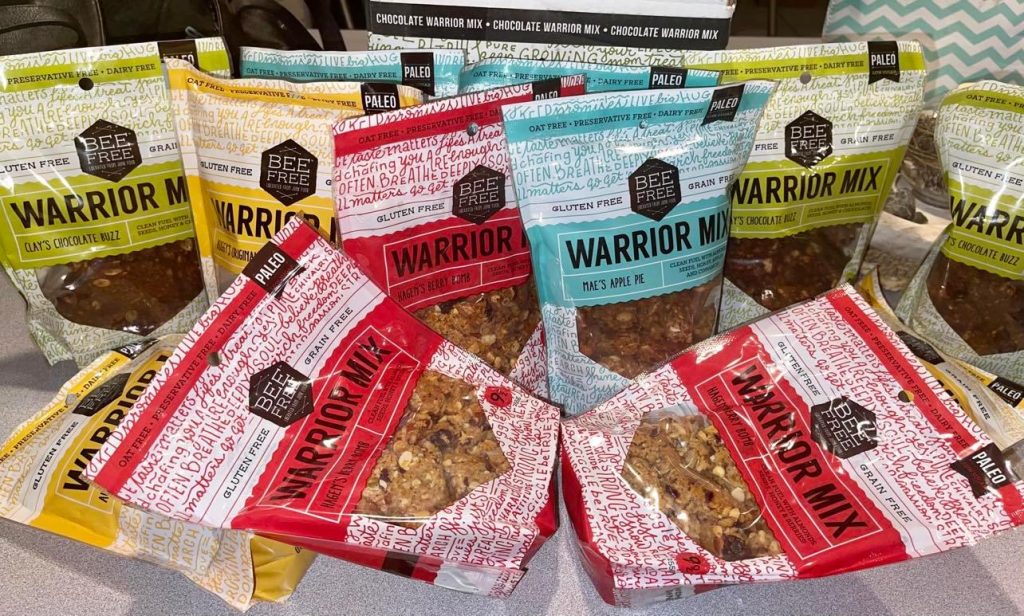 Bee Free Warrior Mix
At BeeFree, they are dedicated to making gluten-free, grain-free treats that put a smile on your face and a giggle in your tummy. Their granola bites are soft, chewy, and taste just like traditional granola – but without all of the gluten and grains!
And because they only use the finest ingredients, you can rest assured that there are no preservatives, artificial ingredients, or funky stuff in their products.
Their warrior mix is a great way to sample a variety of their delicious flavors and costs only $95.95 for a case of twelve 9oz bags (that's 3 bags of each flavor), it's a great value.
The assorted Bee Free Warrior Mix includes Mae's Apple Pie, Hagen's Berry Bomb, Clay's Chocolate Buzz, and Auggy's Original – so you're sure to find a favorite (or two!). Keep reading to learn more about why BeeFree's Warrior Mix is the best way to experience their delicious gluten-free granola bites!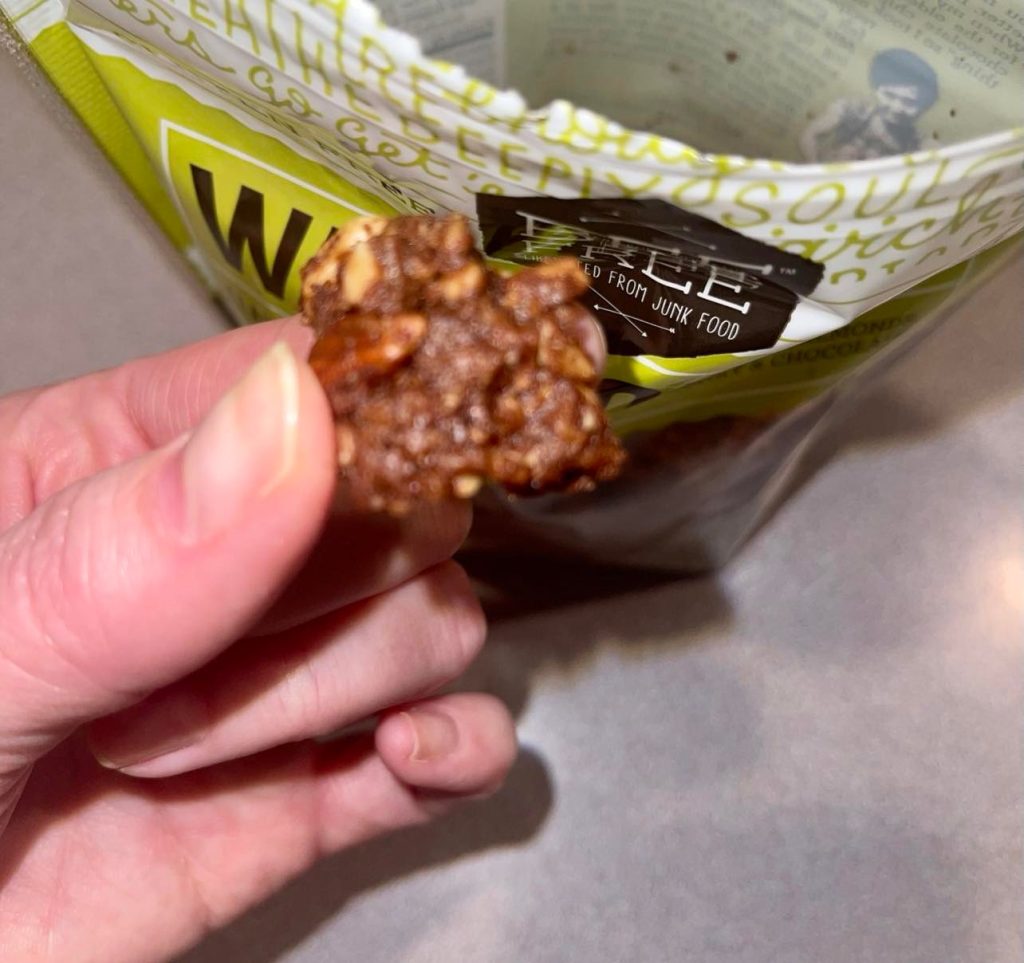 Let's Talk About The Different Flavors of the Warrior Mix!
This is important! So I will talk to you about the different flavors that Bee Free carries!
Auggy's Original Mix
Our bestselling soft and chewy snack is made to perfection. Auggy's Original Warrior Mix, inspired by our son August and his battle with autism, is what started the whole Warrior Mix line. He's an everyday warrior, armed with a gluten-free diet and overcoming challenges one day at a time. Clean fuel with almonds, seeds & honey!
Clay's Chocolate Buzz
Are you a chocolate lover? Here's the buzz! Gluten-free, grain-free never tasted so good, just ask our son Clay. We created Clay's Chocolate Buzz to satisfy chocolate cravings with pure cocoa and just a pinch of cinnamon. Indulge in this soft and chewy chocolatey snack and leave the guilt behind.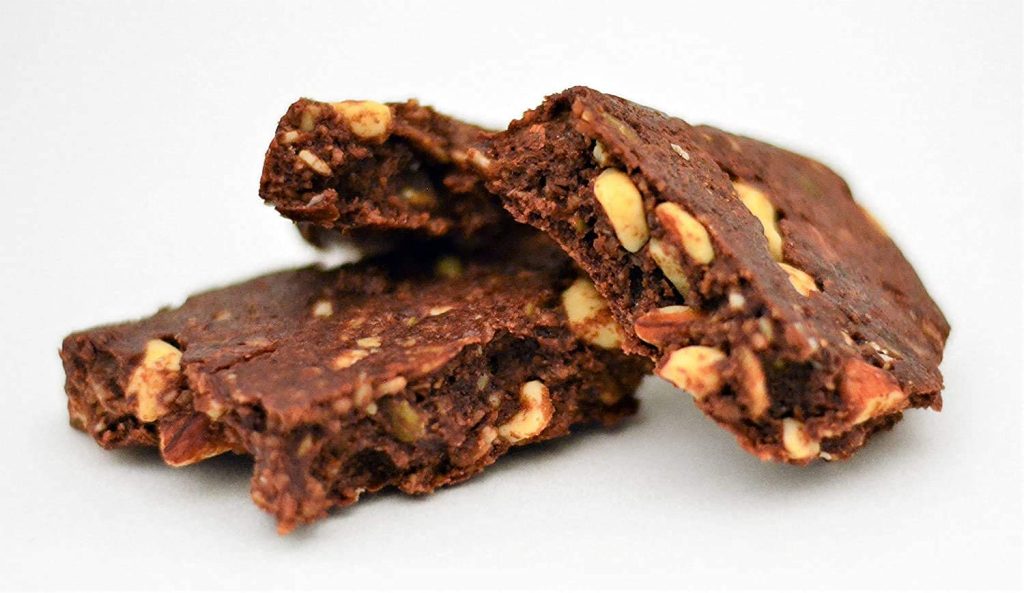 Hagen's Berry Bomb
Hagen's Berry Bomb is a burst of flavor in every bite! Sweetened with honey and dried cranberries it's no wonder this is our most popular flavor. If you love berries like our son Hagen, grab a bag and have a berry bomb day.
Mae's Apple Pie
Introducing Mae's Apple Pie Warrior Mix, our newest flavor addition. Inspired by my grandmother Mae AKA – queen of pies – we've taken dried apples and loads of cinnamon and baked it all up – who knew apple pie could be a finger food snack?! (This is the one I hid and ate when the kids were at school! No one touches my last Mae's Apple Pie Warrior Mix, NO ONE!!!)
They also have a Bob's Salted Caramel Warrior Mix, but I couldn't find a description of this one it sounds SO good! I want to try this one next!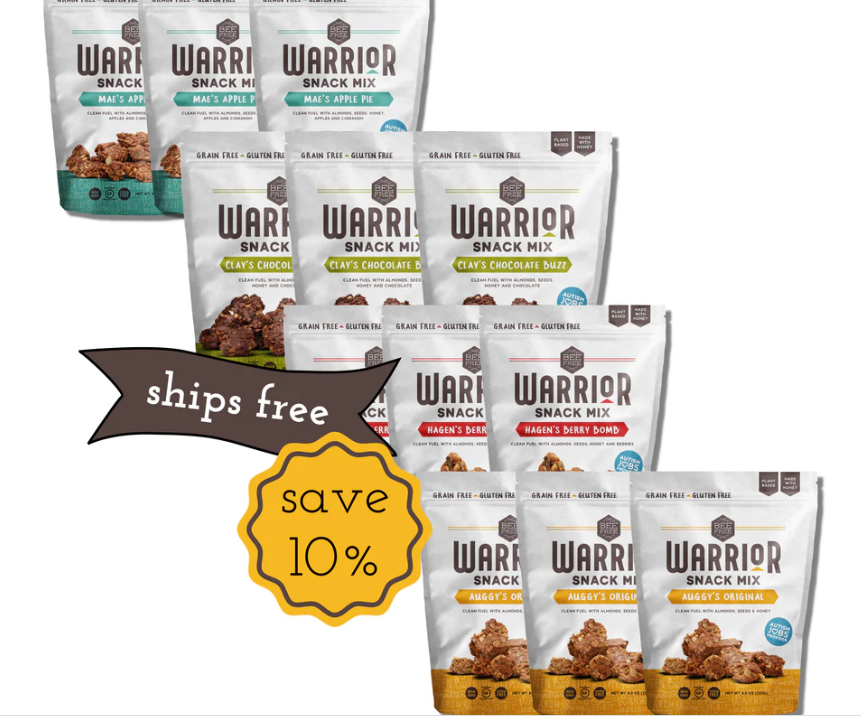 Quality Ingredients Matter (Worth Mentioning Again!)
At BeeFree, they believe that quality ingredients matter. That's why they only use the finest ingredients in their products – and that means NO preservatives, NO artificial ingredients, and NO funky stuff! By using quality ingredients, they are able to create products that not only taste great but are also good for you. So whether you're looking for a healthy snack option or simply want something delicious to munch on, BeeFree has got you covered.
Something for Everyone
One of the best things about the Warrior Mix is that there's something for everyone. Whether you prefer fruity flavors or something richer and chocolatey, this mix has got you covered. And because each bag contains three different flavors, you can even mix and match them to create your own unique taste combination! So if you're looking for a versatile snack option that everyone will love, look no further than BeeFree's Warrior Mix.
Their gluten-free granola is so good and hits the spot when you are looking for a yummy snack at home or on the go. I love that I can take these with me when going out. My kids get hungry (duh!) so when we are in the car running errands and my kids get those hunger pangs, I reach in my bag and pull out these delicious and healthy snacks for my kids to munch on as I run my errands for the day. It not only helps keep my kids' hunger pangs at bay but helps ease my anxiety knowing my kids are eating something healthy!
More Ways To Enjoy BeeFree Warrior Mix
*Right out of the bag
*In a bowl with your favorite milk
*As a topping for yogurt
*With a spoonful of nut butter
And, it is oh so good in any way you eat it!
To be honest, I had to hide the last bag of BeeFree Warrior Mix because my kids went through it SO fast! I think I only got 1 pack of them so I hid the last one for when my kids are at school so I can nibble it up in privacy! Haha! The things moms have to do, right? I know I am not alone in this…
BeeFree is women-owned and focused on creating jobs for adults with Autism. Check out their resources page for more information about this.
Shop!
You can purchase the BeeFree Warrior Mix online on their website or on Amazon.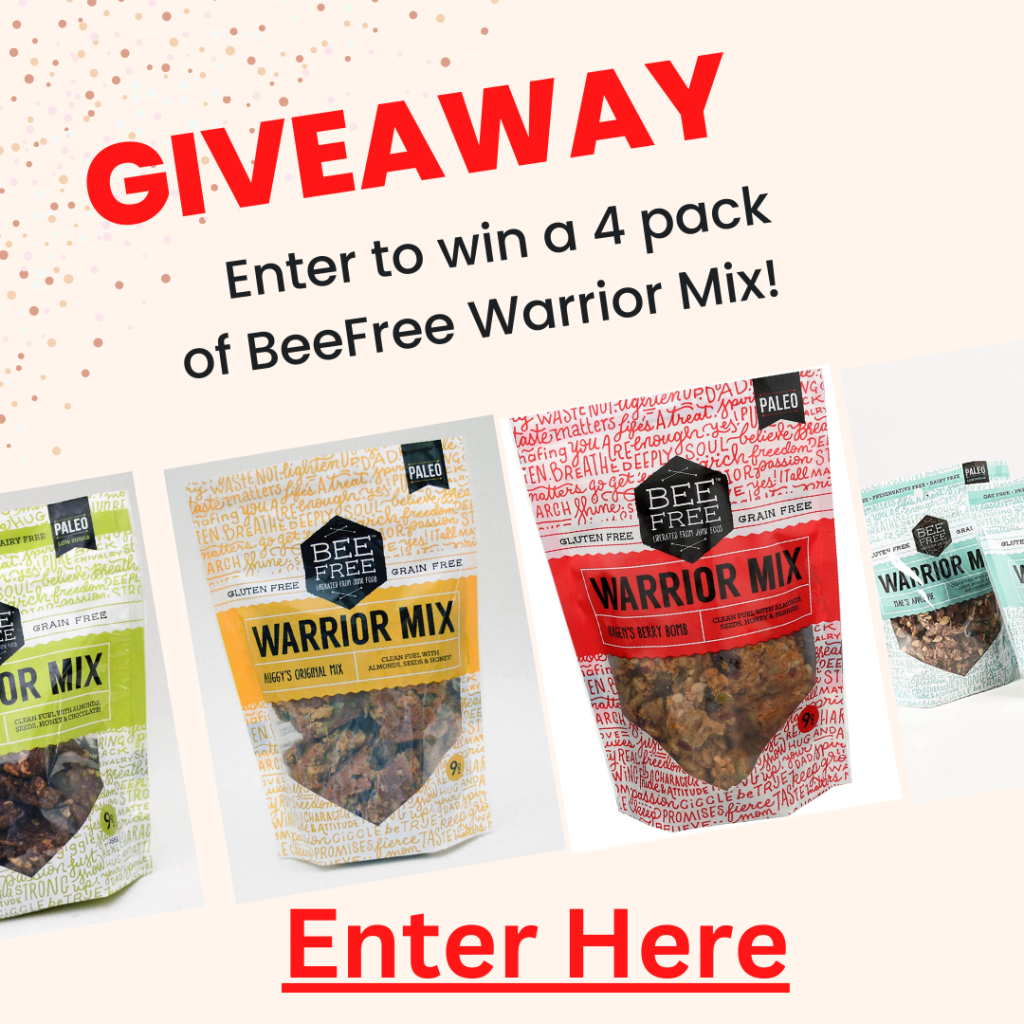 Win!
One person is going to win 4 of their 9oz bags of BeeFree Warrior Mix in these flavors:
*1 bag of Clay's Chocolate Buzz
*1 Hagen's Berry Bomb
*1 Mae's Apple Pie
*1 bag of Auggy's Original Warrior Mix
Rules
The contest is open to US 18+. The giveaway will end on November 27, 2022, at 11:59 PM MT. The winner will have 48 hours to confirm their win after I email them, or a new winner will be chosen. I am not responsible for lost or stolen mail.