*This post is brought to you by Beech-Nut. Opinions are my own.

I breastfed all three of my kids, with lots of complications from it, I still did it and I am proud of myself! It was a huge thing for me to do. Like most moms, we want to feed our babies the best. We want to know what goes into their little bodies.
When time came to start on solids, I was very particular with what I allowed my babies to eat. I even tried making baby food and that was really fun to do! I made breast milk and banana frozen treats one time and that was a HUGE hit with my little toddler!!
I was so pleased to read that Beech-Nut Is The First Baby Food Company To Reveal Exact Percentage of Ingredients in their pouches and jars. Isn't that just cool? All of the percentage breakdowns of ingredients in their jars and pouches are easily accessible on their website! Now parents can know exactly what is in their babies food. That is the way it should be!
Click Image To Make Larger!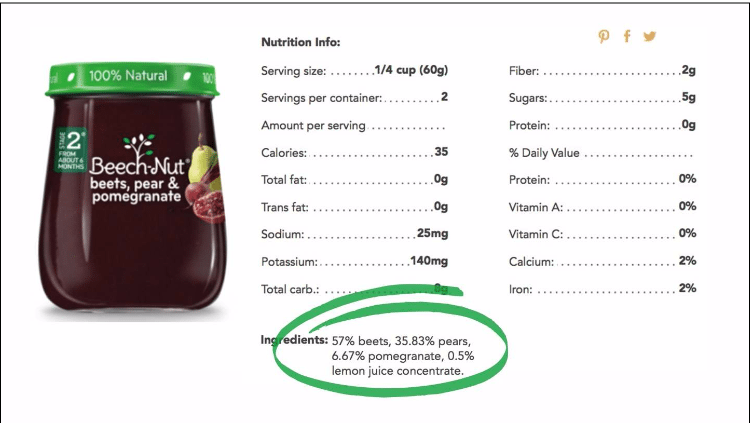 You can take a peek and see the percentage breakdown of the  ingredients included in jars and pouches, by just visiting their website. I love being able to see the ingredients right in front of me. I love that Beech-Nut is such a transparent company that is honest in labeling practices. That is so important to me. It really shows me that this company has absolutely nothing to hide.
Beech-Nut was recently mentioned in the Center For Science In The Public Interest post. It is a great article that explains more of Beech-Nut's transparency. Must read it!
With so many 'baby foods' to choose from, don't you want to choose one that is honest and transparent in what they put into those jars and pouches? I know I do. Though my kids are now past this stage, I will still recommend this brand to all my mommy friends.
Get Social!
Connect with Beech-Nut On Twitter, Facebook, Instagram and Pinterest!
What Do You Think About Beech-Nut? Is It Good That They Are Being So Transparent?