This post will help you decide on the best Best Boho Rugs for Your Bohemian Style! Do you define yourself as a free-spirited person who admires nature's artistry and likes to harmonize your own living space with it? If this is the case, you might have already discovered that the Bohemian style is just for you! But if you wish to learn more about the Bohemian style to decide whether it suits you, we still have things to say.
The origin of the word 'Bohemian' is Bohémien, a term used to define Romani people who came to France from Bohemia in the 15th century. But years later, the word was also adopted also by many who practiced unconventional and cheerful lifestyles like the Romani people of France.
Bohemian people like to reflect their free-minded, adventurous, and unorthodox ways of thinking in their arts, dressing styles, and even home decorations. That is why it is no surprise that Bohemian interior design has become popular amongst people who wish to reflect their ways of thinking and living in their home decorations.
You may be someone who likes to design your living space in harmony with art and nature or someone who believes that home decoration should reflect your own story and way of living without limiting yourself to conventional rules and standards. Or, maybe you are just interested in adding some Bohemian details to your interior design to liven up your place.
Best Boho Rugs for Your Bohemian Style
No matter which, you should know that botanicals, vintage treasures, incense and candles, pillows, throws, and area rugs can be great Bohemian pieces that you can use to complete your Bohemian interior design or to renew the atmosphere with an artistic expression.
If you feel confused about how you should apply the Bohemian style in your home, you may think about purchasing a Bohemian area rug, or as famously called 'boho rug' that will magically transform your interior design by itself.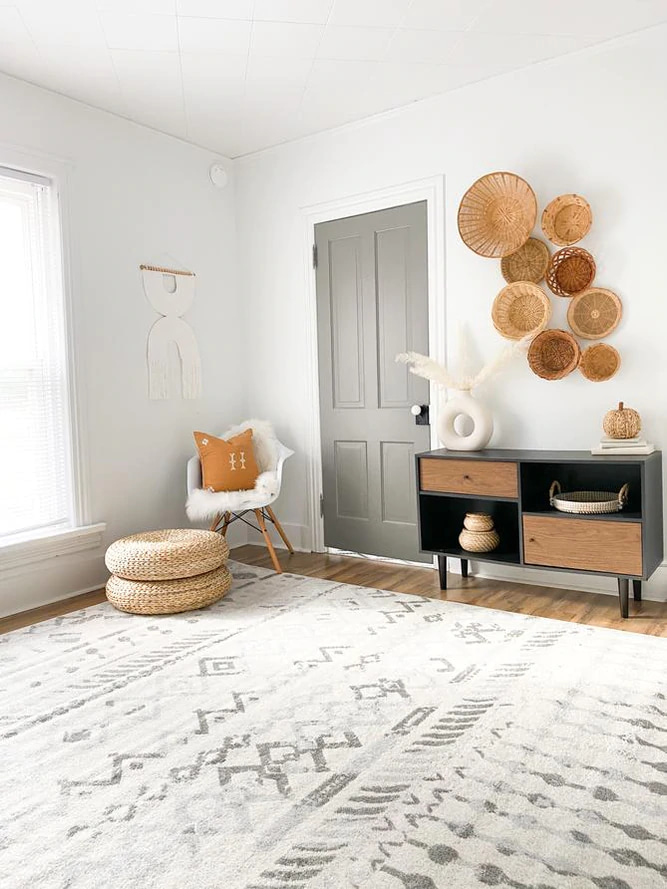 How to Choose the Best Boho Rugs?
Buying a boho area rug is indeed a good start for practicing Bohemian style in your place, but finding out the best one may not be the easiest job because you should consider some essential variables before making a final decision. You should pay attention to the following points while choosing the best boho rug for your interior design.
Material
Boho area rugs can be made from both natural and synthetic materials. Some of the most favorable natural boho rugs materials are wool, cotton, and jute, each having specific pros and cons. Wool Bohemian area rugs are favorable alternatives because they are durable, color-sustaining, and cozy.
However, suppose you wish to have a cheaper but still quality option. In that case, you might consider cotton Bohemian area rugs that are soft, cozy, easy to clean, and even generally machine washable. On the other hand, cotton boho rugs are less durable than wool ones and easily stain.
Since they have unique textures and shapes, jute boho area rugs perfectly reflect Bohemian style. Moreover, they are considerably affordable alternatives to natural area rugs. But, if you are looking for softness and coziness, jute boho rugs may not be your best option.
Maybe you think natural materials are your only alternatives suitable for your Bohemian style. There are, however, a sheer amount of boho area rugs made from synthetic materials.
You can easily find a perfect synthetic boho rug in any size, color, and pattern. A great majority of synthetic boho rugs are affordable, easy to clean, and generally suitable for both indoors and outdoors. But, one crucial thing to notice is synthetic area rugs are not eco-friendly and sustainable because of their materials and production process.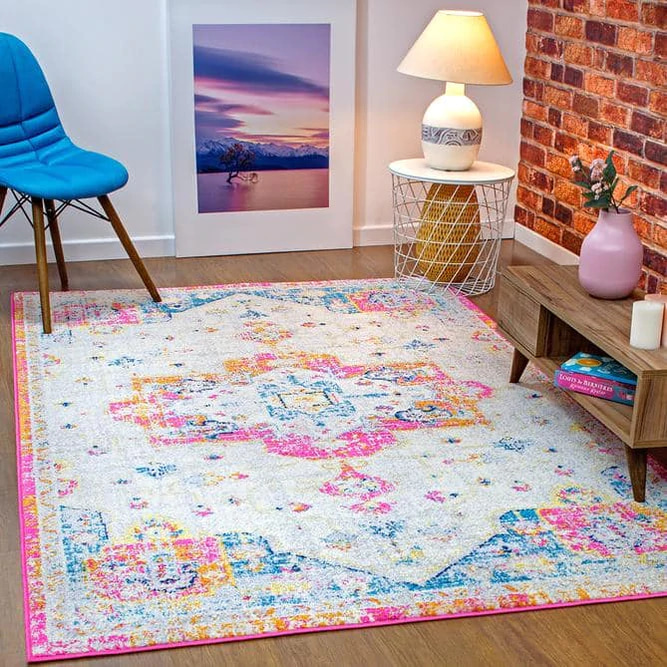 Placement
Suppose you have decided on the material of your boho rug. In that case, you might already know where to place it because not all materials are suitable for every area, such as high-traffic areas, kitchens, and outdoors. But the good news is boho area rugs are perfect for all different places.
Let's say you have already found the ideal material for the room you want to place your rug; then you be sure that there will be a perfect boho rug waiting to add a style to your room. You can place your bohos in your living room, bedroom, dining room, and kitchen. Remember that you don't even have to limit yourself with conventional placements, especially when talking about boho rugs.
For instance, why don't you use your boho rugs as wall hangings? Or, you may be thinking about reflecting your Bohemian style with a perfect boho rug in a place other than your house. For example, you can easily add a pleasant mood to your office with a nice Bohemian outdoor rug.
It doesn't even matter whether you live in a farmhouse or a modern apartment, know that you will be able to find the unique boho rugs that will be perfect for the atmosphere of your living space.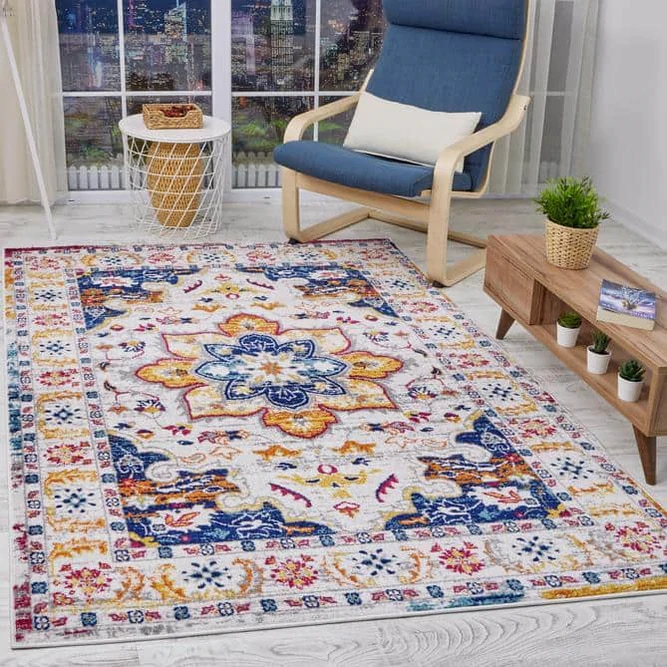 Size and Shape
Once you have decided on the placement, it will be easier to pick your boho rug's right size and shape. For large areas like a living room and bedroom 8×10 or 9×12 bohemian area rugs will be better alternatives. If you are planning to use your boho as a centerpiece in a dining room, make sure you have a large bohemian area rug that has a bigger size than the border of your dining table.
In that case, a 10×14 bohemian area rug will probably be the best size option for you. You should prefer 4×6 or 5×8 bohemian area rugs for smaller areas like a kitchen and bathroom.
It would be best to choose the right shape of the boho rug for visual engagement. The general rule is that the shape of the room and the rug should match. For instance, you should use a square boho rug if you will place it in a squarish room. For places like hallways, you may prefer a longer boho rug as a runner.
Also, you can be more playful about the shape of your boho rug if the room is suitable. Consider having a round boho rug in your living room if you wish to turn it into the centerpiece of the place.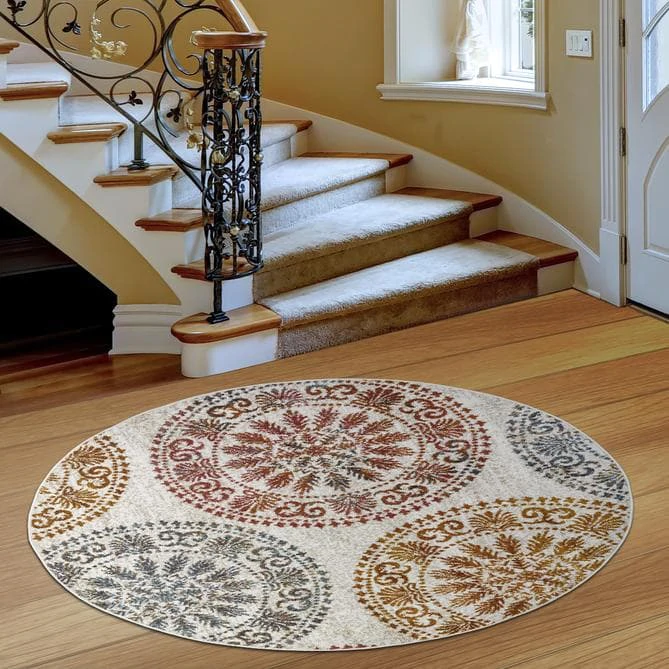 Color and Pattern
Color and pattern are probably the most defining variables of boho rugs. They have a wide selection of colors and patterns that enable you to find the perfect one that fits your décor. If you are looking for a boho rug that will show itself, you can prefer colorful bohemian rugs in shades of red, pink, green, and blue.
Or, you can take a step further and look for multicolored boho rugs to add a cheerful mood to your place. Instead of vibrant colors, you may prefer soft and subtle tones that will easily blend with other colors of your decoration. If this is the case, a bohemian rug with gray tones, for instance, will be a perfect choice for you.
Along with colors, patterns give your bohemian area rug a certain style. If you prefer tribal motifs on your rug, a Moroccan boho rug will be a perfect alternative, not just on the floor, on the wall, too. Geometric shapes with soft colors will let you have modern boho rugs which will fit perfectly in a modernly decorated place. If you are eager to have a nostalgic mood in your home, you may prefer a vintage boho rug with traditional motifs.
A good choice of boho rug will help you to give a Bohemian style to your place by itself. Now that you have all the information you need to find out which boho rug will be best for your interior design, nothing remains to stop you from hunting for that perfect bohemian-style area rug!