Today we are talking about the best spa covers! Hot tubs are a great way to relax and enjoy yourself, but they also require a lot of care. One of the easiest ways to keep your hot tub clean and warm is to invest in a good spa cover.
While there are dozens of spa covers on the market, finding the best spa covers can be difficult. Let's look at some of the things to consider when purchasing a hot tub cover.
*This post includes my affiliate links
Best Spa Covers: Things to Consider When Purchasing a Hot Tub Cover
Matching Your Hot Tub
It may seem fairly obvious that the best spa cover for your hot tub will be one that fits it perfectly, but with so many options, it isn't always easy to tell if a cover will fit your hot tub. Before shopping for a new cover, be sure to measure your hot tub properly.
Don't forget that not all hot tubs are the same shape, most inflatable hot tubs are round so you may want to take a photograph or sketch out a diagram of your hot tub with the measurements labeled. It is also a good idea to know the make and model of your hot tub when you are shopping for a cover.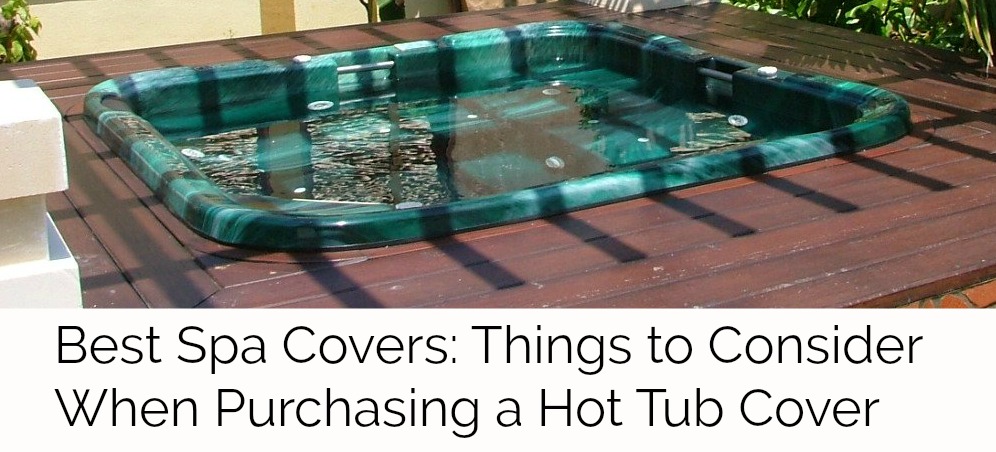 Understanding Climate Needs
Hot tub covers are sold with different levels of insulation and heat-saving abilities. Depending on where you live, you may need a lot of insulation for your hot tub or very little.
Warmer climates may not require hot tub covers with much insulation, but people who live in parts of the country with harsh winters may want a cover with as much insulation as possible.
In addition, the best spa cover for you will need to be able to withstand any kind of weather your area is prone to. A good hot tub cover shouldn't easily crack or wear from the weather.
If you live in an area that experiences all four seasons, be sure to get a hot tub cover that can hold up in each of those climates.
Knowing the Vapor Barrier Quality
Hot tub covers will have a section that is devoted to coating the foam cores of the rest of the cover to make sure that the water in your tub doesn't get into the primary insulation.
While many types of foam are now water-resistant, you will want to make sure your cover prevents the foam inside from filling up with moisture and damaging the cover. A good vapor barrier sets apart a regular hot tub cover from the best ones.
Picking Quality Vinyl
Since almost every spa cover on the market is made of vinyl, it is important that you learn about the difference between low- and high-quality vinyl. The durable vinyl is crucial for a long-lasting spa cover. Thin, flimsy vinyl is likely to incur damage from the elements and possibly your hot tub.
Protecting Your Family
If you have an in-ground hot tub, you will want to get a spa cover that protects animals and humans from falling into the hot tub.
While most spa covers aren't meant to handle the weight of people standing and walking on them, you will want a cover that is strong enough to hold up if there is an accident on top of the hot tub. The best spa covers will be able to support at least a small child or animal falling onto it.
Having a Set Budget
A hot tub is a big investment, so it probably doesn't surprise you that hot tub covers can be quite pricey. It is important to know what your budget is before you start looking for hot tub covers.
While you may be getting a better cover for the extra money, there are times when it is easy to spend more on aesthetics alone, which can be a huge waste.
Find a balance of quality, looks, and price to find the best spa cover for you. If you don't want to spend hours searching for a spa cover that will fit your hot tub, consider looking on Amazon.com. They have a ton of different options for you!