Check out this Coleman All-New Instant Tent! I seriously don't know what it is with me and Coleman Tents, I really don't. When I get them, I just am so impatient I have to put them up where I open them at… That always tends to be my home or better yet the formal dining room…
Here is the first Coleman tent I received last year, it went up in my living room.
*This post includes my affiliate links
Coleman All-New Instant Tent
And here is the all-new Coleman Instant Tent that I JUST received today, LOL…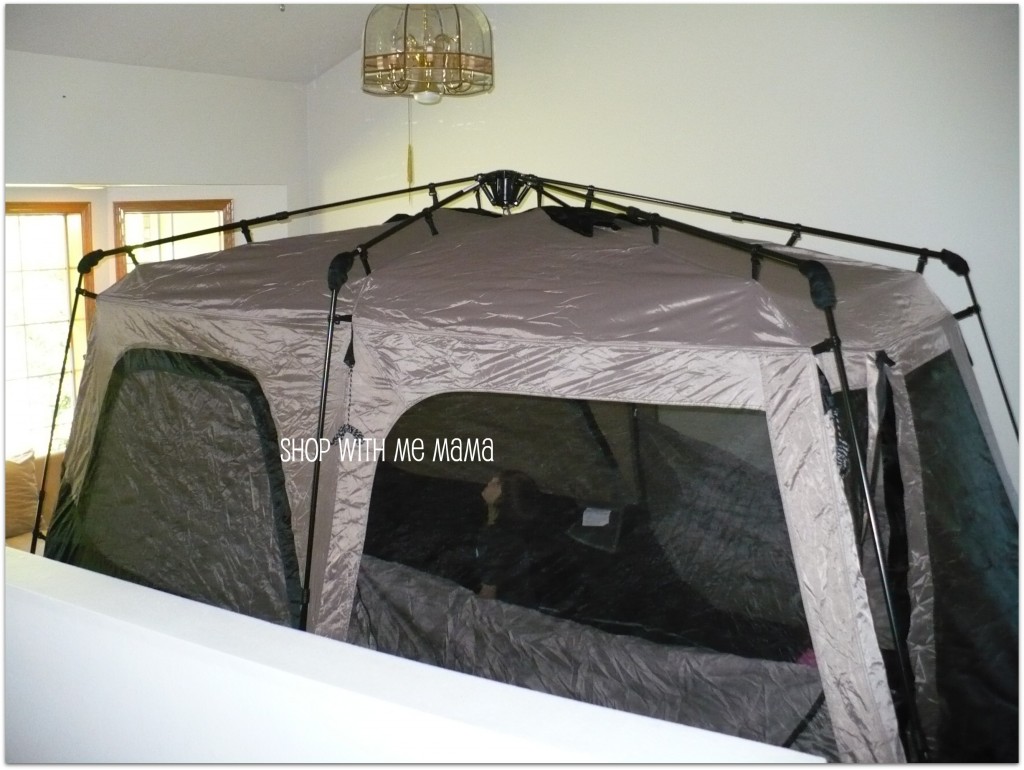 Yes, I realize I am insane, I never said I wasn't.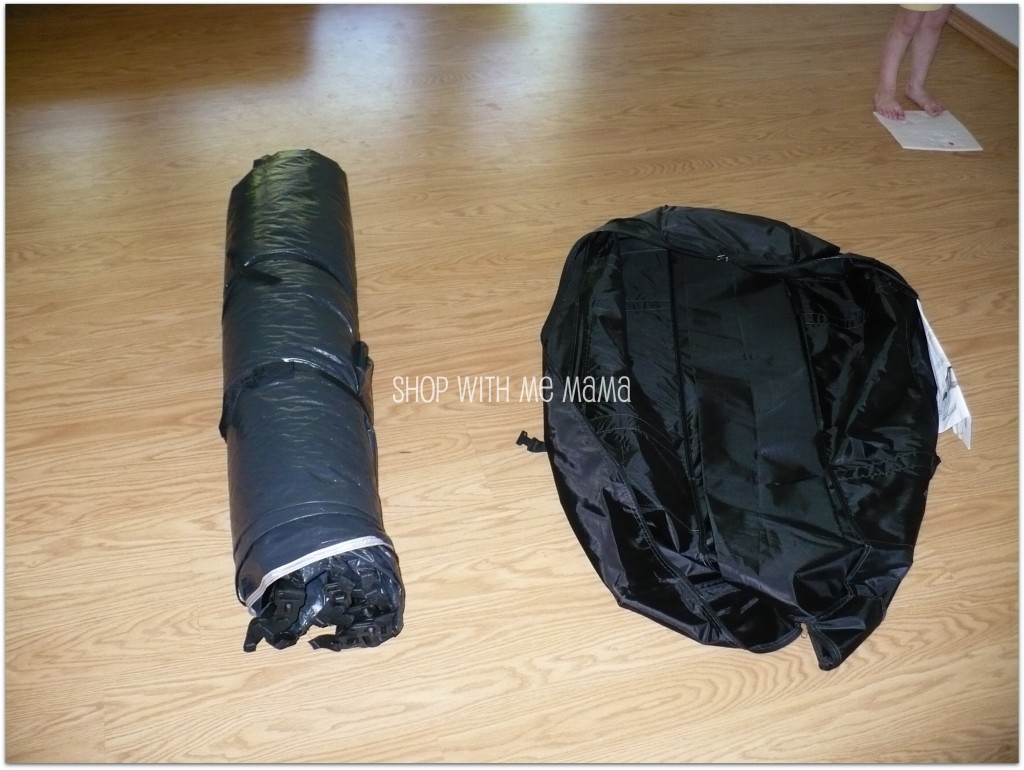 but it is so much fun!!!! And this tent is seriously easy to set up. I thought that the last one I got was super easy. Heck, that first one only took me maybe 5-10 minutes TOPS to put up, probably less, I can't remember.. but this new Coleman Instant Tent took me 4 minutes! I timed myself if you need to know…
The new Instant Tent is already hooked up with the poles, you just need to extend those poles and lock them into place! No more searching for the poles and poking them through the loops on the side of the tents.
It is done for you! This is definitely a time saver and if "I" can put it up with two excited (and I mean EXCITED) little kids running around me, in 4 minutes, then heavens, anyone can put this up! I did need my 5-year-old to hold up a part of the tent for me, but if no one was around I could have just held it up against a tree or in my case, a wall 😉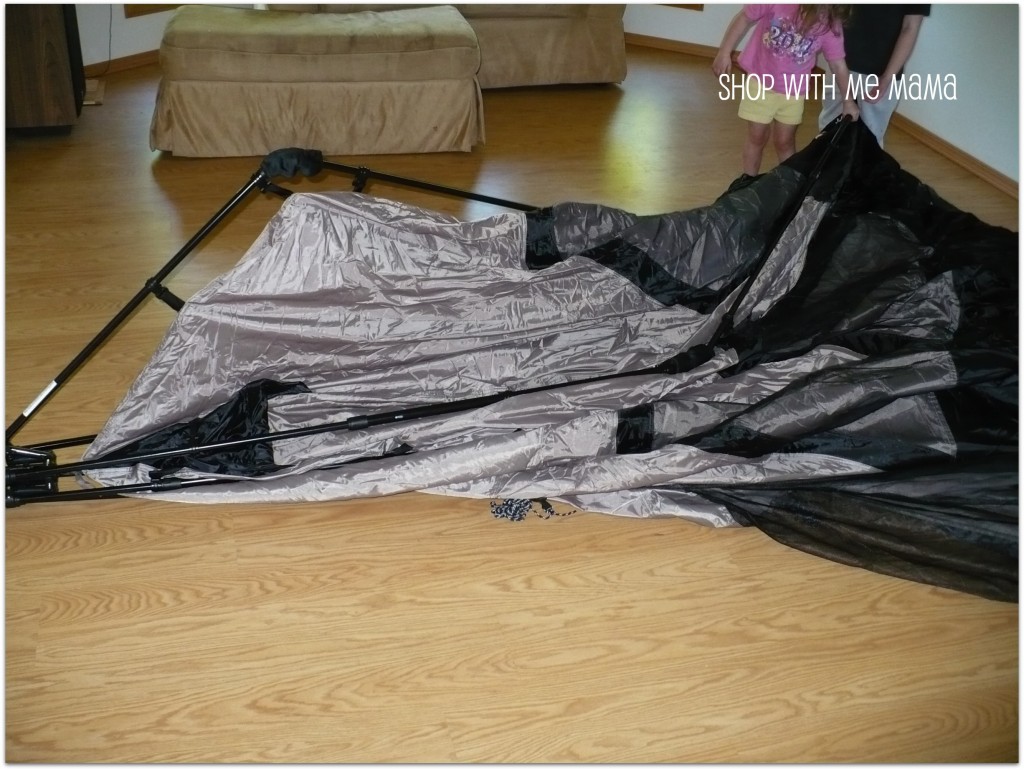 Now, these pictures DO NOT do this tent justice. This tent is really big and spacious. If I had been a good girl, I would have just put it up outside, but since our long grass needs mowing tomorrow, I did not see the point in that one. However, we will definitely be using this tent for some backyard camping this summer!
How Tall Is This Tent?
Back to how spacious, this tent is. Heck, it should be, it sleeps EIGHT people! Whoosh! What size of this tent fit? Well, for starters eight humans.., 2 queen airbeds, and the center height is 76″!! It is 14'x8′, so that gives you a bit of the large size it really is.
Some Features About this Instant Tent:
• One minute set up or take down, based on average set up time
• Our easiest tent – poles are pre-attached to the tent
• 8 person / 2 room tent / 1 door
• Dimensions: 14 ft x 8 ft
• 6 ft. 4 in. center height, room to stand and move
• Fits two queen airbeds
• Spacious interior
• Exclusive WeatherTec™ System
Keeps you dry — Guaranteed™
• Tent is fully taped, no need for a separate rain fly
• Heavy duty, 150D fabric, twice the thickness of standard tent fabric
• Limited one-year warranty
• Weight – 37.7 lbs
• Made in China
Now, I am certainly pleased with this tent so far. But, I have not actually used it outdoors yet so I have not checked to see if it really is waterproof or not (in some of the reviews of this tent on their site, it says it leaks 🙁 ), nor have I had the opportunity to take it down and put it away, yet.
So, I don't know what my reactions will be when I do that. But for now, I am pleased with this tent. Though it does NOT take me only a minute to put up (takes me 4), it is easy to put up and a time saver.
Buy
You can purchase the Coleman Instant Tent online at http://www.coleman.com/or Amazon.com. It retails for $296.02.