*Product received. Opinions are my own. This post includes my affiliate links.
Talk about fun fun fun! We had a chance to review the Dareway Original Standing Ride On toy from FEBER and we love it! Oh my goodness my kids are having fun. Thank heavens the weather has been so nice here in the Pacific Northwest lately, so we get to enjoy this new ride on toy!!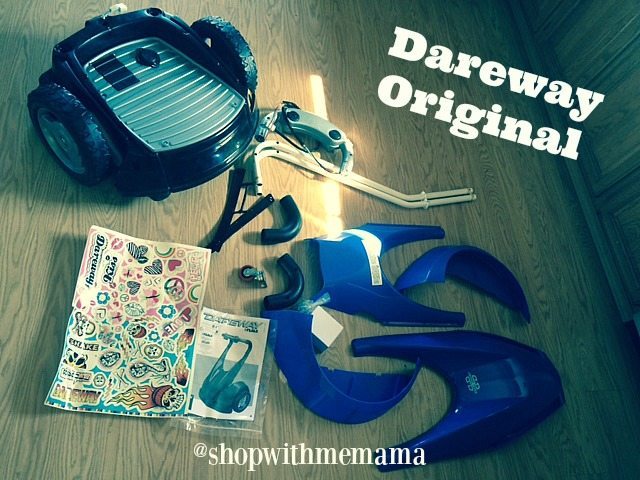 This came in a huge, heavy box and assembly was required. I was thinking about doing it myself, but then my hubby walked in the room and saw me trying to sift through the screws it came with and thankfully came to my aide! I was very thankful as this would have taken me a while to assemble. With him doing it, he was done in about 35 minutes. The longest part of this all was trying to find the right screws to go into the right holes. I wish the screws had been put in plastic compartments and labeled.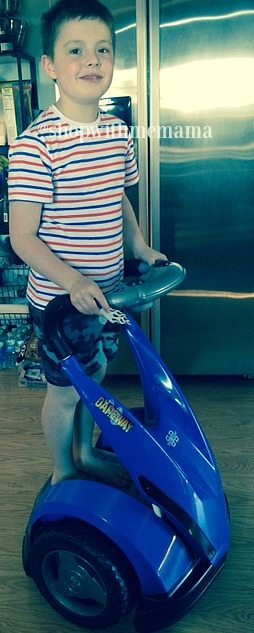 After this was put together, my kids put stickers on it. They were able to decorate the Dareway with fun stickers that it came with. I thought that was awesome!
Before receiving the Dareway Original , I read reviews online about it so I could be prepared. I read that it skidded a lot because the wheels were plastic. So I was not sure what to expect with the wheels.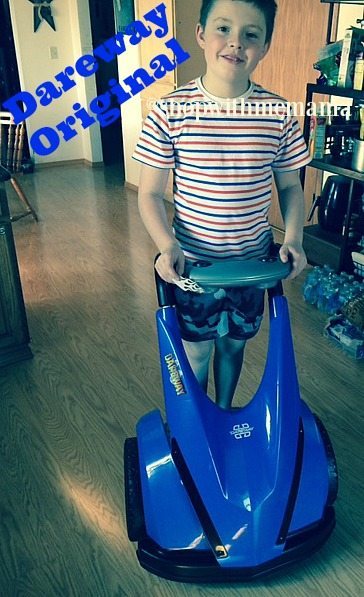 But, when my son first got onto the Dareway and rode it, he was inside the house on our slippery wood floor. So, the Dareway did slip around a bit. But, once we brought it outside on the asphalt and it was driven around for a bit (maybe 10 minutes?), the wheels stopped skidding and were now gripping the asphalt. The wheels just had to get roughed up a bit, that is all, no biggy!
My son and daughter have been having a blast on this ever since they received it! Outside zooming around and going in circles galore! So much fun! We have had no issues with anything on the Dareway and are very pleased with it!
It came with a charger (duh) and to plug the charger into the Dareway Original , you have to flip up the little compartment on the place where you stand. Charge it up  (it is Powered by a 12V rechargeable battery) and then you are ready to go again for a bit! The Dareway Original has a maximum speed of 3.7 mph, which is a perfect speed for youngsters up to 89 lbs.
This is a wonderful ride on toy great for any child ages 6-10 I would say. It is pretty easy to operate, you just have to get use to it, like anything you are trying that is new. The foot pedal accelerator controls forward actions and you press the handle grip buttons for left and right turns. You can also do amazing 360 degree spins! This is what my kids enjoy doing the most! If you want to go in reverse, you just press both buttons together.
Buy
You can purchase the Dareway Original Ride On Toy online at these fine retailers: Amazon.com
, Toys R Us, Target, Kmart or Meijer! It retails for around $195.47.
Win
Want to win a Dareway of your very own? Then head over to FEBER's Facebook Fan page and enter to win one! More details HERE! Good luck!
Get Social!
Connect with FEBER on Facebook!
What Do You Think Of The Dareway Original? Isn't It Awesome?!?