Did you know that you can have delicious and fresh Macarons delivery straight to your door! You can! Savor Patisserie makes the best and most flavorful macarons ever! We received a box filled with some yummy Halloween macarons and they were devoured quite quickly! They were fresh, moist and so good!
They came in a plastic carton box and were so cute with the fun Halloween designs. They were even more fun to eat though! This is great to know that we can get a fresh macarons delivery straight to our door whenever we want.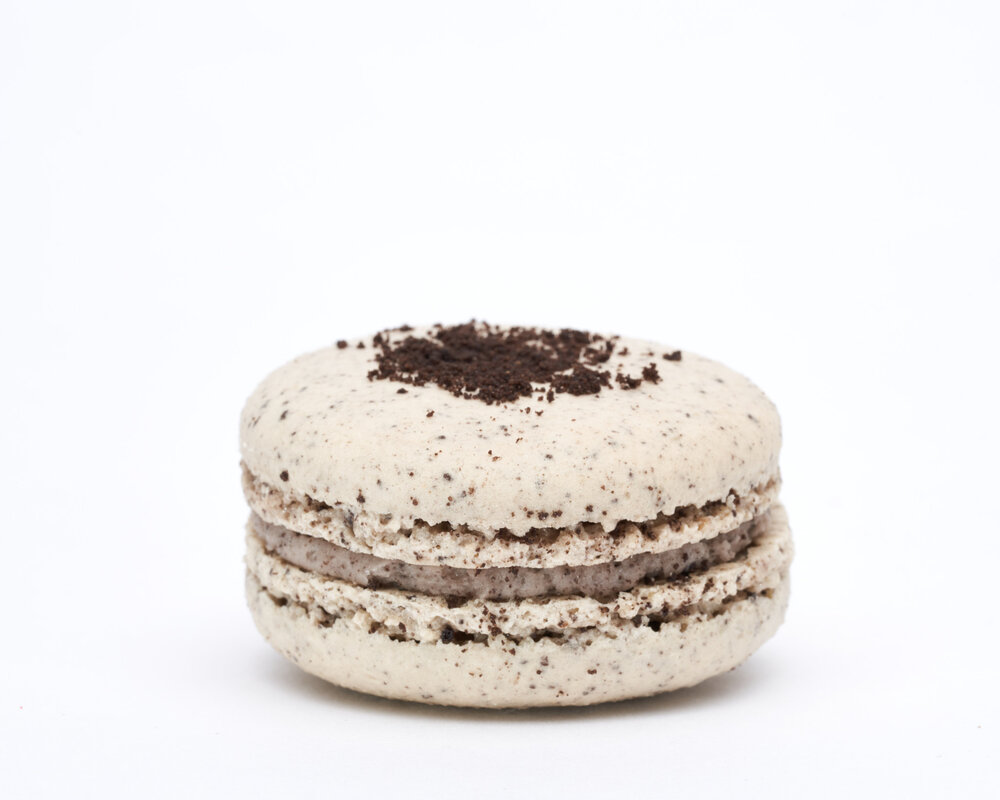 If you are like me, you'll think Savor Patisserie's macarons are too beautiful to eat—until you've experienced their melt-in-your-mouth deliciousness! These are made by hand, and these yummy Instagram-worthy treats taste like they're straight from Paris but are made in the heart of Texas by a woman-owned bakery.
Just in time for Halloween is the Halloween Collection, with flavors like Rice Krispie Treat, Caramel Apple, Cookie Butter, Sour Patch Kids, and Chocolate Orange! Two-piece Halloween favor boxes will also be available, made up of a delicious white vanilla macaron, decorated with a Jack O'Lantern, and a salted caramel macaron in orange that reads, "Happy Halloween."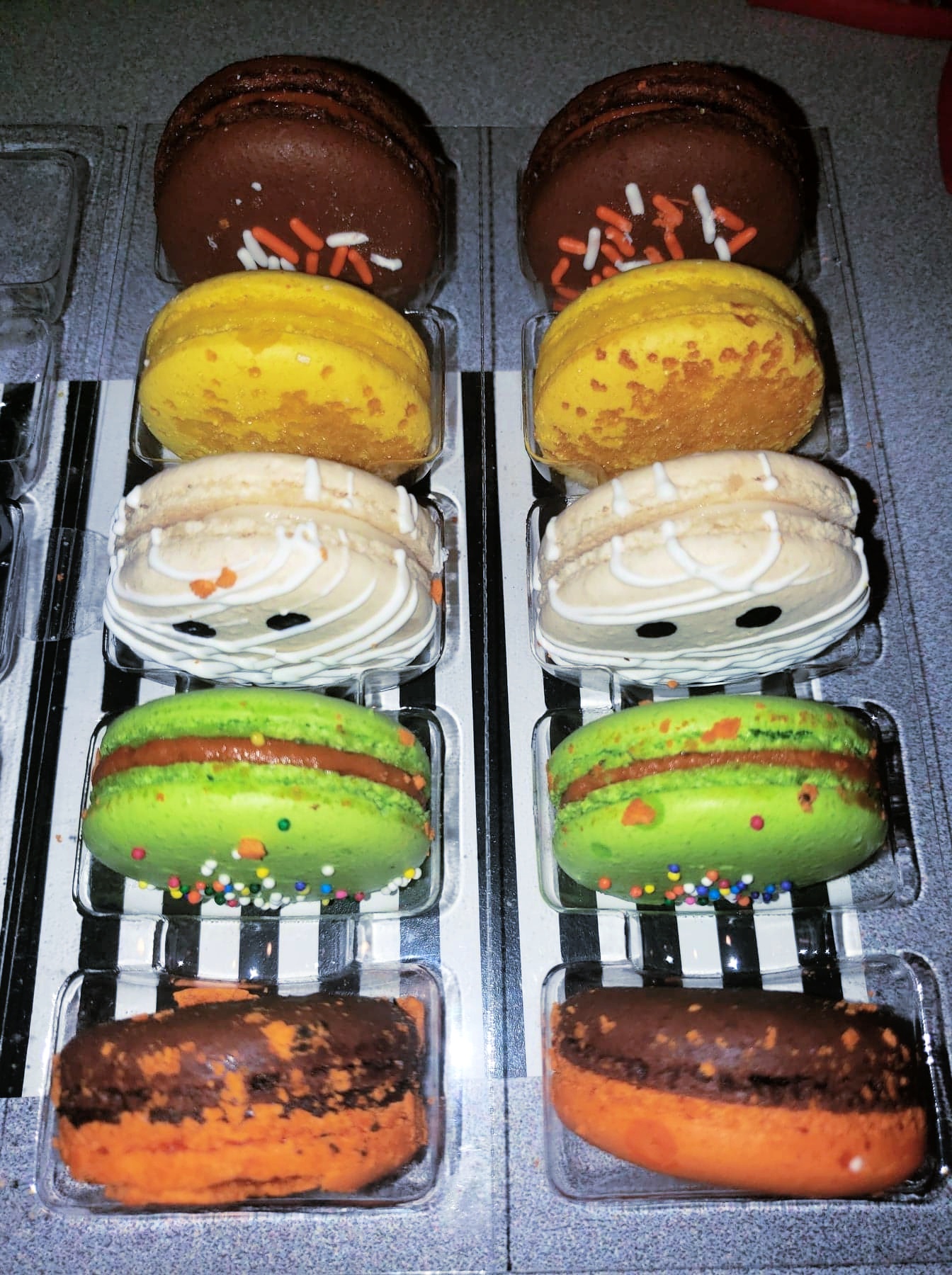 Each favor box is decorated with a black ribbon, making it the perfect gift for teachers, a fun Halloween surprise from parents to kiddos, or just to treat yourself! No matter which you choose, know that they're all made from a perfect mix of almond flour, egg white, and sugar surrounding a filling of ganache, buttercream, or jam — but less than 100 calories each and gluten free! Yay!
However, with Halloween quickly approaching you may find your time is running out to buy the Halloween-inspired macarons and to get that Halloween macarons delivery! And, that is okay because they make these yummy macarons year-round and they have their holiday macrons too! So, there is always something to look forward to at Savor Patisserie.
You can create your own box of macarons or you can choose from the boxes that they have available! So, you know you can get something that everyone will enjoy nibbling on.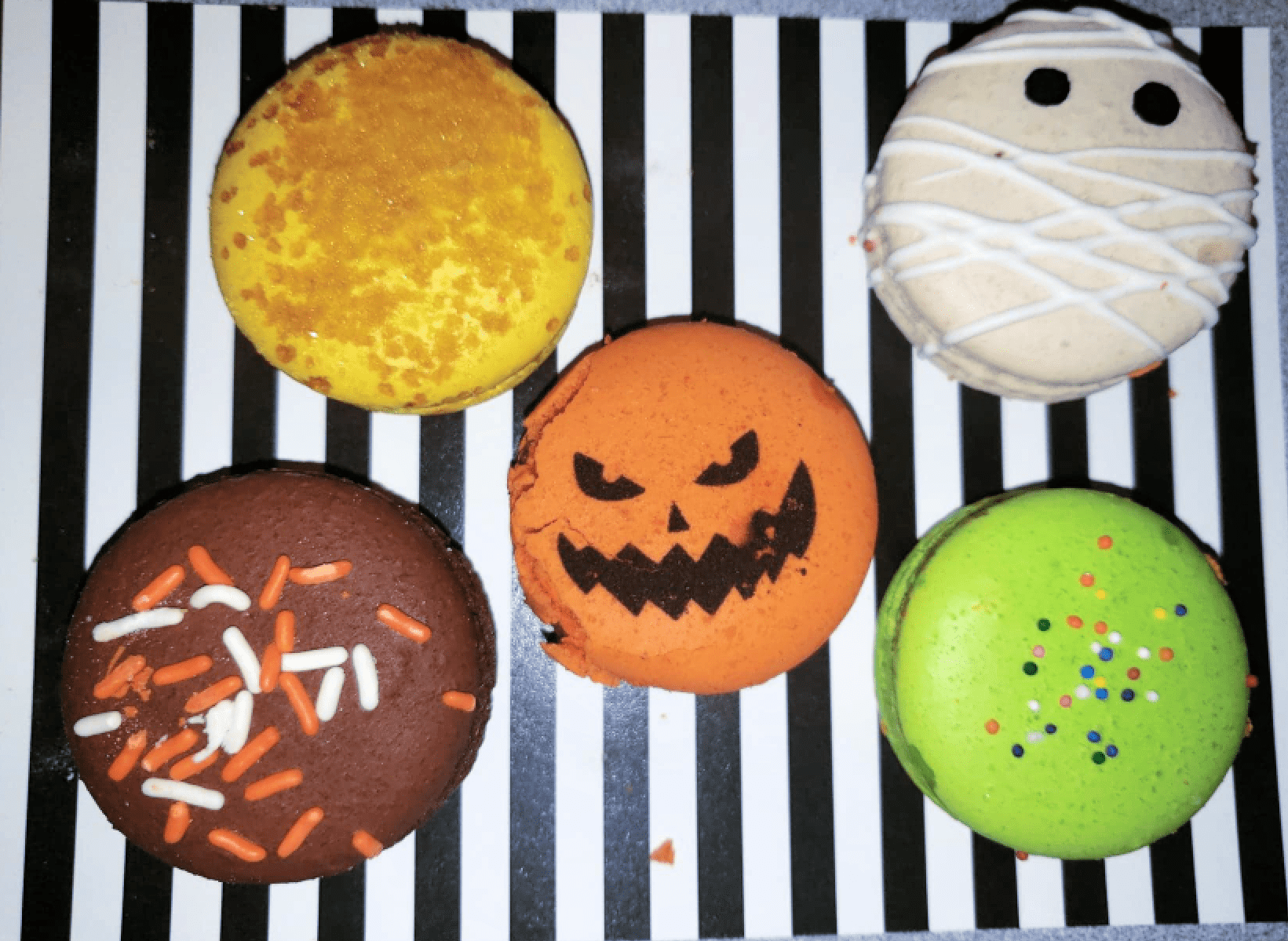 The fall flavors that you can choose from are:
*Bananas Foster
*Oatmeal Cream Pie
*Vanilla Bourbon
*Nutella Pretzel
*Apple Cider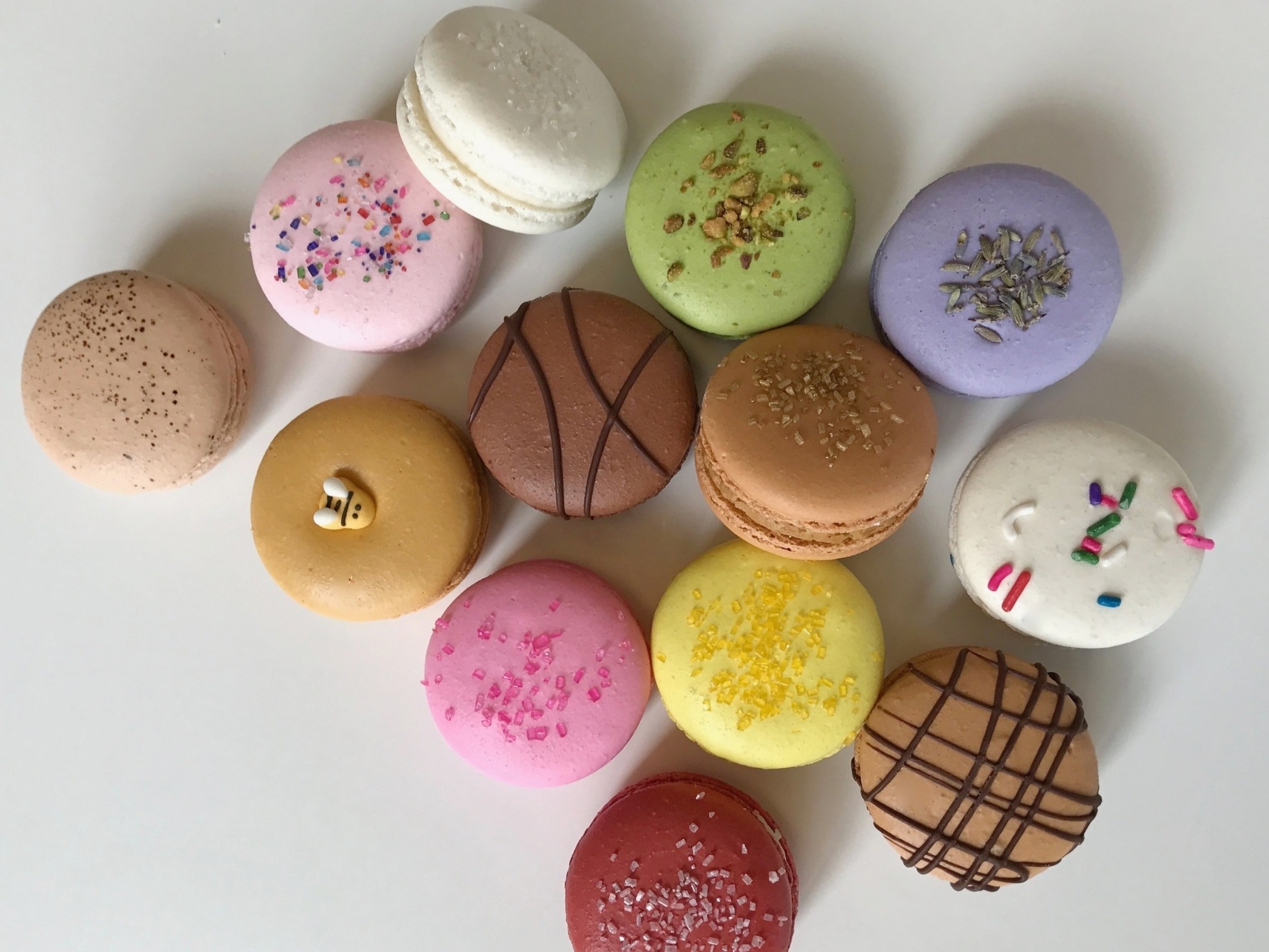 And, these are the flavors they have year-round:
*Vanilla
*Birthday Cake
*Red Velvet
*Raspberry
*Strawberry Shortcake
*Champagne
*Coffee
*S'more
*Lemon
*Pistachio
*Blueberry Cheesecake
*Lavender
*Cookies And Cream
*Chocolate
YUM YUM YUM! All of those flavors are making my mouth water! Is it making your mouth water too???
All About Their Macarons:
You've never tasted anything like a macaron until you've bitten into one. There's truly nothing like it. With a light crunch on the outside, followed by a soft, melt-in-your-mouth, flavor-filled interior, macarons are unexpected – in the best way. You definitely won't forget your first macaron.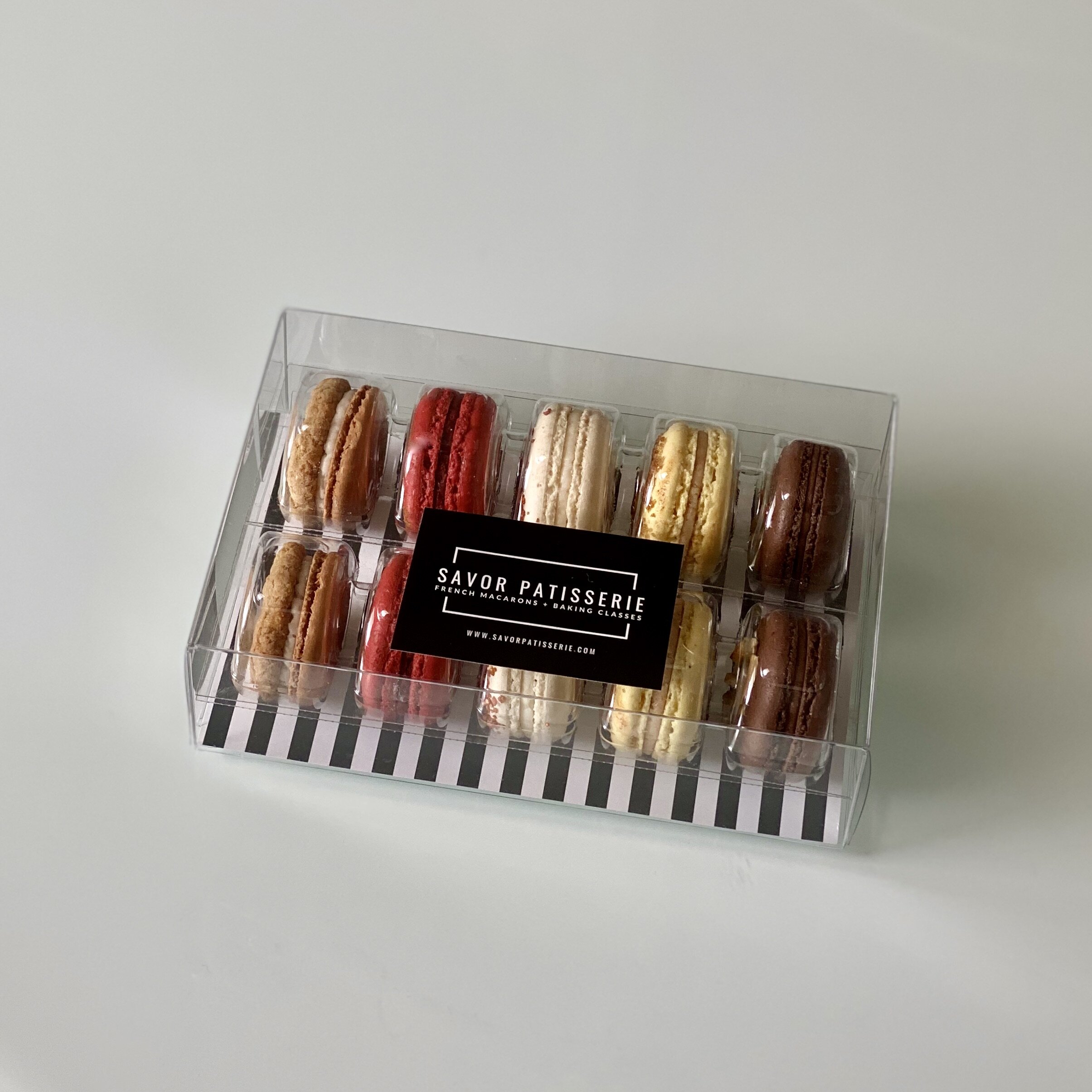 How Are Their Macarons Different?
First, they're gorgeous. All macarons are cute, but they like to go a step further and hand-decorate each one so that they are as pretty as they can bee. Speaking of bees, have you seen their honey macaron? Whether in their graphic, black and white gift boxes or on their own, their macarons are Instagram-ready and make perfect gifts! I would have to agree with this!
Second, they actually taste like something. Some macarons have disappearing, subtle flavors that aren't easily distinguishable. Not theirs. They start with a perfect ratio of almond flour, egg whites, and sugar, and then add ample flavor to both the shells and the filling, giving their macarons a bold taste that doesn't leave you wondering which one you just ate. And, they use real, organic ingredients (hello, actual pistachios!) as much as they can, and aren't interested in taking shortcuts with their flavors.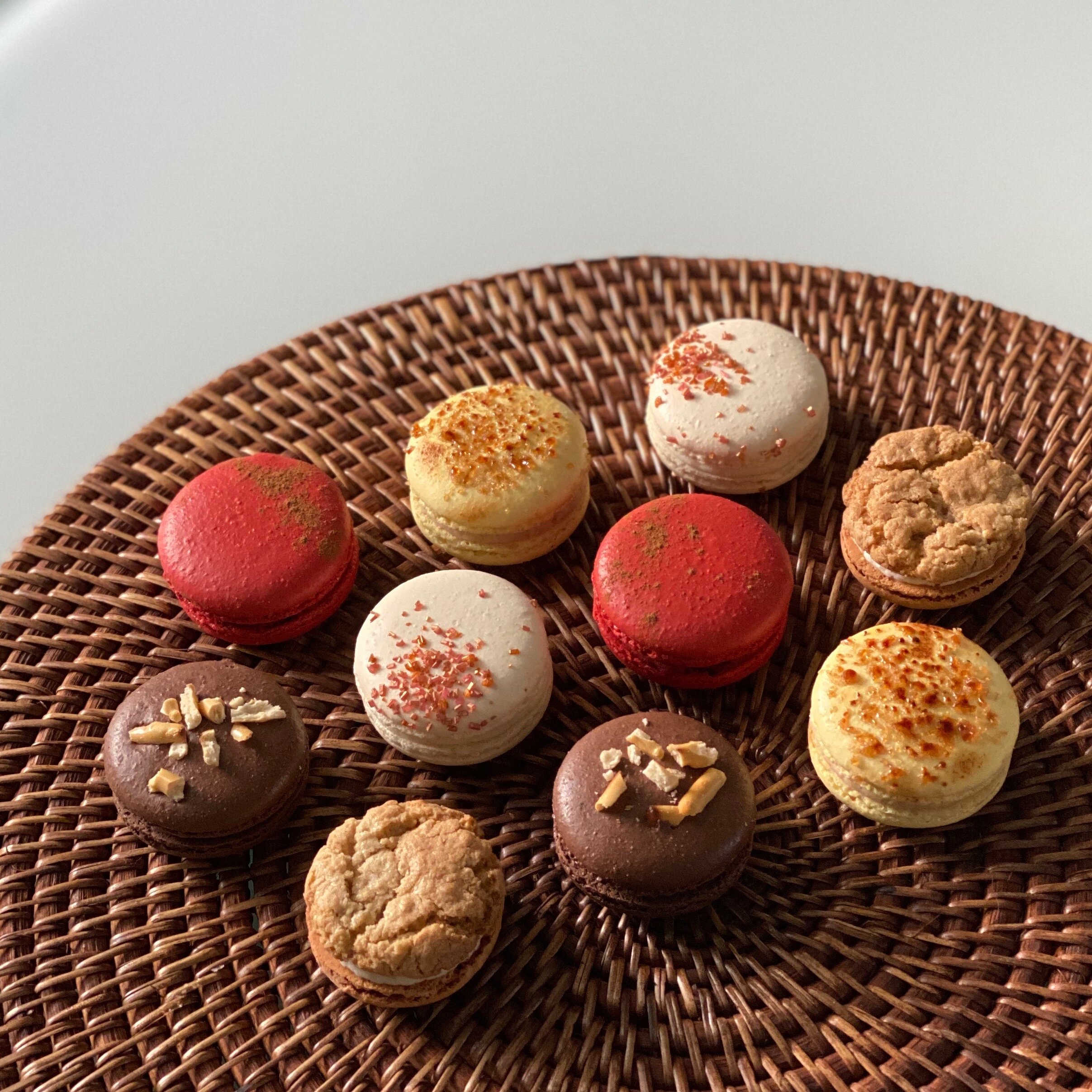 Lastly, size matters. Their macarons are larger than normal, and they like it that way. Still coming in at under 100 calories each, they make sure you get the best bang for your buck and let you indulge without the usual dessert guilt. Macarons aren't nearly as much of a calorie commitment as, say, a cupcake or a bowl of ice cream, which means you can have more than one! Plus, they're made with almonds, so they're pretty much healthy, right?
Selecting The Box Size
You can get different sized boxes. You can get a box with 5, 10, 15, 20, or 25! The box starts at $12 for 5 and goes on up from there. These would make the perfect gift for that macaron lover in your life or anyone who loves a good sweet treat!
The Best Seller Box
This box contains all 5 of our all-time best-selling macaron flavors! Each box will have equal amounts of the following flavors:
Salted Caramel

Cookies 'n Cream

Red Velvet

Birthday Cake

S'mores
*All flavors are gluten-free!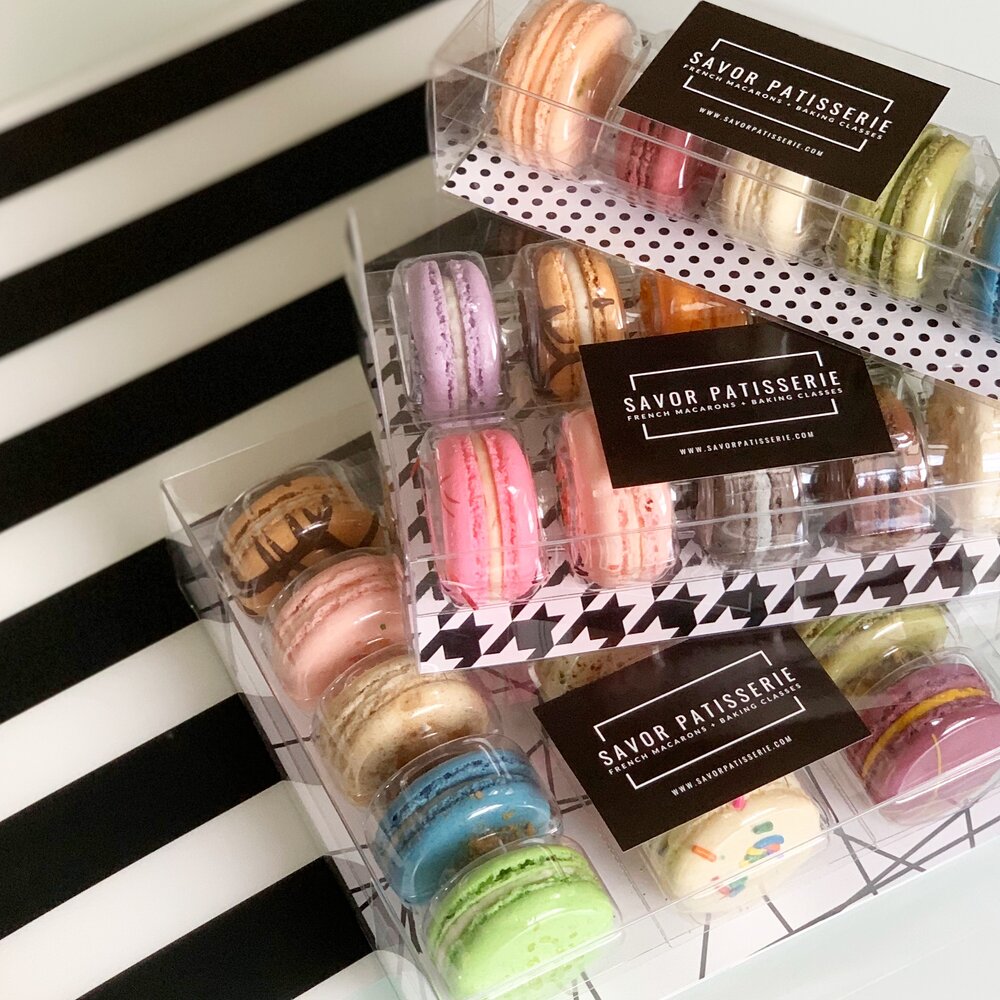 Shipping Details: Macarons Delivery
They offer nationwide shipping. Orders will be baked, packed, and shipped on the next Monday, Tuesday, or Wednesday after they receive the order. Shipping is through USPS or UPS, and due to Covid-19, these carriers can no longer guarantee delivery dates. They only ship on these 3 days to ensure orders arrive fresh before the weekend! Orders are not shipped same-day. So, if you want to order these for the holidays, this will give you an idea of their shipping times! So awesome that you can get your macarons delivered to your door!
Shop!
Of course, you want to browse Savor Patisserie's macarons before you make a decision on purchasing, I get it! Visit them online at https://www.savorpatisserie.com/! Macarons Delivery is awesome!
PIN IT