Hello readers! Kristin from Marie Callender's® here… I am excited to be writing for Kim today! Let me tell you a little more about me. I am live in Chicago with my Bichon Frise, Joey. When I am not binging onNetflix or jogging around the neighborhood, I am cooking one of my favorite recipes or something new from Pinterest.
Just in time for fall and the beginning of October, I have an easy salted caramel apple pie recipe for you. After a day of apple and pumpkin picking post-horseback riding in Champaign, IL last weekend, my friends and I decided to bake. How perfect—we had freshly picked apples to use! We savored our slices with some hot cider and an Audrey Hepburn marathon. Apple pie is always a good idea. Happy baking!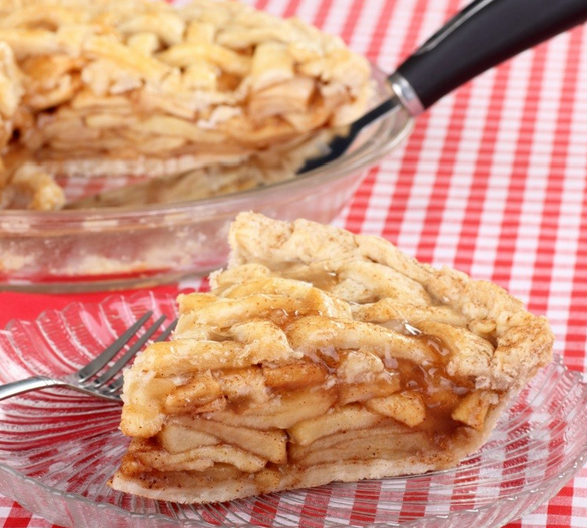 Easy Salted Caramel Apple Pie
Ingredients
1 Marie Callender's® Pastry Shell
Salted caramel sauce
For Pie Filling
5 apples, peeled, cored and sliced ⅛-inch thick
¾ cup lemon juice
⅔ cup granulated sugar
3 tablespoons all-purpose flour
1 teaspoon ground cinnamon
½ teaspoon ground ginger
½ teaspoon ground cardamom
⅛ teaspoon ground nutmeg
For Criss-Cross Top Crust
1 1/4 cups unbleached all-purpose flour
1 tablespoon sugar
1/4 teaspoon salt
1 stick cold unsalted butter, cubed
3 tablespoons cold water
Directions
1. Preheat oven 350° F.
2. Place pastry shell in a 9 inch pie dish. Refrigerate until ready for use.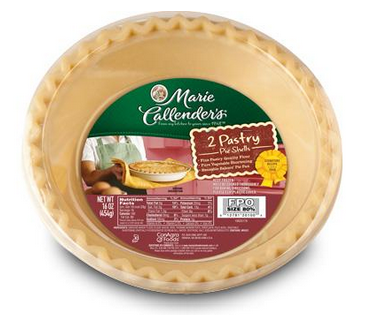 3. Stir flour, sugar and salt in a stand mixer. Add butter. Mix on medium-low speed until butter
pieces appear smaller than peas. Add water and mix on low speed just until the dough appears
smooth.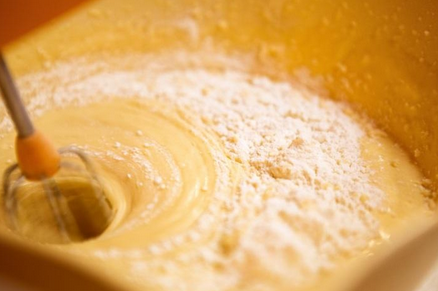 4. Move the dough to a lightly-floured flat surface. Flatten dough into a disk using a rolling pin.
Keep rolling dough until the disk is at least 12 inches in diameter and about 1/8 inch thick. Set
aside.
5. Add apple slices to a large bowl and evenly pour lemon juice.
6. Mix sugar, flour, cinnamon, ginger, cardamom and nutmeg in a medium bowl. Add mixture to
apple slices and toss well.
7. Spoon 1/3 the apple mixture and add to pastry shell. Drizzle salted caramel sauce. Repeat to
create two more layers. Set aside.
8. Cut the dough disk into long ½ inch strips.
9. Weave strips on top of apple pie to make checkerboard pattern.
10. Bake pie for 60 minutes, or until the edges of the crust start to brown. Let the pie cool before
serving. Enjoy!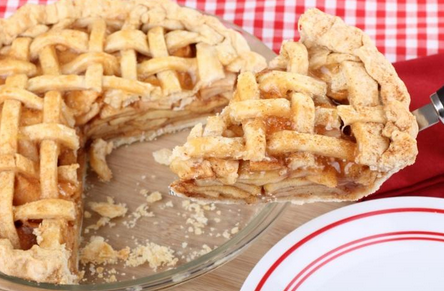 That's it! This salted caramel apple pie satisfies my fall season cravings. I recommend enjoying a slice with a cup of hot tea or a latte!