*Product received. Opinions are my own. This post includes my affiliate links.
Growing up, I just loved watching Alice In Wonderland. You know, the old version. The cartoon one was just amazing and I loved watching Alice shrink and then get really big. Was so fun to watch!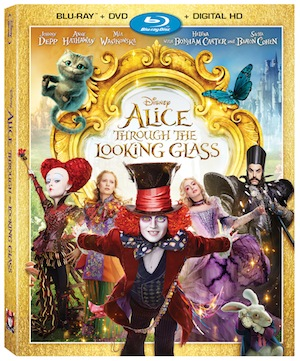 I still enjoy that movie and always will. My kids like watching it too. Now though, there are newer movies and versions of Alice and Wonderland. They are quite different, I must say! But, anything with Johnny Depp is a bit different 😉 He likes to play those 'out there' roles!
We received Disney's Alice Through The Looking Glass and my goodness, this is some movie. So action packed and holds your attention until the end. With all the weird creatures and storyline, you would be crazy to not be interested in this movie.
About Alice Through the Looking Glass
Disney presents the spectacular live adventure Alice Through the Looking Glass. The all-star cast from the 2010 blockbuster is back with Johnny Depp as the Mad Hatter who's desperately searching for his family; Anne Hathaway as Mirana, the kind, mild-mannered White Queen; Helena Bonham Carter as Iracebeth, the short-tempered, big-headed Red Queen; and Mia Wasikowska as Alice, the heroine at the heart of the story.
Sacha Baron Cohen joins the ensemble as Time, a magical being that is part human, part clock, and the late Alan Rickman—to whom the film is dedicated—is the voice of Absolem, the blue Monarch butterfly who metamorphosed from the blue caterpillar "Alice in Wonderland." Bring the journey home October 18th on Digital HD, Blu-ray™ and Disney Movies Anywhere.
A Stitch in Time: Costuming Wonderland

– Three-time Oscar®-winning costume designer Colleen Atwood ("Alice in Wonderland," "Memoirs of a Geisha") explains how costuming helps shape the curious characters of Underland and reveals hidden Easter Eggs within the cast's ornate outfits. 

Music Video: "Just Like Fire" by P!nk

– "Watch this madness, colorful charade" in P!nk's music video for "Just Like Fire," the hit song featured in "Alice Through the Looking Glass" that powered to the top 10 on Billboard's Hot 100.

Behind the Music Video

– Go on set with P!nk for production of her "Just Like Fire" music video, featuring fantastical imagery, aerial stunts, Underland character cameos, and guest appearances by P!nk's family.

Behind The Looking Glass

– Jump back and forth through time during this in-depth look into the making of "Alice Through the Looking Glass," hosted by director James Bobin.

Time On…

– Delight in this discussion with the unpredictable and witty Sacha Baron Cohen who plays Time, the keeper of the Chronosphere, a metallic sphere that powers all time.

Alice Goes Through the Looking Glass: A Scene Peeler

– View a side-by-side comparison of raw production footage and final scenes, as Alice enters Underland through a magical looking glass.

Alice Goes Through Time's Castle:  A Scene Peeler

– View raw production footage alongside final scenes, as Alice enters Time's castle of eternity.
Characters of Underland

– Get to know the quirky and colorful supporting characters in Underland, such as the tubby twins known as the Tweedles (Matt Lucas) and Absolem (Alan Rickman), the blue caterpillar turned blue Monarch butterfly.

Filmmaker Audio Commentary by James Bobin

– Director James Bobin delivers scene-by-scene insight into the creation of "Alice Through the Looking Glass."
Deleted Scenes with Director Commentary – Bobin introduces five never-before-seen scenes that didn't make the final cut of Disney's spectacular adventure.
A Stitch in Time: Costuming Wonderland
 *Bonus features may vary by Digital Retailer
 Disney's "Alice Through the Looking Glass" is a spectacular adventure, featuring the unforgettable characters from Lewis Carroll's beloved stories, in which Alice returns to the whimsical world of Underland and travels back in time to save the Mad Hatter. Directed by James Bobin, who brings his own unique vision to the visually-stunning world Tim Burton created on screen with "Alice in Wonderland," the film is written by Linda Woolverton and based on characters created by Lewis Carroll. The producers are Joe Roth, Suzanne Todd, p.g.a. and Jennifer Todd, p.g.a. and Tim Burton. John G. Scotti serves as executive producer.
 "Alice Through the Looking Glass" reunites the cast from Burton's 2010 worldwide blockbuster phenomenon, including Johnny Depp, Anne Hathaway, Mia Wasikowska, Matt Lucas and Helena Bonham Carter and introduces new characters played by Rhys Ifans and Sacha Baron Cohen. Also back are the talented voices of Alan Rickman, Stephen Fry, Michael Sheen, Timothy Spall, Barbara Windsor and Paul Whitehouse, who are joined by Matt Vogel.
 Four-time Oscar® nominee and GRAMMY® winner Danny Elfman ("Milk," "Big Fish") returns to compose the film's score, which includes melodies from 2010's "Alice in Wonderland" and additional themes inspired by both new and developing characters. The film also features "Just Like Fire," an original, hit song performed by GRAMMY®-winning singer/songwriter P!nk.
Buy
You can purchase Alice Through The Looking Glass online at Amazon.com. It retails for $22.99.
Win
One person is going to win Alice Through The Looking Glass on Blu-ray DVD and one person will win a DMA code! Yay!
Rules
Contest is open to US, 18+. Giveaway will end on November 9, 2016 at 11:59 PM MT. Winner will have 48 hours to confirm their win, after I email them, or a new winner will be chosen. I am not responsible for lost or stolen mail.