Elizabeth Arden PREVAGE. Oh ya! You know I love me some Elizabeth Arden!! Who on Earth doesn't? If you don't listen up… Elizabeth Arden has some awesome products, believe me, I have tried them! Every time I get Elizabeth Arden products in my hand to test out, I end up seriously falling in love with them. No lie.
Elizabeth Arden PREVAGE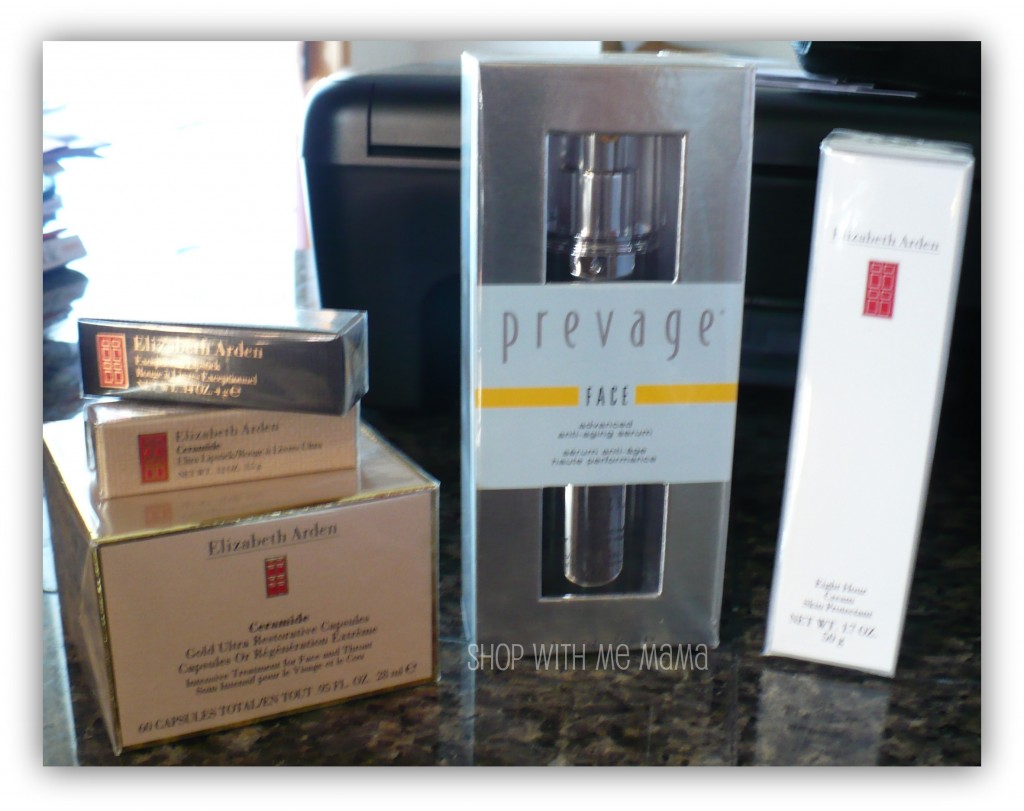 Elizabeth Arden was founded in 1910 on Fifth Avenue in New York City, and is one of the most recognized names in beauty and is known around the world for quality, glamour, product innovation, and its iconic Red Door. Elizabeth Arden's globally recognized portfolio includes skincare, color, and fragrance products, PREVAGE® anti-aging formulas, the celebrity fragrance brands of Elizabeth Taylor, Mariah Carey, Britney Spears, Hilary Duff, and Usher; the designer fragrance brands of Juicy Couture, Alfred Sung, Badgley Mischka, Bob Mackie, Geoffrey Beene, Halston, John Varvatos, Kate Spade, and Rocawear; the lifestyle fragrance brands Curve, Giorgio Beverly Hills, and PS Fine Cologne. Just thought I would let you know and give you a bit of EA's background! Now ya know!
"To be beautiful and natural is the birthright of every woman." — Elizabeth Arden, 1916
I received a wonderful goodie package from Elizabeth Arden PREVAGE. I LOVE days like that 🙂 Since I am totally into beauty and skincare, this was so neat for me 🙂
I received the wonderful goodies pictured above (minus a gorgeous red lipstick that I gave to my MIL because she was in love with it!!). I received:
*Ceramide Gold Ultra Restorative Capsules Intensive Treatment for Face and Throat
*PREVAGE® Face Advanced Anti-aging Serum, 1.7 fl. oz.
*Eight-Hour Cream Skin Protectant, 1.7 oz
*Exceptional Lipstick: Red Diamond
*Ceramide Ultra Lipstick: Rouge
*Color Intrigue Effects Lipstick: Poppy Cream
Can you see why I was super excited to receive this goody box in the mail??! Ya!!
The first thing I had to use was the Prevage Face. My face has been so dry since using Proactiv Solutions daily, and it really needed a pick-me-up! I love the light lotion serum of this stuff. It blends into my face very well, leaving it super soft and not greasy at all. This is great for me, because I do get acne still, UGH. Since using this product my face is no longer super dry and my face is very smooth feeling. I have been using it for about 2.5 weeks, maybe more.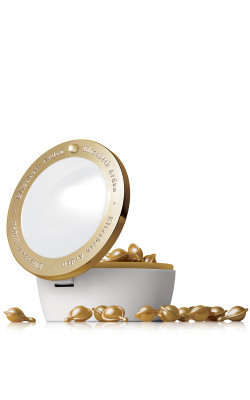 The Ceramide Gold Ultra Restorative Capsules are very unique. I don't think I have ever used a capsule-type skincare product. There is a single dose of goodness in each and every little gold capsule. So, you don't overuse the product, which I thought was really cool. These little capsules help strengthen your skin's barrier against the visible signs of aging.
It also improves your skin's clarity and tone. They are fragrance-free too, which is nice since my face is super sensitive to fragranced things. I just twisted off the little top part of the capsule and smoothed the serum over my face and throat. My skin drank this in big time, leaving my skin super soft and smooth feeling and looking. I then followed with my normal facial moisturizer.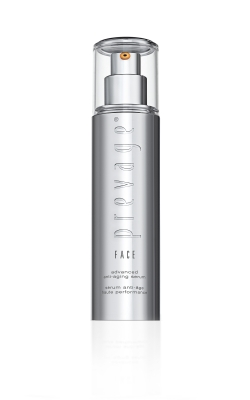 The Eight-Hour Skin Protectant is nice. This soothes, restores, and calms away any skin irritants. This is kind of an all-in-one cream. It can help soothe minor burns, scrapes, and minor skin irritations. It also helps calm skin and makes it really soft and smooth. This is something you would want to keep in your purse! Why? Because you can also use it on your eyelids, cheekbones, and lips for a glossy look! See, I told ya, all in one cream 🙂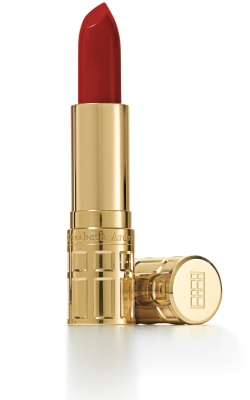 The lipstick colors are a bit too bold and red for me, so these will be going in my sister's gifts for Christmas. They wear red colors. Me? Not so much 🙂
Buy
I know you would love to buy Elizabeth Arden products, who wouldn't?! So, just visit EA online at http://shop.elizabetharden.com/