Oh my goodness, my kids love playing fun, interactive games on their tablets. Heavens, I love playing games on my iPhone! That is how I unwind at night.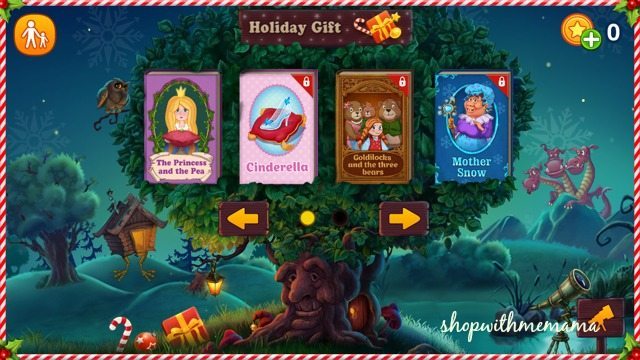 There are so many great games and apps out there, there really is. There is too many to count! But one I wanted to  introduce you all to, if you have not heard of it before, is the Fairy Tales 3D Interactive Pop-up Books! Now this was just released to the Apple App store a few days ago, so now you can get it on your Apple devices! Yay! And of course I downloaded it right away! Too cute not to!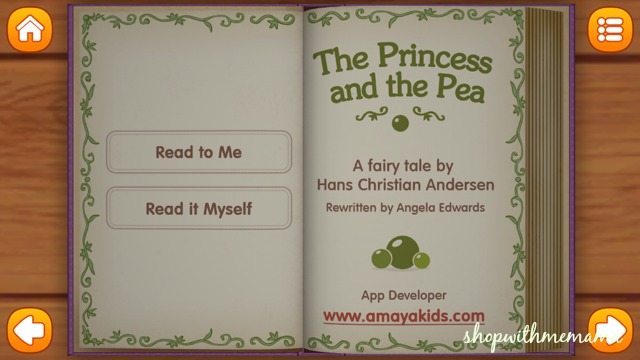 I found it right away in the Apple App store and it was Free to download (woot!!) and in not time I had it downloaded and ready to play! I had to try it out first. Once downloaded, it then has to load some other stuff, so it takes a few minutes. You can also download this in Google Play and in the Amazon App Store!
This game is made for kids ages 5 and under, so me and my littlest one played this together. "Fairy Tales" is a collection of 8 classical fairy tales in new 3D, interactive, pop-up books. When downloaded, this app includes a $7 holiday gift, where you can select 3 free books of your choice! Any user who downloads the app before Monday 29th will get this special $7 bonus! I thought that was so neat!
After downloading this game, I was brought to a page where I can choose between 8 Fairy Tale Interactive Pop-up Books. Of course only one was 'unlocked' the rest were 'locked'. You can purchase those with gold coins, if you want to see them. What I liked about this though, was that in order to purchase the gold coins, you have to put in what they ask you to put in (kind of like a password), so that your child cannot just make a purchase without you by them!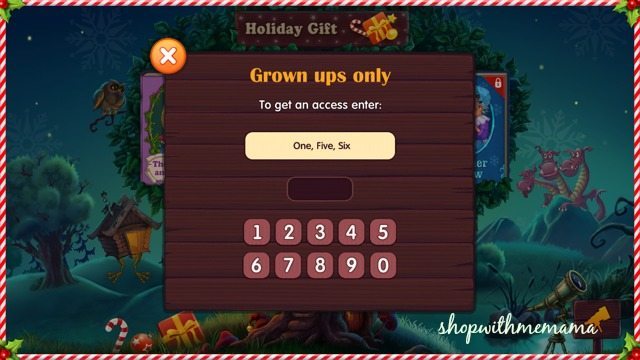 The one interactive pop-up book that was unlocked, was the Princess and the Pea. Me and the littlest one sat down to check it out. This has really pretty music to it. My baby loved that right away 🙂 You can choose to read the book yourself, or have it read to you. We choose the latter 🙂 I wanted to enjoy it too!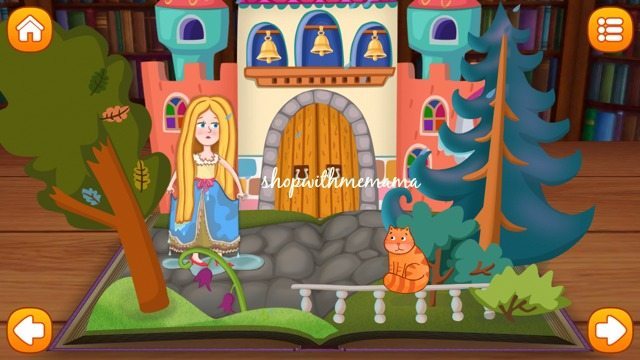 Once you decide who you want to read the book, you simply press the arrow and it turns the page. It shows you the contents of the book and you press the arrow again. Right away it starts reading the book for you! When it is done reading the pages, it stops and you press the arrow again, to turn to the next page like you would an actual book in your hand.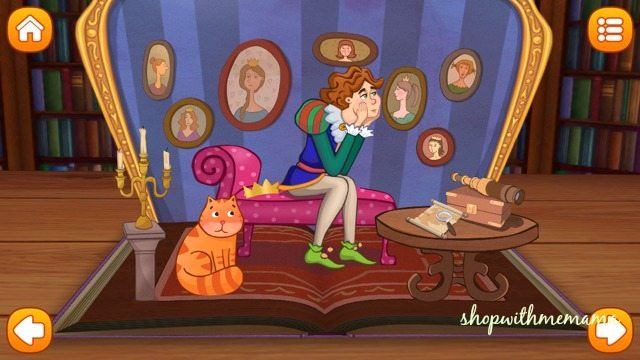 It is interactive, because on certain pages, it asks you to touch certain objects. It was funny to click on the portraits when asked too. The prince will tell you a bit about each princess in the portrait. He can be funny when explaining each of them, LOL. You just have to hear it 😉 Then it will go back to the story. So far, we are really like this!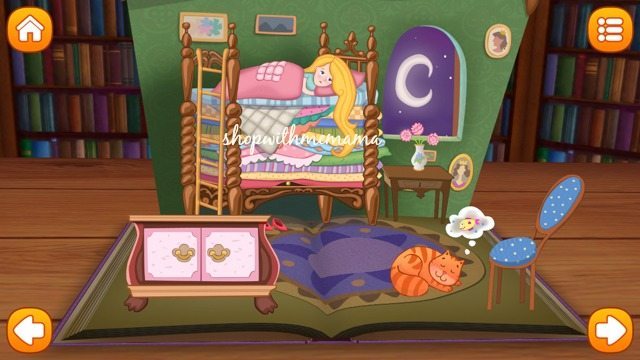 I also like that if needed, you can go back to the last page you were on. So you can back track if necessary 🙂 When the princess comes to the castle, they give her their best room to stay in. But, before the princess stays in the room/bed, the lady puts a pea under her mattress. You have to help the lady 'find' the pea to put under the mattress because she lost it! That was fun to help her find 🙂 When you find the pea ( I will not tell you where it is hidden!!),  you then have to click on the blankets to help make the bed that the princess will be sleeping in. So fun!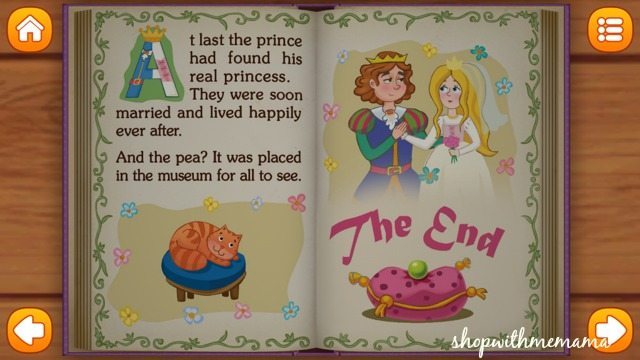 When the book is over, it gives you an option to 'rate' the book that you just read. If you do, you will receive 300 gold coins! Nice way to accumulate your gold coins so you can purchase other interactive books!!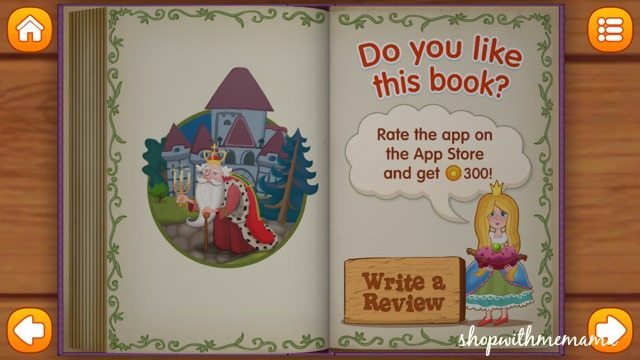 All in all, this is a really fun app. My little baby boy was by my side the whole time this was being read. I had him (with my help of course!) tap the interactive things in the story and he loved it! I can't wait to check out the other books!
Don't forget!!
Any user who downloads this app before Monday 29th will get the special $7 bonus where you can select 3 free books of your choice! Going to get ours now!!
Download!
After reading my review, do you think you will download the Fairy Tales ~ 3D Interactive Pop-up Books?