"Disclaimer: I am a member of The Social Media Panel, LLC. who was given the opportunity to review this product. However, the brand or company has not influenced me in any way to provide any type of review other than my true and honest opinions. I am disclosing all information provided in this review according to the information provided in Federal Trade Commission's 16 CFR, Part 255: "Guides Concerning the Use of Endorsements and Testimonials in Advertising." 

When I was small, we obviously did not have computers, or we did, but they were not in our home. The only time we would have a computer in our home was during the holidays, when my dad would borrow one from his work! We all took turns playing it (me and my SIX other siblings!). We would play the Oregon Trail and gosh it was fun!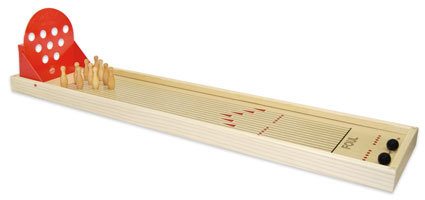 Besides the holidays and my dad bringing home a computer for us to play on, we would play board games. I have VERY fond memories of playing board games with my siblings and dad at the 'card table' in the front room! We had some LONG nights of playing games there! And, on New Years Eve, we go to my parents house and on that SAME card table, we will play board games. I love it!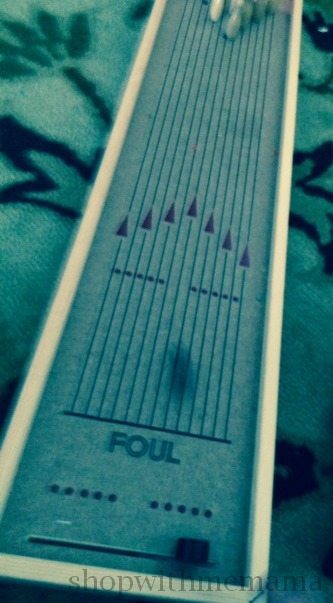 Now that I am a parent, I have bought MANY games for me and my kids to play! Not only board games, but other family friendly games to enjoy with my littles. One game that came recently for us to play as a family is the Bowl-A-Mania from Carrom!
This arrived and there was no assembly really required other than setting it up to play! No tools required! That is my kind of setup 🙂 It comes with ten hardwood pins, two bowling balls, an easy-to-use pin setter and score pad! It is all nice hard wood and I can tell this game will last a VERY long time. The play surface has screen printed graphics using lead-free ink, which is very nice!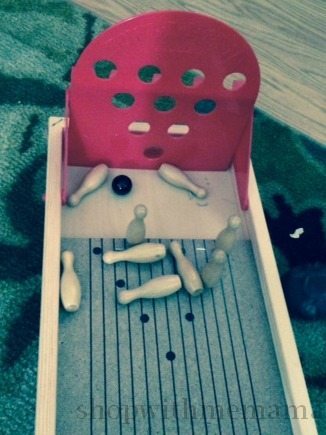 This is a very fun, table top bowling game, great for the whole family. It says on the site that this is not a game nor should it be played by anyone 13 ages or younger. But, my daughter, who is 6 and son who is 8 and me, had a blast in a half playing this for an hour or so the other night. So, maybe it says that because, without adult supervision, since it is such a nice game set, it should be put up? That is my thoughts on it. And definitely should not be played with by little ones! There are the balls that could be choking hazards. So pay attention to that if you have a little one, like I do!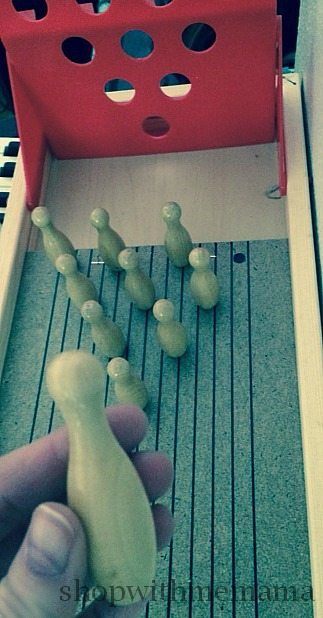 Once you have everything set up, the pins and bowling balls where they should be, you then can start the game! You put one of the bowling balls in the handy dandy  launcher that sends the ball down the lane! And man does that ball go hard and fast! So much FUN.
 National UnPlug Night on October 16th
Did you know that families who play together, stay together? It is true! That is why I always try to make time for my little ones and play games with them, like my parents did with me and my siblings! Such fond memories of those times and I hope that my kids will remember the fond times we have, as a family, on our game nights!
Did you also know that on October 16th it is National UnPlug Night? That means,  you unplug from your computers, laptops, phones, tablets and whatever else you are usually plugged into, and you spend quality time with your family! Pull out those board games and family friendly games and just have some old-fashioned family time together! The dang computer can WAIT! Family cannot and should not have to wait! Kids are only little for such a SHORT time!!
I certainly don't want my kids remember me always on the computer, shooing them away. That would break my heart into a million different pieces! I want my babies to remember mommy WANTING to be with them, wanting to listen to them and wanting to be near them. I treasure each and every second I have with my sweet miracles and I always want them to know how important they are to me and their daddy!
 Buy
You can purchase the Bowl-A-Mania from Carrom, online. It retails for $62.00.
Connect with Carrom on Twitter and Facebook!
Do you and your family unplug once in a while? If you do, what activities do you engage in?