Congrats to Bernie Wallace
*Product received. Opinions are my own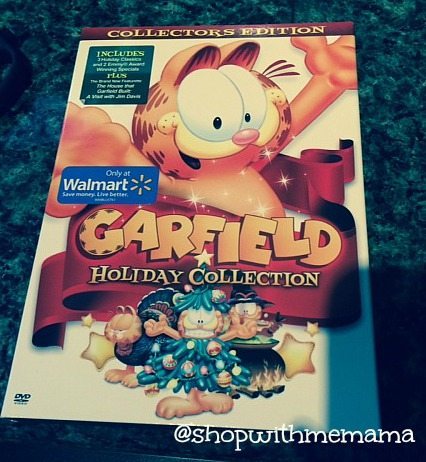 Oh how I adore Garfield and his gang. I used to watch Garfield ALL the time and still do, on BOOM Network. But, Garfield cartoons are so different now. If you watch the Garfield shows now, you know what I mean. I like the old Garfield better!!
So, I was excited to get the Garfield's Holiday Collection (Available on DVD on November 4th, VOD and iTunes on November 11th), to check out with my babies. It is the original Garfield cartoons, not the new ones. SO excited!!!! Watching this collection, really brought back awesome memories for me and to be able to watch these with my littles, was super cool!
This Collection Includes:
Garfield Halloween Adventure: Finds the portly hero and airhead-sidekick Odie the dog scrounging through owner Jon's attic to find perfect costumes, then encountering ghosts and ghoulies that seem a tad authentic.
Garfield on the Town: Garfield escapes from the car on a trip to the vet and finds the place where he grew up.
A Garfield Christmas: Garfield, Jon, and Odie go to Jon's grandmother's house for Christmas, where Garfield finds a present for Grandma.
A Garfield Thanksgiving: Finds Jon with a love interest– a veterinarian who orders Garfield on a diet–and then comes for Thanksgiving dinner!
Garfield In Paradise: The Garfield gang is in Hawaii with a 1957 Chevy.
Buy
You can purchase this online at Amazon.com. It retails for around $14.99
Win
One person is going to win a copy of Garfield Holiday Collection! Yay!
How?
Easy! Just use the RC form below. GL!