This post is all about Gifted Learning Flash Cards For Pre-K & Kindergarten! Do you have a Pre-K or kindergarten-aged child at home? One way to get your child ready for school is by using the educational gifted learning flashcards from Testingmom.com!
My youngest was in preschool last year and learned quite a bit so I am thankful for that. However, I really wanted to help prep him for the school year ahead. Since summertime is usually a time to unwind and not think about school, I wanted to school him a bit right before summer ended and school started. So, I am using the gifted learning flashcards, and everything my youngest learned in preschool is refreshed and helping him prep for Kindergarten.
*This post includes my affiliate links.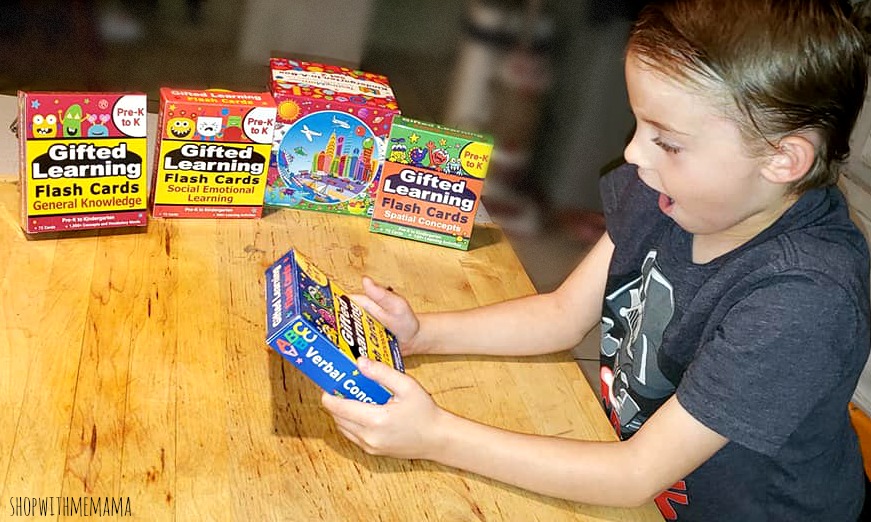 Gifted Learning Flash Cards For Pre-K & Kindergarten
Since receiving these gifted learning flashcards last week, I have been using them with my son who is in elementary school every night after dinner. We sit down at the dinner table and we have some one-on-one time together. My son actually looks forward to this time we have together.
I really like that these gifted learning flashcards are laminated so that they won't wrinkle or get ruined with use. If they get dirty you can wipe them off with a damp rag. I also like the fun characters on the cards, and so does my son.
Most of these cards have multiple questions on them, puzzles, and fun activities with varying difficulty levels. I can easily track my child's progression. I use a notepad to keep track of what he has learned and what he needs more help with.
These are gifted learning flashcards for kindergarten-aged children. It includes verbal concepts, general knowledge, spatial concepts, and social and emotional learning.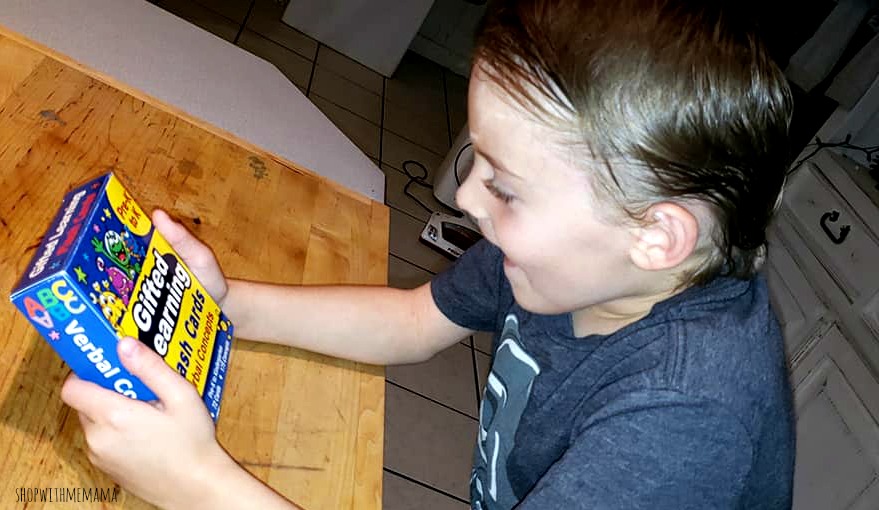 These Gifted Learning Flash Cards Teach:
*GATE, Kindergarten Readiness and achievement test preparation for tests such as OLSAT, CogAT, NNAT, ITBS (IOWA), WPPSI, Stanford-Binet, AABL, Woodcock-Johnson, TerraNova, KBIT, and more!
*These cards will strengthen your child's abilities in these areas: math reasoning, counting, adding, subtracting, relativity, word problems, simple measurement, verbal and non-verbal thinking, analogies, patterning, sequencing, classifying, creative thinking, working, short and long-term memory, listening, paying attention, concentration, focus, and more!
*Not just for students applying to gifted programs – these flash cards cover concepts all children are expected to master for Pre-K to Kindergarten readiness and success.
**Important note: the set contains THE SAME TestingMom.com Verbal Concepts, General Knowledge, Spatial Concepts, and Social Emotional Learning Pre-K to K flashcards that are sold separately.
Set Includes:
*4 sets of cards — Including Social Emotional Learning, Spatial Concepts, General Knowledge, and Verbal Concepts — over 250 flashcards and 1,600+ questions, puzzles, and learning challenges for hours of offline fun!
The Kindergarten-In-A-Box, Set 2 includes:
General Knowledge Cards

Social-Emotional Learning Cards

Spatial Reasoning Cards

Verbal Concepts cards
Over 1,600 Questions on over 250 Flash Cards. Not just for students applying to gifted programs – these cards cover concepts all children are expected to master for Pre-K to Kindergarten readiness and success.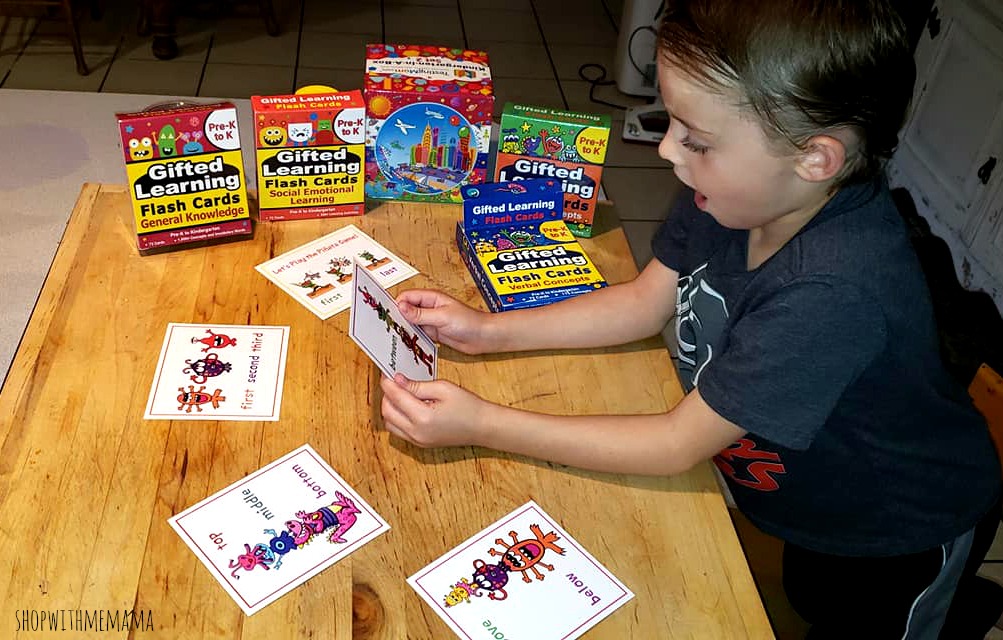 The Four Sets Are As Follows:
Verbal Concepts
Perfect for teaching your child essential vocabulary, such as first/last, top/middle, below/above, etc.

Improve your child's following directions, listening, and verbal skills.

Learn temporal, spatial, quantity, and quality vocabulary.

Apply concepts from these cards to the world around you – your home, neighborhood, local shops, and town.
My son and I have a lot of fun with this set. He enjoys learning how to follow directions using these cards and listening. See? These things can be FUN for kids!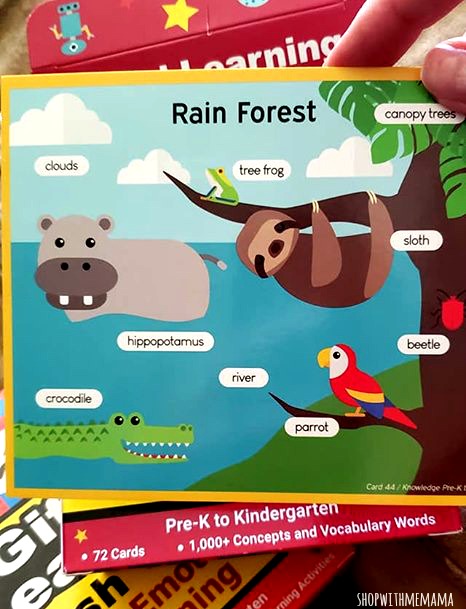 General Knowledge
Improve your child's knowledge of information, comprehension, vocabulary, and school readiness.

Inspire children to learn about the world around them. Take trips to the planetarium or museum to further complement what is on the cards.

Bright, fun, playful cards that provide education at home or on the go.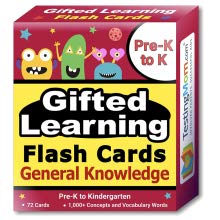 We went to a zoo last weekend and during this zoo trip, I had my son point out shapes and say the name of all the animals and what they eat. We both had a lot of fun doing this!
Spatial Concepts
Excellent for problem-solving, patterns, sequences, and visual analogies.

Learn common patterns and sequences your child will encounter throughout their school career.

Challenging questions that kids love to solve.

Great for practice for the NNAT Test, CogAT Test, OLSAT, or NYC Gifted and Talented Test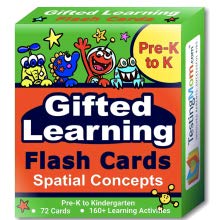 Whenever we are out and about, I have my son look for fun patterns and sequences. He also will look for problem-solving like what does he do when his shoe comes untied? Or, if we have to wait in line but he has to use the restroom? How would he handle those situations?
Social-Emotional Learning
Great conversation starter for you and your children.

No right or wrong answers; teach your child to identify and respond to different emotions by discussing different situations.

Develop emotional intelligence and the ability to remain calm, manage behavior, and make friends.

Bright, colorful, and friendly characters that your child can relate to.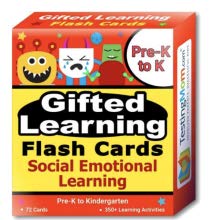 These cards help my son to better understand how to handle himself in stressful situations. Of course, he already knows that if he gets upset or angry, how to handle and diffuse the situation, but these cards make learning this fun!
We also enjoy using these gifted learning flashcards on long road trips. When we went to the zoo last weekend, this was a great way for my youngest and daughter to stay entertained. And, they were learning too!
Tips & Tricks
Shuffle flashcards each time you practice.

Reward your child when they complete a difficult topic.

Look for teachable moments throughout the day that reinforces lessons taught by the cards.

If you see your child having problems with a certain card, put it aside and try it again later.
Take breaks between studying and reviewing.
Go outside and explore! Look for things outside! We love this free printable treasure hunt!
These Gifted Learning Flash Cards are great for teaching on the go and for everyday use. Since using these flashcards, my youngest has learned so much and it has only been ONE week. That is with everyday use and using during any long car rides. I highly recommend this bundle for Pre-K and Kindergarten-aged kids!
Shop!
You can purchase these gifted learning flashcards on Amazon.com. Learn more about the products by visiting Testingmom.com.