Congrats to Kim Keithline
*This is a sponsored post in partnership with One2One Network and goodnessknows® snack squares, opinions are mine.

We all know that every morning you should eat breakfast. I say should, because I have NEVER been a breakfast eater, ever. Even when I was little, I always just opted for a big glass of chocolate milk. That was it! I also did not choose the most healthiest snacks after school.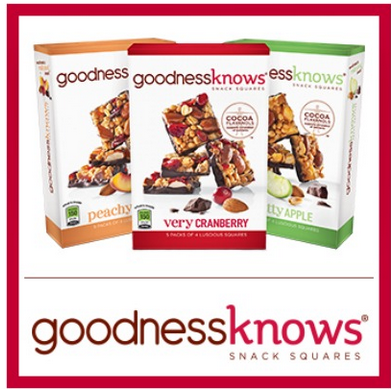 But, now that I have my own kids, I know how important breakfast is and snacks after school too. So, I  make them a healthy breakfast or give them healthy snack options in the mornings and after school.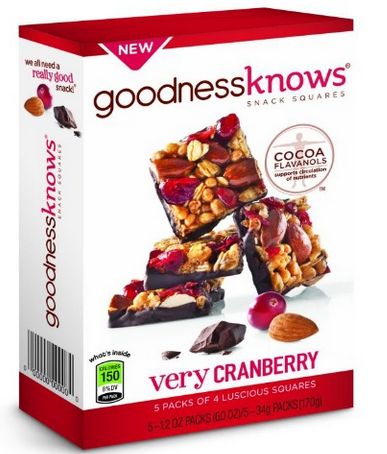 I was recently sent the goodnessknows® snack squares to try out with my kids. Since we have never tried or heard of them before, we were excited to try them out. I feel these would make a good morning snack as well as after school (and during lunch!) snack too. I enjoy them in the mornings.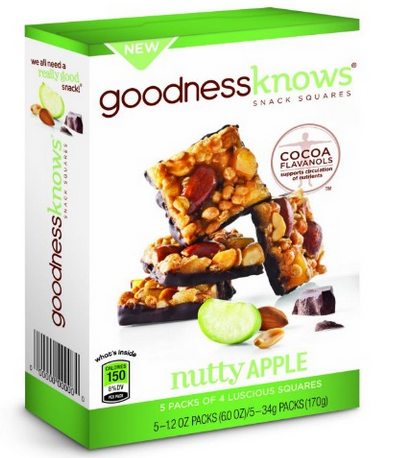 These are made with tangy fruits, crunchy nuts, and yummy chocolate, such wonderful foods brought together to create an amazingly gratifying snack. Select cocoa beans are uniquely handled to retain cocoa flavanols, which help support the healthy circulation of nutrients and oxygen in the body! So, I give my kids a choice to eat these in the mornings, when they are not really hungry for the other foods I am offering. These are also great for snacks during the day. I will also throw one or two in my purse/diaper bag, if we are going to be out and about for a while.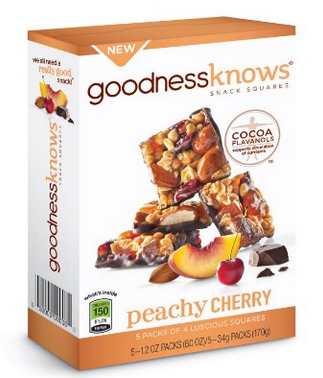 My kids really enjoyed the goodnessknows snack squares and so did I . I know that I will be buying more of these in the near future as they are really delicious!
The goodnessknows snack squares first launched in Denver and Boulder, and have quickly become a popular naturally nutritious snack (I can see why, they are really good!). Each four-square serving of goodnessknows® has 150 calories, 2-3 grams of fiber and 3 grams of protein. goodnessknows® snack squares are available in three delicious flavors:
Very Cranberry – Roasted almonds and rolled oats get a hint of natural sweetness from tangy-sweet cranberries.
Nutty Apple – Crunchy peanuts, roasted almonds and tangy apples are the perfect combination for snack time, a treat post-meal or during a favorite indoor or outdoor activity.
Peachy Cherry – Sweet peaches and cherries accompanied by wholesome roasted almonds and deep chocolate blend to create a satisfying crunch.
My favorite was the Nutty Apple and my kids both loved the Peachy Cherry!! The Very Cranberry was really yummy too and I think my hubby preferred that one. We all took bites off of each others! Wish there were more!!
Buy~
goodnessknows® is available at select stores in the Portland, Seattle, Denver, Boulder, and Dallas areas. You can find a list of participating stores close to you at www.goodnessknows.com by clicking on the store locator.  They retail for $1.49 per single serving (4 square serving) and $4.99 per 5-serving multipack carton.
Become a fan of goodnessknows snack squares on Facebook!
Win!
goodnessknows® is providing a gift pack that includes: a branded backpack, towel, and water bottle + a box of goodnessknows® snack squares, and coupon for $1.00 off a box of goodnessknows® snack squares. ARV of prize pack = $50! Yay!
How?
Easy! Just use the RC form below! GL!