*Products received. Opinions are my own.

It is nice to recycle and go a bit 'greener'. I try to teach my kids about the planet and things to do for our planet that will help it.
Then I found out about some green clean products that save money, time and the planet and was excited to learn I was going to be sent some to review! I told my kids all about the company, MyGreenFills and what they stand for. They thought it was neat to learn about!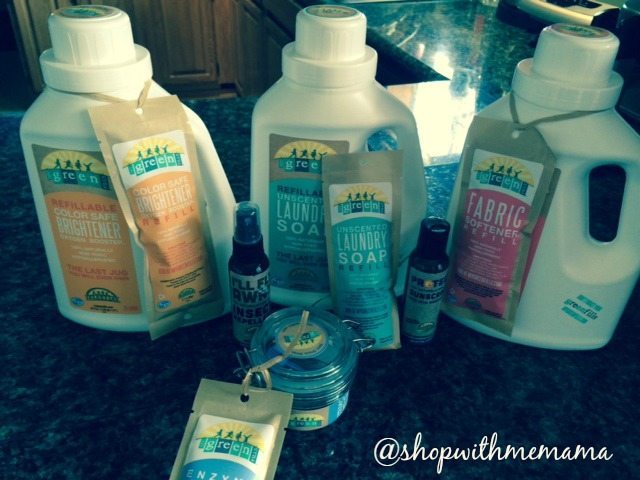 I was sent Selestial's MyGreenFills products. These products truly make laundry so easy by shipping detergent straight to your door! No need to go to the store to grab your detergent anymore. Going green has never been so simple!
When I received this box, I was alarmed at how light it was. I thought, oh no, they just sent me samples, not full-sized products! But, when I opened up the box, I was pleasantly surprised! I was sent a lot of product to try out!
Now the jugs or plastic laundry detergent containers come to you empty. They have a little packet attached to them and you simply open up the packet, empty it into the appropriate jug, add water and shake! That is it. Once your jug is empty (preferably before it gets empty!), you order another packet/s online and have it delivered right to you! Never again will you need another plastic jug, nor will you be throwing away that plastic jug and causing more trash on the earth. I loved this!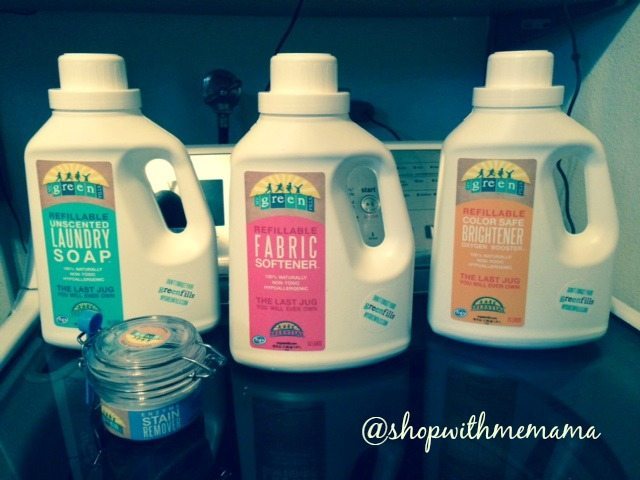 When using, be prepared to think, 'oh my, this is only water so how can it clean my clothes?' That is exactly what I was thinking! Then I did my laundry and tried it out a few times (using the laundry softener too) and my clothes came out just as clean as they do using other detergents. I have not tried it on any stains yet, but I am I will soon. There is no scent on my clothes though and I do like scent, but with my kids very sensitive skin, I cannot have scent anyways.
We are exposed to SO many  chemicals each day and the amount of plastic trash is insane. Selestial is changing the way you go green, for good! With the introduction of MyGreenFills.com, you can get safe, healthy, eco-friendly home laundry products delivered to your door, saving you time and money all while saving the planet too!
Green Clean Products that Save Money, Time and the Planet
Buy
You can purchase the products online at http://www.mygreenfills.com/.
What Are You Doing To Help Save Our Planet?