I love cooking and I wanted to share with you my GreenLife Cookware Review! We all know that cooking is an essential part of daily life. Whether you are a novice cook or a seasoned chef, having the right cookware can make all the difference in the quality of your meals. That's where GreenLife Soft Grip Non-Toxic Ceramic Nonstick Cookware comes in. This cookware is designed to be non-toxic, durable, and easy to use, making it the perfect addition to any kitchen. Below, you will find my greenlife ceramic cookware review!
*This post includes my affiliate links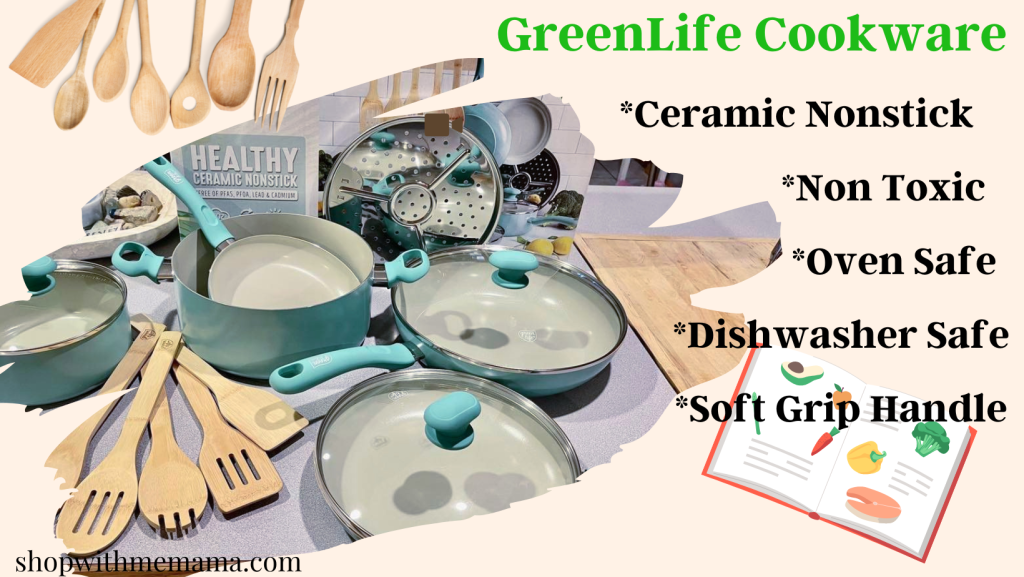 GreenLife Cookware Review
What I Received
I received the GreenLife Sandstone 14-piece cookware set in turquoise. It comes with the following cookware:
8" Frypan
9.5" Frying pan
11" High-wall frypan with lid
2QT Saucepan with lid
5QT Stockpot with lid
Stainless steel steamer
Bamboo solid spoon
Bamboo slotted spoon
Bamboo solid turner
Bamboo slotted turner
Bamboo fork

What is GreenLife Soft Grip Non-Toxic Ceramic Non-stick Coating Cookware?
GreenLife Soft Grip Non-Toxic Ceramic Nonstick Cookware is a line of high-quality cookware that is designed to be non-toxic and eco-friendly.
Features of GreenLife Soft Grip Collection
1. Non-Toxic Coating
The ceramic nonstick coating used in GreenLife Soft Grip Non-Toxic Ceramic Nonstick Cookware is free of toxic materials like PFAS, PFOA, lead, and cadmium. These chemicals are often found in traditional nonstick cookware and can be harmful to your health. With GreenLife cookware, you can cook your meals with peace of mind knowing that you are using a safe and healthy cookware option.
2. Durable Construction
GreenLife Soft Grip Non-Toxic Ceramic Nonstick Cookware is made with a hard-anodized aluminum body that is designed to last. This material can withstand high temperatures, making it perfect for everyday cooking. The cookware is also lightweight, making it easy to handle in the kitchen.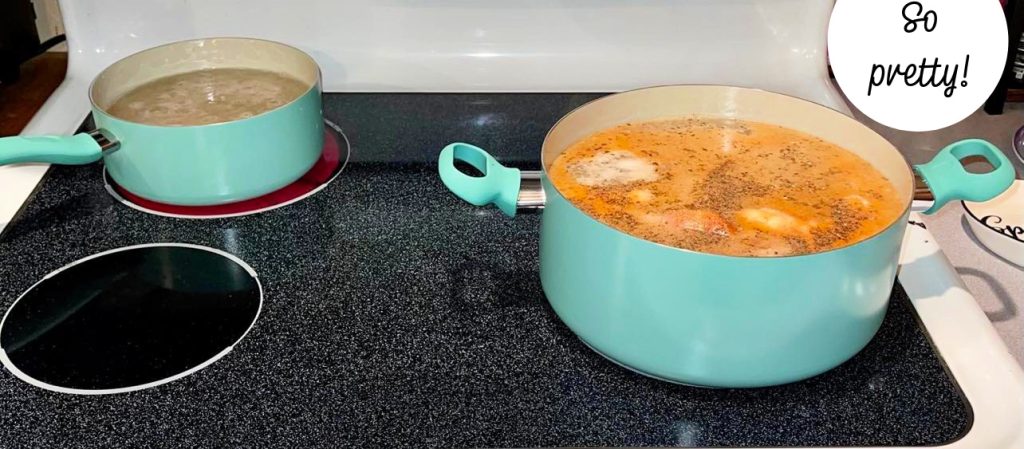 3. Soft Grip Handles
The Soft Grip handles on GreenLife ceramic nonstick cookware are designed to be comfortable and easy to hold. The handles are made from a heat-resistant material that stays cool to the touch, making it safe to use while cooking. The handles are also ergonomically designed to provide a secure and comfortable grip.
4. Oven Safe
GreenLife Cookware is oven safe up to 350°F. This means that you can use it to cook a wide range of meals, including those that require baking in the oven.
5. Easy to Clean
Cleaning your cookware can be a chore, but with GreenLife healthy ceramic nonstick cookware, it's a breeze. The cookware is dishwasher safe, making it easy to clean after each use. The nonstick coating also prevents food from sticking to the surface, making it easy to wipe clean with a sponge or cloth. I handwash mine only because they are SO easy to clean. The food literally falls off of them! I love the GreenLife Cookware set I received!
GreenLife Soft Grip Non-Toxic Ceramic Nonstick Cookware is an excellent choice for foodies looking for convenience without compromising their health or ecosystem, this cookware set is certainly worth considering!
This healthy cookware comes in turquoise and pink. I received the turquoise cookware set! They are so pretty and vibrant. I love them! These GreenLife pans also have other cookware sets with stainless steel handles if you prefer them like that. I prefer the soft grip handles.
Buy
You can purchase the GreenLife Soft Grip Non-Toxic Ceramic Nonstick Cookware on their website OR on Amazon.
I hope you enjoyed my greenlife cookware review! Don't forget to grab these ADORABLE and FREE kitchen printables! Now, I have a giveaway for you! Yay!!
Giveaway Time!
One lucky individual is going to win the GreenLife Soft Grip 16-piece Cookware Set in the winner's choice of color!
Rules
The contest is open to US 18+. The giveaway will end on March 6, 2023, at 11:59 PM MT. The winner will have 48 hours to confirm their win after I email them, or a new winner will be chosen. I am not responsible for lost or stolen mail. By entering this giveaway you give me permission to share your email with the sponsor.