Congrats to Cassie Dalgliesh
*Product received. Opinions are my own.

Ever since becoming a blogger, my back has been quite sore. I have never sat so much in my entire life! You can ask ANYONE of my friends who come over and hang with me, I never sit down when I am not blogging.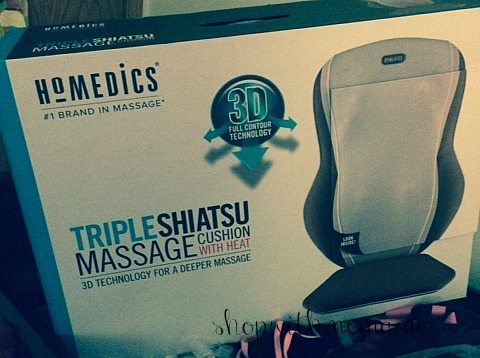 My friends all sit at my table or in my living room and here I am, standing up the whole time! Why?  Because I sit all day doing my blogging work and I just do not want to sit any more! When I am done with my work, I am up and keeping super busy!
But, with lots of sitting, my poor back and neck take a huge toll and are sore a lot of the time. I have been using HoMedics 3D Shiatsu & Vibration Massage Pillow with Heat and that is really helping with my neck and shoulder areas. Until recently though, my poor back was achy and sore too!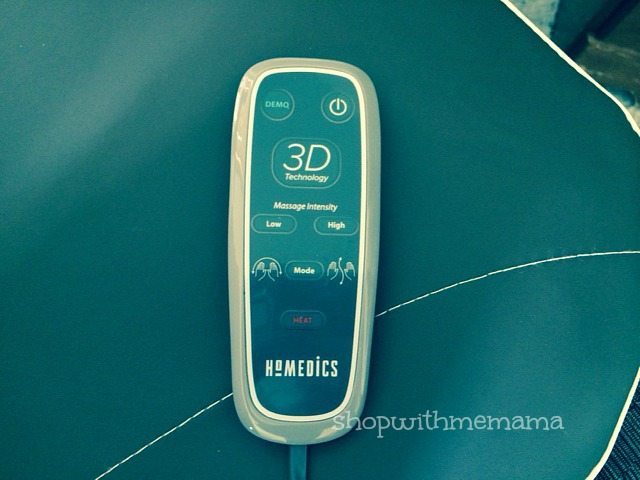 Thankfully HoMedics was able to send me the Triple Shiatsu Massage Cushion with Heat, to help alleviate some of my upper and lower back pain I have been having. I use this massager on my computer work chair. So, throughout the day, I will turn it on and it has really been helping me get through the work day with a pain and ache free back. So far, so good!
I love how comfy this massager is. The massaging nodes travel up and down your back for a really deep, kneading shiatsu massage. It comes with a very handy hand-held control and that allows you to easily control the intensity level of your massage.  The forward or reverse massage functions make for a great massage. You can also add soothing heat for added relaxation. The heat really helps those aches and pains.
My favorite is the Demo. I press the 'demo' button on the hand-held remote and the massage cushion will kind of do a little of everything. It will shut off, each time, when it is done. Very nice feature!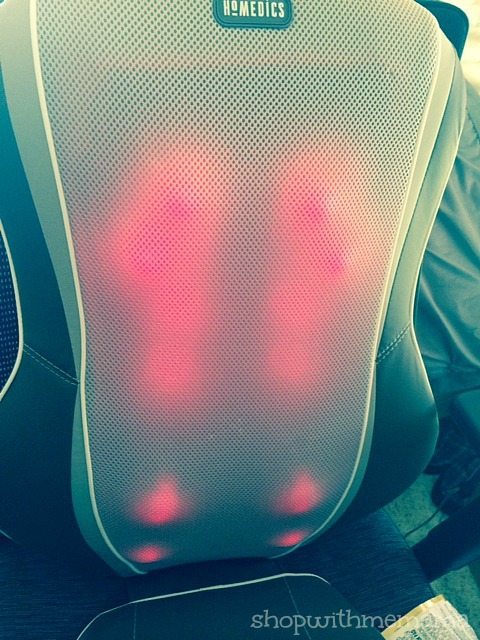 I kind of feel like I have a mini massage parlor in my home now, with the wonderful neck massager and cushion massager! My back and neck are feeling really loved right now 🙂
When my hubby first took this out of the box, my kids (of course!) were standing nearby and were eagerly waiting to try out the massager. The last person to get on and try the cushion massager was my toddler who is two. I was laughing so hard because he was just closing his eyes and sitting on the chair sucking on his pacifier. He looked SO comfy! I had to film it, so please check that out below, LOL!
My husband has a sore back from work, so he uses this cushion massager every night, after work for about 15 minutes. It helps make his make feel more comfortable and less achy. We are just very pleased with our new Triple Shiatsu Massage Cushion with Heat.
Buy
You can purchase the Triple Shiatsu Massage Cushion with Heat, online at http://www.homedics.com. It retails for $149.99.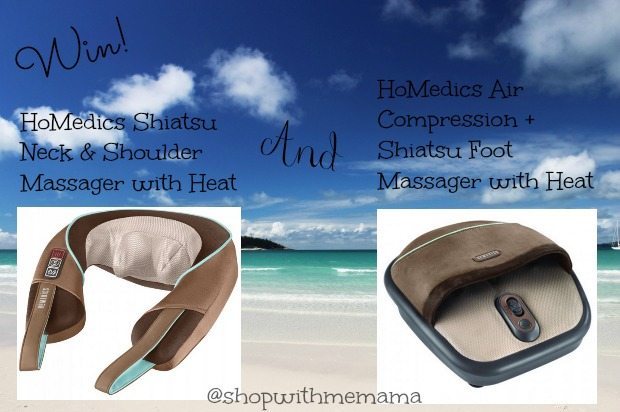 Win!
One very lucky person is going to win a HoMedics Prize Package which will include the products below:
HoMedics 3D Shiatsu & Vibration Massage Pillow with Heat
Air Compression + Shiatsu Foot Massager with Heat
How?
Pretty Easy! Just use the Rafflecopter form below! Good luck to you all 🙂
Rules:
Contest is open to US 18+. Giveaway will end on March 25, 2015 at 12 am PST. Winner will have 48 hours to confirm their win, after I email them, or a new winner will be chosen. Sponsor is responsible for sending out prizes. I am not responsible for lost or stolen mail.